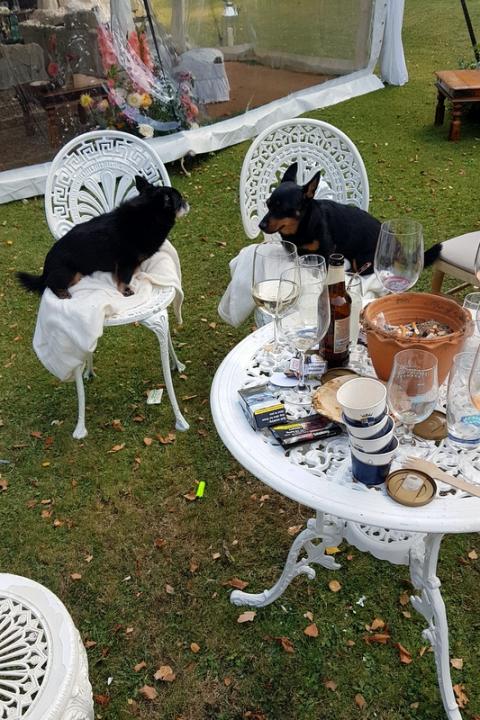 ONE FATAL FLAW: A NEW YEAR'S TALE
JANUARY-MARCH 2022
THE DAY I NEARLY LANDED A BIG FRENCH FISH
When living in Aix-en-Provence in the early 1970s, my drinking spot was a bar on the Place de la Mairie. As opposed to the grandeur and the outdoor seating on the swanky main avenue the Cours Mirabeau, with bars such as Les Deux Garçons [Les Deux G], views cast over bellissime youth and soignée ladies passing by, this had no terrace. You walked into something of a den.
It was a Pari-Mutuel bar, PMU, and took bets on the day's races – until midday. I never really called it anything other than the PMU. The zinc bar was on the right, occupied most days by a tough little local called Marcel. His lowly stature had qualified him to be a trotting driver, and there were faded photos of Marcel posting the odd win at Marseille Borély racecourse. He was certainly in his natural habitat post big race retirement.
The betting action was further down the room, and clusters of hopefuls would gather there every day. The standard drink was pastis, beer the saving bet. Ricard, being from Marseille, wasn't the top drink, it was more Pastis 51, which Marcel would pronounce Sankantayung. There was never a glimpse of a foreigner, a tourist, no-one beyond the Bouches du Rhône – except me.
Marcel would greet me with the call "Banjourah L'Angley, ça gasser?" Basically, "how are you doing, Englishman?"
He knew I was involved in wine, but could not accept that an Englishman could know anything on the subject, nor be qualified to even dabble in it. It was, as hunters see posted in woods all over France, CHASSE GARDÉE – hunting out of bounds.
I would draw myself as high as I could in order to deliver the lofty response that "the Romans made wine in England, and jolly good it was, too." Whether I muttered anything about Kimmeridgian limestone is unlikely.
One Christmas I went home, hatching a plan for the New Year. I was going to take an unlabelled bottle into the bar, serve it to them, and wait for them to admire it as English wine. Their regular level of wine was atrocious, so a young Côtes du Rhône, vintage 1972 [indifferent, but capable of serving the purpose] would really put it up to them.
I stuck a blank postage label on the bottle, and wrote HIGHVIEW WINE ESTATE, and below it, VAT NUMBER EIGHT on the label. All set, off we go. There was no capsule or any local dressing on it.
I selected the busiest morning of the week, a Sunday, when the bets were flying on the day's big money Tiercé race – select the first three in a 20 runner handicap – and the pastis levels were high. Sunday was the day when the locals dressed their best, as well, either before or after greeting the Lord. It was my re-appearance after a Christmas away, so added impact came from that.
I presented the bottle to Marcel, and told him: "here is a bottle of English wine that I brought back from England for you. The estate has not yet bottled it, but I thought it would interest you." He was stopped in his tracks. I had brought a corkscrew, but for the sake of transparency I suggested that anyone in the bar could draw the cork.
POP! There was a hushed silence as the first glass was poured for Marcel. His judgment was awaited. "Ce n'est pas mal, eh," he declared, nodding as he savoured some Southern Rhône Grenache. The next move was of course to offer the wine around the bar: there were many eager takers, and soon we had a Clochemerle-style happening, with bets paused, pastis drinking suspended, and the unsuspecting locals savouring a wine made up the road, but thought to be from across the sea. I was congratulated, hailed as a bit of a hero, and certainly England's stock rose for a brief few minutes.
Alas, as there has to be an alas. Marcel's son Aimé, at least double his size - so the distaff side must have been lanky - had never really gone for me. Where Marcel was open and chatty, fit and wiry as a butcher's dog, the dark-haired, pudgy, unfit Aimé [getting my own back there] was closed, sceptical, never one for a real laugh.
With a cry, he suddenly brandished the corkscrew, the cork still attached. He unwound the cork, and declaimed to the whole bar, "THE CORK SAYS MIS EN BOUTEILLE AU DOMAINE!"
I was a goner. Resistance was futile; I claimed that English wineries bought French corks since they were the best, but I was toast. My fall from grace was rapid, and the belief that England and Englishmen had no right to be able to make wine, talk about it, write about it, probably even drink it, continued, stronger than ever, in that PMU bar in sunny Aix-en-Provence. Still, I had my five minutes of triumph, the fish on the line for those glorious moments. But for one fatal flaw… oh well.