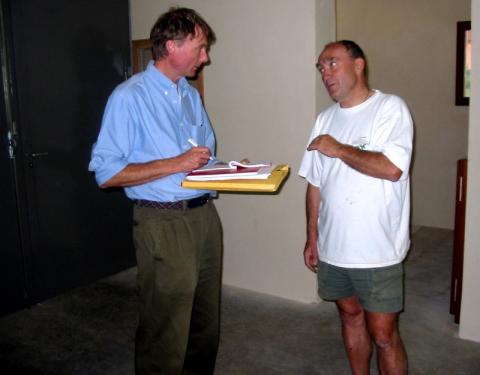 FAREWELL
APRIL-JUNE 2022
A TRIO OF SAD DEPARTURES
The winter of 2021-22 was a cruel time for the Rhône, with the passing of three extremely important growers who had all served their appellations with great distinction, and helped to furnish wine lovers with beautiful bottles over the decades during which the Rhône started to finally receive correct recognition for its qualities.
ALAIN GRAILLOT
There was a Crozes-Hermitage appellation pre-ALAIN GRAILLOT, and one post-ALAIN GRAILLOT. That's a very rare comment in the general scheme of things.
The opening paragraph on Crozes-Hermitage in The Wines of the Rhône [3rd edition, 1992) stated: "For many years Crozes-Hermitage bumbled along in the lee of Hermitage, a rather dowdy relation in name, producing red and white wines of a lesser stature and only moderate interest value."
"Well, things have changed for the better." I went on to describe better winemaking, with Alain Graillot telling me: "All I do is pump whole grapes into my concrete vats, and I back that up with two to five days' cooling of the crop at 18°C, allowing a cold maceration before the primary fermentation, which never passes over 30°C, hence maximum extraction of aromas." Note the word aromas - not mass, or power, or depth of content – which set Alain apart as a true progressive for those times.
He had of course parked his wagon quite close to his enfance, being a native of Vienne opposite Côte-Rôtie. Like me, he had spent time patrolling the highways and byeways of South America, working for Rhône Poulenc, selling agricultural treatment products there.
Back to my book: "the star turn of the 1980s was Alain Graillot, who before 1985 had never made a drop of wine in his life. He had made the break from Paris "because I wanted to make a Syrah wine, which I couldn't do with a full-time job." His Syrah inspiration came from the wines of Jean-Louis Chave, Paul Jaboulet Aîné [when they were in their pomp] and Jean-Louis Grippat.
Hence someone with no land, no winemaking experience, a determined wife Elisabeth, two young sons, Antoine and Maxime, lands like a flying saucer on the plain of Les Chassis at sleepy old Crozes, where peach and apricot trees mingled with vines. Talk about a blank, and for many, fearsome, canvass.
Taking six weeks off work, and renting a vineyard on Les Chassis, he managed to make a Crozes 1985 which I termed "a very creditable effort, very good fruit on the attack, and a well-knit structure", as well as a 1985 Saint-Joseph red from purchased harvest off the granite at Andance.
And off they all went. He and Elisabeth were natural charmers, with great energy and a belief in hard work, hard play. Alain loved his Burgundies, and was a frequent visitor there, while his skill as a skier – French national team level – was way ahead of most growers I have ever known!
He quested and quested, improving his white wine, building a state of the art cellar, consulting on projects abroad, including near Venice and Eastern Europe. His energy was boundless, and, of course, he was deeply satisfied that the domaine was running well in the hands of his sons, and that a healthy future lay ahead.
I got him over to London for a Rhône dinner at the Turf Club once, where he cut a James Bond style in his dinner jacket and bow tie. The next day I wanted to give him a souvenir of his trip, and took him to a barber shop called Trumpers on the stylish Jermyn Street, near Piccadilly. We selected a shaving brush, which became a point of much two-way affection, since I would bring him supplies of the Trumpers almond shaving cream, which had the aroma of the Marsanne grape. His response was the impossibly sweet: "each morning, I think of you, John."
He was a man who gave inspiration, to the young, to those starting up, to those uncertain about what to do. He could have run any company, been the Head of any school or university, a gifted man indeed. It's worth reflecting that today Crozes-Hermitage stands as one of the most profitable appellations in the whole of France – buoyant demand, accepted quality, a high profile name, much of that generated by the impetus Alain brought, especially on the international stage.
I quote from my 1992 book once more: "A good, solid chap, M. Graillot looks quite at home in his perky flat hat and vineyard boots, a far cry from the lightweight suits sported on the Avenida Altântica in Rio. His success in such a short time, starting from such little working knowledge, is quite amazing, and should give hope to anyone hitting forty and wondering what on earth they are doing with their lives – it can be done, folks, just run out and find some Graillot Crozes rouge and console yourselves!"
Losing their mum and dad so swiftly has been an immense blow to Maxime and Antoine, but I am sure they are fully aware of the total affection so many people had for both of them, a wonderfully dynamic duo. May they rest in peace.
ANDRÉ BRUNEL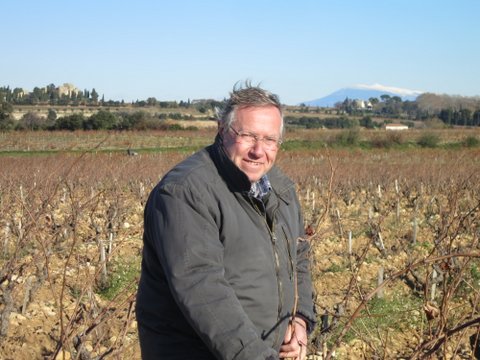 My first encounter with the wines of Les Cailloux at Châteauneuf-du-Pape was through the vintages of the 1960s and 1950s that I would buy from the Les Reflets collective on the fringe of the village. The 1967 was especially good. These were made by ANDRÉ BRUNEL's father LUCIEN, born in 1906, a small but tenacious man clad in blue working clothes – "bleu de travail" - whose cellars were just round the corner.
These were always Châteauneufs that correctly expressed the refinement and aromatic qualities of this noble terroir, the vineyards in the southern sector on Les Serres towards Sorgues complemented by old vines in the north-west on Farguerol, galet stones a feature, the oldest Grenache dating from 1889. That Grenache formed the heart of the Les Cailloux wines that I knew in my youth, until, precisely 100 years later, André introduced his Cuvée Centenaire in 1989.
As he told me at the time, "I created Centenaire because in the 1980s I felt that Châteauneuf was underestimated – the French press didn't like us, Parisians said we were too heavy, etc; the French only liked Bordeaux and Burgundy."
I had felt that the transition from Lucien had been complicated for André; my comment on Les Cailloux in the 1982 edition of The Wines of the Rhône had been: "Les Reflets has done much to further the name of Châteauneuf-du-Pape, led by three excellent domaines Les Cailloux, Chante-Perdrix and Clos du Mont-Olivet. The wine of all these domaines is made in the traditional manner, richness of flavour and an extended longevity being paramount. Les Cailloux is perhaps the most feminine of the three, always bearing a typical, swirling bouquet that is full of different herbal nuances."
During the 1980s, André told me of his desire to make a "practical" wine, meaning a wine that would keep for ten years, while being drinkable soon after purchase. He asserted that Lucien said "Les Cailloux red should be drunk between five and 10 years' old." That was an old timer view, where the domaine wine was a practical resource, nothing to sit on, serving to pay the bills and affording a reasonable standard of living. It was the foreigners [such as me] who would go on about it being glorious after a few decades!
Hence there were early 1980s wines with the use of oak abandoned in search of "freshness", followed by the use of new oak casks in the later 1980s, a reflection of the calling of the American market. At the time André told me: "I felt in the period when my wine wasn't going into cask that it lacked something – a potential for development." He would also sell very simple cuvées to English supermarkets.
However, I feel that for the last 30 years of his life, certainly since the mid-late 1990s, André had found his happy balance. Vintages that stand out in that time include a brilliant ****** 1998, a ***** 2003 that bucked the vintage imprint with tannic finesse, an exceptional achievement in that hot, hot year. Also, ****(*) 2005,2009, 2013 and 2019 and ***** 2010, all of them good value.
It's worth bearing in mind that all these wines were made without the highest quality harvest from the old vines, grapes that went into the up to 5,000 bottle Cuvée Centenaire: its roll call of top vintages: ****** 2016; ***** 2019, 2017, 2010, 2007, 2006, 2005 of the most recent years.
I treasured a magnum of 1979 Les Cailloux in my cellar for 30 years until the day in June, 2010, when I took it along for a luncheon at Berry Brothers in London to celebrate those working in the trade born in 1950, all asked to bring a magnum. We were 14, including Jancis Robinson, the girl who did very good. My contribution was the only Rhône.
Life can be told through old bottles, which is one of the greatest pleasures that having a cellar can afford. Here is the tale of this magnum, as I wrote at the time: "By 1979, Lucien's son André was full-time on the estate, having started in 1972, and was judiciously adapting methods without upsetting his dad. Thus the crop was whole bunch crushed and fermented (Lucien), and raised 70% in enamel vats (André`s innovation since 1977, driven by his dislike of old wood that for him tainted the wine) and 30% old 50 hl foudre or barrel (Lucien). There was also cooling equipment, installed after the very hot year of 1976 (André).
The wine was high in Mourvèdre – 20-22%, the vines planted with prescience by Lucien in the 1950s; it held around 73% Grenache (average age about 50 years then) and the remaining 5-6% was Syrah, planted in 1972 when the INAO central body advised it as an improver vine for the region. If only they had suggested more Mourvèdre…
"I made no Cuvée Centenaire in those days," recalls André, "so this includes crop from the north and the south of the appellation" – Farguerol (N-W, very stony soils near Cabrières and Mont-Redon) with its 1900s Grenache, also Vaudieu with its sand and Cansaud and Les Serres down in the south with their more free-draining soil. Farguerol (4.5 hectares) and Cansaud (3.5 hectares) were the main sites.
"There were snowflakes at harvest time, near the end, which was very, very rare," continues André. "It had been a dry year, and the crop was very ripe and healthy. We picked in a hurry from the end of September until 10 October. The vinification lasted three weeks, with only pumping overs, and I had to heat the cellar to finish the sugars. We only used natural wild yeasts in those days, remember.
The wine was quite tannic to start with, and averaged 15°; Farguerol's wine came in at 16° to 16.5°- it was the last picked, with the first picked crop 14° to 14.5° - all this talk today about high degree is one thing, but Châteauneuf has always been like that" (implying you have to not over-extract and then blend expertly).
The wine was raised for 16 months, bottled 18 months after the harvest in several different tranches. Maybe 200 to 300 magnums were produced. The label has a healthy artisanal 1.5 L engraved on the bottom right hand corner.
Any wine like this gives the drinker an insight to a time several decades ago when the grower was just that – a person feeling his or her way by instinct, common sense and a dose of patriarchal instruction. If Wine Schools could all have a Department of Instinct, as I have implied to the growers of McLaren Vale, then we would all be better off – people and wines."
I send my heartfelt condolences to André's son Fabrice, and to the rest of the Brunel family.
VINCENT DE BEZ
The most striking estate at Tavel in my youth was Château d'Aquéria, with its classic gates leading through a well tended vineyard and curving down to an elegant and well furnished seventeenth century Château, a note of grandeur about it both outside and inside, with rose beds and lavender flanking the stone steps, and wistaria draped across the side buildings, a chic that was pretty rare in the Rhône of the early 1970s.
JEAN OLIVIER, the owner whom I met once before his death in 1974, had friends from New York and Boston who visited Aquéria in the late 1920s, and he was swiftly off the mark after the lifting of prohibition in 1932 to arrange a shipment to the USA. This established Aquéria as a prominent name there, with most of the wine actually reserved for that market, which enormously helped the international profile of Tavel.
It was M.Olivier's son-in-law PAUL DE BEZ and then his son VINCENT who took over the reins of Aquéria, maintaining it as a standard bearer for Tavel, and also Lirac, where there was a very fine 7 hectare vineyard at Roquemaure that grew to 18 hectares over time.
The wines, drawn from sand with some clay across the 47 hectares of Tavel, were always elegant, both rosé and the Lirac red, the latter made in a fruit-forward style, while the white was a trim affair, based on 50% Grenache blanc, 20% Clairette, 20% Bourboulenc, sometimes a little safe.
Tavel traversed a period of anguish in the 2000s as the long march of Provence rosé took off – pale pink, heavily marketed wines, the antithesis of the deep red and more discreet presentation of Tavel to the outside world. However, Vincent stuck to the task, and Aquéria remains in the top echelons of a more revived Tavel landscape now.
He suffered with a long, drawn out battle with cancer, but was enormously relieved to know before his passing that the estate had been bought by a Rhône enterprise of high standing, its future secure. He was as elegant as his wines, a highly cultured man, and will be much missed.