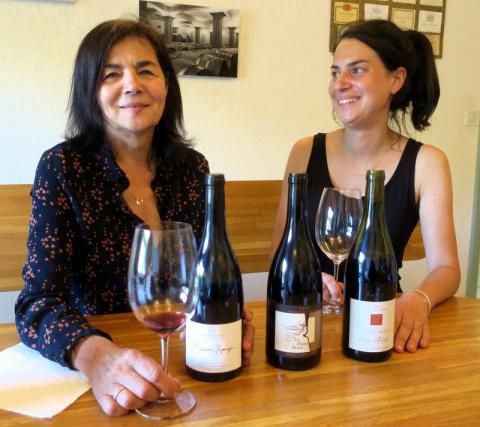 NORTHERN RHÔNE VINEYARDS AND ORGANIC WORKING: NATURAL BEDFELLOWS?
OCTOBER-DECEMBER 2022
AN INSIGHT INTO THE CHALLENGE FACED BY BIO DOMAINES
It is now pretty much taken for granted that a high profile domaine anywhere in the world should be working organically, or moving towards that. Even if it's a question of a family grower in once rainy Champagne, where chemical treatment levels have traditionally been high, there is now the likelihood that some form of natural farming is occurring in their vineyards, these being growers who would previously have sold their harvest to the Grandes Marques.
In the Rhône, it is the South that is replete with organic and more and more biodynamic estates. It's easy to care for swathes of vines from a tractor, after all. Labour by hand is only really needed for canopy management rather than soil care.
In the North, with its hillsides, slopes and terraces, work has largely been manual for centuries. The Taille Guyot where the vines are trained up wooden stakes, échalas, is a staple at Côte-Rôtie and Condrieu, and in previous decades application of weedkillers such as Round Up have left a desolate panorama, most noticeable so in the spring time before the vineyard vegetation and gradual re-emergence of weeds has occurred.
A shining light has been the CLUSEL family, GILBERT, the son of RENÉ CLUSEL and his wife BRIGITTE ROCH. The domaine has been officially organic since 2002 but their organic work goes much further back, with weedkillers suppressed from the start.
In their early days, when GILBERT inherited a few vines from his Dad, most income came from vegetables. Their journey started with a hands-on premise that included hand grafting vine stock from old, healthy vines, so since 1991 they have only worked with massale selection Syrah, aka Serine. They even re-grafted a clone Syrah planted in 1984 on the excellent lieu-dit of La Viallière in 1999, not satisfied with the fruit it was giving. Not many growers go to such lengths.
They were out on their own, really, certainly for the combination of commitment and quality in the wines. A subsequent name to appear on the organic roster appeared in 2009, when ISABELLE GUILLER started the CLOS DE LA BONNETTE high up at CONDRIEU with her husband HENRI, who had a fruit and vegetable growing business on the plain beside the Rhône, itself organic since 1970.
ISABELLE is most charming and natural, and gave a moving explanation of her approach when telling me: "organic is really what I consider is good, I truly feel that. I make the walls, clear scrubland for planting, look after the vines, make the wine. It's a big challenge, but I'd like to think that at least one time in my life I could offer God the quintessence of the place: the climate, my savoir faire and the place might all come together in one given year."
A recent addition, in a formal sense, is the highest profile CONDRIEU estate, the DOMAINE GEORGES VERNAY. It has been working organically in all respects since the mid-2000s, but the official status commenced in 2020, with biodynamic registration from 2023.
CHRISTINE VERNAY chatted to me about the challenges that such an approach involved, stating, "managing the grass is the greatest challenge, given also that Vernon (the super lieu-dit of Condrieu) and Maison Rouge (top site in the South of Côte-Rôtie) are not at all mechanisable, with even the system of a pulley-winch [treuil] rarely deployable. [One person has a form of rotavator while another person sits at the top of the slope winding in the winch to which the rotavator is attached, calls for strong muscles and good footwork].
Our new plantations are adapted to le treuil, while only the low end of Vernon can be worked with it, not the higher terraces. We do a lot of pick axe work [pioche] as a result, and wholly on any young vines.
We make Maria Thun [disciple of Rudolf Steiner] compost preparations from nettles and valerian which we buy as dried leaves. We apply green fertilizers on the mechanisable parts only, so we can roll and dry the grasses and they gradually break down into compost. There can also be sedum plants along the rows.
In 2022 we tried a drone to treat one hectare, which brought a gain in time. I have three teams for the organic work; you have to have the capacity to treat at very short 24-hour notice, since once you are organic, you are preventative, not reactive."
Talking bottom line, the sums are daunting, with CHRISTINE observing: "I estimate that organic adds a minimum of 30% extra cost – equipment, labour, while your yield falls by 30%. Our harvest involves 25 cutters and 10 of us over three weeks, the team from Senegal or Malo, lodged by us."
Hence the gross difficulty that such an approach would pose for a low-profile, middle ranking domaine. I think of the Vin Nature formula from the Southern Ardèche, where 3-4 hectares can be worked by somebody starting up with low funds, with guaranteed immediate sales to the hipsters of New York, Tokyo, Paris, London and beyond. There is a ready made commercial network for such wines, provided they are not too high in volume.
In conclusion, CHRISTINE states: "Bio is a conviction, finally – that's the deal. Consumers are pressing for more respect in the handling of vineyards. The payback is so thoroughly interesting on the environment – birds, worms, flowers, every thing is re-born, an eco-system that was lost during the 1990s with the use of chemicals in the name of progress."
Having been organic in East Sussex since moving there in 1999, I can fully endorse the above observations.