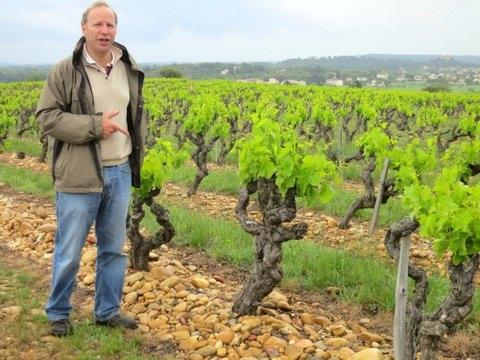 JULY 2013
"I bought some hectares in 2012 from Domaine de la Genestière, one of which was this amazing vineyard," recounted RODOLPHE DE PINS. "An Italian immigrant came to France to work for a family of Saint-Geniès-de-Comolas in 1956, and ended up marrying their daughter. In 1956 the vines were already 80 years old. The name of the vineyard was La Gensatte, perhaps named after a Doctor called Jean Satte, perhaps the man who planted it. There is mention of the plot in documents of 1870, which gives a clue to its great age. In 2012, I harvested 20 hl/ha from its 0.7 hectare." For the tasting note see CHÂTEAU DE MONTFAUCON under CÔTES DU RHÔNE.
Some of the vines have such a venerable age that they have evolved into sculptures of the most intricate nature. One particular favourite CLAIRETTE BLANCHE of RODOLPHE is what I termed the Chandelier, he the Viking boat: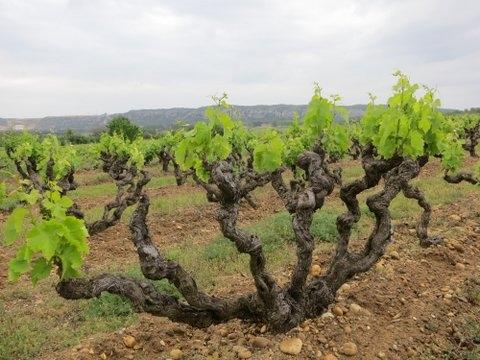 EVENTS A GO-GO IN THE RHÔNE
JULY 2013
AVIGNON, THE FESTIVAL
5-26 JULY 2013, every evening there is a themed bar in the striking courtyard of the Inter-Rhône listed building at 6 rue des Trois Faucons, a short walk from the central Rue de la République. Tuesday 23 July 2013 features the Association FEMMES VIGNES RHÔNE 19.00-23.00 Entry to taste with a glass is €5. See http://www.vins-rhone.com/planete-rhone/article/bar-a-vins-des-cotes-du-rhone
CAIRANNE
SUNDAY 28 JULY 2013 The Fête du Vin, an event organised by the Growers Union in the village. 16.00 until 22.00 with a Cabaret evening. €18. Info call +33(0)490 30 86 53
SÉGURET, ROAIX, SABLET & MASSIF D'UCHAUX
WEDNESDAY-THURSDAY 17-18 JULY 2013 Un Quatuor de Villages 30 domaines and their growers present their wines for tasting and inspection from 11 am each day. €4 entry. See http://www.facebook.com/quatuordevillages.salondesvins
TAVEL
SATURDAY 20 JULY 2013 The first year of Couleur Tavel, an all-day celebration of Wines, Gardens and Music. There is a tasting of aged Tavel, matching with dishes, theatre and the day rounds off with a big party in the Place de la Mairie. See http://www.vin-tavel.com/fr/oenotourisme/couleur-tavel
VACQUEYRAS
SATURDAY-SUNDAY 13 & 14 JULY 2013 The annual Wine Fair. Get there early if you seriously want to taste since any heat soon warms up the wines. Wines can be tasted and bought, and there are communal events – a Soirée Gourmandise on Saturday evening and a Lunch on the Sunday. See http://www.fetedesvins-vacqueyras.fr/#Bienvenue.A
VIOLÈS
SUNDAY 21 JULY 2013 The 31st Fête des Vins, starts at 10.00. A Provençal celebration, includes Mass, readings in Provençal, Rouille from Sète for fish dishes, music and singing. Emphasis on Plan de Dieu wines. See www.fetedesvinsvioles.fr
ENTERED RECENTLY: in an attempt to unleash les bons temps rouler of hot weather, a full review of 2012 TAVEL ROSÉ has been posted under the sidebar THE LEADING WINES, subtab 2012 SOUTHERN RHÔNE. It is a generally good vintage, although the difference between the best and the worst is wider than it was in 2011. A series of notes on 2012 CÔTES DU RHÔNE WHITES and ROSÉS made by domaines at LIRAC, TAVEL and VACQUEYRAS has also been posted. Look for the LVT (Last Vintage Tasted) tag, either 2012 wh or 2012 rosé.
DOMAINE VISITS: a recent domaine, DOMAINE LA BARRIÈRE of PHILIPPE BRUN, listed under CÔTES DU RHÔNE. The main vineyard is north-east of Vaison-la-Romaine, at a little altitude near PUYMÉRAS. Philippe is married to a Taveloise, and also makes a good TAVEL, all 5,000 bottles of it. From VALRÉAS, MAS DE SAINTE CROIX, Belgian-owned, and making authentic reds and a sound Roussanne white. A visit also to one of the leading CÔTES DU RHÔNE estates, CHÂTEAU DE MONTFAUCON, which has raised its top red BARON LOUIS to LIRAC status, and is also now the owner of a fantastic pre-1900 CLAIRETTE BLANCHE vineyard in the good white wine zone of SAINT GENIÈS DE COMOLAS, one of the four communes within the Lirac appellation.