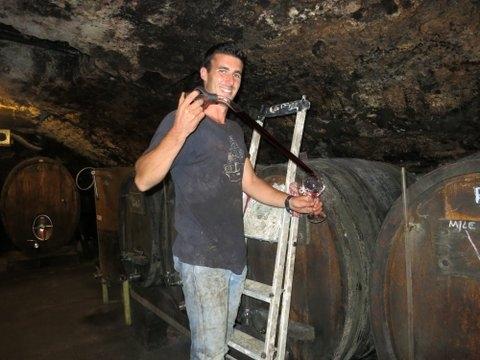 RECENTLY ENTERED, STGT to the fore
NOVEMBER 2013
beyond the dizzy heights of CHÂTEAU DE BEAUCASTEL at CHÂTEAUNEUF-DU-PAPE, two STGT domaines have been visited, their recent vintages up to 2012 tasted with pleasure. Both operate whole bunch fermentation and are hands-off in their cellar approach. YANNICK FÉRAUD, the 27-year old son of EDDIE, is now in full swing at the family property. EDDIE is the nephew of PAUL FÉRAUD of DOMAINE DU PEGAÜ. I have always appreciated the simplicity of presentation of these wines, hence their STGT appeal. The cellar takes one straight into the close ambience and intimacy of a northern Rhône vigneron, where detail rather than broad brush strokes applies more than ever.
Nearer the end than the start of his career is RÉGIS BARROT of DOMAINE LUCIEN BARROT et FILS. Here is another STGT grower who now spends about half his year in the Philippines, in the south, near the beach. What a wise man. RÉGIS' first vintage was 1971 and he remarked that 2013 was a late year, but not as last as some of his 1970s vintages, when harvesting would be taking place around 11 October. Like the 2010 of EDDIE FÉRAUD, I have upgraded his 2010, a vintage that is really starting to show its wonderful, enduring qualities, the best for years.
Also visited at CHÂTEAUNEUF-DU-PAPE, their full range tasted, among which the CÔTES DU RHÔNE VILLAGES of LAUDUN – the CHÂTEAU DE BORD - and CAIRANNE – DOMAINE GROSSET - showed well, was BROTTE, run by the simpático LAURENT BROTTE. I also highly recommended his sister's NOUGAT de MONTÉLIMAR, by the way.
I find it extraordinary and optimistic that LAUDUN is actually applying to elevation to full CRU status, as is finally being achieved by CAIRANNE soon, and as was most recently done by RASTEAU. LAUDUN is a very good terroir for white wines, but there aren't enough domaines of real ballast to make truly worthwhile. At the most basic level of observation, promotion means prices rise, and LAUDUN simply lacks the profile for that, and also a wide enough spread of good to top quality among its red wines.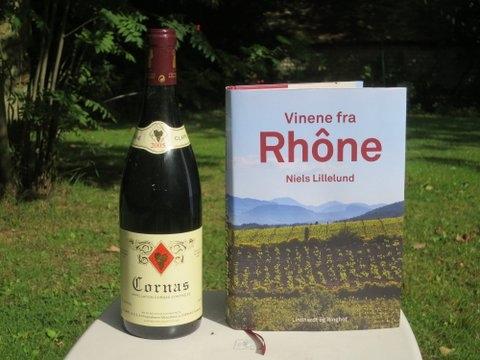 BOOK REVIEW
EARLY OCTOBER 2013
VINENE fra RHÔNE, NIELS LILLELUND, Lindhardt og Ringhof, DKK349.5 (€47, £39.50)
The Danes have a healthy thirst for Rhône wines, with steady growth in imports and awareness over the past 15 years. I have been several times to Denmark, and given tastings there, and I am always struck by the keenness of the audience to learn about the story behind the wine, and to appreciate it in a wide context. The taste is also pretty classic, with wines of clear fruit and balance appreciated, rather than a stampede for the big, overblown wines that are gradually fading from fashion.
Helping this movement along for many years has been my friend NIELS LILLELUND, an old school journalist who has a food and wine column on the newspaper named after the fertile west coast region of Jutland, Jyllands-Posten. Niels is also a writer of crime novels, a book on Poker, and an arts writer. His journey to New York to encounter (the mot juste, I feel) the white suited Tom Wolfe, author of the Bonfire of the Vanities, sticks in my mind, for instance.
Niels' first book on the Rhône was published in 2004 – Rhône-vinene. This second book, VINENE fra RHÔNE is more sophisticated, more opinionated, more broad, more relaxed. Denmark is well served by such a book, since it runs with Niels' enthusiasm as well as his sometimes quirky, pesky humour: take the subtitle to the short chapter on Grignan-les-Adhémar: "I rather like bad wine … one gets so bored with good wine", a quotation from BENJAMIN DISRAELI, Earl of Beaconsfield and British Prime Minister in the nineteenth century.
Indeed, the literary allusions are abundant and entertaining. ERNEST HEMINGWAY turns up, greeting us as we start our ride down the Rhône, with a quotation from A Moveable Feast about eating trout and drinking Sion wine as he looked at "the trees at the mouth of the Rhône where it flowed into the lake." BOB DYLAN ("we started out on Burgundy, but soon hit the harder stuff"), MARTIN LUTHER, the fictional aristocratic English sleuth LORD PETER WIMSEY and a cast of varied characters also feature.
Each appellation is covered in broad text followed by compact grower or domaine profiles. The book is liberally sprinkled with quotes from vignerons of esteem to illuminate views succinctly. There are sketches and personal reminiscences of domaines, full of examples, and the book does well to avoid tasting notes. Producers are rated from 2 stars to 6 stars (CHÂTEAU RAYAS, JEAN-LOUIS CHAVE). Clear, uncluttered maps show the eminent lieux-dits, or best sites, in the appellations, with the leading ones such as Les Bessards at Hermitage given a close-up profile.
There is a handy review of the better restaurants and hotels, north and south, and the colour photographs are handsome, both winter and summer well acknowledged. While a good march around the vineyards and cellars of CHÂTEAUNEUF-DU-PAPE is provided, the text is lighter on the likes of RASTEAU, LIRAC, VINSOBRES and VACQUEYRAS.
A good book, a good read, even though my Danish is very limited. It provides entertainment as well as insight. I recommend it to all my Danish subscribers and readers, if you are not already aware of its publication.