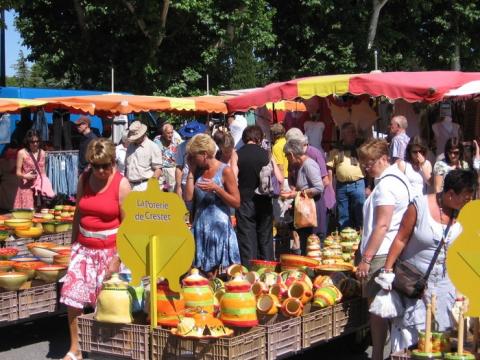 SUMMER 2018 EVENTS ACROSS THE RHÔNE
MAY-AUGUST 2018
SUNDAY 20 MAY, 2018
• BALADE GOURMANDE DES TERROIRS, VINSOBRES
A WALK THROUGH THE VINEYARDS, WITH A MARKET FOR LOCAL PRODUCE IN THE SALLE DES FÊTES, THE VILLAGE HALL, OF VINSOBRES. FROM 15.00.
CONTACT CHRISTELLE MAGNARD +33(0)9 61 59 48 14
• SATURDAY 26 MAY, 2018
À LA CROISÉE DES TERROIRS, GIGONDAS
A MORNING'S ACCOMPANIED BICYCLE RIDE AROUND THE VARIED, STRIKING DIFFERENT TERROIRS OF GIGONDAS, INCLUDING, OF COURSE, THE DENTELLES DE MONTMIRAIL. PIT STOPS TO TASTE AT DOMAINES EN ROUTE. THIS IS FOILLOWED BY A CELEBRATORY LUNCH AT THE CAVE DES VIGNERONS.
• SUNDAY 27 MAY, 2018
7TH FÊTE DU BRÉZÈME, LIVRON SUR DRÔME
A GET TOGETHER WITH THE VIGNERONS SHOWING THEIR WINES, ENTERTAINMENT, FARM FRESH FOOD TO EAT AND BUY. HELD IN THE CULTURAL SPACE OF THE MAIRIE, 10.00-18.00
CONTACT: +33(0)475 61 66 93
• SATURDAY 2 JUNE, 2018
PAPILLES & PAPILLONS (TASTE BUDS AND BUTTERFLIES) WITH THE VIGNERONS OF MASSIF D'UCHAUX
VISIT OF THE TERROIR AND TASTING WITH THE VIGNERONS, LED BY ENGLISH SPEAKING KELLY MCAULIFFE, 10.00-17.00, €60
CONTACT: +33(0)7 69 97 14 20
• SATURDAY 2 JUNE to SUNDAY 10 JUNE, 2018
WINE TOURISM AT RUOMS
VISITS, ENTERTAINMENT AND TASTINGS ORGANISED BY NÉOVINUM, THE CAVE CO-OPERATIVE OF THIS HILLY ARDÈCHE REGION, GOOD VINS DE PAYS
• SUNDAY 24 JUNE, 2018
THE VIGNERON ESCAPE AT LAUDUN
WALKS, CYCLING, TASTING AND FARM FOOD EATING. €7 WITH ONE BOTTLE FREE, UNDER 18 YEARS OLD FREE. THE 6TH EDITION OF THIS EVENT
CONTACT: CAROLINE LEFIÈVRE +33(0)4 66 89 84 08
• SUNDAY 24 JUNE, 2018
THE TRAVERSING OF THE DENTELLES DE MONTMIRAIL, GIGONDAS
EXPLORATION OF THE LIMESTONE HEIGHTS AND VINEYARDS, A BOTTLE OF GIGONDAS TO TAKE AWAY AT THE END
• THURSDAY 5 JULY, 2018
THE ROSÉ BY SÉGURET
ORGANISED BY THE GROWERS' UNION, 19.00-23.00
CONTACT: +33(0)6 10 71 26 72
• FRIDAY 6 JULY to SATURDAY 28 JULY, 2018
THE CÔTES DU RHÔNE & CÔTES DU RHÔNE VILLAGES BAR, AVIGNON
EVERY YEAR, LINKED TO THE 72ND FESTIVAL OF AVIGNON, THIS IS HELD IN THE MAISON DES VINS PRE-REVOLUTION COURTYARD PREMISES AT 6 RUE DES TROIS FAUCONS, AVIGNON. 19.00-23.00 EACH DAY, 15-20 DIFFERENT WINES EACH EVENING FROM DIFFERENT COMMUNES AND VILLAGES. MUSIC AND A GLASS, COST €10
• FRIDAY 13 JULY, 2018
SOIRÉE EN SABLET
TASTING OF SABLET WINES, FOOD TRUCKS, MUSIC. KICKS OFF AT 18.00
CONTACT: +33(0)490 46 82 46
• FRIDAY 13 JULY, SATURDAY 14 JULY, 2018
FÊTE DES VINS, VACQUEYRAS
THIS HAS BEEN GOING FOR YEARS AND IS A FIRM FAVOURITE. THE TASTINGS ARE HELD IN THE VILLAGE, THERE IS A FULL TURNOUT OF DOMAINES. BEST TO TASTE BEFORE THE HIGH HEAT, IN THE EARLY MORNING. LUNCH AND DINNER AL FRESCO
• MONDAY 16 JULY, 2018
GIGONDAS SUR TABLE
WINE AND GASTRONOMY IN THE PLACE DU VILLAGE. SIX CHEFS PREPARE DISHES SUITED TO GIGONDAS WINES. 40 GROWERS WILL BE SHOWING THEIR WINES
• SATURDAY 21 JULY, 2018
COULEUR TAVEL
GOING INTO ITS FIFTH YEAR OR SO. A VILLAGE CELEBRATION, INCLUDING GARDENS AND OBVIOUSLY TASTINGS
• SUNDAY 22 JULY, 2018
FÊTE DES VINS DU VENTOUX
• SUNDAY 22 JULY, 2018
FÊTE DU VIN, CAIRANNE
• SUNDAY 29 JULY, 2018
FÊTE DES VINS ET HUILE D'OLIVE DE NYONS, VENTEROL
FREE TASTING OF WINES AND OLIVES FROM LOCAL PRODUCERS, REGIONAL FOOD PRODUCTS TO BUY, A NIGHTTIME WALK, MUSIC, WINE BAR, FOOD TRUCKS, TAPAS. 17.00 ONWARDS
CONTACT: LAURENT MAXIME +33(0)6 86 86 33 62 or vigneronnyons@yahoo.com
• WEDNESDAY 1 AUGUST, 2018
FÊTE DES VIGNERONS DE GRIGNAN-LES-ADHÉMAR
• FRIDAY 3 to SUNDAY 5 AUGUST, 2018
FÊTE OF THE VÉRAISON, CHÂTEAUNEUF-DU-PAPE
TO CELEBRATE THE CHANGING OF THE COLOUR OF THE GRAPES AS THEY RIPEN
• FRIDAY 31 AUGUST to SUNDAY 2 SEPTEMBER, 2018
MARCHÉ AUX VINS, SAINT-PÉRAY
WINES FROM OVER 70 GROWERS, WITH 15 FOOD PRODUCERS
CONTACT: +33(0)6 62 49 53 97