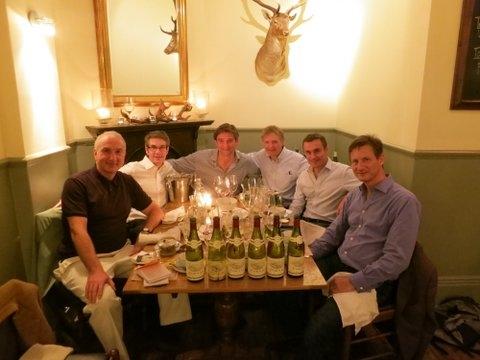 A FITTING SEND OFF FOR THE FORCE TRANQUILLE OF CORNAS
OCTOBER 2015
NOËL VERSET, the Grand Old Man of CORNAS, died on the morning of Friday 11 September, 2015, just as his nephew FRANK BALTHAZAR, was bringing in the last of his harvest. It is a point not lost on FRANK, who purchased Noël's vineyard on CHAILLOT in 2004.
While Frank was family, he didn't really know Noël well in vigneron terms; he was a bit too young, and when he started, taking over from his father RENÉ BALTHAZAR, Noël had only two vintages to make, both in miniscule quantities. Noël's last wine was 2006 – when, much aided by his son-in-law FLORENT, a horticulturalist, he was – wait for it – 87 years old. Mind you, Noël's father EMMANUEL had lived until he was 104, according to THIÉRRY ALLEMAND, although others have told me 100. I will have to trot down to the Cimetière to check, faithful reader, which I have now done: see below. 100 it was - 1888 until 1988.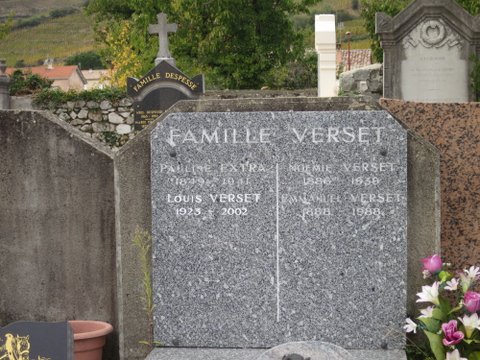 Thiérry Allemand's relationship with Noël was close, as he explained: "when I was working with ROBERT MICHEL, I would go over to Noël in the evenings and weekends to earn some more money to help get me started. I did labelling, worked in the vineyard and so on. Noël sold me his REYNARD vineyard in 1986, and by then was suffering with his knees and legs going up and down the hill for so many years."
A little known fact about their connection is Thiérry's bed, yes, his bed, où il se couche. Over to Thiérry: "after Emmanuel's death we were clearing out the house, and Noël said "we'll put that on the fire." I told him it's far too good for that, so I paid him 100 Francs, cleaned and restored it, and that's' where I have slept the past years."
CORNAS remains a village of the vigneron in my eyes – one of the most telling places that captures the ages old connection between working man and his environment. In part that is because it is a village at the foot of hills, a demanding landscape that speaks of France's social history as well.
For Noël started like Thiérry – with nothing. In the nineteenth century, the richer members of Cornas lived in the village and cultivated vineyards on the near slopes. Their labour came from poorer families living above on the plateau – men who had a few goats, some fruit trees, grew a little cereal: the classic polyculture that I still encountered in the early 1970s. Their goods were moved out quickly after the harvest or when it was the time to send the animals to market, and there was no sense of romanticism about their work, a fact that can be overlooked by modern day reviewers.
Noël's first harvest was 1931, when he was 12, and he then worked for his father until 1943, the year after marrying ALINE BALTHAZAR, upon which event he rented a vineyard for himself. Aline and René Balthazar were the children of CASIMIR BALTHAZAR, who owned a vineyard on CHAILLOT that he had bought in 1931 – and when Casimir died, that was split between the two children. 0.51 of a hectare duly became Noël's to work and care for.
Noël's first ownership arrived in 1948, when he bought the DOMAINE DE LA SABAROTTE from the local Cornas négociant Monsieur DELAYGUE. At the time, the swells of Hermitage in the shape of CHAPOUTIER and PAUL JABOULET AÎNÉ controlled the market in fine Rhône wines, even venturing into export. However, lowly CORNAS was not then considered worth an interest and its sale was left to merchants based either in Cornas or next door Saint-Péray.
Of course, this is ironic, given that CHAPOUTIER are a family from the ARDÈCHE, the département of Cornas. Names such as EUGÈNE VÉRILHAC, GILLES PÈRE ET FILS and DUBOURG would sell to local cavistes, including in the Vaucluse further south near Châteauneuf-du-Pape. I bought some 1959 and 1966 from a little shop in Orange around 1973 or 1974, for instance, and it cost a lot less than a Châteauneuf-du-Pape. Cornas was a cheap, grossly underestimated wine, punto basta.
The SABAROTTE vineyard of nearly 1.3 hectares, containing First World War vines, lay at the heart of Noël's wine until he sold it in 2002, half to AUGUSTE and PIERRE CLAPE, half to MAURICE COURBIS. Noël's first choice for the sale had been MICHEL TARDIEU of the the classy merchant TARDIEU-LAURENT. MICHEL had helped Noël since getting to know him in 1994, when MICHEL started his business, then with DOMINIQUE LAURENT, who left in 2008.
"I had made a few suggestions to Noël as the years went by," recalls MICHEL TARDIEU - "maybe a racking here or there, that sort of thing. Noël took kindly to me, and one day said he would like to sell the SABAROTTE vineyard to me. I was very surprised, especially as I wasn't looking to buy vineyards. I have always said that, unlike many growers who these days seem to want to be merchants as well as vignerons, I was the rare case of a merchant who didn't want to be a vigneron!
Anyway a notary drew up the contract, but the day before it was due to go through, the SAFER organisation [the official body that acts on selling vineyards, notably to young or recently installed growers, then the most likely candidates after that] got in touch, and said they would be handling it. That was that. And it was sold to COURBIS and CLAPE, which was a decision taken by SAFER more than Noël.
There were, however, good reasons for both buyers being the chosen ones. AUGUSTE CLAPE was five years younger than Noël, and had worked prime Cornas vineyards for decades. They shared not only a mutual respect, but also an adherence to laissez-faire winemaking, the instinctive habits of letting the vineyard do the talking.
Meanwhile the more cavalier, disorganised and wily MAURICE COURBIS was also a veteran, but, like Noël, he was canny. And he had worked a vineyard on LA SABAROTTE since paying 120,000 Francs (£12,000 or close to US$20,000) to a notary's wife in 1986 – a cheap price indeed for the 0.67 hectare of 1947 Syrah. So another 0.58 hectare on La Sabarotte went to a vineyard neighbour.
Over the years, Noël had shown that he could look after himself with a degree of tenacity, but no-one ever had a bad word to say about him. He had a tiny vineyard at the end of LES MAZARDS, for example, and sold this for construction in 1973-74, when the Cornas mayor was in thrall to the bigwig industrialists of Valence across the river. Planning permission had been given, so there was nothing shady, but having been there at the time, it was a moment when there was militant action (words more than deeds) against the building of villas on the vineyards of Cornas, with yours truly, TIM JOHNSTON (now owner of Juveniles Wine Bar in Paris) and the Clapes all shoulder to shoulder.
When I drink Noël's wines, I feel they bear his soul in them, for there is mystery rather than an accumulation of obvious merits. That was how he was; his cellar had just a little brass nameplate, which was taken down in 2004, and when you walked the little way to the old door of basically his garage, you never knew whom you would find present.
Latterly, it was well possible that there would be disciples of KERMIT LYNCH – Californian girls or boys who wanted just to hang out, while Noël bestowed rather inscrutable smiles on them. The thought crossed my mind that perhaps B B KING received such visits from his fans to view both him and his guitar LUCILE. Certainly among such visitors was ERIN CHAVE, who then worked for Kermit.
Foot treading by the visitors was certainly on the agenda after the whole bunches had been introduced to the hangar, their juice placed in his little concrete vats. There were a couple of cap punchings and pumping overs, and the whole process lasted 15 to 18 days. Noël once told me the following anecdote with some relish: "in 2000 I had two American girls helping with the harvest, but I remember them most because they added a lot of style to the foot punching of the cap."
After a manual pressing, the wine – dark Cornas of yore for much of Noël's early years – would be raised in a 25 hl barrel bought from the south of France that boosted capacity, and 600-litre used oak casks, the youngest around five years' old. Noël remarked to me that he preferred the demi-muid of 600 litres "because the wine ages more slowly, and just has more time than when it is in pièces of 228 litres."
Two bottlings were performed, one after eighteen months and marked L1 on the bottom left of his front label, the other after 24 months, and marked L2. There was no filtration.
"Noël's vinification was natural – there was a bit of SO2, but he was calm throughout, and served as an inspiration for me," recounts Thiérry Allemand. "He did a few vineyard treatments, but worked completely between vineyard and cellar. ROBERT MICHEL, for instance, was more a vineyard man, while his father JOSEPH was more a cellar man.
Noël was also precise, and while his legs were tired, like all tranquil persons, he did his work and tasks at his own pace. He was a kind man – there was no noise, no scandal, and he appreciated life, enjoying jokes and being a bon vivant."
PIERRE CLAPE also recalls Noël for similar virtues. "He never pushed himself forward," he remarked; "he was discreet, and I never saw him enervated. He was simple, honest and super serious in his work. He was a force tranquille."
For Pierre, the diamond in the Verset vineyard was CHAILLOT; "this gives very fine, very elegant wine," he commented, "whereas SABAROTTE is very Cornas, and on the austere side." Both Pierre and his father have remarked to me that it took them many vintages to work out Sabarotte – how to nurture its vines, select the good date for harvesting, and also slot it into their blend: this from the champion blenders and terroir men of Cornas.
I was sent a text by Thiérry Allemand telling me of Noël's passing; he had spent his last four years or so in a home opposite Valence, his mind slipping as he did so. A few days later I was contacted by ERIC ASIMOV of the NEW YORK TIMES asking for a comment on Noël. Eric subsequently published an obituary of Noël. Had you told Noël in 1970 that he would have an obituary written on him in the premier newspaper of the USA, there would have been P G Wodehousian goggle eyed looks all round.
Thus it came to pass that RICHARD ZAMBUNI, who considers Noël's wines as his favourite and most inspiring of all, sent me a mail asking if I would like to attend a Tribute Dinner for Noël in London on the last day of September. You bet I would. Richard is a London-based wine enthusiast and has a wide network of friends across the TOM CANNAVAN www.wine-pages.com forum.
Six people attended the dinner, each of us bringing a much treasured Verset wine. The vintages were 1988, 1991, 1994, 1995, 1998 and 1999. The venue was The Harwood Arms in Walham Grove, Fulham, south-west London, land of my football team, and a gastro pub with a healthy emphasis on game dishes, and therefore deemed entirely suitable for this occasion.
Hence we were going to drink and enjoy work by Noël Verset from when he was a mere 69 years' old, until he was 80 years old. And wines that were made in the innocence of the day, when the grower hoped for the best, did his best, and was pleased if people liked the result. As GÉRARD CHAVE of HERMITAGE has always said to me since I was a young man: "where is the truth? The truth is in the old bottles."
We started with an extremely bright HEIDSEICK BLANC DES MILLENAIRES 1995. A touch of age, but a delightful pitter patter about it. Then we got into proper matters, with a 2010 SAINT-PÉRAY LES PINS from BERNARD & FABRICE GRIPA, brought along because I knew Monsieur VERSET would have seen these vineyards during his life. This was genuine table wine, well balanced and parading 2010's virtues of depth and freshness, with a little complexity, and several good years ahead of it.
The game dishes then came along, starting with Berkshire wood pigeon faggots with crisp shallots. Berkshire is a Royal County, since it houses Windsor Castle, so perhaps these were high pedigree birds before us. Their pals were the 1988 and the 1991, both fresh and accurately redolent of their summers and vintages. The birth year of my son and daughter respectively, also, which tied in agreeably.
The 1988 was more a bonhomme, a grounded fellow probably wearing blue, and just a bit baked from the dry summer. The 1991 had the alert features of the year, and swung along well. Both were fresh and admirable.
Next came a roast Yorkshire grouse with blackcurrant, wild mushrooms, cabbage and bacon, a darned good dish for the 1994 and the 1995. I considered the 1994 to be the surprise of the night – it was a year when ripening was difficult to achieve, so tannins could be a little sharp and intrusive, with a question mark about the depth of content for them. Not with Noël, however; this was a true STGT wine, well textured and possessing a salty, extended finish – vrai Cornas, very expressive and not in thrall now to its vintage.
The 1995 was quite rightly more linear than the 1994, gripping with its tannins, and closer to its vintage for the time being rather than the land whence it came. All the wines so far had been fresh and well defined, a tribute to the terroir and to Noël's calm procedures in his cellar, never seeking to "go further", to extract more than his grapes could stand.
The final duo of 1998 and 1999 were served with roast and braised Berkshire (royal, again, natch) fallow deer with crispy garlic potatoes, baked beetroot, pickled red cabbage and field mushrooms. Here there was almost a mixture of singing and crying from yours truly. These were both supreme wines, the 1998 an absolute tour de force, Cornas as true as it gets and as mysterious as it can get, a cornucopia of prompts, nudges, emotions – one of the best Cornas I have drunk since I started out in the early 1970s.
The 1998 wasn't from an obviously grandiose vintage such as 1978 or 1990, which was all the more pleasing. It was a year that came good from mid-July onwards after hail had hurt some of the growers. At the outset, the 1998s lay in the shadow of the more overt 1999s with all their beating sunshine, but held a comfortable content that would stand them in good stead over time. Their proximity to place, rather like the 1994, was therefore greater than the 1999s.
Here the 1999 was a big wine filled with prancing red fruits and keen tannins, a wine that was ripe as a button. It started to stoke up some good Cornas mineral qualities after around four hours open as the vintage backed off and the terroir moved up the scale.
Thus we celebrated the life of the admirable NOËL VERSET, a man who was a true hillside dweller, whose efforts up the hill came to glorious fruition, and to late in life recognition. I never knew him as well as AUGUSTE CLAPE, GEORGES VERNAY at CONDRIEU or GÉRARD CHAVE, whom I consider to be my Professors, but he fitted into their mould of being wise and hard working.
I can see his shadow in blue overalls moving with a little discomfort around his tiny cellar, his pipette ready to dispense. He wasn't as gregarious as RAYMOND TROLLAT at SAINT-JOSEPH, who would always have a saucisson ready to be carved with his pruning knife while tasting together. But he stayed the course in extraordinary fashion, and illuminated the lives of many people, including those such as KERMIT LYNCH, his American importer, and MARCEL ORFORD-WILLIAMS of THE WINE SOCIETY in Britain, who imported Noël's wines from 1988 onwards.
To end I reproduce some words from MARCEL in a moving tribute to Noël, and after that there are some tasting notes from the Tribute Dinner.
"Seeing him at work was like seeing a glimpse into the past. Winemaking wisdom was passed down the generations. All the work was manual and over the years, sixty-degree slopes would have their revenge with surgery on hips and joints. 'I can still climb up the slopes but find it hard to walk down,' he told me. In his prime he was still making his own grafts to replace dead vines though towards the end of his days he became reliant on others.
His cellar was tiny, just a garage next to the house and everything again was done by hand. There is a concrete tank where the wine was made; treading was done the old way by foot. And in an age of making umpteen different wines, Noël made just the one wine.
I first met Noël in 1989 thanks to his UK importer, Roy Richards and Mark Walford, and the first wine I tasted was the 1988 vintage, from barrel.
I was smitten. Technically, it was hardly the most accomplished of wines; they were more than a little rustic yet there was honesty, generosity and simplicity that made so attractive. And with a stew served for the lunch at the local restaurant, his wines were fantastic. Vintages followed suit, each offering a slightly different facet on the same theme. I've only just started to drink the 1990, which is outstanding.
Noël Verset was a gentleman with a short stature, a bald head and deeply wrinkled face which would crease whenever he smiled, which he did quite often. He would chuckle and laugh when thinking of the past and amusingly he spoke with the squeakiest of voices. He was always dressed in blue, true 'bleus de travail', no longer seen quite as much.
He once drove me around the vineyards in an ancient little Renault van. He was so short; his head was barely visible above the wheel. I remember mentioning the fact that he didn't seem to be applying any brakes when driving. 'You don't really need brakes to stop,' he said, and pointed to a heavy stone in the back of the car: 'I use this to stop it rolling down the hill.'
He walked with a pronounced limp, swaying a bit from side to side. In the cellar, he had two oval oak casks, then one 500-litre barrel and one smaller barrel, mostly used for topping up the others. When I turned up in October to taste the wine, he would grab a decidedly rickety old wooden ladder which had one foot shorter than the other and then swinging somewhat, compensating for both the ladder and the uneven earthen floor, he would climb to the top of each of the two casks to take a sample. The young wine was dark, limpid, with the smell of dark fruits, sometimes olive and Provence herbs. If ever there was ever a wine that told of its origins it was Noël Verset's Cornas.
Rest in Peace, Noël."
THE SEPTEMBER 2015 LONDON WINES OF THE FORCE TRANQUILLE DE CORNAS
1988 **** the robe has tiling in its red. The nose summons a farmyard density and stewed plums, a ferrous clip – it reminds me of old fashioned, 1960s or 1970s Pinot Noir from the Nuits; there is a little crispness in the fruit. It is grainy and still right in the game after three hours, with red fruits on parade, and a clearer tone to it. The palate unveils a lithe, sinewy run of red fruit, cooked fruit, with a dentelle freshness on the end. It fires its shots in different directions, and the texture envelops you well. There is a little baked quality on the run to the finish, which captures the vintage and the dry conditions well. The finale is live and really clear. This would give many a 1988 Côte-Rotie a good run. After four hours (six open, thus) it understandably becomes more Spartan and clipped on the aftertaste. This was double decanted two hours before its entrance on stage. This is L1, the first lot bottled. 12.5°. 2022-24 Sept 2015, London
1991 ****(*) attractive red robe is till full of running. This has a classic, violet-inflected first aroma, an intense plum centre, comes with dance in its step, a beguiling trail of mixed airs, a nudge of black pepper. This is classy, calm, and has a floating, misty elegance. After three hours, the bouquet gives the picture of small, very ripe grapes. There is a wonderful debut to the palate, a ferrous-tinted essence of red berry and red stone fruit, with still vibrant tannins. It has a delicate tenderness along with the steel of a younger wine, the texture silky. The finish is fresh. This offers joy in the glass. This is the only bottling of 1991. 12.5°. 2025-26 Sept 2015, London
1994 ****(*) healthy, nicely full red robe. This has a curvy bouquet, which is grounded, de la terre, gives airs of brewed stone fruits with a direct zip about it, a little varnish, violets and a spark of iron together. This is true and STGT wine. The palate is ripe, fully fronted, broad, textured from within. The finish is salty, extended. This is a surprise – the vintage is humble, the wine isn't. Allez Cornas! It is wonderfully true Cornas, and spreads the picnic rug widely, expressively. Joy here. After 3+ hours it tightens up on the nose, suggests pine trees and resin. The palate is also tight, with a real ping of grip, and is very long lasting. It turns out to be the surprise of the night, when keeping company with the 1988, 1991, 1995, 1998 and 1999. This is L1, the first lot bottled. 12.5°. 2027-29 Sept 2015, London
1995 ***(*) the robe is still a full red, and doing well. The bouquet is crisp, clear, direct and full, very 1995; there is also a caramel aspect, airs of simmered black berries, bacon fat, black olives. This is pretty seamless, a compact density present. This is like spare ribs – it has a linear quality, and ends with a calm push. Droplets of blueberry fruit and salt tang appear on the aftertaste. It is a very accurate 1995 in its linear expression; there is lovely detail on the tip of the tongue, real precision. It grips with its tannins, and is good and true to its year. It is just a touch quiet on the finish, as the content's drive recedes, the fruit dips - this shows as it breathes. There have been better bottles of this from the same lot, it appears. This is L2, the second lot bottled. 12.5°. 2026-28 Sept 2015, London
1998 ****** full red robe, legs visible. Has a sweetly inflected nose, a profound, floral and gently simmered red fruit aroma, notes of fresh grip, just a tiny volatile edge perhaps, noble VA. It develops and extends its breadth and persistence as it airs, and along come blueberry fruits, summer flowers, menthol. This is a feast of variety on the nose. The palate is brisk on the attack, its depth well founded; it courses with a dark berry fruit stretch of self-contained matter. It could, but doesn't, give freely of its undoubted depth, and prefers to tuck away multiple cards up its sleeve. The acidity is lively – this is very beau, is Grand Vin, an STGT wine that assembles suavity, balance and expression, and all important mystery. A Beauty, quite exceptional. It is one of the best Cornas I have drunk for decades, right out of the top drawer. Noël made this when he was 79 years old, for goodness' sake! This is L1, the first lot bottled. 12.5°. 2031-33 Sept 2015, London
1999 ***** still dark red; the nose is bold, more bold than the 1998, more en avant and plump. It is still very solar, has rays of sun all over it, along with red meat and droplets from that ripeness. The depth comes from within, is a real accumulation of smoky, dark berry fruit, has a light spicing. It is ripe as a button. The palate runs with prancing red fruit, keen tannins lining it, a jeune homme here. It is crisp and fresh as it ends. It is a cousin to the 1995 – one the Nord, this the South, both wines still on their vintage. The aftertaste is meaty, and it runs fiercely as it finishes after four hours, has good mineral qualities. This is L1, the first lot bottled. 12.5°. 2029-30 Sept 2015, London
Bonne Nuit, Noël.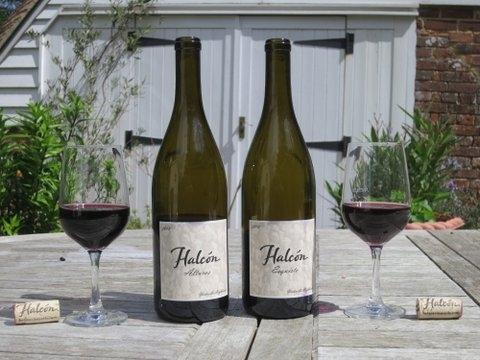 A BRACE OF RHÔNES FROM UP THE HILL IN CALIFORNIA
MAY 2015
WELCOME TO HALCÓN VINEYARDS
California's wine industry during my career in the trade has been one of a constant seek and ye shall find. One thinks of the almost comic invasion of Napa in the 1970s with red Bordeaux and white Burgundy projects, resulting in the planting of lots of Cabernet and Chardonnay in the most random of places, financed by those who had made their money in other spheres.
But, just as those years garnered plenty of dross outcomes, so seeds remained, and the development of winemaking in the USA since then has been largely conducted on a much more closely targeted approach.
Red Willow vineyards in the form of Mike Sauer and his winemaker David Lake, one of the earliest MWs from the States, introduced themselves to me in the 1980s and I was able to show them examples of mature northern Rhône Syrah when dining together at home in London.
Their work with Syrah in the Yakima Valley in Washington State was ground breaking in the 1980s, and had much to do with forming the perception in the USA that Syrah could be successfully grown in a cool climate – just as it is, essentially at Côte-Rôtie. A little south of Red Willow, lies Portland, Oregon, for example, which is just about on the same latitude (45th) as Hermitage.
The search for cool, more temperate wines has continued – not right across the board, but always driven by high conviction Questors, those who hold a concerted view of what style of wine they wish to make, often derived from the inspiration of a wine drunk earlier and elsewhere, almost in another life.
Thus it was with Josh Jensen getting the Viognier bug when harvesting at Château-Grillet in the early 1970s. I had the good fortune to take out an old Condrieu to San Francisico to drink with Josh several years ago – it was about 20 years old, and in great shape, which confirmed my absolutist view that Viognier does age well, only in a different manner to the early opulence. Indeed it changes profile quite early, after around five years, then flatlines, not budging up or downhill, for many years after that.
The bottles of 1976, 1979, 1982 and 1983 Condrieu that I take out to the Domaine Georges Vernay for them to try for the first time – and leave a good slug for Georges himself the next day – go to prove that point. Although I cover the Rhône in detail for Hugh Johnson's Pocket Book annual, to this day, Hugh still insists on putting the moniker DYA – Drink Youngest Available – next to the Condrieu entry.
In 2014 I was contacted by Paul Gordon of Halcón Vineyards, who with his fellow British friend Jackie Bracey, had established a vineyard in Mendocino, high up at close to 2,500 feet (800-odd metres) – one of the highest vineyards in California. Their inspiration is what Paul terms "a love of the ethereal wines of the Northern Rhône." Way to go, son.
So, locating schist soils at altitude in the Anderson Valley formed a profile that took them to the next step of actually planting the vineyard, which took place in 2005. The climate at height was the highly suitable one of what makes all the greatest Rhône vintages – take 2010, for instance: the cool nights of summer, which allow the vines to switch off, and to make gradual, unhurried progress towards completing their ripening cycle.
Great wine will never be made from an extremist year – 2003 or 2009 being some of the last high heat, arid years in the Rhône, for instance. Their wines are generally very good, but are fundamentally less well balanced than the vintage I regard as majestic – 2010, the copain or chum of 1978. A fruit parallel I would draw is that of English garden strawberries versus French strawberries – the cooler climate here delivers more flair in the flavour, a more bespoke acidity.
At Halcón, the vines are above the fog line, and the night-time and morning temperatures are warmer than the valley below, but peak temperatures are always held in check by afternoon breezes and the altitude. So Paul has found his spot, the soil being a mix of fractured shale, mica-schist and quartz. I could be writing about Côte Rozier at Côte-Rôtie.
Planting has been dense, running at 2200 vines per acre, or 5,430 vines per hectare – obviously less than the 8,000 or so of terraced slopes in the northern Rhône. The Syrah is a mix of selected cuttings from Hermitage and Côte-Rôtie and clones, while a small amount of Grenache and Mourvèdre have been planted on a protected south facing slope.
The Grenache is a mix of Alban and Tablas Creek selections, while the Mourvèdre is straight down the line from Tablas Creek, owned by the Perrins of Château de Beuacastel, and we all know their penchant for Mourvèdre, as in the 60% Mourvèdre from the 1940s and 1950s that makes up the major part of their Hommage à Jacques Perrin.
Satisfied with his 2013 vintage, Paul kindly sent me a bottle of his Syrah wine, named Alturas or Heights, and a bottle of his Grenache-Mourvèdre, named Esquisto, or Schist. "With the vines just getting to the established phase, it seemed a good time. I wanted to wait until we felt we had dialed in the wines, understood our vineyard better and got a little maturity in the vines. I think we got that with the 2013 vintage (which we just bottled)."
It appears that not much new oak is used in the raising of the wines – perhaps 20%, a reduced proportion, on the Alturas, and none on the Grenache-Mourvèdre, for which we can be thankful. Grenache and new oak = NO NO. The wines are neither fined nor filtered.
With a spring in my step, after allowing a few weeks for the wines to settle, I tried the two wines. Perhaps the result is a little surprising.
The Alturas Syrah 2013 tasting note ran as follows, tasted as it was over a few days. All the best wines of my youth – I include some 1929s, 1945s and the odd 1961 in this, were all better with air, or on the morrow. I still have Barolos from the 1940s and 1950s that conform to that way of being.
Donc, 2013 HALCÓN ALTURAS from the YORKVILLE HIGHLANDS, 100% SYRAH, 13.6°
***(*) full dark red robe; This has a lucid, aromatic nose – it gives airs of crushed/soaked cherries with a suggestion of licorice and violets that comes in a delicate funnel. There is a hint of extreme ripeness in a light note of lushness, and some lurking reduction. After one hour, the nose becomes more weighty. On Day 2, there is a more heightened aroma of black cherries. The palate is immediately more robust and urgent than the nose – it bears fleshy, wholesome and broadly layered black berry fruit, while the tannin grips tightly and coolly as it takes over towards the finish. It gives a good, dentelle or toothsome close, bright as a button. The flavours present blueberry, blackberry and licorice infused together. It is more Côte-Rôtie on the nose, and Hermitage from Le Méal (the south facing slope that provided the heart of the 1961 La Chapelle) on the palate. I find the Alturas more fleshy and evident than the Esquisto. It is well juiced, but a slight fade towards the finish suggests young vines, after the wine has done plenty early on. On Day 2, the oak is on the outside, notably on the finish, with a pronounced vanilla influence. So another year in bottle will be good for the wine to fuse further. On Day 3, soaked fruit leads the way, with a fine grain tannin perhaps from the stems, a floral interlude on the finish. It flirts with New World, obvious features, and teases with Northern Rhône florality. There is also some rocky fissure in its flavour. 2021-22
Meanwhile, down from the "south" came the
2013 HALCÓN ESQUISTO from the YORKVILLE HIGHLANDS, 60% MOURVÈDRE, 40% GRENACHE, 14.4°
****(*) has a plum red robe, plentiful legs visible down the glass. The nose is rather neutral, ungiving, which suggests Mourvèdre domination; there is a couch of simmered black fruits, fruit lozenges, a note of mulberry red berry. The palate delivers a tasty roll of spiced blueberry fruit, the spice getting into overdrive after half way. This holds fine grain, dark tannins, a real Mourvèdre imprint, on the finish, which lingers attractively. Exemplary length here. It is a wine finding its way – not surprising given the 60% Mourvèdre. The fruit comes in good, fine droplets, and this is stimulating for the mind, aided by restraint and a little mystery (more so than the Syrah Alturas). The delicacy of the second half of the palate works well. Decant this. From spring 2016. Day 2, the nose is firm, broad. The palate gives a soaked red cherries (griottes) flavour, the length good. There is a hint of glow on the finish. This is very good, nice and complete wine. Day 3 – it is beau, aromatic wine. 2022-23
So the pre-race favourite, which I imagine to have been the Alturas, has been slightly toppled by the outsider. Certainly the Syrah comes in the vein of Syrahs from the north-west of the USA, where cooler zones at places such as the Eola Hills of Oregon and the Santa Maria Valley have become more likely to house Syrah with cut and definition. But, as I found when visiting McLaren Vale a few years ago, the Grenache really surprised and excited me, with its buddy the Mourvèdre.
In my cellar I have several bottles of late 1980s/early 1990s Mataro from Monsieur le Professeur Paul Draper of Ridge, while I am aware that winemakers in the USA have been seeking to freshen up the Grenache with the inclusion of stems, as has been done at Jaffurs or Gramercy Cellars. These are all good moves.
The Parkerisation Years plunged Châteauneuf-du-Pape into a headlong rush to produced high octane, high degree wines with a noun new to me when I first heard it, "sucrosity", in the mix. Not only were these unbalanced wines, but they also deviated from what Châteauneuf has historically been – a wine of elegance, made largely from Grenache, with the stems on, cultivated at around 14°. Sledgehammer wines at 16° were not on the agenda.
Those wines that I bought for peanuts, while earning peanuts, dating from 1964, 1966 and 1969, for instance, were all beauties – marvellously aromatic, and smooth as silk along the palate. I think of Domaine de la Solitude, Les Cailloux and Clos du Mont Olivet, for instance. They were raised in concrete vats or large old barrels – a neutral environment, as long as the grower was competent with his sulphur stick in the barrels.
Here I am tasting a Californian beauty from high up the hill, with the co-fermentation deliberate "to balance things out between the higher degree Grenache and the lower degree Mourvèdre," as Paul told me - a perfect sudiste, Mediterranean approach performed in sight of the Pacific.
"In 2013 the Mourvedre was a little riper than usual (due to low crop)," Paul also explained. "It got to 24brix compared to the more typical 22.5-23.5b. In 2013 the Grenache got to 25.5brix (which is typical). The vineyards were hit by frost, so we got just 1/3 ton per acre. That gave us just 700 bottles of the Esquisto and 1400 bottles of the Alturas."
Paul's route to his vineyard was from another world – that of the high tech business, in which he had been an Engineer and CEO in California. "While in California, I got the food and wine bug. My palate has led me to the Rhône (mainly North), though it has created a love of a good Burgundy as well." He should be pleased with the state of play after nearly one decade.
I was impressed by wines coming out of Mendocino (Copain, Littorai being two examples). I looked for a site to plant, and found Halcón Vineyards - an extreme site (windy, cold, very poor soils) that had a lot of risk but promise of something interesting and differentiated."
I heartily, thoroughly, unreservedly recommend that readers try the Halcón wines; there is a Marsanne-Roussanne white, called Prado, as well. But if you like a slice of mystery allied with a droplet of poetry, I would point you to the 2013 Esquisto.