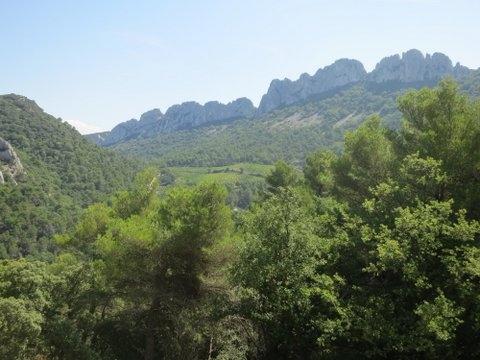 SUMMER 2015 DATES
JUNE 2015
MONDAY-TUESDAY 13-14 JULY 2015
VACQUEYRAS: FÊTE DES VINS
This long standing event – 2015 is the 43rd edition - showcases all the main domaines of the village, and is ideally visited before midday, since the heat gets up, and the wines aren't necessarily able to be kept cool. Over 30 domaines show their wines from 10.00. On the 13th July evening, there is wine and food pairing in the shape of Vins & Gourmandises. At 10.00 in the morning of the 14th mass is conducted in Provençal There is a big communal lunch on the big day, the 14th, costing €45 per person, the wine included. I always thought Vacqueyras were very clever to get in and bag the famous 14 Juillet date for their knees-up. Beau travail.
INFORMATION: www.fetedesvins-vacqueyras.fr +33(0)490 65 86 72
THURSDAY-FRIDAY 16-17 JULY 2015
SÉGURET: UN QUATOUR DE VILLAGES
This annual event covers the wines from four appellations, all CÔTES DU RHÔNE VILLAGES – SÉGURET, SABLET, MASSIF D'UCHAUX, ROAIX. 30 domaines show their wines (150 different wines) from 14.00 to 20.00 each day. Tasting and buying together. There is a Grand Dinner festive on 16 July at 20.00, grilled foods and music. Entry is €4 with a tasting glass. At the Salle Culturelle of Séguret.
INFORMATION: info@seguretvin.com
SATURDAY 18 JULY 2015
TAVEL: COULEUR TAVEL
The third edition of this summery event: there are visits of gardens and, naturally, tasting of TAVEL. Chefs are present, with an ice cream au Tavel from EDWARD CRISTAUDO, and a conference on the tomato, yes, indeed. This runs from 18.00 to 01.00 the following morning.
INFORMATION: www.vin-tavel.com or +33(0)466 50 32 34
MONDAY 20 JULY 2015
GIGONDAS: GIGONDAS SUR TABLES
This is a gastronomic evening with chefs present among 42 growers of Gigondas. It takes place in the Dentelles de Montmirail. The gastronomic contributors are CYRIL GLÉMOT, the accomplished patron of the very good restaurant COTEAUX ET FOURCHETTES on the Plan de Dieu between Cairanne and Violès, JEAN-PAUL LECROQ, whose cuisine I have enjoyed at the TABLE DE SORGUES in Sorgues, MICHEL PHILIBERT of LE GAJULEA at Le Barroux, PHILIPPE ZEMOUR of BISTRO DU'O at Vaison-la-Romaine and JOSIANE DÉAL of LOU CANESTEOU at Vaison-la-Romaine (she is well known for her prowess with cheese), and ANDRÉ SUBE of the MAISON SUBE at Camaret. The cost is €50 for adults, and €12 for children of 12 and under.
INFORMATION: www.gigondas-vin.com +33(0)490 37 79 60 promotion@gigondas-vin.com
WEDNESDAY 22 JULY 2015
GRIGNAN: FÊTE DES VIGNERONS
A debut for this appellation with the extraordinary, governance by committee name, GRIGNAN-LES-ADHÉMAR. It starts at 18.00 in the PLACE DU MAIL at Grignan, which is overlooked by the most handsome Château. There are also local foods and produce. Music as well.
INFORMATION: +33(0)475 46 55 96