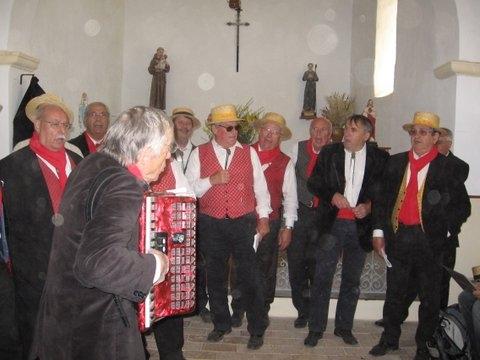 SPRING 2015 DATES
APRIL 2015
SUNDAY 24 MAY 2015
RASTEAU: THE ESCAPADE DES GOURMETS
This is a most enjoyable event, with a walk through the vineyards, punctuated by four or five "pit stops", where a glass is available to assuage the thirst, or hunger in the case of the last one, of the participants. There is music en route as well, and it is all very jolly.
It may be subscribed by now – 2,500 people take part, departing in waves during the day. The views are tremendous in the hinterland behind the village, and high up. This is the 16th year.
Highly recommended.
INFORMATION: http://www.vins-rasteau.com
SATURDAY-SUNDAY 18-19 APRIL 2015
CAIRANNE: THE MARCHÉ AUX VINS DE CAIRANNE
A weekend event with stalls featuring most of the domaines at Cairanne, plus a few outsiders such as FERRATON PÈRE & FILS from the North, along with CHÂTEAU DE VAUDIEU, BEAUCASTEL and the DOMAINE DE LA BISCARELLE from CHÂTEAUNEUF-DU-PAPE. It is held in the PLACE DES VIGNERONS, in the village centre, with snacks of local food available as well. This is the 6th year.
INFORMATION: http://www.marcheauxvins-cairanne.fr
SATURDAY-SUNDAY 11-12 & MONDAY 13 APRIL 2015
CHÂTEAUNEUF-DU-PAPE: LES PRINTEMPS DE CHÂTEAUNEUF-DU-PAPE
This was started by the young growers at Châteauneuf-du-Pape to showcase their wares. It has grown into a solid event with its own propulsion now, and all the domaines you want to visit are present – it is a high class field of runners on show. On the weekend the gates are open from 10.00 to 19.00 hours. The Monday morning 13 APRIL 2015 is for those working in the trade, from 09.30 to 14.00 hours. The cost for the weekend is €8, with a tasting glass included. There will also be growers from PRIORAT in Spain's north-east present. Wine and food pairing classes are also conducted. This is the 6th year. It is held in the SALLE DUFAYS right in the village.
INFORMATION: www.lesprintempsdechateauneufdupape.fr and +33(0)490 83 71 08