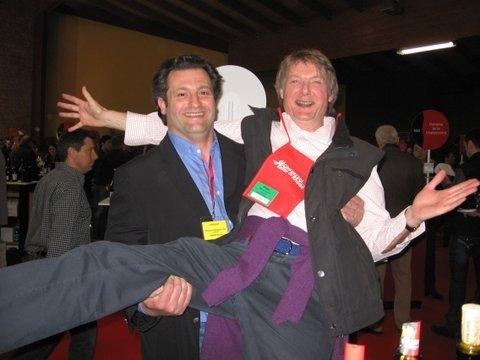 2015 DIARY DATES
DECEMBER 2014
DÉCOUVERTES EN VALLÉE DU RHÔNE
MARCH 2015
2 MARCH TO 5 MARCH 2015 is DÉCOUVERTES EN VALLÉE DU RHÔNE. The format has changed once more, meaning that tasters will now go to the vineyards rather than stay in AVIGNON for the duration.
MONDAY 2 MARCH: CÔTE-RÔTIE and CONDRIEU at AMPUIS
TUESDAY 3 MARCH: HERMITAGE and CROZES-HERMITAGE at TAIN L'HERMITAGE
WEDNESDAY 3 MARCH: SAINT-JOSEPH, CORNAS and SAINT-PÉRAY at MAUVES
THIRSDAY 4 MARCH: THE SOUTHERN APPELLATIONS at AVIGNON
FRIDAY 5 MARCH: THE SOUTHERN APPELLATIONS at AVIGNON
The Southern appellations include CLAIRETTE DE BELLEGARDE, CÔTES DU VIVARAIS and DUCHÉ D'UZÈS, among the least well-known names. CHÂTEAUNEUF-DU-PAPE DOMAINES will not be showing their CHÂTEAUNEUF wines, but will be showing their RASTEAU (DOMAINE DE BEAURENARD) or CÔTES DU RHÔNE (BOSQUET DES PAPES), for instance.
JANUARY 2015
MARCHÉ AUX VINS D'AMPUIS (CÔTE-RÔTIE)
FRIDAY 23 JANUARY: 11.00-19.00
SATURDAY 24 JANUARY: 09.00-19.00
SUNDAY 25 JANUARY: 09.00-19.00
MONDAY 26 JANUARY: 09.00-19.00
The showcasing year starts in earnest with this event that in my youth was attended by about 100 people and 10 growers! Cost of entry is €8. About 60 domaines will be present, covering the appellations of the Northern Rhône.
For those who like to hit their stride and keep going, it is but a short hop on to the next show, namely
MILLÉSIME BIO at MONTPELLIER, LE PARC DES EXPOSITIONS
MONDAY 26 JANUARY
TUESDAY 27 JANUARY
WEDNESDAY 28 JANUARY
The organic world meets here, big time. Apart from estates from SPAIN, AUSTRIA, GERMANY, ITALY etc, RHÔNE domaines such as CLOS DU CAILLOU, CLOS DU JONCUAS, DOMAINE DUSEIGNEUR, DOMAINE MONIER PERRÉOL, DOMAINE SALADIN, LE SANG DES CAILLOUX will be present.
FEBRUARY 2015
SALON DES VINS DE TAIN L'HERMITAGE, MAISON DES QUAIS, PLACE DU 8 MAI 1945
FRIDAY 20 FEBRUARY: 16.00-21.00
SATURDAY 21 FEBRUARY: 09.30-19.00
SUNDAY 22 FEBRUARY: 09.30-19.00
MONDAY 23 FEBRUARY: 09.30-18.00
There are also events with VALRHÔNA, the CHOCOLATE KINGS and QUEENS, and about 80 domaines expected. Cost of entry is €7.
For full information, call +33(0)475 06 14 59 or go to www.salondesvinsdetain.fr