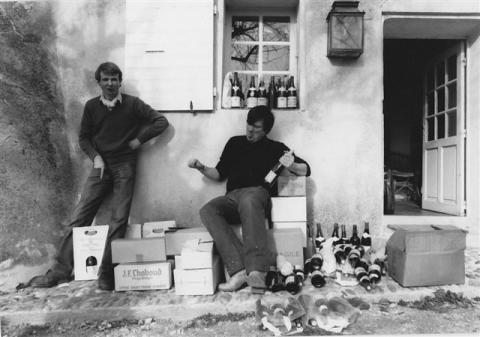 MEMORY LANE, 40 YEARS AGO
NOVEMBER 2014
Assembling such an array of wines, having tracked down their vignerons and domaines with only one's own initiative as a guide, was a very long task. I would visit domaines such as ALARY at CAIRANNE, CLAPE at CORNAS, VERNAY at CONDRIEU or CHAVE of HERMITAGE, and ask the owner if he knew of any other growers then bottling their wines. The alternative was to hang around the PTT, the village Post Office, and something of a meeting point before the midday aperitif, announcing that I was looking for vignerons. I got a few funny looks, as an itinerant Britannique was a complete rarity in those days.
Having asked endless questions and tasted at the growers' cellars with my young, unversed palate, I would bring bottles back to Aix-en-Provence to the house of MELVYN MASTER, whose idea it had been to write a book on the Wines of the Rhône Valley. He, TIMOTHY JOHNSTON and I would then taste the wines blind to add experience to the assessment of the wines. I recommend any young enthusiast to taste wines blind over and over again: it is a process that will form the bedrock of one's palate for life, since everyone can be a good label drinker. I continue to taste blind when in organised tastings in the Rhône, unlike a majority of wine critics.
Here we have enfant terrible TIM JOHNSTON pulling one of his usual controversial faces and brandishing a bottle of 1971 CHÂTEAU-GRILLET. I am standing above a three-pack from the CAVE DE TAIN. I note the presence on the window shelf back left, wrapped in paper, of the marvellous 1972 MUSCAT DE BEAUMES DE VENISE made by LOUIS CASTAUD at DOMAINE DES BERNARDINS. This had a green wax insignia on its neck, on which was stamped the vintage. It was brilliant wine, still going strong 30 years later.
Other wines included the 1971 SAINT-JOSEPH RED from GUSTAVE COURSODON, then Mayor of Mauves. This, too, was a wonderful wine, and over 40 years later I still have a couple of bottles chez moi. GUSTAVE followed the habits of the day by using a thick, coarse red plastic neck capsule that was perforated on the top of the bottle above the cork. Opening these bottles almost necessitated the purchase of an industrial drill.
From CÔTE-RÔTIE, where around 20 estates bottled their wine, some in quantities only for family and friends, there were wines from MARIUS CHAMBEYRON, devotee of heavily tilted casquettes or flat hats, and father of NICOLE LEVET of THE STGT DOMAINE LEVET today. GEORGES JASMIN'S marvellous 1971, of which he bottled six magnums each for me and Tim personally, was also present, a wine that was in super form when the last magnum was drunk in 2011.
CONDRIEU's total vineyard amounted to just 12 hectares (30 acres) in 1973. After a ravaging hail storm in July, the 1969 crop amounted to a mere 19 hectolitres, or 2,530 bottles all told. Think about that as you drink your VIOGNIER from VIRGINIA, the CAPE or SOUTH AUSTRALIA.
Apart from GEORGES VERNAY, there was dry CONDRIEU made by MARC DUMAZET, ANTOINE CUILLERON, ANTOINE PERRET, EMILE DAVID, PAUL MULTIER at CHÂTEAU DU ROZAY and DELAS. ANTOINE PERRET was the grandfather of ANDRÉ, and first bottled the family wine in 1969. ANDRÉ DÉZORMEAUX made good, concentrated sweet CONDRIEU from his vineyard on the COTEAU DU COLOMBIER above the N86. The most secure buyer of CONDRIEU in those days was the legendary 3 star RESTAURANT FERNAND POINT in VIENNE. Export was near impossible.
MELVYN MASTER exported the best of these RHÔNE wines to the USA, and subsequently went on to start and run successful restaurants in the USA, notably JAMS in NEW YORK, and to create branded wines such as TORTOISE CREEK, often using wines from the Rhône and/or Languedoc. He is still full of business beans today, based in the USA. TIM JOHNSTON started the buzzy, sometime action-packed JUVENILES WINE BAR in the rue de Richelieu in PARIS, and it is flourishing today under the guidance of Tim and his daughter MARGAUX. As for me: I am still tapping away, although I have had an upgrade from my portable OLIVETTI LETTERA 22 typewriter.
Incidentally, our nearest neighbour in Quartier Patheron in AIX was CHARLES TRENET, the chanteur-crooner best known for his ballad LA MER. He would be seen sometimes after rain gathering a few snails for his cuisine.