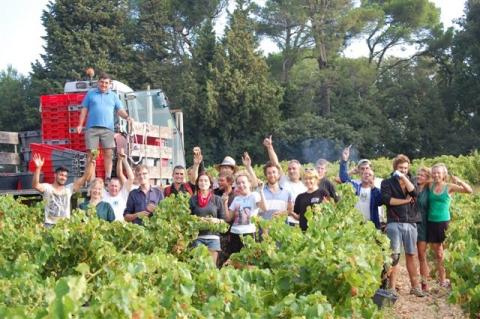 SUNNY SEPTEMBER, FINGERS CROSSED, SECATEURS WELL SHARPENED
SEPTEMBER 2014
2014 has been marked by difficulties through the summer, its uneven rhythm causing extra work for the growers. The unseasonal early spring warmth pushed the vineyards into an advance of around there weeks, but this was reeled in as the summer weather failed to inspire, a modest and often rainy July the heart of the problem. However, from mid-August the weather has been stable and dry up and down the Valley, a stability that will prove central to the style of the vintage.
Harvesting has started in places, notably on the right bank GARD and in the CÔTES DU RHÔNE, with some estates on the go at CHÂTEAUNEUF-DU-PAPE such as CHÂTEAU FORTIA, CHÂTEAU LA NERTHE, CHÂTEAU GIGOGNAN and the CLEFS D'OR – all those with more southern sector vineyards.
However, the main game now for many is to allow as much time as possible for the pips and tannins to ripen, and the grapes to concentrate further. Any hint of rain will have them running for the secateurs, and cropping at great speed, though, with skins potentially fragile.
The white grape harvest is uniformly splendid across the SOUTHERN RHÔNE, and very good across the NORTHERN RHÔNE. Red grape yields are good, along the lines of 2011, which was the most abundant recent vintage. There is much more GRENACHE than in 2013.
A detailed report from several different domaines all over the Valley has been sent to Subscribers.
PROFILE OF A HARVEST TEAM
CHÂTEAU FORTIA employs a team of 33 to bring in the harvest from its 30 hectares of vineyards. As befits an estate of long standing, its vineyards are based around the Château itself, making access swift and easy to the cellars. Most family domaines at CHÂTEAUNEUF have been built up by marriage and liaisons (perhaps some dangereuses) over the decades, so tractors scurry here and there taking crop to the cool of the cellars.
"We have 3 full-time employees working with the 33," states PIERRE PASTRE, who is in charge of the estate; among those are 10 Poles, 7 Spaniards, 1 Ukrainian, 1 German and the rest French. They look after their own lodging and feed, and work 07.30 to 11.30 in the morning, and 13.00 to 17.00 in the afternoon. The team didn't want a longer lunch break, so we do it that way. They split the tasks of cutting and carrying among themselves. Our staff look over the sorting especially.
80% of them have worked with us before. I estimate that it will take 16 to 18 days to bring in all the harvest, with a 6 day week. Obviously rainy days will prolong the whole exercise, and can mean that some of them have to return to their countries before the end if we overrun."