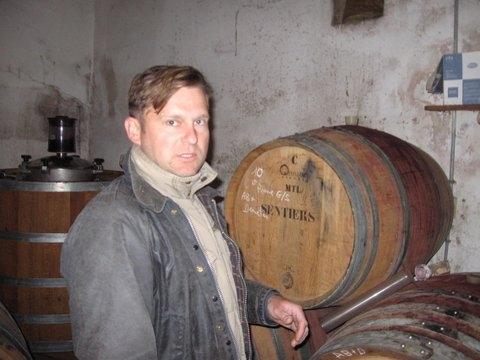 2014: THE YEAR OF CHARACTER
I greatly prize a grower's ability to create stimulating wine, to allow me to drink physically and spiritually, to provoke my sense of wonder. I taste thousands of wines, but remain wedded to those that appear in my notes with words such as "character", "interesting", STGT, w.o.w. and so on. These are wines that are not made to appeal to the fashion gallery and to make an impact by sheer weight of extraction, or through muscled cellar-derived depth.
Taking the 2012 CÔTES DU RHÔNE RED category, for instance, under CÔTES DU RHÔNE, MATTHIEU DUMARCHER, DOMAINE GRAMENON, MAXIME-FRANÇOIS LAURENT and DOMAINE SAINT MICHEL, to name a few, achieved this. At BEAUMES-DE-VENISE, the DOMAINE DES BERNARDINS, at CAIRANNE the DOMAINE ALARY and at LIRAC the DOMAINE DES CARABINIERS came up with such wines, all of which I commend to you. The CARABINIERS LUNAR APOGÉ with a spot of cool riff, jazz music, Sarah Vaughan on vocals, for instance. Get in the Mood, Readers. 2014: the year of CHARACTER.
INSPIRATION, MAESTRO
The inspiration that wine can bring was brought home to me recently when I received a lyrical, heartfelt report on a single bottle of wine from a subscriber in Switzerland. His name is PAUL CLARK. Paul wrote to me as follows: "I had a very nice windfall yesterday. I stumbled across a bottle of 1990 CÔTE-RÔTIE GENTAZ-DERVIEUX in my local caviste's shop. It was from his private collection. He looked at the fill (which was maybe 1.5cm low) and asked me CHF60 for the bottle. I was shaking with excitement. Previously I believed I would never have the chance to experience one of these wines because of cost and scarcity. I was literally trembling the entire way home.
It was a perfect bottle. My wife's first reaction after tasting the wine was "fumée". It was all bramble fruit, violets, smoky woods and burnt forest. The fruit was floral, incredibly fresh and sharp, yet there was a charred element, the smoke and truffle. Never a moment of confiture. It was so bright on the palate. It was so amazingly full yet never heavy, always incredibly aerien.
I had trouble sleeping last night. The excitement hanged in the air as long as the aftertaste of Gentaz-Dervieux's ethereal wine.
Incidentally I'm emailing you this because I've been a reader of your work for nearly four years and I can't think of anyone who would be able to appreciate the emotions I felt more than yourself. I reckon 99.9% of wine fanatics would wonder what all the fuss was about...Gentaz-Dervieux's is such a rare name let alone bottle to stumble across these days. Thanks for your passion and continued work to share your knowledge of these wines, it's your writing that gave me the ability to recognize this bottle and eventually have one of my most memorable vinous moments."
THE NITTY GRITTY: TRUE APPRECIATION
PAUL subsequently added this: "a debate ensued on the wineberserkers.com board as to whether or not other folk would have "flipped" the bottle for $1,985 pocketing a $1,925 gain. I wouldn't have paid $2k for the experience but, that said, I wouldn't sell the experience for $2k either! The story embodies everything I love about wine. The bottle came from a private collection, the owner / caviste is an amateur of aged wine, he recognized me as a guy that is passionate about wine but too young to have appreciated numerous versions of well aged wine. He proposed to sell me the bottle at an average "Côte-Rôtie price". I didn't see it as an opportunity to buy a bottle for CHF 60 but, rather, a CHF 1,925 gift from a very generous caviste (don't tell the tax authorities about that!). Its refreshing to enjoy opportunities which are increasingly becoming limited to oligarchs and Asian billionaires. And it served as a perfect Christmas celebration between my wife and I. A roasted pigeon and sautéed spinach paired with it perfectly!"
BRAVO to PAUL CLARK for embodying the true spirit of a wine lover. May we conquer "collectors" and "flippers" the world over.