Welcome to drinkrhone.com
OLD GRENACHE VINES NEAR THE VILLAGE OF GIGONDAS, WITH A LOCAL VISITOR. 2011 AT GIGONDAS IS A COMFORTABLE VINTAGE, WITHOUT GREAT STRUCTURE. THE BEST PERFORMERS CONTAIN EXCELLENT GRENACHE, INCLUDING ONE MADE FROM CENTENARY VINES AT DOMAINE SAINT GAYAN. A FULL 3,000 WORD REPORT IS UNDER THE TAB LEADING WINES BY VINTAGE, SUBTAB 2011 SOUTHERN RHÔNE
MAY 2013
MORE CORNAS (CHEVAL MASCOT) NEWS: the mighty CORNAS returned to Paris in April, the swanky so and so, this time frequenting the classy Western reaches of the city, at AUTEUIL. He contested the Prix Quo Vadis (the French race names have more ring to them, n'est ce pas?), a steeplechase over 3,700 metres against 11 rivals. Cornas led into the home straight, after making the running, and finished an honourable fourth, backed in from 17/1 to 10/1 as French Turfistes appreciate the qualities of the horse they believe comes from the Ardèche and its Noble Wine Village. Connoisseurs, they all are, down at the PMU. ALLEZ CORNAS!
ENTERED RECENTLY: the main focus is on 2011 GIGONDAS REDS – the report is under 2011 SOUTHERN RHÔNE. If buying, I would go for the easy drinkability of some, and tackle them early in their life. Or I would cellar a select few that can develop over time, and give interest and satisfaction past the 10-year mark.
A lot of Notes on 2011 CÔTES DU RHÔNE and VILLAGES have been entered, so a whole range of CO-OPERATIVES and smaller DOMAINES has been added. Here we go: under CÔTES DU RHÔNE: the vast CELLIER DES DAUPHINS at Tulette, LE DEVÈS, the Languedoc-based VIGNOBLES FONCALIEU, the wide range, with some promise, offered by LES VINS PIERRE ROUGON, LA SUZIENNE at SUZE-LA-ROUSSE, TERRES D'AVIGNON, VIGNERONS DE VILLEDIEU-BUISSON.
At CAIRANNE, DOMAINE DE LA GAYÈRE. At GIGONDAS, the good new Merchant business MAISON UGHETTO-AUDOIN. At PLAN DE DIEU, the hearty DOMAINE LE GRAND RETOUR. At SÉGURET, MAISON PLANTEVIN, DOMAINE EYGUESTRE. At SIGNARGUES, DOMAINE MAGALANNE. At VALRÉAS, DOMAINE DES GRANDS DEVERS.
Early May sees the DECANTER WORLD WINE AWARDS, so there is a lot of tasting to be done in search of quality for that. Perhaps May will bring more sustained heat and growing weather for the vineyards, and for those wanting to drink coolly and outdoors. SANTÉ!
APRIL 2013
THOMAS PONSON is the enterprising owner of several businesses in the RUE LAURENCIN, LYON 2ème - a restaurant, wine bar, wine store, a café, an Italian café also. He has relations in CORNAS, and is an UNCONDITIONAL AMATEUR of les vins cornasiens, which are spread liberally around his Wine Shop. RESTAURANT THOMAS, 6 RUE LAURENCIN, 69002 LYON, +33472 56 04 76 www.restaurant-thomas.com
CORNAS (CHEVAL MASCOT) NEWS: the mighty CORNAS has been practising his French again. In late March he ran in the accomplished Prix Solitaire at Enghien, north of Paris. A steeplechase over 3,800 metres (2 miles, 3 furlongs), this involved all sorts of different obstacles – banks, hurdles, water jumps, bull finch fences, and CORNAS thoroughly enjoyed himself. He led for much of the way, only to be overtaken close home, finishing third, around 3 lengths behind the winner. His starting price was 14/1. This effort was all the better given that the meeting had been cancelled the week before due to snow, so CORNAS had travelled twice to Paris from the village of George Nympton in North Devon in just a few days. His next run is at swanky AUTEUIL, west ofParis, featured in the works of Ernest Hemingway, in mid-April. ALLEZ CORNAS - you are still better known than the MAYOR of CORNAS.
ENTERED RECENTLY: see GOINGS-ON for the full cast of characters visited or tasted, with an interesting full review of the 2011 CHÂTEAUNEUF-DU-PAPE WHITES. The role of the CLAIRETTE BLANCHE is put under scrutiny.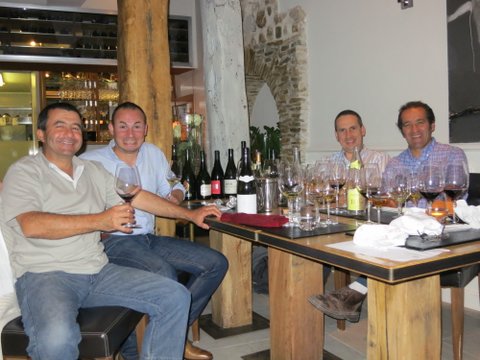 JOCULAR MOMENTS AT GIGONDAS: GROWERS IN GOOD FORM AT RESTAURANT OUSTALET AFTER A SIP OR TWO OF THE LOCAL PRODUCT, THEIR BOOK HAVING SCOOPED THE BEST INTERNATIONAL WINE BOOK TRANSLATION AT THE GOURMAND WORLD COOKERY & WINE BOOK AWARDS AT THE LOUVRE, PARIS, FEBRUARY, 2013. L-R: FRANCK ALEXANDRE, DOMAINE DES TEYSONNIERES & PRESIDENT OF THE GROWERS UNION; JULIEN BRECHET, DOMAINE DES BOSQUETS; PIERRE AMADIEU; LOUIS BARRUOL, CHÂTEAU SAINT COSME, THE BOOK PROJECT LEADER
MID-MARCH 2013: OUR BOOK TRIUMPH
So the GIGONDAS, Its Wines, Its Land, Its People book, in French known as GIGONDAS, ses vins, sa terre, ses hommes has been given First Prize at the Annual Gourmand World Cookery and Wine Book Awards ceremony, held at the Louvre in Paris on Oscars weekend, late February 2013. Our very own Oscar, donc. The book's title was actually composed by yours truly sitting under the plane trees of La Place de Gigondas with a glass in my hand. So that saved a few thousand €€€/US$$$/£££ for starters, and the wine was really rather good, as well.
Then we had the task of translating it, with my part in English already, the rest in French already. The prize seems to have been awarded for the English version, so my English section was deemed up to scratch, it would appear.
The book will be entered in the Roederer Book Awards this year as well, and some other Awards further afield. For a collective effort, this is most pleasing, and brings the co-operative sense of the project to a most satisfactory level.
The score was Rhône 2 Bordeaux 0, since our book beat, among the other 4 short-listed titles, the Gault & Millau Bordeaux Guide for Hong Kong (presumably in Cantonese) and a French book on Saint-Emilion. Olympique de Marseille (OM) are above Bordeaux, les Girondins, in the French Football League, as well.
CAVES MERGER
On to matters plus sérieux: the economic squeeze is troubling for any wine producer whose image, pricing or brand loyalty is wobbly. The Beaujolais region is facing severe despondency, culling of domaines, bankruptcies, the culmination of a structure that has been uneconomic for many decades. In the early 2000s, the average size of a domaine there was a little under 5 hectares, and there was next to no co-operation between domaines, so each one had a wine press, tractor etc etc.
The Rhône has been spared the worst of the hardships, with the alliance between Co-operatives such as Laudun and Chusclan an actually healthy symptom of the crunch, or the presence of the vast, factory-like Cellier des Dauphins as a shareholder or main owner of Co-operatives a slightly less beneficial turn of events if one wants high quality, even though it keeps viticulteurs in business.
Now news comes of an integration between two of the largest, most high profile Co-operatives of the Rhône Valley– the BALMA VÉNITIA at BEAUMES-DE-VENISE, and the VIGNERONS DE CARACTÈRE at VACQUEYRAS. I have always preferred the wines of the former, to which I have a small emotional attachment. The latter Cave has lost growers such as JEAN-LUC FARAUD, now running a very good small domaine called MAS DES RESTANQUES at GIGONDAS, while the BURLE brothers of DOMAINE FONT SARADE have also quit the VACQUEYRAS CAVE, now sending part of their crop to LE VIEUX CLOCHER. Stories of harvest such as Syrah being picked at over 16° add to an unsatisfactory picture.
When living in Aix-en-Provence as a penniless student/writer in 1973-1975, my regular wine was the CAVE DE BEAUMES-DE-VENISE CÔTES DU VENTOUX, then VDQS or VIN DE QUALITÉ SUPERIEURE, red and rosé. It came in white Litre bottles with stars around the neck and a thin plastic capsule. Cost a Franc or so, bottles refundable when returned to the Cave, delivered in battered red plastic crates, the drinking often aided quite speedily by my old friend TIM JOHNSTON, now Proprietor of JUVENILES WINE BAR, 47 Rue de Richelieu, Paris, near the Palais Royale.
The Cave de Vacqueyras has over-emphasized marketing in my view, and also offered too many different wines, no doubt to satisfy the results of market surveys or focus group studies. Their Chief is ex-IBM and beholden to that world rather more than the world of Agriculteurs or Viticulteurs, in my view. The two Co-operatives will reduce costs in the future, and are working to come up with yet another glitzy joint name or sobriquet. At least Balma Vénitia is a title based on the place, the Latin of it. However, Question: where do you go after the height of generic blandness, Vignerons de Caractère? Answer: no idea.
From around 2,300 hectares, the joint enterprise will turn out about 8 million bottles.
RECENTLY ENTERED: a full Report on CHÂTEAUNEUF-DU-PAPE 2011 REDS. See THE LEADING WINES BY VINTAGE tab, then its side tab 2011 SOUTHERN RHÔNE. Some Domaine visits, also at CHÂTEAUNEUF-DU-PAPE: the promising DOMAINE DE LA BISCARELLE, the seasoned DOMAINE DE LA VIEILLE JULIENNE, where interesting, more terroir-focused changes have occurred since the 2010 vintage, and the peerless, Ne Plus Ultra CHÂTEAU RAYAS, whose 2011s are astounding. Also, the rock steady CLOS DES PAPES, always much sought after, the authentic DOMAINE LUCIEN BARROT & FILS of RÉGIS BARROT, who now he is past 60, spends half the year living on the beach with his new wife in the Philippines, and is set to hand on to his niece CHRISTELLE.
MID-FEBRUARY 2013: Can one have just too much of a good thing? A new James Bond film every month, a football World Cup every year, Glyndebourne Operas every day, champagne and caviar likewise? Well, unease is creeping into some areas of organic winemaking. The main reason I suspect is over supply.
Going organic – "bio" as the French term it – is certainly a passport to respectability, actually a rather devalued currency as there has been a landslide of arrivistes wanting to climb aboard the chic, save the planet wagon. This is no doubt much to the disdain or even disgust of the true pioneers, domaines such as MARCEL LAPIERRE in Morgon, and in the Rhône, GRAMENON near Valréas and DARD & RIBO at Crozes-Hermitage, to say nothing of the CHÂTEAU DE BEAUCASTEL and DOMAINE PIERRE ANDRÉ at Châteauneuf-du-Pape, who have been organic for longer than I have been covering the Rhône, but make very little fanfare about it.
The conversion of domaines attached to Co-operatives and those which do not have a tight-knit, assured sales network brings to the fore the trend supplied by the following figures: according to Inter Rhône, the open market price of 100 litres (1 hectolitre) of organic Côtes du Rhône red fell from €239 to €179 during 2012, which is still 55% higher than the conventional Côtes du Rhône price. This has been mirrored in Bordeaux, where the price of a 900 litre barrel has headed towards €1,300 against a level of €1,800 to €2,000 at the start of the current vintage campaign.
Part of the problem comes from the sheer amount of organic wine newly coming on the market. Between 2010 and 2011 the Rhône-Alps region production area rose by 15% to 4,691 hectares. Interestingly, a high profile organic area, Alsace, still lags some way behind the Rhône with production of 2,062 hectares, a rise of 19% over 2010. Languedoc-Roussillon, on the other hand, had 19,907 hectares under organic farming in 2011, a rise of a whopping 21% over 2010. Can I hear pips squeaking?
GILLES FERLANDA, the President of the CAVE DE VISAN, commented: "In 2012, a lot of domaines officially achieved organic status; the result has been that the volume available on sale has increased, without having the outlets for it. Overall, demand for organic wine doesn't exceed 1-2% if you take all sales channels into account."
The warning being issued to growers is thus this: make sure you calculate your cost price to avoid having to sell at a loss, and get your wines on the market as soon as you can in any given vintage.
For the Rhône, more recent, high quality names such as DOMAINE ROUGE-BLEU, with its tapping in to the USA market and blog-newsletters in English, will be fine, but one wonders about some of the less savvy, reticent growers who will certainly have to pound some pavements to make it pay in the future.
LATE JANUARY 2013
Reviews of HERMITAGE estates have recently been posted, the emphasis on 2011 and 2010, with one or two 2012s tasted at MARC SORREL and CAVE DE TAIN. Other visits to DELAS, BERNARD FAURIE and JEAN-LOUIS CHAVE have been written up, along with the full range of FERRATON and CHAPOUTIER wines. The fullest 2011 NORTHERN RHÔNE REDS come from the area around Tain, including CORNAS, CROZES-HERMITAGE and HERMITAGE, while the southern area of SAINT-JOSEPH around Mauves and Tournon has served very drinkable wines as well. For full reviews of 2011 HERMITAGE RED, HERMITAGE WHITE and CROZES-HERMITAGE RED, see LEADING WINES BY VINTAGE and scroll down to 2011 NORTHERN RHÔNE, then across to THE LEADING WINES.
EARLY JANUARY 2013: the outcome of the Brussels deliberations on allowing unlimited planting rights has been satisfactory for the broad mass of French vignerons and viticulteurs. Europe has now proposed a system of regulation across all countries and across all categories of wine, which has come as a big relief to the Rhône growers, even if details remain to be finalised.
Morale is also up thanks to the current pricing of Rhônes; at the grass roots CÔTES DU RHÔNE level, the current price of €115.90 per hectolitre (100 litres) for the 2012 represents a rise of between €6 and €7 for the third consecutive year. This is testament to the success, not only of the extremely drinkable 2011 vintage, but also the recognition already of the superior quality of 2012, a vintage of greater structure and body than the 2011.
2012 will be an interesting exercise in judging whether the Rhône has started to shake off its junior partner status, behind the heavyweights of BORDEAUX and BURGUNDY, regions that struggled for crop and ripeness in 2012. The tradition is for perception of Rhône quality to slavishly follow judgments coming out of Bordeaux, which in vintages such as 1991, 2007 and 2008 cast excess shadows over the Rhône.
LATE DECEMBER 2012
SWEETS FOR MY SWEET, SUGAR FOR MY HONEY (OR NOT)
The news that Capt'n Bob, aka Robert Parker Jr, is about to cede much of his coverage in The Wine Advocate brings into line an enduring debate about his style of wine. He has stated that he will continue with Bordeaux and the Rhône, which of course includes Châteauneuf-du-Pape. On hearing this news, Jancis Robinson was quoted in The Financial Times, where she is Wine Correspondent, thus: "It's no surprise he's retaining Châteauneuf-du-Pape. He's probably the last person in the world who can take it."
Vroom, Vroom, JR! The week before she was quoted, Jancis had tasted hundreds of 2011 Châteauneufs, and 2011 is a mild vintage there. Her eye was in, as they say in cricket.
Another interesting exchange occurred at the same time between me and Yves Gras, the owner of Domaine Santa Duc, at Gigondas. Yves for long has been a whole bunch, 6 week ferment, "everybody into the Police Van" winemaker. His wines have been Big, sometimes unremitting, sometimes lucid. Now he is going all out for finesse. "I am destemming and shortening my fermentations. Now we do "infusions" more than macerations. I am suppressing the use of 228-litre oak casks and moving to 36 hl Austrian barrels to respect fruit and freshness," he told me. "The oak effect of small oak casks with alcohol when wines are at 15.5° to 16° is much greater than, for example, a Burgundy in its cask at 12.5°. I have had a frank exchange with Robert Parker about this, since he still insists that people want big scale, obviously flavoured wines. I don't anymore."
I am with JR and YG here, and of course have never deviated. Balance is what makes wine great. I was generously served a 2005 Domaine Giraud Les Gallimardes Châteauneuf-du-Pape red by young François Giraud at dinner the other day, in between wines from Clos du Mont-Olivet and Domaine du Grand Tinel. It was oppressive. At least 15.5°, its thickness of texture and sucrosity on both nose and palate made it hard going, a wine out of step with others at the dinner. You sip a tiny bit, then want something more refreshing. The sucrosity - consciously sought to my certain knowledge by some domaines, and zero to do with factors such as "global warming" or hotter summers, kills easy, pleasant table wine drinking. It is not just a question of degree, I must emphasize. Yves showed me his ROAIX LES CROTTES RED 2010 - a 15°-plus wine, but a tasty, balanced one, good and drinkable.
I am sure that history will look back and conclude that the chase for sweet, deliberately late harvested, high octane wines was an aberration at Châteauneuf-du-Pape, more than anything because they blurred the marvellous elegance and purity of fruit that this appellation produces. Never have I known such an extreme divergence between the palates of the USA, where sugar is mainstreamed into the diet from the earliest age, and the more mineral-appreciative tastes of Europe, and particularly Northern Europe.
EARLY DECEMBER 2012
FURORE OVER UNRESTRICTED PLANTATION RIGHTS PROPOSAL
A gradual crescendo is being reached on a topic that has not had widespread coverage as far as I can tell – the debate about the extension of planting rights in European appellation vineyards. The proposal by the EU in Brussels is that henceforth all land within an appellation zone can be planted with vines, the planting allowed at any time and in any amount. Take Crozes-Hermitage, for instance, where much of the plain of Les Chassis still produces fruit such as apricots, whose harvest in 2012 was a disaster, incidentally. This could be rapidly expanded at the drop of a hat, or a bureaucrat's pen.
Under the present system, planting rights are strictly controlled, with Grower A on the plain allowed a hectare or so, or Grower B up a hill at Côte-Rôtie just one quarter of a hectare. The quarter hectare would take more than 4 times longer to plant from a standing start, by the way, than the single hectare on flat ground: trees to be cleared, walls to be built, terraces to be constructed, versus a tractor banging in the new plants 10-4 along the flat lands.
The current system protects the integrity of the appellation, indicating that not all the land is suitable for vines (or it would have been planted in years gone by, before such strict new planting rules), and keeping a lid on supply: even in the Rhône there would be a fear of a €3 or €4 Saint-Joseph dumped into a hypermarket, for instance – a disaster for the image of the appellation. Think Beaujolais Nouveau, the Harvard Business School template for how to ruin a region's reputation through a marketing stunt.
The opposing view held by some, often larger scale growers, is laissez-faire – let the market decide. The Brussels proposal is motivated by the intention for free competition, stating that the current system is anti-competitive. What it does is exclude anyone who has no planting rights. How do you obtain planting rights now? By having vineyards already.
Hence a fruit tree cultivator cannot switch his or her land from fruit to vine. A newcomer with money has no access, likewise. There is a blockage in the system that favours the incumbents to the detriment of anyone trying to start up. However, the new system would actually favour incumbents who sell brands and have access to capital to buy into hectares of land at one fell swoop. One cannot imagine the owner of a three hectare domaine dancing in the streets at the adoption of the Brussels proposal.
France being France, the body politique is up in arms about this, and December 11, 2012 has been set aside as a Day of Action in the Rhône. The tussle over this plan has been going on for three years now, and the final meeting of the ultimate Committee on this is to be held on 14 December, 2012 in Brussels. Things get tricky with the prospect of some countries wanting a free for all, while others, such as France, favour restriction. The French clearly fear being undercut by floods of mass produced non-French wines.
Meanwhile, hot on the heels of the 2012 harvest, the digging out of dead vines is seriously en route after the 10-20% losses of February, 2012. Trails of smoke indicate the sorry end of these vines, meaning that growers in appellations such as the CÔTES DU RHÔNE, RASTEAU and BEAUMES-DE-VENISE have much more work than they would wish this winter.
EARLY NOVEMBER 2012
Growers report that vinifications have been proceeding well, with JEAN-LOUIS CHAVE at HERMITAGE devatting his last wines at the end of October, and SOUTHERN RHÔNE growers also well down the road. Other tasks currently are replanting of dead vines after the widespread loss from the February 2012 frosts and cold winds. Central government and EU aid has been channelled the way of growers to help with this large task.
On the demand side of the wine trade, the market for the 2011s En Primeur starts to hot up, too. I receive e-mails from readers wondering if they should buy this or that 2011. In other words, they are being offered a wine that is not yet blended into its final form. Some of these wines cost €50 or more. It does amount to taking a bet, and in 2011, quality is not so gloriously widespread as it was in 2010. I will do my best to report back from the front with the latest news after tastings of over 450 NORTHERN RHÔNES this month, to be followed by CHÂTEAUNEUF-DU-PAPE and GIGONDAS.
LATE OCTOBER 2012
as an example of what has happened in the Rhône this year, Patrick Jasmin's Syrah from the Blonde comes in at 12.44°, very satisfactory. Colours are good in both NORTH and SOUTH, and the wines that I have tasted so far, ranging up to 4 weeks old, have had aromatic fruit and better, more profound tannins than 2011. Growers prefer the vintage to 2011, and consider the wines to have the structure to be successful and to live better than 2011. I do not disagree. Acidity levels were low at harvesting, but their fermentations have actually perked them up, with the malolactic fermentation changes still to come. Yields are low, often short by 20-25%. The whites are promising, too.
EARLY OCTOBER 2012
Growers are in the home straight now with their harvesting, the main activity concerning the later ripening, often higher zones such as GIGONDAS and VINSOBRES in the SOUTHERN RHÔNE. MARC PERRIN of CHÂTEAU DE BEAUCASTEL at CHÂTEAUNEUF-DU-PAPE gave me the latest news from there: "we have completed 60% of our harvest, and haven't yet started the Counoise and the Mourvèdre. It's hot and fine now, so we will take the Mourvèdre ripening as far as we can, something like the 20 October of last year, when we harvested it at 13.5°, nothing excessive thanks to the Indian summer. We have picked our Syrah and 30% of our Grenache at VINSOBRES. We are 30% down on yields at BEAUCASTEL against 2011 – the story this year of having a lot of grapes but not a lot of juice in them."
In the NORTHERN RHÔNE at CONDRIEU, CHRISTOPHE PICHON is near the end of his harvest season. He has vineyards spread around, and reported as follows: "we ended the harvesting of our domaine vineyards on 1 October, and will finish the crop from our merchant, négociant, vineyards by about the weekend 6 October. I am very agreeably surprised – the crop is belle, and so is the quality, and the grapes' juice is good to taste. Fermentations are going very quickly, and I would like them to be a bit slower for quality reasons. Our Syrah at SAINT-JOSEPH is 12°-13°, the CONDRIEU Viognier 13.5°-14°, and the Syrah at CÔTE-RÔTIE is 12.5°-13.5°. Our yields are close to what is allowed."
DOMINIQUE PERRET of DOMAINE ANDRÉ PERRET at CONDRIEU was relieved that the finishing line was in sight: "we finished harvesting on 2 October with our Vins de Pays vineyards, our last Condrieu Viognier picked the day before. Our yields are 10-20% down, with our Marsanne minus 20-25%. We have also had a very low crop on the hill of CHÉRY at CONDRIEU – the old vines did not perform well, and we may have to take them out (they date from 1948). Degrees are correct this year."
LATE SEPTEMBER 2012
the autumn equinox has struck with its usual potent force, stretching nerves among the later harvesters across the Rhône. From the NORTHERN RHÔNE, one appellation is relaxed, thanks to its vineyards being tucked in and sheltered, away from the main Rhône corridor - CORNAS. The young and skilled GUILLAUME GILLES told me: "we finished on 22 September after 4 days of harvesting; I had a team of 12 cutters this year, and one of their main tasks was to cut out the burnt grapes from the heat this summer. There were two main moments of high heat – mid-July and the late part of August, when the setting sun on Chaillot was particularly hot. The yield is not enormous – 30 hl/ha. The harvest is healthy, even stunning, very, very ripe, very charged in sugar, and the potential degree is above 13.5°. Even the foot of the slopes and flat areas with less high heat are almost riper than the high slopes this year, since they weren't sunburnt."
Another voice, much more experienced, at CORNAS came from PIERRE CLAPE: "the Cornas phenomenon is that we have been riper than our neighbours even at Mauves and across the river at Crozes-Hermitage, where not a lot of people have yet harvested. Cornas vegetation was in advance in the spring, and it has been warmer here, and a lot of growers have now finished. The crop has been superb for most people, and the yield is around 35-36 hl/ha – in 2011 it was 40 hl/ha, a lot too much. The vintage is richer than 2000, perhaps like 2006."
Growers are working away at CÔTE-RÔTIE, with rain and squalls in the atmosphere. STÉPHANE PICHAT, thoughtful and talented, reported: "we started to harvest on Monday 8 September, and finished on 25 September. We have had some rain, but nothing too extreme, and it was followed by a lot of wind which dried the crop quickly. The skins are becoming very, very fine, and won't last long in the current conditions. September was a healthy month, and my Syrahs are not high in degree – 12.5° about, with Grandes Places 13° or so. The grapes are small and handsome. This year we have had to work hard all the way through, so we are quite tired after all that, and happy to have reached the finishing line. There is a forecast for 85 mm (3.4 in) of rain this weekend."
Elsewhere at CÔTE-RÔTIE, young XAVIER GÉRARD told me: "I finished my Côte-Rôtie harvest on 28 September – the 50 mm (2 in) of rain on 26 September didn't hurt, although the very ripest plots were slightly affected by that." From the excellent STGT DOMAINE VIGNOBLES LEVET, NICOLE LEVET remarked: "we finish the 29 September, and it has gone well. We waited to achieve a sound degree which ended at about 12.5°. We had 60 mm (2.4 in) of rain on 26 September, so after that we had to do some triage (sorting, discarding) in the vineyard."
Further south at Mauves, one of the villages that forms the original cradle of SAINT-JOSEPH, JEAN-CLAUDE MARSANNE a longtime grower with a traditional outlook and interesting wines told me: "the harvest is very joli for the moment. It rains from time to time, we have finished half, and the grapes are in good shape. Our yield is normal, less than 2011, and around 13°, which is good and ripe. Crozes is less ripe than Saint-Joseph, but also in good condition – there is always a delay between here and there."
Down in the SOUTHERN RHÔNE, some appellations such as VACQUEYRAS have almost finished harvesting, while others such as GIGONDAS are still very much on the go. DAMIEN VACHE of DOMAINE LA MONARDIÈRE, a mainstay estate, reported: "we ended on 22 September – we accelerated because rain was forecast, and we don't regret doing that since we had 65 mm (2.6 in) on Monday 24 September, a violent, early morning storm between 8 and 10 o'clock. We have had small storms passing through since then. The vats are fermenting very well, but the crop is very small, though very pretty – we are very happy with quality. We have been working on containing our alcohol levels and should be about 14°."
Elsewhere at VACQUEYRAS, MONTIRIUS finished harvesting on 20 September, and the STGT DOMAINE LE COUROULU on 19 September, the latter finding the crop down by 15-20%. Later to harvest, MAXIME BERNARD of the very consistent, traditional DOMAINE LA GARRIGUEinformed me: "we have not finished yet, but are at least 15-20% down in yield. The impact of the frost was long-lasting, and interfered with the flowering, I think. The crop we have is very joli, the acidity not bad, and degrees are normal, not high. Choosing the date of harvest was complicated this year – we started on 14 September, and will finish around 3-4 October. We had 40 mm (1.6 in) of rain on the evening of 26 September after 50 mm (2 in) on 24 September, but it is now fine. The crop is still in good shape, and just needs to dry. It is now 21°C, and a North Wind is expected, a turnaround from the recent South Wind."
Nearby at GIGONDAS, DOMINIQUE AY of the excllent DOMAINE RASPAIL-AY was having some weather problems: "we will finish harvesting on 1 October, but have been set back by the heavy rain on Monday 24 September and then again another 40 mm (1.6 in) on 26 September. We don't use weedkiller so there are grasses in the vineyard, and it is too wet for the tractor to get in, so harvesting is on hold while it dries out. The weather is magnificent now, so that's OK. Our Grenache from old vines has been around 14.5°. 2 of my 4 vats have started to ferment, and are going well, with the Syrah nearly finished."
Up the road in the southern Drôme at VINSOBRES, growers were pretty happy. HUBERT VALAYER who makes wines full of character at the DOMAINE DU DEURRE related: "we have completed 65-70% of the harvest, with just some Grenache and Mourvèdre still to come. 30 mm (1.2 in) of rain at the end of August helped the grapes expand after the drought. We are down 20% this year, with a very healthy crop. The Syrah didn't suffer from the drought, and maybe lost 10%. As for the Grenache, the mixture of the February frost and the drought hit it, but what we have picked is very joli. Alcohol degree is not high this year – 13° on the Syrah, 14° on the Grenache. This week, 24 September, we had another 30 mm (1.2 in) and now there is a South Wind and 23°C – it changed from a North Wind then."
Vinifications are going well nearby at the high quality VINSOBRES DOMAINE CHAUME-ARNAUD: son THIBAUD and his mother VALÉRIE informed me as follows: "there is good acidity, and less alcohol than in previous years. It seems very balanced, with "formidable" acidities. This year we observe fermentations taking off at speed, the yeasts are valiant, with the density in the vats falling fast. Unlike 2011, which was very slow and took forever, the sugars ended quickly. It has been a lot more comfortable working in the cellar this year."
MID SEPTEMBER 2012
it's still summertime in the RHÔNE, and growers are happy. From the NORTHERN RHÔNE at CÔTE-RÔTIE, STÉPHANE OGIER reported that he was content with matters: "Well, things are certainly better than they were in June, when I thought we were heading for a catastrophe. I have never known a year with such blight pressure from June until the middle of July – grass growing everywhere, mildew potential, treatments needed, all very complicated. Since August the weather has been magnificent. It's now not the vintage of the century but we are well past the point of catastrophe. The next ten days will help the degree, which is not high at present. My samples on 10 and 11 September across my plots at Ampuis (Côte-Rôtie) and Seyssuel (vin de pays, across the river, north of Ampuis) showed Syrah at 11° to 12.5°. I have dropped a lot of grapes this year.
Now that we have had nearly 40 mm (1.6 in) rain on 12 September, the degree will be lower, but good weather is here now, and more of the same is forecast. I want to wait as long as I can, and may start to harvest around 19-20 September. The grape skins are fine, and I can envisage having to chaptalise some vats, since I expect low alcohol this year, The sort of vintage I expect is one of good aromas, a supple and round set of wines, not high in acidity – maybe along the lines of 2000 or 2004. If rot does come, it will be necessary to harvest super fast, unlike 2011 when I harvested over a month. For my Viognier at Condrieu, I will start next week, like Yves Cuilleron. Acidity will be low. They say that Château Grillet (Bordeaux owned) has already finished harvesting."
A few miles south in the SAINT-JOSEPH appellation at Saint-Pierre-de-Boeuf, XAVIER NOVIS of DOMAINE NOVIS was in sanguine form: "I will harvest in two weeks," he told me. "The vineyard is very joli, we have decent degree, it's a good year. We had 10 mm (0.4 in) of rain on 12 September, but it was followed by a healthy North Wind. There have been no blights, no hail, and we are expecting a yield of 35-40 hl/ha. The Syrah skins are still firm and need more time."
The rain that fell on 12 September dwindles the further south one goes, and from CROZES-HERMITAGE across the river, MAXIME GRAILLOT gave this assessment: "I harvested my white crop on 13-14 September. The white crop is magnificent, very healthy, and the yield is a good 45 hl/ha. There is not a lot of acidity, but I expect the wines to be very fine and beau. The Syrah crop is very handsome, very healthy. I expect to start to harvest it around 19 to 20 September – this year it will be around 40 hl/ha, a lot less than 2011 when it was 46 hl/ha or so.
Our last main rainfall was on three occasions – 25, 28 and 29 August, and amounted to around 55 mm (2.1 inches). Our rain on 12 September was a dribble, really, about 4 mm. The late August rain was a big help, as the vineyard was getting dry. The red grapes are aromatic, the pips are getting firm, but the skins are still thick. I have had to treat quite a lot this year – six times.
Crozes-Hermitage announced the ban des vendanges, the opening of the harvest, on 10 September, but I look around and do not see a lot of harvesting machines out and about yet. It's piano for now – people are taking their time given the good forecast. Laurent Combier has cut his white Crozes-Hermitage crop on 13-14 September, and at Cornas I know that Thiérry Allemand and the Clapes are under way on their Syrah."
The SOUTHERN RHÔNE is also in good shape. From VINSOBRES in the Southern Drôme, PASCAL JAUME of DOMAINE JAUME has started to harvest some white grapes: "the vines are ripening nice and quietly," he stated. "We have Mistral wind, and fresh but warm weather is forecast towards the 20 September, so it looks good. We picked some whites in the first week of September, and they are very aromatic. The Grenache blanc was 13.5°, the Marsanne 13°. This week we harvested Viognier at 14°. They are very healthy, just a little nice golden tone to them.
We are now on a harvesting date from 15 years ago, unlike the recent times; that means we harvested some Grenache noir for our Côtes du Rhône on 12 September, and the Syrah on 14 September. The week starting 17 September we will move on to the Vinsobres Syrah. The Syrah has small berries, but they come with a lot of colour and are well fruited, so a big potential, especially if this good weather continues. We have been having fresh mornings around 12°C, and the days going up to 23-25°C, with Mistral wind.
Yields will between 2010 and 2011 – down 15% on 2011, but ripening has been very inconsistent – berries within a bunch at different stages, and the old vine Grenache has notably been very variable, with some plants not giving a single bunch. On the other hand our 10 year old Grenache gave 50 hl/ha when we harvested it on 12 September."
As a late harvesting appellation, GIGONDAS always benefits from fine weather in September, and this year is no exception. DOMINIQUE AY of DOMAINE RASPAIL-AY sought the lee of his cellar to combat the fierce Mistral wind, and had the following report: "The weather is fine, it's very dry, there's no dew, there's a Mistral blowing and all is good and stable for now. It's been 26-27°C and people are not in a hurry to harvest at Gigondas – just one or two Co-operateurs have been out picking. There isn't a lot of crop, especially on the old vines Grenache, which suffered from the cold weather at flowering.
We had 30-35 mm (1.4 in) of rain on the 3 September after about 10 mm (0.4 in) on 25 August, the first rain serving to chase the dust away and to unblock the ripening of some vines. My Grenache is around 14°, 13.5° on the young vines now. The crop is concentrating now after expanding following the rain. Vacqueyras is harvesting, and so is Beaumes-de-Venise. The outlook is good towards the 20 September or later, and I will start harvesting on 20 September as things stand."
Across the river in the Gard, RODOLPHE DE PINS of CHÂTEAU DE MONTFAUCON, buoyed by the birth of a son, Odon, from his Finnish wife Marie in August had this news to announce: "things are going very well, I am happy. It's been a very dry year even after the spring rains. We had 15 mm (0.6 in) just before the 14 July landmark, but not a drop of rain during August. I was getting a bit worried, but we had a storm of 30 mm (1.2 in) in early September. There has been some blockage of ripening, with young vines, overcharged vines, some draining soils, but I also find that some of my vines in sand are fresh.
We are in pullovers and long trousers today - it's dry, with Mistral, and there is a good variation in the temperature – it was 12°-13°C this morning, and a maximum of 23°C today. Temperatures are expected to move up towards 28°C in the third week of September. If that continues, I will have a good sentiment for the vintage.
An unusual observation on the whites is that I normally pick early to avoid high degree; this year I have picked later, and have a lower degree – 12.5° at most - than usual. I have picked all my white crop. For the reds, the acidity is rather low after the heat wave – there is not a lot of juice, so the rain two weeks ago certainly helped the grapes to expand. I am very happy with my Cinsault this year – it is always extraordinary in dry years, in dry soils – with thick skins and fine tannins, a good quality. The Counoise and the Carignan will also help to raise the acidity, as usual."
EARLY SEPTEMBER 2012
harvesting is proceeding steadily across the SOUTHERN RHÔNE, but the majority of the main work remains to be done, with the Grenache taking time to ripen its tannins and pips. A high pressure front in the first week of September and hot weather for the season has meant that growers can be pretty sanguine and calm about their harvesting policies. From CHÂTEAUNEUF-DU-PAPE, PATRICK BRUNEL of CHÂTEAU LA GARDINE told me: "the vegetation looks good, we have had no mildew or oïdium, and there was a helpful rainfall of around 40 mm (1.6 in) at the end of August and the first day of September – that helped acidity levels and out things in place. We started picking our Roussanne on 3 September – we have a good crop, but the acidity levels are low - the Roussanne was 14°-14.2°. We have done one very small vat of red grapes, where Grenache and Syrah are 13.8°."
Patrick's wife EVE BRUNEL looks after the CHÂTEAU LA GARDINE vineyards at LIRAC, across the River in the Gard. She commented: "our Roussanne is very healthy – we picked for three days from 3 September, then paused, and will re-commence on 10 September, working on the Viognier. We have to wait for the red crop, since the tannins are a bit green, and you find the grapes still stuck to their stems – these need to time to ripen further. I go into the vineyard and taste the grapes to see where we stand, which I find the best way, so cannot tell you lots of figures on the crop for now. Our Syrah is looking very good, but I have noticed something unusual this year – the red grapes are nearly ahead of the white crop, whereas the whites are normally well ahead of the reds. The Mourvèdre is very variable, with grapes of different colours within the same bunches. Yields will be less than 2011, nearer 2010."
West of LIRAC, and little to the north of Uzès, American AMY LILLAND runs the expressive LA GRAMIÈRE. Her vineyards are in a CÔTES DU RHÔNE area, but she prefers to make VIN DE TABLE: "we may start on 10 September; our Syrah is around 12°, but the Grenache is backward – bunches on the same vine can have different ripeness levels, and the skins are still very bitter. We had good, steady rain of around 50-60 mm (2-2.4 inches) at the end of August, but it has been very, very dry before that – so dry that the crop will be small this year. The Grenache varies a lot in potential degree at the moment."
The NORTHERN RHÔNE is also blessed by stable weather for the time being. It, too, experienced very high heat in August, with a brief interruption before good, hot weather resumed once more in the first weekof September. From CONDRIEU, CHRISTINE VERNAY of DOMAINE GEORGES VERNAY informed me of her progress: ""we will harvest maybe around 14 or 15 October, starting on Vernon. It was very, very hot at the end of August, which was followed by rain and cool weather, which slowed down ripening. Now we are back to 27°-29°C, although rain is forecast for around 14 September. Analytically, the crop is ripe, and nearly have a Muscat sense about them. Vernon (the majestic hill behind their house, giving the top wine, the COTEAU DE VERNON) will be 13.5° to 14°, not high compared to recent vintages. The grapes skins are firm, and the pips are very ripe."
CHRISTINE also referred to their CÔTE-RÔTIE: "it has been a complicated season; 80 mm of rain (3.2 inches) in early July got mildew going, a real explosion. We have had to be extremely vigilant – you were in trouble if you missed a window of treatment. The vines now look in good shape, and we may be harvesting around 20 to 25 September. A few young vines in shallow soils have lost their leaves."
END OF AUGUST 2012
Zap! Bang! Wallop! The tapes have risen, the Starter's Gun has fired, THEY'RE OFF! Always the first to harvest at CHÂTEAUNEUF-DU-PAPE is CHÂTEAU LA NERTHE under the management of CHRISTIAN VOEUX. This year is no different, with the early harvest policy applied to all the estates in this group. CHRISTIAN reported as follows: "We started harvesting at La Nerthe and La Renjarde (their Massif d'Uchaux property) on 22 August, for the white crop, on 23 August for Tavel at Prieuré de Montézargues and on 24 August for my Domaine de l'Amauve at Séguret. We are now harvesting the red crop at La Nerthe on 31 August.
Normally La Nerthe is ripe at the same time as the Côtes du Rhônes, but is a bit later this year. The 8 to 10 days before we started harvesting were abnormally hot, registering up to 38-39°C. There has been very good ripening in clay soils, while sand-based vineyards have advanced more quickly. Nights in the ten day spell of hot weather were half fresh – down to 17-18°C, half hot – 25°C. It appears that tannin levels are high this year. The Grenache noir at La Nerthe is around 14.5° now, the Syrah 13.8-14°, and the Mourvèdre is lagging as it should usually do, around 12-12.5°.
Our researches show that the small yields lead to more advance in ripening, while La Nerthe is a precocious, even hot, zone at Châteauneuf. We expect yields long the lines of 2010 this year – not high, due to vines dying in the February freeze and to coulure (flowers failing to transform into fruit) at flowering."
Away to the east, SERGE FÉRIGOULE of DOMAINE LE SANG DES CAILLOUX (The Blood of the Stones) at VACQUEYRAS told me his story: "we started to pick the whites - Viognier, Roussanne, Marsanne – at around 13.6-13.8° on 29 August, and are harvesting the first Syrah today, 31 August, at 13.5°. We have had 15 mm (0.6 in) of rain on 25 August, 5-6 mm on 28 August and 27 mm (1.09 in) on 30 August, the last fall over a steady three to four hours, a total of nearly 50 mm (2 inches). That has inflated the grapes, but the skins are still in good shape, and there is acidity present. There aren't many leaves from the drought, which makes harvesting go faster, I have to say. The Mistral is blowing and we are in the mid-20°sC, good working conditions.
Yields will not be large, maybe around 28-30 hl/ha – more than 2010, less than 2011. The main areas to suffer are those where there are gravel soils, some of the zones towards Château des Roques, for instance. We will start on the Grenache around 4 September – it was at 14° last week."
In the NORTHERN RHÔNE, 2012 is also shaping up well. From CONDRIEU, PAUL AMSELLEM of DOMAINE GEORGES VERNAY recounted: "It's been a complicated year, needing a lot of action in the vineyard. We have lost a lot of crop on the plateau, for our vins de pays Syrah and Viognier, due to rain during flowering – it will be half the yield of 2011. But the slopes have done well; around 22 August, the Viognier on Coteau de Vernon was at 11°, so we may harvest that on 10-12 September.
Our luck was the high heat in August – regularly 37-38°C, with moments when we were at 39-40°C. Leaves have been turning brown and dropping, notably where the vineyards are on very rocky soils, which have become very dry. The rain over the past three days has been helpful – 14 mm then pockets of 3-4 mm, maybe a bit under 25 mm (1 in). Acidities in the crop have been low, but so far Christine has noted that the Viognier from the vin de pays has re-established its acidity post-fermentation. It's fresh today – hardly up to 20°C."
At HERMITAGE, JEAN-LOUIS CHAVE was calm and content on the last day of August: "things are good for now," he told me, "after a fine and hot August, with heat above 37°C some times. We may start to harvest the white crop around 20 September. The heat helped the stems to harden. We had 20 mm (0.8 in) of rain yesterday, which was useful."
Reports from CORNAS are also encouraging. PIERRE CLAPE of DOMAINE CLAPE summed up matters so far: "as we speak, there has been rain and a tiny bit of hail, but things have been almost very good up until now. It is not necessarily a very balanced year. Our Syrah was at 12°-12.4° on 29 August, before the recent rain of 18 mm (0.75 in), which came in two strong bursts. It's a good sign that the grapes have inflated after the rains now. Acidity is at 4.7-4.8, which is OK. At Saint-Péray we are on low acidity, though, nearer 3.5, with sugars at 11.7° on 29 August.
I think the vineyard handled the high heat – up to 38-40°C – this year better than last year. We had 4 or 5 nights above 20°C, which grilled a few bunches, but a lot less than in 2009. We are heading for harvesting maybe 14-17 September now, not the 10-12 September that we were anticipating, after this rain. There is no rot, and yields will be average. Our lowest spot is the 90 and 50 year old Syrah on the high part of Renard, which is at 15-17 hl/ha after coulure. It is forecast for the mid-20s°C next week, and our usual team of 15 or 16 people are ready to go."
3rd WEEK of AUGUST 2012
as with a game of football, this is becoming a season of two halves. The deluge followed by the drought. The Rhône has enjoyed three-plus weeks of hot and dry weather now, so ripening is occurring steadily, even if fears of stress in the vineyards are circulating due to the lack of meaningful rain since the first ten days of June. This still places the Rhône ahead of much of the rest of France, from Bordeaux to Burgundy to Champagne.
In the NORTHERN RHÔNE, PIERRE-JEAN VILLA summarised the state of his various vineyards. As he walked through his FONGEANT holding at CÔTE-RÔTIE, he told me: "I am now dropping grapes from the young vines, but I notice that even with the heat, if you press a grape like this - squeezes it - it`s full of water. In a hot and dry year, that would not be normal, and it shows how well the spring rains have served the vineyard. So the Syrah here is ripening, but steadily, and shows that we have actually needed the heat of the last two or three weeks. Most recently we had 5 mm (0.2 in) of rain on 15 August which just refreshed the temperature more than anything else. Today it will be 32-33°C in the afternoon, but for the last two days, the nights have been cool."
His SAINT-JOSEPH vineyard is about 25 miles further south: here his report ran as follows: I lost 40% of my crop south of Sarras through hail on 17 July - Eric Rocher at Domaine de Champal had 20 hectares hit by the same hail. September will be more than decisive this year - we can make sympa wines if our summer - that is to say, the last two weeks - continues well. Bunches are quite loose and well aired. Rain is the fear now - one or two rain setbacks would hurt - rain over one or two days would be manageable, but anything longer would be grave. Good rain would be a 20-30 mm fall in the next two or three weeks."
The SOUTHERN RHÔNE is perhaps in even better shape. From CHÂTEAUNEUF-DU-PAPE, ANDRÉ BRUNEL, the wise and seasoned owner of LES CAILLOUX, noted: "things are looking rather good after our three months of fine weather. South of the village there is some drought, around Les Serres, but it is not yet dramatic. The grapes are well expanded, and have turned colour well, with ripening speeding along. We could start on our Grenache blanc before September. We seem to be one of the only French regions to have had this good weather. Yields will be correct, not excessive - we had coulure on the Grenache, while the Syrah is pretty, a bit in advance as would be expected in a hot year. We are looking at 30 hl/ha.
Our last rain was in early June, we have had 1-2 mm here and there, but nothing to speak of. It is 34°C today, and it`s certain that our spring rain until into May helped the vineyard a lot. My fear is for the young vines if this hot and dry weather continues, but at least recent nights have been fresh, with 17°C this morning, nor has there been any dew yet. So far, it is a year for clay sectors over gravel and sand zones. One concern is low acidity, but when I look back to my father`s vintages in the 1950s, there were cases of burnt acidity and high pHs then as well. The main difference, of course, is that now we make wines ready to drink soon, and to live a lot less long, unlike the 1960s vintages. I found some cuvée Prestige 2000s from colleagues here drinking at their best the other day, for instance. That doesn`t indicate a life much beyond twenty years in that case.
Our white vines are OK - we irrigated twice in early and late July, otherwise we would have no acidity and a degree of 16-17°, instead of 14°. You can irrigate drop by drop, by sprinkler or by cannon; drop by drop is the most efficient; we aim to put down 25-50 mm (1-2 in) each time. This year my Roussanne didn`t grow more vegetation after the irrigation - the benefit went into the ground and the vine wood - even though the leaves are turning yellow now."
From VACQUEYRAS, another early ripening vineyard to the east, BERNARD BURLE of DOMAINE FONT SARADE informed me: " it`s very dry. But we are not suffering on La Ponche thanks to the profound soils there. The crop is very small. Our Syrah is precocious and will be harvested around 5-10 September, while the Grenache ripening is very up and down - some bunches are ripe, others not. We are now cutting out the pink bunches, especially on the younger vines. Today, August 19, it is due to go up to 35°C, but this morning at 7 it was 14°C, which is helpful. What would be ideal would be 50 mm (2 in) of rain soon, otherwise we risk low acidity wines such as we had in 2006."
Across the river in LIRAC, the biodynamic DOMAINE DUSEIGNEUR gave the following assessment: "we are ripening very quickly, and have drought here now - water stress is our main fear. We need to avoid the grape skins withering, and want to pick before that. Our phenolic (meaning tannins, colour) ripening is not yet ready, and there is a gap between them and the sugars, which are further ahead. Loss of acidity is a risk. We could start picking around 25 August, on the white grapes Clairette and Bourboulenc. Syrah has suffered in the high slopes this year. Yields are likely to be 34 hl/ha, against 32 hl/ha in 2011 and 28 hl/ha in 2010."
early AUGUST 2012 VINEYARD REPORTS
If France is to have a viticultural champion in 2012, then it could well be the Rhône on current evidence. July was uniformly hot and dry, and the vineyards are in verdant, blooming shape. Yields are middling, not abundant, and the outlook until mid-August is for continued dry weather in the SOUTHERN RHÔNE.
On holiday from his CÔTES DU RHÔNE vineyard on the right bank Gard département, RÉMY KLEIN of DOMAINE LA REMEJEANNE told me: "we certainly cannot complain vis-à-vis the North of France - for us, of course, the North means anywhere north of Montélimar!" We have now had no rain for about six weeks, and the vineyards are in good shape. This year has given us more vineyard work than previous vintages. A few young vines are suffering from the drought. Yields will be lower than 2011, which is very good, but higher than 2009 and 2010. If the drought were to continue, there could be a delay in ripening, so rain, say 20 mm (0.8 in) on 15 August would be ideal. Otherwise we may face tannins that are too prominent and too dry. The white vines are in good condition, with the Roussanne as usual needing the greatest vigilance for oïdium and rot. We should harvest around 8 to 15 September, which is normal."
At RASTEAU, DIDIER CHARAVIN reported: "it will be a small crop, but there are no blights. There will be less harvest than in 2011, but it will be more concentrated. We had 20mm (0.8 in) of rain right at the start of July, and now a drop of rain would suit - mid-August, ideally. Today, Monday 6 August, we have lost 10°C over yesterday, which was 35°C, and there are some drops of rain, but it is forecast to be hot again by the end of the week. My harvest date at present would be around 10 September."
Across the River in the northern Vaucluse, VINCENT ROCHETTE of DOMAINE ROCHE-AUDRAN at VISAN, was in good form: "it`s been very, very beau for six weeks, which has saved, yes saved, the crop. Mildew was breaking out after all the spring rain. It`s been 35°C with a lot of sun, and we are edging towards drought, with a possible blockage of ripening that would delay matters. I could have a fear that it could become dry as in the years 2006, and also 2009. Young vines and those in gravel soils have been most susceptible, with a few yellow leaves visible. Conditions are there for a very good vintage. After some very hot nights, mornings have been a little cooler recently. Our veraison, when the grapes turn colour, is now at 80% completed for the Syrah, 50% for the Grenache noir. The vineyards look a bright green still, and we could harvest around mid-September, not precocious."
From the NORTHERN RHÔNE, JEAN GONON of the yardstick STGT DOMAINE GONON at SAINT-JOSEPH, was breathing a sigh of relief: "well, life was a bit complicated until the start of July, but now it`s been good weather for a month. We have had temperatures of 28-33°C, with nights and early mornings varying between 16-17°C and 23-24°C. Our veraison is half way completed, with Cornas a little ahead of that. The vines have certainly perked up, and I am a lot more content than I was in June. Mildew has been a very close thing this year, and we also had to contain oïdium, so it`s been a lot of hard work. The white crop is a bit larger than the Syrah, which was hurt by lack of quantity at flowering - the first week went well, but the second week weather was poor, which hit the later ripening vines. We should be harvesting around 20 September."
In the northern area at CÔTE-RÔTIE, BERNARD BURGAUD pointed to the amount of work required this year: "yields resemble 2010, which is acceptable, not high. The climate has been a bit chaotic, with rain, but no storms. Flowering was capricious, so budding was variable. We then had a fight against the usual illnesses, but now it has been dry for three weeks, the last rain in later June thanks to a good, steady 50-60 mm (2-2.4 in). We actually now need rain because our soils are not deep, and the main challenge is oïdium. Temperatures have gone up to 33-34°C, with nights hovering around 20°C. We now have a North Wind, and conditions are favourable for ripening - we could end up with a super vintage. The most precocious zones are half way through their veraison, so we are perhaps in advance of a classic year from 20 years ago, and could be harvesting around 21 September."
mid JULY 2012 VINEYARD REPORTS
The 2012 vintage is starting to present some shape now, and there is one refrain repeated across the Rhône, North and South - "above all, thank goodness we do not live in Champagne, nor in Burgundy, the Beaujolais and even Bordeaux." The wet, gloomy summer has brought on large problems for those regions, while the Rhône situation is still well manageable.
As expected, the SOUTHERN RHÔNE has been warmer than the North, and growers present a calm face for now. From CHÂTEAUNEUF-DU-PAPE, CHRISTOPHE SABON of the top-notch DOMAINE DE LA JANASSE, situated in the north-east corner at Courthézon, told me: "I have no complaints for now, unlike the other regions of France. Our yields will be low, like 2010 after we suffered coulure (flowers failing to convert into fruit) on the old Grenache. There are spots of mildew here and there, but we haven`t had storms and hail, only light rains when they have come. It`s been very dry and also hot for two weeks now, with temperatures around 32°C, our last rainfall being 3 mm last week and 20 mm (0.8 in) on the first weekend of July. Our Syrah are starting to turn colour, and we may be targeting a harvest for the Viognier, Roussanne and Syrah around 3 to 5 September, the Grenache 10-15 September for now. It is a year from the old days, when Parisians were forced to come to Provence to seek the sun," (did I detect a note of relish in his voice there?)
PIERRE AMADIEU at GIGONDAS told me a somewhat similar story: "it`s been fine for a month now, with a bit of oïdium around, as often happens at this time of the season. Flowering was very spread out over time this year, not helped by the freezing of the old vine Grenache with delayed vegetation all over the place a result. The bunches are loose which will mean less likelihood of rot (also noted by C Sabon), and the quantity will not be as great as 2011, more like 2009 and 2010, around 32 hl/ha or so. We have had to treat against mildew, and now especially against oïdium, but I am quite optimistic." The remarks about coulure on the old vine Grenache also apply to Vaucluse Villages such as CAIRANNE, so 2012 is set to not be a large yield year anywhere.
Over in the right bank Gard, FABRICE DELORME of DOMAINE DE LA MORDORÉE at TAVEL observed that there were no real worries, with a series of rains that had made very little adverse impact on their vineyards in TAVEL and LIRAC. "We are working to prevent oïdium and mildew, but seem to be heading for a normal date of harvest and normal yields this year. It is 32-34°C towards the end of the second week of July, and we have not had much rain since the end of June."
The NORTHERN RHÔNE situation is more delicate due to the lower heat levels, and hail has also played a role here. At CÔTE-RÔTIE, PHILIPPE GUIGAL stated "it is a classic vintage, indicating possible harvesting towards the end of September, about 10 days behind recent dates. There is pressure on the health of the vines, and the crop will be smaller than 2011, which is desirable. It is not a year when it will be at all easy to succeed with purely organic practices - it`s more a year for mushrooms with the constant cycle of rain then sun then rain. The vineyards look good, but I am aware that we have to be vigilant, even if I am not pessimistic." Philippe also informed me of a blow to their SAINT-JOSEPH vineyards at Le Lieu-Dit Saint-Joseph at Tournon on the night of 9 July - "we had hail there, which also hit the commune of SARRAS quite badly."
Neighbour PATRICK JASMIN at CÔTE-RÔTIE also talked of the continuing tasks this year - "we have to manage matters, with oïdium lurking and mildew to combat, and it is not a vintage for organic working. I was in fact agreeably surprised by the quantity of crop on my Côte Blonde vineyard this morning, which never delivers a lot, but has held up well; overall we might be at a yield of 35 hl/ha, which is OK. There has been coulure on the high vineyards, though. As usual for the first two weeks of July, mornings have been fresh, around 15°C today, with a high of 25°C. If I am at all morose, it is only that I personally would like to see more sun for myself!"
From CONDRIEU, LIONEL FAURY of DOMAINE FAURY commented: "after our fast start to the season in the spring, we had two months of rain, and since then it has been hot and stormy, a difficult year for the climate side of the equation. I am not too worried, but there are traces of mildew and black rot, while coulure on the Viognier will mean a loss of crop. Ripening is also very variable from one plot to the next, so I expect harvesting to be on a dateline from 15 to 20 years ago, not before 15 September. At SAINT-JOSEPH we have some oïdium on the white grapes. Overall, we have had to do a lot of work this year just to keep stable in the vineyard."
Further south at HERMITAGE, JEAN-LOUIS CHAVE told me: "the vineyard looks really green and joli, but the growers are less joli because of all the work we`ve had to do. There was some rain at flowering, and what we need now is good weather to get the grapes going well. There has been some mildew, but it is controllable, and not anything like Burgundy and Bordeaux this year."
At CROZES-HERMITAGE, JEAN-LOUIS PRADELLE of DOMAINE PRADELLE also spoke of the higher than usual work load this year: "we have had to take off a lot of vegetation to air the bunches, which are small this year; our main pressure came at Ascension, with that month until around 20 June being a time of some mildew, and now mainly oïdium as the principal threat. I may be heading for harvesting around 20 September."
From CORNAS, PIERRE CLAPE of DOMAINE CLAPE gave me the dry comment: "well, there are still grapes on the vines, but also a lot of grass; we need heat, although a few grapes are starting to change colour today after some days of 26-29°C. The big pressure has been oïdium, not surprising given our rainfall of around 300 mm (12 inches) in April, May and June. There has been some coulure, especially at the bottom of the slopes and with the old vines, but the full slope vineyards are in good shape. Our SAINT-PÉRAY vines have some mildew, but are better off than those further south towards Valence. It is a Year of the Worker."
In unfortunate circumstances is JEAN-MARIE LOMBARD at BRÉZÈME, whose 6 hectare vineyard in this "mid-Rhône" area was struck by mid-July hail, borne by a large storm coming across the river from the Ardèche. "It hit the west-facing vines, and we have lost 20-40% in places," he reported. "Until then, all was fine; the last serious hail we had here was 1991, on 31 July, when the damage was a lot more severe due to the vast amount of small hail stones; this time the stones were fewer and bigger. The fruit growers - peaches, apricots - have been very badly hit."
LATE JUNE 2012
growers tell me that they are satisfied with the state of the vineyard so far this year, but there is no doubt that the threat of mildew lurks in the back of their minds. "It has been a battle this year," said ALAIN GRAILLOT, the supreme vigneron at CROZES-HERMITAGE: "as we are organic, we can treat with sulphur and copper only, and you have to have done at least one treatment this year to be in the clear. It demands being in the vineyard to spot any telltale signs, so it requires people and wits to keep on top of the situation.
In the SOUTHERN RHÔNE, JEAN-PIERRE MEFFRE of the excellent DOMAINE SAINT GAYAN remarked on a feature of the year so far across the Rhône - the spotty nature of the flowering: "in 2011 flowering happened in one week; this year it has run over three to four weeks. There was a lot of rain at flowering, and it was essential to treat the vines - if not, you have mildew. What we need now is heat, and some Mistral wind wouldn`t hurt if we are to knock any possible midlew on the head."
Sales of the 2010 have been excellent according to merchants who import Rhône wines to Britain, Scandinavia and the USA. The main problem is the lack of wine given the low yields of 2010. I am enthusiastic about the generous drinking qualities of the 2011s, both in red and white, and view this current vintage as ideal for the Restaurant and bar trade. Their southern ripeness comes in a well-fashioned style this year, looser and freer than any recent vintage. As an example, the 2011 CÔTES-DU-RHÔNE CHAR A VIN RED of DOMAINE DES COTEAUX DES TRAVERS at RASTEAU serves as an excellent, genuine version - very drinkable now, with local feel in the wine. I suggest subscribers use the Search engine for 2011 notes - start at **(*) and upwards.
EARLY JUNE 2012
the growing season is taking off now, with flowering on the go in the Southern Rhône. Temperatures have been creeping up, but rain has come in handy bursts in the second half of May, helping the lacklustre reserves of the vineyards. However, drama has struck in Provence - in late May the central Var departement, based around Brignoles and the Issole river, was ravaged by a ferocious hail storm, which left banks of snow along the Autoroute to Nice, and, worse still, thousands of hectares of vineyards devastated. Growers spoke of hail stones the size of apples. The 2012 vintage is severely reduced as a result, and because of the force of the stones on the vine woods and next year`s shoots, it is likely that 2013 has also been cut back. The line between "good rain" and "bad rain" can be a very fine one. The area is seeking government aid after this catastrophe.
In Britain, events are lively with widespread celebrations to mark Queen Elizabeth II`s 60 years on the throne. She stood in cold rain for over 4 hours on Sunday 3 June admiring the flotilla of boats including friends of mine who were rowing down the Thames in London, and showed her great stamina in the process (she is 86 now). As a link to the Rhône, I think the GUIGAL family should be pleased at her naming of her steeplechaser HARVEST SONG (she always takes enormous trouble over the naming of her racehorses, the art being to link both sides of the pedigree). Harvest Song`s sire was Sadler`s Wells, and his dam La Mouline. Yo, Marcel!
MID MAY 2012
now that buds are coming out, the sombre black shadows in the vineyards show the damage wrought by the frost of early February, 2012. Julien Mus, owner of the promising DOMAINE DE LA GRAVEIRETTE, which has vineyards at CÔTES DU RHÔNE and Châteauneuf-du-Pape, told me: "It is very mixed between one plant and the next; I have some plots where I have 15-20% dead Grenache of 60 to 80 years`old. My average is a loss of around 10%, I think."
Growers at Rasteau, Beaumes-de-Venise and the Northern Rhône tell a similar story. Temperatures were around -11°C on Monday 6 February, accompanied by a Mistral wind of 110 km, which brought in a severe wind chill factor. Old vines have been worst hit, perhaps simply because they were old. But contrary to the big freeze of 1956, olive trees have surivived. However, an 80-year old at Rasteau recounted that in all his life he had never seen a frozen pine tree - until this year.
Linking 1956 and 2012 was a warm period before the big freeze, with the sap high up in the vines. Pruning was on hold - for the sensible. Apparently some foolhardy folk tried to carry on pruning, but the branches would just snap, even before the cutters were rendered insane by the wind and the cold. The DOMAINE DE FENOUILLET at BEAUMES-DE-VENISE lost old Muscat in some quantity: "our Muscat was hardest hit by the frosts," Patrick Soard told me; "One plot has 20% of its vines dead, and 60% are just budding now, way behind the others, in mid-May. Our worst hit vines had not even yet been pruned". So the frost took out pruned and non-pruned vines alike. Total losses of around 10% mean that a low crop may be in prospect, since the weather has been very mixed during April and May - 2 days of 32-34°C at the end of the first week of May were followed by a drop of at least 10°C, and mid-May has been marked by sun, cool nights, and days not exceeding 24°C, with rain on the weekend of Ascension.
EARLY MAY 2012
a cool April, when the vines stagnated according to some growers, has ended. The main benefit was the rainfall, after an exceedingly dry March. At Condrieu André Perret recounted that at Chavanay they had received 130 mm (5.2 in) in April, while Anthony Vallet at Saint-Joseph told me that the Viognier was advancing ahead of the Syrah. The rain has , of course, been very popular in the Southern Rhône, where early May temperatures are around 20°C.
The DECANTER World Wine Awards week saw bling hit the Rhône in London. Usually the Panel of which I am Chairman gives 2 or 3 Gold Medals, after a few early years with none at all(2012 was the 9th year). This year, in the last week of April, we went haywire, and awarded 9 Gold Medals, and numerous Silvers. Most encouragingly, most of these wines were inexpensive, and featured, with no surprise, the fantastic 2010 vintage for all the reds, and the lovely 2011 vintage for the two white Gold Medals. The wines were all tasted blind, and their ID is not yet known, but I have a put a list of them under GOINGS-ON. ALLEZ RHÔNE!
ALLEZ CORNAS! The life and times of our Cheval Mascot have been at the bottom of the slope, metaphorically, recently, on the less noble terroir. He had an expedition to Auteuil Racecourse in the west of Paris, where Ernest Hemingway used to spend time, but unfortunately misjudged the Water Jump (different obstacle to the ones in Britain), and fell. He returned to England and a week later ran at Sandown Park, a track he likes, and finished last of 8 runners in a top 2 mile chase. Un peu fatigué, the Noble Beast. He may have a small holiday now. Hats off to CORNAS, none the less. His fan mail continues to grow.
MID-APRIL 2012
news that the good Séguret DOMAINE DE CABASSE, which has run a restaurant and rooms for over 30 years, has been sold. The Swiss family Haeni and their fellow Swiss investors have withdrawn, and the estate has been bought by Monsieur Benoit Baudry from the Loire, a man who previously worked in Insurance. The tender style of their wines has been a pleasure to drink, and Nicolas Haeni will continue with 4 hectares at Séguret, high up behind the Domaine de Mourchon. The hotel will have a few changes, and is due to re-open in June, 2012.
ENTERED RECENTLY: a full review of 2010 CROZES-HERMITAGE REDS and WHITES, both very successful. Click on the 2010 NORTHERN RHÔNE tab, then the subtab THE LEADING WINES.
A good collection of 2010 CHÂTEAUNEUF-DU-PAPE WHITES has been entered, while around 25 2009 CHÂTEAUNEUF-DU-PAPE WHITES have been posted, with a definite upgrade after their bottling. The 2009s are rich and well-installed wines that are food-friendly; the 2010s are fresher. Look for the LVT 2009 wh or LVT 2010 wh tag for The Last Vintage of white tasted under the Châteauneuf-du-Pape domaines. The best 2010 VILLAGES and CÔTES DU RHÔNE REDS from these Châteauneuf-du-Pape producers have also been put up, following a February 2012 tasting.
APRIL 2012
a surge of hot, stable weather has propelled the vineyards forward, and growers face the prospect of a dry year as well. Water reserve levels are low, as they are all along the eastern side of France and England; there are widespread parts of England that start hosepipe bans in the first week of April, 2012. for instance. Yes, England. Forage costs are rising, as they did last summer as well.
The charade known as Bordeaux 2011 primeur is about to kick off, with bitchy comments abounding about who has or has not got prior access to the wines. I fight hard to preserve the sanity of the Rhône in the British market, where magazines want immediate reviews that in turn only serve to give interest-free cash flow to wine merchants as punters buy their offerings up to 15-18 months ahead of delivery. I would signal two recent offers of 2010 Rhône, NOT 2011, from Haynes Hanson & Clark http://www.hhandc.co.uk/and Vine Trail http://www.vinetrail.co.uk/ The former - more a Burgundy, Bordeaux house, but good men of the Turf - have picked up the highly promising ROAIX estate of DOMAINE PIQUE-BASSE, while the latter remain a benchmark maison for hand-made, often organic wines of true character. Note their CAIRANNE ORATOIRE SAINT MARTIN, for instance.
APRIL 2012
ENTERED RECENTLY: see RECENT TASTINGS, and once logged in, click on 2011 ORGANIC RHÔNES for a tasting held in late March 2012 in Paris involving the longtime organic estates DARD & RIBO at CROZES-HERMITAGE, DOMAINE GRAMENON in the CÔTES DU RHÔNE and the more recent DOMAINE ROMANEAUX-DESTEZET at SAINT-JOSEPH. Also, more entries of 2010 CHÂTEAUNEUF-DU-PAPE REDS and 2010 GIGONDAS wines.
CORNAS (Cheval Mascot) ALERT: VineTrail pay a fair amount of the feed and keep of CORNAS, our Cheval Mascot, so we must report that he ran 8th in a field of 21 over 2 miles at Cheltenham in March. He travelled in the first four for much of the race, but younger legs got away from him on the downhill run towards the stands. His next mission will be in France. He ran at Cheltenham mainly because his trainer, Nick Williams, was busy saddling 4 horses at Cheltenham, and had no stable staff who spoke French available to take him to France. Next time I will ask for volunteers from readers who would enjoy a little sortie avec le Bon Cheval, plus some bistrot grub near Enghien. CORNAS being saddled pre-race at Cheltenham, March 2012, below: ALLEZ CORNAS!!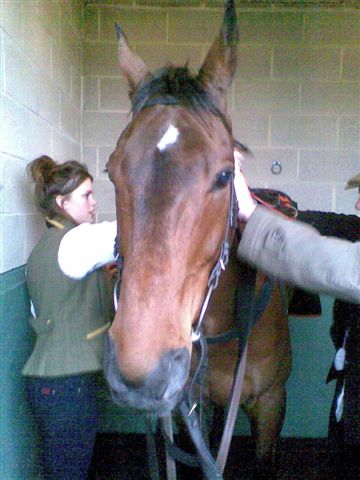 MID-MARCH 2012
the British wine trade has been shaken up by further consolidation, this time in the form of BERRY BROS & RUDD, Berry Brothers to most of us, buying RICHARDS & WALFORD, agents based in the potato growing area of Lincolnshire. Roy Richards and Mark Walford were the first British merchants to take an interest in the Rhône after Gerald Asher and Robin Yapp, going back to the early 1970s. They have an impressive number of estates on their books. Berrys have really taken a big view on the potential of the Rhône, even though it is still tiny compared to their Bordeaux trade. They assembled about 25 growers in London at the end of February for their tasting of 2010s.
CORNAS (Cheval Mascot) ALERT: the famous horse, who receives fan mail e-mails here from around the world, runs at Cheltenham in the mighty meeting of the whole year, on Friday 16 March, in the 2 mile handicap chase, the Grand Annual. He will have a young rider taking 5 lbs off his back. He has had a winter break, and we hope he can run well. His odds are around 25/1 at the moment. I recently opened a bottle of 1990 CORNAS A.CLAPE for the VERNAYS and YVES GANGLOFF of CONDRIEU, for JEAN-MICHEL GÉRIN of CÔTE-RÔTIE, and for PIERRE-JEAN VILLA, who makes SAINT-JOSEPH as well. They all found it stunning. ALLEZ CORNAS (VIN et CHEVAL)!!
MID-MARCH 2012
ENTERED RECENTLY, a round-up of over 165 2010 CHÂTEAUNEUF-DU-PAPE REDS that rate 3 stars or higher. See 2010 SOUTHERN RHÔNE in the left-hand column - click the subtag The Leading Wines. The main tranche is starting to be bottled now, and these are usually high quality, complex, delightful wines; the early bottled wines - within 11 months of the harvest - can be agreeable, but simple. I prefer 2010 to 2009 across the board - it has much better balance and freedom.
MARCH 2012
VINISUD at MONTPELLIER, celebrating its 10th edition, was a very busy show for me, but for the exhibitors Day 3 was light; the first day, Monday, was full of Cavistes, French wine store owners. The halls became hot on the afternoons of Day 2 and day 3, and on the communal tables where domaines put 1 or 2 bottles of their wines to taste, their stand being elsewhere, about 1 in 25 bothered to provide ice and cold water to keep their whites and rosés in shape: simple rules of the game that people are incredibly lax about.
My star moment was on Day 1, when I arrived before the start. I was happily tasting 2010 RED VENTOUX (a very good vintage there) at 09.20 when approached by a silver-haired man in a blue blazer. What ho, I thought - a cordial welcome in prospect. From a distance, I thought I heard him say that it was not good for the palate to taste before 10.00 in the morning. I replied that I was used to it, so don`t worry about me. But no, he didn`t want me to taste at all. As I was in the Palais de la Mediterranée, it turned out that he was telling me that I could not taste in the Palais - his Palace - (but palais also = palate) before 10.00 o`clock. The wines were all laid out, open, ready. Is this how the French CONTINUE to do business, I ask you?? Lots of people attend from far-flung continents, and are still met with this sort of pedantry. INCROYABLE. I continued to taste and note, nevertheless, insisting that I had come a long way to meet him, and the wines. So there. I tell you, it`s not easy, this tasting lark.
YOU CAN`T CALL IT VIN ON AIR: Another "Only in France" vignette was the Télématin broadcast on 30 January, 2011. On the France 2 channel, this is a very popular programme anchored by the charming, urbane William Leymergie, who in this case was dealing with the show`s food reporter Isabelle Martinet. Her item was on bread, and three types of bread including Speciality Bread, namely one made in Lyon with Beaujolais wine in it. Amid giggles as if they were discussing someone else`s illicit affair, neither person, paid by the State to do the job, could bring themselves to utter the word Vin, Wine. We had "the product of the local vineyard", the "red-coloured liquid" and so on. William tried to say that it was not their fault that they were speaking this way, but it is a deplorable state of affairs all round. Growers I have met in New York in the past have actually said to me how much they enjoy their overseas visits, since "at least there we are not regarded as peddlers of drugs."
I find this INCROYABLE (bis), and I am not alone; the growers of Châteauneuf-du-Pape are thoroughly fed up as well, as should be all vignerons. I have subsequently spoken to sources close to the seat of power, literally, and was told that there is the No Alcohol Advertising edict on French TV, but this really takes a large Hovis biscuit, especially since the Boulanger happily spoke about Le Vin de Beaujolais when filmed making the bread.
For this piece of nonsense, see http://telematin.france2.fr/?page=chronique&id_article=34781
2010 VINTAGE: Further confirmation came of the star quality of the 2010 vintage, both North and South, although my main focus was on the Southern Rhône. Notes will be posted on some lovely wines, with STGT qualities, such as the CÔTES DU RHÔNE CLAVIN red from DOMAINE DE LA VIEILLE JULIENNE, a vineyard bang next to the Daumens` CHÂTEAUNEUF-DU-PAPE. The cool nights and fresh, even ripening, has really allowed the land to speak in this vintage.
2011 VINTAGE: a first proper look at some 2011s, mostly whites and rosés, shows that this is an easy drinking, restaurant-related year, the wines coming out nicely sunny and supple. Off we go, indeed. The challenge may well be for the top domaines to achieve a proper tannic structure to make the wines interesting and capable of a purposeful second stage of life. The other total pre-requisite was to sort out the vast crop. There will be w.o.w. wines in 2011, and that is helpful, given the big structures of the 2010 and 2009.
MID-FEBRUARY 2012
ERIC ASIMOV, who is the best New York Times wine correspondent in my memory, has written a wistful, attractive piece on CÔTE-RÔTIE in early February, 2012. Eric is a writer who likes to think outside the usual areas when describing wine and the issues surrounding it, and he also like to go into the wide context behind vineyards, wines and their winemakers. In this way, he resembles to some extent the Proven maestro, the Doyen, as I call him, namely Gerald Asher, for long the man at the vinous helm of the good ship Gourmet Magazine.
Eric contacted me prior to writing the piece whose link is posted below, and some of the answers I gave him are reproduced below.
The discourse is really on what one terms traditional. I can think of Levet (Neal Rosenthal imports it, as you know) and that is traditional, gamey, fungal, wild, has flaws but emerges the right side. It may have Brett for the white coat police. Barge is also more traditional. Louis Clerc`s family is also trad, also Gallet (but flaws here and there), also Domaine Bernard (good wines, but not funky). Jasmin was traditional (I drank my last personally bottled magnum of 1971 just before Christmas, made by Georges Jasmin, and it was in very good, drinkable shape, a super level, too, the fruit delicate and typical. One careful, conscientious owner, few kilometres on the clock). Nowadays the Domaine Jasmin is not traditional, but the fruit is clearer, has more cutting edge. Ah ha. The fruit is clearer. Does that mean pristine?
If you look at the fruit profile of many Côte-Rôties today, the fruit for me correctly resembles northern climes, even Pinot Noir. I expect greater liaison between Côte-Rôtie and Burgundy than I do between Côte-Rôtie and Hermitage. Maybe I have changed, but I think that link was always a feature, but was clouded by indifferent winemaking, dodgy harvesting dates and so on in the past, especially when I set out in 1973. In this clear fruit camp I would place Jamet (ie v clean trad), Duclaux, Garon, Clusel Roch (wonderful, organic, detailed, precise, terroir = trad or modern? Answer: in between, with modern meaning good vineyard and cellar practices), Billon, Joel Champet. Modern modern would be J-M Gérin, Vins de Vienne (although they have been throttling back on oak), Bonserine, Bonnefond. Stéphane Ogier is de-modernizing, as I bet him in my book in 2005, ie his wine is less extracted and less oaked up. Stéphane Pichat is modern, but his fruit is darned good, including on his vin de pays.
Note that I have left René Rostaing out: fruit precision, Burgundian = what? Modern? Rostaing is not trad but it is fruit and terroir-expressive. And of course Guigal, who makes Guigal.
For me, modern is some way towards better winemaking, and yes, it involves obvious oak, in the Burgundian vein, but the wines draw together and sparkle over time, so we come back to the word precise. They are also made from destemmed crop, of course, as opposed to the whole bunch methods of my youth.
So I see genuine Côte-Rôtie as alive and well, capable of expressing the crystal-clear Syrah fruit that is not found at most of Hermitage, the latter being rounder and plumper. This precision is helped by Côte-Rôtie`s northern placing in the Valley.
MID-FEBRUARY 2012
ENTERED RECENTLY a review of the glorious 2010 HERMITAGE WHITES placed under 2010 NORTHERN RHÔNE in the left-hand column - click the subtag The Leading Wines and scroll down past 2010 HERMITAGE RED.
EARLY FEBRUARY 2012
ENTERED RECENTLY visits and talk with LOUIS BARRUOL of CHÂTEAU DE SAINT COSME at GIGONDAS, especially his vins de table and cheaper merchant wines.
Also, both at RASTEAU, GEORGES PERROT of DOMAINE LA COLLIÈRE as well as the newly entered DOMAINE GOURT DE MAUTENS.
New entries also: the respectable CHÂTEAU SAINT LOUIS PERDRIX at COSTIÈRES DE NIMES, and the above-average VENTOUX Co-operative CAVE TERRAVENTOUX which combines Villes-sur-Auzon and Mormoiron. Look at DOMAINE DE LA RENJARDE at MASSIF D`UCHAUX and DOMAINE DE L`AMAUVE at SÉGURET for the latest vintages there - both very good names in their Appellations.
LATE JANUARY 2012
the last week of January heralds the issue of proper 2010 Rhône offers from two highly respected sources in Britain, The Wine Society (which is a Members Society on http://www.thewinesociety.com/ and Berry Brothers of London, http://www.bbr.com/ The Wine Society offer, for example, features 180 wines from North and South. These are correctly timed offers, allowing the importers main men to have assesed the wines recently, when they are closer to their final nature than they are back in October and November.
JANUARY 2012 NEWS
a Happy 2012 to all readers and subscribers. The year beckons the release of the exceptional 2010s, and an emerging picture of the 2011 vintage, which is undoubtedly uneven in quality, implying careful selection on a domaine by domaine basis.
JEAN-JACQUES SABON: The extremely sad news just before Christmas was of the death of Jean-Jacques Sabon, the owner of Domaine Roger Sabon at Châteauneuf-du-Pape. Jean-Jacques was an ebullient, witty man with whom I was lucky enough to be a good friend; he attended my 50th birthday party lunch at La Mère Germaine, and was in great form then, as he was at any social event. He was a man of different interests, ranging beyond wine.
After his first bout of cancer a few years ago, Jean-Jacques fought back and developed a skill that he felt he had possessed for some time, without previously giving it full attention: this was his ability to use his hands to magnetise people, to cure them of aches and muscle ailments. Magnetiseur is the term in French, I believe. This was a fascinating ability, and while he had been suffering severely himself, he selflessly took to helping others in pain or distress.
The most extraordinary and compelling Rhône white wine that I have ever drunk was the Roger Sabon 1934 white which I drank with Jean-Jacques and the well-known merchant and ex-vineyard owner Robert Dahm of Domaine de Terre Ferme in the mid-1990s. We lunched at the Sommellerie on the route to Roquemaure, and found the wine oxidised, flat and severe, when we opened it at the start of lunch. After the main course, Jean-Jaques suggested we re-try the wine. What an experience! It was as if the clouds had been chased away, the sun had come out, and all was well with our young and fresh world. Made mainly from Grenache blanc and Clairette, the malo of course completed, this was spectacular - rich and lasting, a storming bottle. Jean-Jacques was delighted, since 1934 had been the year of a family wedding, and several bottles remained in his cellar - we had chosen one with a good high level in the bottle.
Didier Negron, Jean-Jacques` son-in-law, has been running the estate in the past few years, and I send my condolences to Jean-Jacques` widow and to him. Jean-Jacques illuminated my life, and the lives of many others.
MORE ON GIGONDAS BOOK: an early, complete and whimsical review of the book has been posted up on http://www.les5duvin.com/article-les-40-ans-de-gig-et-le-livre-qui-va-avec-95367051.html by Frenchman Michel Smith (despite his surname) who is one of 5 bloggers including Jim Budd, famous for his wine scandal sleuthing (think Campogate) and his knowledge of the Loire Valley. Michel knows the Rhône and Languedoc-Roussillon well (has published a good book on the latter). It is in French, for those who comprend la situation, and Michel is very enthusiastic.
GIGONDAS, Its Wines, Its Land, Its People was published in mid-December, 2011. I am pleased. This has been a project that lasted over three years, with several contributors. It is a true close-up of a wine village and community, with sections on the History of Gigondas, on its Geology, on its Domaines and on its Wines. I rate it as the most intimate and detailed portrait of a wine village ever produced, with sumptuous photographs. 500 pages, 1.9 kilos. Like a baby. Click on Gigondas Book in the Left Hand column to order.
MY SECTION: I have written the last named section, covering the vintages from 1959 to 2009. I have been back to my tasting notes from 1973-1974, and been able to compare those impressions with current impressions of the wines nearly 40 years later. It is a genuine archive with the odd personal story thrown in, nothing too stiff in the prose. The book is available in France from the Growers website http://www.gigondas-vin.com/ and for outside France it can be bought through drinkrhone - click on the left-hand tab Gigondas Book. I send the orders on to Gigondas for despatch from there. The book is in both French and English. The price is £35, pounds sterling, inc postage.
CORNAS (Cheval Mascot) alert: the game, gallant Cornas ran in the best 2-mile steeplechase before Christmas at Sandown Park on Saturday 3 December, yes, the best one. He finished an admirable third behind the Irish champion, perhaps his best ever run. His attitude is wonderfully Cornasien - whatever the challenge, he has a go. I know he is applauded by readers, and his recognition continues to exceed that of the Mayor of Cornas. Fittingly, he ran on the middle day of the Marché aux Vins de Cornas, which perhaps aided his propulsion - so many gathered under the one roof, in the one Syrah of the Ardèche cause. Allez Cornas! He will now have a holiday before running in Paris in the spring, early summer. Very fancy.
2010 Northern Rhône notes have been loaded on a wide selection of Cornas, Hermitage red and Côte-Rôtie. See the left-hand tab 2010 Northern Rhône, and once logged in, click on the subtab The Leading Wines. Domaine visits to Marc Sorrel and Bernard Faurie are also featured, under Hermitage. Under Vin de Pays, I suggest a look at the most promising Domaine Les Alexandrins, a Northern sector venture co-run by Marc Sorrel`s son Guillaume. From 2011 they will be offering a Crozes-Hermitage red, but for now their red from 85% Gamay and their Viognier are very good in 2010.
mid November 2011: well, 2010 Northern Rhône is indeed a beauty, as I can testify having tasted 350+ wines recently, with Côte-Rôtie up in the stars, and Cornas (the wine for once, not our noble Cheval Mascot, who came second the other day in a top race at Exeter) delivering superb fruit and quality. A supreme Cornas vintage, so it is, yer honour. The whole area is well off, and the whites from the Marsanne and the Roussanne are superb, rich and food-friendly. Notes to be posted under different domaines. Look for the LVT (last Vintage Tasted) 2010 tag.
In the Southern Rhône, visits to three domaines at Châteauneuf-du-Pape to taste 2010s and some 2009s in bottle: Font de Michelle (which includes their very promising Gonnet Selection range, eg Ventoux and Gigondas), Vieux Télégraphe (which includes their Gigondas Les Pallières) and the Bruniers other Châteauneuf-du-Pape Domaine La Roquète, and the Château de Beaucastel, where the estate wines were tasted, along with the wider range, whose name has changed from Perrin & Fils to Famille Perrin (I note on the internet that there is a silk manufacturer in France called Perrin & Fils, but I bet their silk wasn`t as good as that in the Gigondas Vieilles Vignes 2010).
early November 2011: the campaign to sell the 2010s is speeding up, as merchants have dollar signs in their eyes, recognising the quality of the vintage. For once, the facts support this. I looked through some 2008 claims for en primeur wines the other day, and one has to say, REALLY! En primeur can be good if you want a good wine in short supply from a stable, good quality vintage, but for easy drinking wines from lesser vintages, paying early and up front when the wine has not even been assembled is a nonsense. Look at 2010 Northern Rhône, then click its sub tab The Leading Wines, for some summaries on each appellation in this sainted vintage. A big drive on the 2010s will occur this month - many tastings are planned.
mid-October 2011: the cellar news is good from the Valley. At Gigondas, Louis Barruol of Château Saint Cosme likens 2011 to 2000 in terms of quality. "I finished harvesting on 1 October, with potentially high degrees bugging me, so it was two weeks early this year," he related. "The physiological maturity was similar to 2001, not bad at all, and the wines have good colour and tannin levels." Louis has been running hither and thither even more than usual, since our collaboration on a book entitled GIGONDAS Its Wines, Its Land, Its People is about to see the light of day next month. This will also appear in French, which has been a lot of hard work for yours truly, vous savez. Close-up details to follow next month.
At Saint-Joseph, Jean Gonon of Domaine Gonon, whose father Pierre has recently died (see Goings-On), told me that they were satisfied, having been worried in early September that, while the grapes seemed ripe, they weren`t actually ripe. "We had 1 mm of rain on 3 September and 4 mm on 5 September, which was decisive, and we picked the white crop from 6-9 September, then paused and did the rest on 21-22 September. The Syrahs were harvested from 12 September. The only Syrah destemming was on the young vines` crop. The whites are 14° -14.2°, and the Syrah is 12.9° -13.9°. Papa died the day after our last vat had been pressed, the next day, which was somehow appropriate after his illness."
early October 2011: CORNAS, our Cheval Mascot, finished a highly distinguished second in his race at Enghien, chasing home the local star mare (he is a gelding, so please cast aside any thoughts in that direction). He raced prominently, and just tired after the last fence. It was a typically Cornasien effort, gritty and plucky, and in unknown territory among the Gauls and their fiery punters he held the drapeau high. BIEN FAIT, CORNAS!
Previously: CORNAS emerges from his summer holidays in Devon, the South-West of England, on a bold cross-Channel venture. He races on Friday 7 October, at Enghien, near Paris, in a 2 mile, 3 furlong or 3,800 metres steeplechase worth €100,000. There is a field of nine, and the jumps involve obstacles such as an Earth Wall, a hurdle, an Oxer, an Open Ditch and a sinister-sounding Talus Breton. He was 41/1 a few hours before the race. ALLEZ CORNAS! BONNE CHANCE, CORNAS! You remain better known internationally than the Mayor of Cornas.
Vinifications have been proceeding smoothly, with the last week of September and the first week of October providing a wonderful Indian summer - early mornings at around 10°, then days moving to 27°-29°C at Côte-Rôtie, for instance. From there, Nicole Levet from Domaine Levet told me that they were about to finish the last pressings on 6 October, their fermentations and macerations lasting about three weeks all told. "We harvested in four days between 12 and 16 September," she related; "I noticed that some growers started too soon this year; we had a lost week from 20 to 28 August, when the degree didn`t move at all, while in the two weeks up until 12 September, the gain was 2°. I told our daughter Agnès to be steady, to be patient. It`s also true that domaines are often larger than they were 10 years ago, and feel the need to get the crop in quickly. We can harvest our whole vineyard in around four and a half days, using a regular team of 12 people that include a policeman, a fireman, retired friends and young people not in work." Madame Levet is the daughter of Marius Chambeyron, one of the pillars of Ampuis back in the 1960s and 1970s, and her experience reaches a long way.
late September 2011: the later regions are swinging into action, content with affairs. From Beaumes-de-Venise where they have vineyards at 400 to 500 metres, Etienne de Menthon of Château Redortier, told me: we started on 17 September, as the high heat started to ease, which meant that we were bringing in grapes at 17°-18°C instead of 27°-28°C, so our fermentations started better. A storm of 11 mm (0.45 in) on the night of 17-18 September was also useful. We have had coulure (flowers but no fruit) high up this year, whereas the Grenache has been plentiful down on the plain. We will harvest over 20 days with a team of 14, and expect to finish about 8-10 October."
mid-September 2011: Adrien Fabre, who runs two family estates, the Domaine La Florane at the Village of Visan, and the Domaine de l`Echevin at improving Village Saint-Maurice, speaks well of his prospects for 2011. "There are unusual patterns this year, but I am very happy. Our usually late ripening zones at Saint-Maurice and Visan are two weeks earlier than normal, indeed are the first to ripen. Since I have been with my wife Marie-Claire Michel [of Le Vieux Donjon at Châteauneuf-du-Pape], it is the first time that I have a lot of vineyards in advance of her - we are normally two weeks behind, but have had at least half their amount of rain. Draw a line at Tulette, and the vineyards north of that part of the Eygues Valley have had much lower rainfall in June, July and August this year. It is a beau vintage, grosso modo. The Syrah is not very productive after its busy 2010, and was also hit by Mistral at flowering. Tannins are ripe, there are low acidities, and the mix of hot days and cool nights have helped us. I will harvest my Grenache from 20 September - its stems are starting to turn colour and ripen. The Syrah is running at around 13.5°, while it will be another year for high degree Grenache - 14.5°-15°, at least."
Good news from the northern sector of the Southern Rhône, notably at Vinsobres, always a later ripening region. Philippe Chaume of the benchmark Domaine Chaume-Arnaud told me: "it is better than we expected - this is down to the last three weeks of fine weather that has allowed the Grenache to ripen. The Grenache has unusually lagged the other varieties this year, but it has got going thanks to the heat, including I reckon the warm nights, since around 20 August. The cool July meant that ripening has been uneven this year, unlike 2009 and 2010. It is close to 30°C today (15 Sept), and the Mistral has dropped since yesterday. It may be a bit cloudy this weekend, the 17-18 September, but the outlook is good. I will start on my Grenache next week, and my chums are doing roughly the same. So far, the style is well-fruited, and colour extraction in the Syrah and Cinsault I`ve picked so far has been quickly achieved."
second week of September 2011: the bad news of Monday 12 September is that of a morning fire at the nuclear plant of Marcoule in the Gard département, next to the River Cèze and the Rhône Village of Chusclan. One man is missing, another is seriously injured after the fire in a furness burning waste materials including clothing and gloves. The better news is that there has been no leakage of any nuclear or radioactive material. Marcoule is a subsidiary of the French electricity company EDF. The news was released by firemen at the scene. Local growers and families are understandably jittery, but the nature of the accident indicates an industrial problem at the plant rather than anything more widespread.
Before 12 September, there has been more evidence that the Rhône will be one of the favoured regions of France`s tricky 2011 vintage. From the Northern part of the Valley, the vintage has turned out to be precocious after all at Côte-Rôtie, and the crop is ample. Alice Barge, the wife of Gilles Barge, related that they had started their Condrieu on Monday 5 September, and had picked half of it, but were waiting until next week, commencing 12 September, for the other half. There are signs that the Viognier has ripened in a stop-go manner this year if the siting of the vines has not been full south on noble terroir. "We have harvested our Côte-Rôtie Syrah on the Côtes Brune and Blonde, at good degrees, and we don`t think there is much to gain by waiting further," she told me, adding that on Friday 9 September, they were working on their 1990 Syrah at Chavanay, destination their Saint-Joseph Clos des Martinets.
A few days here and there in the date of harvesting will count this year, since ripening has not been uniform. Those growers with a strong will should emerge in good shape, especially given the stable forecast for the period towards the third week of September. Louis Drevon of Domaine de Rosiers at Côte-Rôtie has 27 plots to harvest, all in the northern sector, over his 7.4 hectares. He told me: "I am starting on Saturday 10 September, on the Côte Baudin. [Baudin is a lower slope, on the Brune side, just to the north of Ampuis]. It is quite a big crop, that is attractive and sympathique. I will be picking the Côte Rozier [higher, more schist] three or four days later, which is normal. The potential degree is 12.4° to 12.6°. The ripening is well balanced between the mid and high slopes, also the plateau. 30 people will complete the harvest in six days. Looking ahead for the coming week, the only risk is a storm on Sunday 11 September. A lot of people are harvesting now."
From Condrieu, Paul Amsellem of Domaine Georges Vernay reported that the first weekend of September storm had brought around 50 mm (2 in) of rain, but an accompanying phenomenon. "After the rain a few days before, the grapes did not expand," he recounted; "after the second rain of 4 September, they did. The moon changed from waning to waxing in the period between the two rainfalls, so the grapes took on the water under the waxing moon, and the degree fell as a result. We have therefore stopped harvesting, and because there has been a good 10-day forecast, we are waiting on all fronts, both for the half of our Condrieu not yet harvested, and for all our Syrah, including the vin de pays. It has risen from 23-24°C earlier this week to 28°C today, the 9 September, and there is a light southern breeze that is bringing heat to permit ripening. The week ahead is stable, with temperatures around the 25-26°C mark."
In the Southern Rhône, hrvesting is in full swing at Châteauneuf-du-Pape under stable weather conditions. At Le Vieux Donjon, the high quality 15 hectare domaine, Marie-Josée Michel gave me this realistic rundown: "we harvested our Roussanne last week, and today, 9 September, we picked a little of our Syrah and Cinsault. The rest of the white crop, the Clairette, won`t be picked for another ten days, as goes for our main vineyard on Les Pialons, which we would probably harvest the week starting 19 September. We work with 20 people, including 15 cutters, while our permanent staff do the sorting, and we have emptiers (videurs) of the buckets as well keeping an eye on quality. 2011 will be very difficult - the crop is large, and we had hail in May on Les Pialons [N-E of the village] which may turn out to have been helpful by reducing crop. I see enormous fat grapes everywhere this year, and the young vines have a lot of crop - so this year will boil down to a question of management - how you deal with such a harvest. We are in effect on a razor`s edge vis-a-vis rain this year - any more and we will be in trouble. What we need is 15-20 days of really super fine weather, but at least we have had a good week of Mistral just now."
Gigondas as usual is later, which helps when the area receives early September rains - less ripe skins are more resistant to degradation. At the Domaine de Pesquier, father Guy and son Mathieu Boutière spoke highly of the year: "there is a lot of Grenache this year, but that issue is arranged if you sort it," remarked Guy. "We have been picking our vin de pays crop at Sablet. We had some Mistral in the last week, with temperatures around 28-30°C, and it looks magnificent." Mathieu added: "the Grenache has been slow ripening this year, prompted I reckon by its large yield. In the last week of August I went round with three colleagues dropping grapes over 10 days, spotting any bunches that were still pink. Houses that do well will be those that have taken the trouble to discard crop. The yield is full, and we have been allowed an increase to 38 hl/ha for 2011. We have no rot fears, and it is very dry now. The early September rains helped to free up the plants after the high heat of August. I expect to start on my most precocious Gigondas at Pallieroudas [low area near the Ouvèze River] next week, the 12 September, especially on the Syrah whose skins are cracking a bit here and there. Vacqueyras will be harvested next week, and Gigondas - the main Grenache - will be the week around 20 September. The old Grenache crop [1930s on Pesquier] has done well - it is homogenous, and will only need a last-minute sorting at harvest time."
early September 2011: slight unease in the camp now, with rain in the Southern Rhône across the weekend of 3-4 September. From Gigondas, Stéphanie Fumoso, maker of fine wines at Domaine du Gour de Chaulé, voiced a reality in saying, "it is not a simple vintage to vinify this year - it seems to me that fermentations should not last long; we have degrees around 13.8-14.2°, which is OK, but stalks are still green. We had a hard fall of 20 mm (0.8 in) in 90 minutes at tea time yesterday, and it is raining today, Sunday 4 September. We need Mistral to blow behind this. The Syrah is close in maturity to the Grenache this year. No-one has started to harvest at Gigondas, although growers have been picking their white crop at Sablet and Vacqueyras just now."
Nearby at Châteauneuf-du-Pape, the talented, young Julien Barrot of Domaine La Barroche was in relaxed mode: "we had just 6 mm (0.25 in) on Saturday 3 September, yesterday, and it is raining now. A maximum of 50 mm (2 in) rain will be OK. I will probably attack my ripe Syrah and Cinsault on 7-8 September. The total key this year has been to drop grapes or green harvest, to get rid of a lot of crop - 2011 is a bit like 2000 and 2001 in its volume of grapes. People who have dropped crop will make the best wines this year. After three small crops, you had to keep your head and not go for too much this year. I will be on to my Grenache around mid-September. I note that the Mourvèdre is early this year, not far off ready now."
Across the river from Avignon, the leading Côtes-du-Rhône Château de Montfaucon`s owner Rodolphe de Pins, gave me the following rundown: "I harvested my Viognier early this year - on 19 August, at 13°, which was very good, and then my Marsanne four days later at 12.2° to 12.8°. I have harvested a lot of my red crop, perhaps 60%. There is a lot of fragility in the grapes this year because of the large volume. It`s a fruit year. I observed that a two-speed ripening happened after the very abundant start: the really laden vines lagged behind those that were less charged, the latter around 25-35 hl/ha. There are potentially a few vast yields around - some Co-operatives talk of 100 hl/ha. Mid-August was when I was really worried: we had had humid summer heat, and the Grenache was starting to show signs of rot, but the small wave of high heat around 33-35°C in late August headed that off, and saved the foliage from degradation. We had 4-5 mm (0.2 in) of rain yesterday on 3 September, and 25 mm (1 in) today after a big storm. The outlook is for 26-28°C this week, with an agreeable, not too strong, Mistral wind behind. I will probably resume picking on 6 September, and have been using twice as many people as usual this year, given the conditions."
From the Northern Rhône, Fabrice Gripa was busy in his cellar decanting his white juice from Saint-Joseph and Saint-Péray, and told me: "I started on 1 September on my most precocious plots, including the lieu-dit Saint-Joseph. The Roussanne and the Marsanne are being harvested at Saint-Péray as I speak. As for the Syrah, it has needed a massive amount of dropping crop this year. I will start on it around 8 September - there is the risk of skins being spoilt and degrees rising if I do nothing, even if there could be a gain in concentration. There may have to be some saignée (bleeding juice off the skins) to help density in the vinification."
From Condrieu, Paul Amsellem of Domaine Georges Vernay, reported that their harvest was under way: "our Coteau de Vernon is always very precocious thanks to its due south exposure, and we harvested it at around 14°, very ripe, on Wednesday 31 August. That night we had a big storm, which varied between 40 mm (1.6 in) and 60 mm (2.4 in) across our different vineyards and brought two power cuts, lots of thunder, but no hail here, although there was some at Sarras in the middle of Saint-Joseph. Around us, others have started but stopped for lack of degree, although I know that Château-Grillet have finished their harvest (Grillet changed to Bordeaux owners this year). Our worry as we speak today, 4 September, is storms and possible hail, but the coming week is expected to be very fine. One unusual aspect is how far in advance the Viognier is of the Syrah this year - when our Viognier was at 14°, our Côte-Rôtie and Saint-Joseph Syrah has been at 10-10.5°. One phenomenon is that the Syrah is doing what has happened for the past two years - despite flowering going very well, there are bunches with green grapes in them, that have to be hand picked out on the sorting table."
late August 2011: as much of France struggles under rain, notably Burgundy, from Châteauneuf-du-Pape, a report from Vincent Avril of top estate the Clos des Papes: "it is very healthy, with no advance on normal dates now. It is a year of the viticulteur so far - a lot of work has been necessary in the vineyards, especially when you work organically. We have even had to control the grasses between the rows this year. There was danger of mildew before the veraison (grapes changing colour), which took a lot longer than usual this year - three weeks - and also started very early, around 5 July. Debudding and dropping grapes this year have been vital tasks. We reached 37°C in the third week of August, and that rendered a gain in degree between 0.5° and 1° in the grapes. I should think I will start to harvest my Grenache noir at a minimum of 10-15 September. The wines could be powerful if we want a complete ripeness and a good balance. I rate conditions across the whole appellation as very similar."
From the highly popular, top tier Domaine du Vieux Télégraphe, Daniel Brunier informed me from the work site of his entirely redone vinification cellar: "if we get Mistral wind (north wind), we can make a very grand vintage; if not, we may lack structure, personality. A month of Mistral would be optimal, in the line of 2007 - one wants a late concentration of the juice. It is quite abundant at around 35 hl/ha, and the crop is healthy. We may pick a bit of Roussanne and Grenache blanc before 5 September, and the Syrah and Grenache noir on that Monday. At Gigondas, for our Pallières, there has been a bit less rain than at Châteauneuf; here at Télégraphe, I reckon we had two falls of 30mm (1.2 in) and 45 mm (1.8 in) in July and one of 15 mm (0.6 in) in early August, the last falling on already wet soils. At Gigondas we have had about 30 mm (1.2 in) less overall. Draining soils have performed well this year owing to those summer rains." Meantime at Domaine de la Janasse, the Sabon family started harvesting their white Côtes-du-Rhône crop on Thursday 25 August.
Laurent Charvin of Domaine Charvin in the northern area of Châteauneuf-du-Pape related that his worries of early August had subsided: "well, we received 30 mm (1.2 in) of rain in early August, on the heels of a cool and quite wet July. But now the harvest is handsome, and very well aired after we did a lot of work in the vineyard. Tests say there is a good level of polyphenols, indicating a healthy level of tannin, helped by the cool nights this year. We had a tiny drop of 1.5 mm yesterday. I would expect to start my Côtes-du-Rhône between 5 and 10 September, and my Châteauneuf between 15 and 20 September. Today (Sat Aug 27) here outside the house, there is Mistral blowing a little, blue sky, lightly white clouds, 32°C in the sun, 27°C in the shade, boom, boom."
Across the river at Saint-Laurent-des-Arbres, part of the Lirac appellation, Bernard Duseigneur, who works biodynamically, and is a leading name there and at Laudun, gave me a good rundown on events. "It`s been an unusual year - what with the early start, then a rare fresh and humid July, despite which we were still two weeks in advance. The 50 mm (2 in) rain we got on 6 August was also not usual - normally we get storms, but this lasted for 12 hours, so really sank into the soil. I am content with the health of the vineyard, and we are now 7 to 10 days ahead. The grapes are expanded, and the vineyards a sea of green. The varieties are ripening in similar cycles - again, it is unusual to have the Mourvèdre being harvested before the Grenache this year, whereas it is usually 2 to 3 weeks behind. The heat of last week was not more than 34°C, but seemed more because of the South wind. We will start on our whites this Monday 29 August, and the Cinsault and Syrah from around 5 September."
At Vacqueyras, Maxime Bernard of Domaine La Garrigue, maker of traditional, oak-free Vacqueyras and Gigondas, told me: "it is very joli for now, plus we have a normal size crop, around 36 hl/ha. Our last rain was at the end of the first week of August, and Vacqueyras as usual is around 8 to 10 days ahead of Gigondas. Last week we got up to 38°C, but the important thing was that the nights were fresh. Our test on the whites on August 25 showed the Grenache blanc ripening well at 12.5° and the Clairette at 12°. We just need this good weather to continue."
In the Northern Rhône, Michel Chapoutier at Hermitage was full of beans: "it is exceeeptional," he enthused. "We have a larger than usual crop, and will be harvesting the Marsanne on Le Méal about 31 August, the south facing vineyard. We have magnificent rain falling now."
The rain of Friday 26 August amounted to about 40 mm (1.6 in), and came with hail across Crozes-Hermitage, but not enough to seriously worry growers. Laurent Habrard stated: "the rain fell rapidly, all mainly over in 15 minutes. The Chassis also received the rain and some hail. I was really worried, as the sky went so dark around 4 in the afternoon that the village lights came on, as if it was 9 or 10 at night. Now we need sun, and north wind. My Hermitage blanc crop is as pretty as it could be - both from quantity and quality. I have received a comparison of 2011 against the previous ten vintages, and it looks very good. The result is that the Syrah has more tannin and less colour than those other vintages. Clearing the vegetation has been vital this year: the last week of July and first week of August, 10 of us did that to reduce the risk of mildew and oidium. But of course the catch for us working organically is that when hail comes you don`t have the protection from the leaves - not ideal. Today, after the rain, it is around 24°C, and there is a North wind coming up. There is a fine week ahead, with perhaps one day of rain or storm weather in mid-week."
Also at Crozes-Hermitage, Alain Graillot told me that after the hail, he is moving to harvest his white crop earlier than he had planned - "we have had to speed up on that after the hail we received on Les Chassis," he said. He added: "I am reducing my aim for a Grand Vintage to a Good Vintage for the Syrah."
mid-August 2011: into the home straight now. The next two to three weeks will decide the final style of many of the wines after what has been an irregular ripening season. The topsy turvy nature of the year - all early heat, then little heat, now final heat, will lead to wines that are possibly going to be loose in composition, and fresh rather than intense. We will see, though. Everywhere growers report a large crop.
From the Northern Rhône, a variety of reports, mid-August. Jean-Pierre Monier, biodynamic grower in the middle zone of Saint-Joseph above Saint-Désirat, told me: "the vineyard is very healthy, also very abundant, and we have had to drop grapes. Even the young vines` foliage is green, and still active. I may start to pick the Syrah around 10-12 September, which is 12 days ahead of 2010, and the Viognier in very early September. We had 25-30 mm (1 inch) of rain in July, but August has been dry. We are heading for very handsome skins and pulps, and extractions will be belles if that maintains. We hope it will be dry before the harvest."
At Côte-Rôtie, in the northern schist zone, Brigitte Roch of Clusel-Roch was content: "the vineyard looks well, the vines are healthy. We are still in advance by some way. Our Condrieu Viognier is at 12°, and our Syrah on La Viallière is at 10°. The quantity is normal. In August, we had rain every three days or so, which had been the pattern since the middle of July. Since then we have had around 100 mm (4 inches) of rain, and it hasn`t been very hot. Today, 16 August, though, it is HOT, and sunny. Don`t ask me to tell you the exact temperature!" Madame Duclaux, mother of David Duclaux who is on holiday, reported from the southern, gore-granite zone of Côte-Rôtie that they would harvest around 7 to 12 September, and that the grapes had completed their veraison, or changing of colour.
A few kilometres further south, the talented Francois Merlin, who makes both Condrieu and Côte-Rôtie, stated: "ripening is going well, and the crop will be ready in early September. Yields are good. We had quite a bit of rain in July and August, but that helped, since we were so much ahead of the usual date - now we will end up 8 to 10 days ahead. We have had a bit less rain at Côte-Rôtie than at Saint-Michel, where I have my Condrieu vineyards."
Robert Niéro, whose domaine is on the up, with son Rémi providing impetus, sees matters "getting better. We have cut back on the three weeks advance of the end of May, and now it is the three weeks to come that can sort things out well after the fresh and damp July. We need sun now, we`ve had enough rain. The volume may well be around 40 hl/ha, a good amount, because the individual grapes are very puffed up. We may start on 5 September. Our last big rain was 50 mm (2 inches) around 25-28 July, but what has been good about August has been the fresh nights, down to 10-12°C. On our Châtillon vineyard last Friday afternoon the 12 August, our Viognier was 10°."
From Cornas and Saint-Péray, Jacques Leminicier was as cheerful and breezy as usual. "You may recall I had hail at Cornas in June, when the grapes were still green, but the budding was large, so that was not too bad. I have a lot of crop at Saint-Péray, and have been dropping grapes at Cornas. We have had a bit too much rain in August, maybe 80 mm (3.2 inches) so far. On 14 August we had a big storm, 30 mm (1.2 inches), that was all over in 10 minutes. Now it is super beau. Saint-Péray is ripening well, and I may even harvest the crop for my Cuvée de l`Elegance wine at the end of August."
Down in the Southern Rhône, there has been more rain than in the North this year. At Châteauneuf-du-Pape, Daniel Chaussy of Mas de Boislauzon, a robust, genuine northern sector estate, stated: "it`s not too bad. The summer hasn`t been very hot, we have had two or three rainfalls, but now we need no more rain. On 7 August, there was a fall of 45 mm (1.8 inches) spread across the appellation - that was our last drop. July hasn`t been very hot - 25-28°C against the more usual 30-35°C of recent summers, but now, the 16 August, it is 30°C, and the weather forecasters are announcing fine and hot days for the coming week, going up to 38°C. Until now, the nights have been fresh, around 15-16°C. My Grenache blanc this morning was at 13.2° when I went round the vineyard, so I will pick that soon. The key this year? Drop grapes. In a lot of places, I have cut my crop by half, and even on the old vines I have cut back by 20-25%. It is the first time since I started in 1990 that I have seen so much crop."
Walking around his southern vineyards at Châteauneuf-du-Pape, Thiérry Usseglio gave a realistic appraisal: "it`s 35°C today, and now we want good weather, Mistral wind and heat, which is what is expected for the next two weeks. There are lots of bunches on the Grenache, but we have done a lot of debudding and dropping of bunches this year. If we have rain, then rot will become a problem. For now, the vines are good and green, and you can eat the grapes OK, though I have not checked on sucrosity and acidity. This southern area of Châteauneuf-du-Pape has completed its veraison, the colour change of the grapes, whereas it`s only three-quarters done in the northern area. I am confident, but one must be prudent."
Near Sainte-Cécile, Jean-Marc Espinasse has an interesting organic Côtes-du-Rhône estate, the Domaine Rouge Bleu, whose wines are cool and precise. He reported as follows: "it`s been a strange season this year. We had a cool and wet July, with four falls of around 20-30 mm each (about 1 inch), but that was welcome after the very warm, dry spring. I would say that July was 4-5°C lower than recent years. August has been similar so far, with below regular temperatures, but now it is sunny and hot. We are now only 2 to 3 days ahead of the usual harvest date."
early August 2011: neatly, 1 August signalled a cut-off from the fresh, cool weather that prevailed for much of July in the Rhône. Temperatures have hit 30°C, and the heat is noticeable as much as anything because of its previous absence. The advance, the precocity of the ripening, has been whittled down. This is beneficial, placing acidity levels in better shape, and not allowing an over concentration of the crop. Quantities are better than 2010 and 2009, and for now growers are sanguine about the state of things. When looking at the weather map of France during July, it has been noticeable that the South-East has frequently experienced the warmest, best weather, which is encouraging for the Rhône in national terms.
In the Northern Rhône, Jean-Paul Jamet at Côte-Rôtie stated: "for the moment, things are truly good. The rains that in July amounted to over 100 mm (4 inches) have not hit the health of the vines, and our advance of ripening has come down to 7-10 days from the three weeks previously. The rains have been stormy, but very localised - so Condrieu has had rain, but we not. The falls have often been between 10 mm (0.4 inch) and 20 mm (0.8 inch), which has been very profitable for the soils. I am now maybe looking at harvesting around 18-20 September, as the ripening is now taking its time."
At Saint-Péray, Sandrine Robert of Domaine du Tunnel was in chirpy form: "we are happy; July was not very hot, but we did need the rain that came in several falls. Two or three plots had hail in June, but when the grapes were green, not ripe. The quantity is good, so good that Stéphane is now out dropping grapes. We will start the whites for Saint-Péray in late August, maybe the 28 August, and Cornas is on target for 5-6 September, against the normal 15 September."
At Crozes-Hermitage, Laurent Gomez of Domaine Michelas St Jemms, echoed the previous views when chatting on 2 August: "we are now only 7 to 10 days ahead of 2009, which was such a solar year. July was fresh, so we may now harvest around 10 September. Our last rain was 15 mm (0.6 inch) last week."
Similar satisfaction is apparent in the Southern Rhône. At the Mas de Libian, in the southern Ardèche, Hélène Thibon told me about her Côtes-du-Rhône vineyard: "it is magnificent - we actually have a crop this year, unlike the last three years, when we lost around 30% each vintage. It is handsome, dry, and providing you have worked the soils and not used weedkillers, you will be in good shape. We had good rain in mid-July, and the veraison, when the grapes change colour, was done with days up to 30°C, and nights down to 16-18°C, so quality is very homogenous. The North of the Ardèche will start ahead of us, we are targeting 25 August this year." Her 2010 Khayyam has just been released, a wine I recommend.
Talking about his Lirac Château Boucarut and his Laudun Château Saint-Maurice, Christophe Valat told me: "2011 is pretty, no illnesses, and we are now just one week ahead. The rain in July was really good - we had around 75 mm (3 inches) in two falls in mid-July, and the fear of drought that we had in May has now passed. The Grenache suffered less from coulure (flowers failing to convert into fruit) than in 2010, which is good, but there is less Syrah this year for some reason. The veraison has just ended. I don`t expect to pick my Lirac before the end of the first week of September."
Across the river at Vinsobres, Pascal Jaume of Domaine Jaume commented: "our July rain was around 70 mm (2.8 inches), but it has been spread irregularly. Last week, for instance, the village of Vinsobres received 20 mm (0.8 inch), but the plateau towards Valréas got only 3 mm, and Saint-Maurice just to the west here in the Eygues Valley saw only 5 mm. It was a soft, London-style rain. Grenache is good this year, but Syrah is uneven. We have had to be vigilant about oidium, but mildew has not been a factor. We will have a higher yield than 2009 and 2010."
West of Vinsobres in the full Eygues Valley, alonmg which the Tour de France passed this year amidst much local excitement, Philippe Viret of Domaine Viret at the Village of Saint-Maurice had experienced similar variations with his Grenache and Syrah. On 2 August, he observed that "the Grenache has very fat grapes this year, with a lot of juice in them. The Carignan and the Mourvèdre are very beau, but the Syrah is mixed - yields differ from plot to plot, from soil to soil. We had around 90 mm (3.6 inches) of rain in July, which was also a month of much Mistral wind - not good for the tourists. Although it`s hot today, above 30°C, the light is not bright, there are clouds around. We will start harvesting in early September, which is nearly a normal date."
mid-July 2011: the fears of drought this year are dwindling, much to the relief and happiness of growers. The rain that started to revive in early June has continued into the first half of July. Côte-Rôtie received 35 mm (1.4 inches) on 13 July after a trickle of rain the week before. Gilles Barge reported: "I am looking at early September harvesting - it`s been the same for a month now. We have had to take out excess crop here and there, and the grapes are looking quite full already. They started to turn colour a week ago." Also in the North, Pierre Clape at Cornas had this angle: "we have had 53 mm (2.12 inches) of rain in two falls; one of them, on Sunday 10 July, came with some hail that maybe lost some growers around 5%. The temperature has been very up and down. We had 32-33°C in the first week of July, then it dipped down to 26°C, and the same happened in the second week - a high of 32°C which then fell to a fresh 23°C today, 15 July. - which is good for me to work in, even if not good for holidaymakers. The result is that the vineyard is now well nourished in water."
At Gigondas, Jean-Pierre Meffre of Domaine Saint Gayan, told me: "we had a formidable fall of 42 mm (1.8 inches), a benediction, on the night of 12-13 July. It came exactly when we were waiting for it, especially given the charge of grapes we have this year. It will also accelerate ripening, and there is a good Mistral blowing today (15 July)."
early July 2011: reporting en direct from the Rhône, the growers are content after what for many was a modest month of June. Despite pretty ordinary temperatures, the vineyard has benefited from extrememy helpful rainfall. In the Northern Rhône, around 60 to 70 mm (2.2-2.8 in) has been recorded, with growers such as Louis Drevon and Bernard Burgaud at Côte-Rôtie stating that the quantity is good and the vines healthy, with no hydric stress. "We are still in sight of an early harvest," said Louis Drevon at his Domaine de Rosiers, "perhaps two weeks ahead." His team have been busily doing attachage - tying the vines as they grow higher - with some strong winds rolling down the Valley.
The blip in the June profile came in the last week, with a sudden surge on 27-28 June to 35°C, even 38°C, an intense heat indeed. This was followed by temperatures down in the mid-20s°C, and north winds. By early July the weather is stable - sunny and breezy, the wind too strong at times for outdoor dining, the temperatures not passing 30°C.
At Gigondas in the Southern Rhône, Louis Barruol of Château Saint Cosme set the scene for his area: "I have never seen such a beautiful flowering as this year. I also do not think the soils are especially dry. At Gigondas our June rainfall reached around 26 mm (1 in), in rather wasteful amounts of about 3 to 5 mm at a time, which does not make much difference. Elsewhere, nearer the Rhône river, they have had more rain, around 60 to 80 mm. We are only about one week ahead, I would estimate."
mid June 2011: there have been pockets of rain here and there in the Rhône in the first two weeks of June; Cornas had 50 mm (2 in) in a storm, which, according to Anne Colombo was "a bit wasteful", since a lot of the water rushed away. "We are at least two weeks ahead of usual," she added, saying that "it is still extremely dry in the subsoil, and I have noted growth slowing recently." At Crozes-Hermitage, however, the same rainfall only produced 6 mm (0.2 in) at Gervans and Mercurol in the northern zone there. In the South, there has been hail in the Northern sector of Châteauneuf-du-Pape, on the route to Orange. "We had some hail at Château Rayas," Emmanuel Reynaud told me, "but the leaves are still hard and green, which helped. The vineyard is very pretty for now, with long, magnificent bunches. Remember that Gobelet (stand-alone vines) also protects the vines more than wire-training."
For a series of new postings, including 2009 Gigondas and a series of domaines across Cairanne, Rasteau, Plan de Dieu and Côtes-du-Rhône, please go to Goings-On in the left-hand column. It is a mixture of known and below the radar domaines.
early June 2011: the theme of an early harvest continues, although growers were delighted by a fall of around one inch of rain (25-28 mm) around Châteauneuf-du-Pape in the third week of May. Crop sizes are large for now, so a balanced, copious vintage now depends on when the rain falls - mid-July and mid-August, with a smattering in June will be ideal - and how much of it falls - not too much at a time. Flowering has gone extremely well this year, both in North and South, and the threat of late frost has passed. Powdery mildew, the curse of the very damp 2008, is not on the scene.
I have just returned from an extraordinary week of dinners with Marcel Guigal and Pierre Perrin of Château de Beaucastel on two atolls on the Maldives, the beautiful low-lying islands south-west of Sri Lanka in the Indian Ocean. The tasting notes on the Beaucastel wines have been loaded, and a report on those Beaucastel tastings and dinners has been posted under the subtitle Indian Ocean Beaucastel under Recent Tastings. The wines tasted: Roussanne VV 2009, 2008, Hommage Jacques Perrin 2007, 2001, 2000, Cru de Coudoulet 2003 red, and Beaucastel red 2007, 2006, 2005, 2003, 1998, 1990.
mid May 2011: they`re all talking about it: precocity - precoce, precoce, precoce. A bit like the Spanish romantic ballad Quizás, Quizás, Quizás, that the airline played as I was taking off from Bogotá one stormy day. The vineyards are three weeks ahead of normal dates in their ripening. Marcel Guigal told me in mid-May 2011: "I am a bit anxious, we are so very much in advance. The flowering has already ended at Condrieu, which is earlier than 2003, something I have never seen before. It rained the weekend of 14-15 May, which was helpful. We have more crop than 2003, though, and my Côte-Rôtie vineyards are very belle, very healthy. Our Hermitage vineyards do not look as good, though - they are showing more signs of stress from the drought."
Châteauneuf-du-Pape is also three weeks ahead. Pierre Perrin of Château de Beaucastel remarked that the absence of wind this year had been a boon, in not accelerating the effects of the drought. "We are three weeks early. Flowering has started on the Grenache at Châteauneuf-du-Pape, as it did around now in 2003, but has not yet got going at the later ripening soils of Vinsobres. I am not worried for now - there is no blight or illness in the vineyard, so we do not face pressure from that. The budding was good, so yields are normal for now."
At Gigondas, Louis Barruol of Château de Saint Cosme commented in mid-May 2011 that his vines look good, with a 2 to 3 week advance. He added: "it`s quite dry. I think the rains will definitely be a key point this year, because we already know it will be an early ripening vintage. If this combines with dry and hot conditions, we will be in a kind of 2003 trouble. If we have a good spread of rain and mild temperatures through the summer, we`ll be OK."
France is suffering from the drought, with the middle area, notably the Charente, north-east of Bordeaux, affected. A Committee of Drought has been set up, with increasing worry about high food prices. Cattle breeders have had to send part of their prize herds to the abbatoir: in one case, a farmer-breeder said he had just one-quarter of his usual feed supply, and that his fields had no grass. He could not afford the cattle. The State has also allowed the use of Set-Aside land for active agricultural use.
In Sussex, we have had under 15 mm (half an inch, max) of rain in the past 6 weeks. The north and west of England has fared better. But basking sharks first appeared off the west coast of Scotland in March this year, around 6 weeks early, and the Rhône pattern is repeated even at this higher latitude. Prayer mats for rain are in order.
mid May 2011: engine room Southern Rhône entries recently, with the emphasis on some new and exciting domaines. There is much to like about the approach of young growers who are often highly motivated, and I would signal some of these to readers. At Roaix, the most promising Domaine Pique-Basse deserves speacial attention for its Villages wines. At Cairanne, the Clos des Mourres likewise, while under Côtes-du-Rhône, have a look at Domaine Nicolas Croze - not a start-up, but good nonetheless. Under Brézème, see Domaine Helfenbein Charles, a singular journey for this young man who is working the most southerly Northern Côtes-du-Rhône vineyards at Brézème, but also vineyards from the Ardèche across the river.
At Cairanne, prime Domaines Oratoire Saint Martin and Domaine Alary have been visited - also see Denis Alary`s interesting comments about his whites under the latter. From Rasteau, Elodie Balme`s wines of finesse have been tasted, which now include a Roaix. At Vinsobres, the 2009s have been tasted from a range of domaines, led by Domaine de Deurre (STGT qualities), Jaume and Chaume-Arnaud. For the full range, use the Search engine under 2009 Vinsobres.
At Signargues, the quite recent Rhône Village in the west bank Gard département, the accomplished maker of fine wines, the Château Haut-Musiel has been entered, while nearby at Saint-Gervais, the regular leader of the pack, Domaine de Saint-Anne, has been visited. Under Côtes-du-Rhône, I would also point out the regular quality of the Château La Borie, a wine popular in Britain.
From the Northern Rhône, Yves Cuilleron`s range has been updated, from Condrieu on to the reds and the Vins de Pays as well.
end April 2011: a series of entries that centre on 2009, several from Gigondas, whose freshness contributed importantly to the quality of the 2009s. The authentic Domaine La Roubine, including their good Vacqueyras and Sablet, Pierre Amadieu, Saint-Damien, the extremely regular, STGT leaning Domaine du Pesquier, the always stimulating Château de Saint-Cosme, and the steady Château du Trignon. Added are one established Gigondas Domaine du Pourra, owned by the good doctor Jean-Christian Mayordome, and at Vacqueyras, a bright new grower and his Domaine d`Ouréa - making both Vacqueyras and Gigondas, starting out with the very promising 2010 vintage. Likewise, a recent young merchant based at Châteauneuf-du-Pape, Romain Duvernay, has been included. His Northern Rhône selection, notably Hermitage red, has been successful in 2009.
From the Northern Rhône, have a look at François Villard at Condrieu - I note improvement in some of his whites since July 2010, with the malo in some cases taking until the middle of last summer to complete. Also at Hermitage, Maison Nicolas Perrin, the joint-venture between Nicolas Jaboulet and the Perrin family of Beaucastel, and at Côte-Rôtie, the Vins de Vienne - emphasis on their Vins de Pays.
Under the left-hand tab 2009 Northern Rhône, please read about the 2009s in an often overlooked category, that of Côtes-du-Rhône and Vin de Pays reds and whites. These wines have a lot of personality, and frequently represent genuine value for money. In 2009 they are as rich as I have ever known them - a good vintage to buy at prices starting around £11 in GB and rising to dizzier heights when considering the accomplished Seyssuel Syrahs and Viogniers - the likes of Sotanum and Taburnum from Les Vins de Vienne.
mid-April 2011 News: heat, drought are the words so far this year. Precocious conditions in the vineyards. Fear of a late frost builds up as a result. The Decanter World Wine Awards week in London showed that 2009 Châteauneuf-du-Papes have entered a somewhat closed period, not surprisingly. The accessible wines for the moment are the best 2008s from across the Rhône, the simple 2009s and the 2010 red, white and rosés from the Côtes du Rhône and areas such as Ventoux.
CORNAS (cheval) alert: Cornas ran a game and impressive 3rd in his hot race at Sandown Park on April 23, a 2 mile steeplechase. He challenged upsides two fences from home as five of the field jumped in line, but could not quite bridge the gap up the finishing hill. A hardy effort from our Champion, who now departs on his summer holidays. Bonnes vacances, CORNAS!!! Have a dusty roll on us, your international following (I receive encouraging emails from around the world in support of Cornas).
April 2011 News: I detect a certain fever about 2010 Bordeaux as that ridiculous sales campaign gets set to kick off this month, with the infant "wines" being probably offered at similar dizzy prices to the 2009s. I would certainly never buy a car with just one seat or three wheels, but people do.
I am pushed by editors and "the trade" to publish instant, and big, reviews in a similar way, but will not do that, offering a few judgments here and there. Luckily, many Rhône growers are not yet stampeding to show their wines at these early dates, and pick pocket large sums of cash flow off drinkers (actually it is the merchants who are most to blame, rather than the growers). I note that the Chinese government has bought a Château in Bordeaux, but the fox is in with the chickens after the announcement that they intend to sell the wine en direct - cutting out the middle men layers; they claim that this also guarantees provenance of the wine, which is very true as it happens. Meanwhile my old friend Jancis Robinson is talking or writing about how wrong it is for Châteaux to wait until after the publication of critics` scores (yes, numbers) before issuing their prices. Either the world is now permanently off its rocker, or we are heading for the bursting of a bubble here.
Looking at the global health of the wine industry, a report by the Organisation Internationale de la Vigne et du Vin (OIV, a helpful acronym), shows that world wine consumption stabilised in 2010 after two years of falls. What particularly caught my eye was the fact that in France households now drink less and better, with an average of half a glass per person - which is three times less than in the 1960s. Three times less: think about that as a cultural turning point. I have long sensed that the generation born around the late 1970s in France went missing on wine - preferring beer and spirits, alcopops, anything other than "boring" wine. The French government with its blanket anti-alcohol approach which most often featured a bottle of wine rather than a bottle of vodka also took an active hand in this fall. Now France leads world consumption with around 29.4 million hectolitres, followed by the USA with 27 million hectolitres.
I have been drinking fine wine recently, but this time I really mean very fine wine - over 200 years` worth of Hermitage La Chapelle, including a Second World War vintage, the 1961, 1978 and 1990, plus other interesting vintages. The venue was Northamptonshire in England, with a story behind nearly every bottle. Reflections on these wines will be posted up later. For now, work continues on writing up 2009s - mainly Saint-Josephs and Southern Rhônes, with 2010 Côtes du Rhônes - red, white and rosé also featured.
Europcar Warning: I am sure that many of you fly to Lyon or Marseille and hire a car if visiting the vineyards. The natural Easyjet partner is Europcar. Well, I use Europcar a lot, but I would have to suggest that the following story will make you hesitate. On my last Rhône visit, my Europcar broke down after a series of small problems with the engine cooling system. It had just 3,500 km on the clock. I was en route to Marseille airport to return home, 45 minutes short of my target.
I missed the flight, waited 7 hours at the airport, paid €165 for a new ticket, and then filled in the box of complaint (or comment) on the Europcar website. The only response from them has been for the English office to send me a Customer Satisfaction Survey! Dig that. Big company versus small consumer - a "let`s just ignore them" policy. The most slippery part of this story is this: the Europcar staff in Marseille have taken a consistent line: this is an affair between me and .. wait for it, FIAT, the car manufacturer, and nothing to do with Europcar. Draw your own conclusions. My next booking has been made - with Avis.
RECENT ADDITIONS
mid-April 2011: visits and tastings have been entered on the following domaines, all seen in March 2011: at Châteauneuf-du-Pape, Clos Saint Jean (lot of sugar in the 2009, so delayed bottling), Domaines Pierre André (longtime organic, very Grenache), Bosquet des Papes (Tradition v good value), Cristia (just bottled now), Marcoux, Pegau, Saint-Préfert, Pierre Usseglio, Raymond Usseglio. Mostly 2009 reds, some 2010 whites have been tasted. At Gigondas, the very accomplished Domaine La Bouissière - focus on 2009 also.
April 2011: recent domaines that have been brought up to date include the interesting Gigondas Mas des Restanques, where the style is refined and subtle. Two good Côtes du Rhône domaines are on the score sheet as well - the Domaine Coulange, which is making w.o.w. wines and the long-term classic Domaine La Remejeanne, which I have known since the late 1970s. These are both in the Gard département west of Avignon. 2010 Tavel rosés are also being entered - a fresh and agreeable vintage.
mid-March 2011 News: the 2010 vintage is an exciting one for the Rhône. The freshness of the wines in both parts of the Valley comes as an extremely handy asset, but the fruit is also complete, so bringing forward the critical word "balance". Recent tasting of hundreds of 2009s and 2010s shows that two vintages of high quality are storming into view, perhaps reminiscent of the 1990-1991 duo in the North. The quality of 2010 in the South, particularly the shining fruit, is well superior to the dilute 1991, however. Rub your hands, batten down the hatches, and prepare to spend and to enjoy. Notes will be posted on these wines in the coming weeks.
Word reaches my ears that Château-Grillet has been sold to Francois Pinault of Château Latour. Given the Grillet connection with Bordeaux-based Denis Dubourdieu, who has been advising on vinification for a little while, this may have some credence. The property and its roughly 3 hectare vineyard have been discreetly on the market for some time as well. One can only hope that the march of Bordeaux advisors does not result in further neutering of white Rhône varieties, as has been witnessed at Paul Jaboulet with the Marsanne (also DD).
In Britain, the economy remains sluggish. The latest poor news is the voluntary receivership of Oddbins, where valiant attempts to revive the quality of the remaining stores has been made by the new management team. Merchants tell me that restaurants are taking longer to pay, as well. Private buyer enthusiasm for 2009s is very strong, though, with one leading London wine merchant selling £1 million of 2009s en primeur. Their sales of 2008 and small appellations remains unsteady. Everyone wants to buy a shiny winner, which results in congestion on the Vinous Superhighway. Hence, a few very small Côtes du Rhône domaines will be entered in the future - there is plenty on offer if you are prepared to look.
March 2011 News: spring is in the air, daffodils and crocuses in my garden, growers enthusing about the last two vintages. It is a great time to be a fan of the Rhône. I highlight the exceptional vintage at Crozes-Hermitage in 2009, so there are wines to knock back with pleasure, or to wait for as they evolve towards complexity appearing on the shelves and on merchants` lists now. This month`s agenda includes visits to small organic domaines in the Rhône, and further extensive tasting of Gigondas and other Southern appellations.
February 2011 News: the 2009 Rhône primeur campaign is under way in Britain, with prices creeping upwards. The 2009 Burgundy campaign is in full swing as well, so drinkers are being asked to spend, spend, spend. I am buying some Bourgogne rouge 2009 from eminent stables such as Barthod and Jean Grivot, and for £140-150 a case of 12 (pre-duty, in bond), I regard them as good value, with sure-fire enjoyable drinking.
Prices from The Wine Society Rhône offer make interesting reading: I would regard the vin de pays La Rosine from Stéphane Ogier, already highlighted from OW Loeb, at £60 for 6 (in bond) as fair, as are the Châteauneuf-du-Pape Domaine La Boutinière at £63 for 6, or the Coudoulet Côtes du Rhône from Beaucastel at £55 for 6. The Saint-Joseph 2009s start at £60-75 for 6, which is just about OK, but the vin de pays Sotanum from the young vineyard of Seyssuel, however promising it is, exceeds reality at £143 for 6 bottles in bond.
It is one thing to sustain a region`s existence as a source of enjoyable wines that sometimes aspire to excellence, but value has to be held as well, or at the very least, perceived value. Otherwise it is a fleeting asset. The Rhône has known such bubbles and dips before - the first being in the early 1970s, so it needs to be careful. With restaurant mark-ups of often 3 times, people will not buy Côtes du Rhône at £30, nor will restaurant owners list such wines, and suddenly the region starts to become invisible in the company of any amount of New World wines, or Southern European wines.
I am sure these trends will be discussed at the bi-annual Rhône Découvertes event in the Valley in the first week of March. This year, the format has reverted to being mobile rather than based solely in Avignon, and there will be the added surprise of a gathering of all the clans of Châteauneuf-du-Pape for their tasting day, rather than the dreary usual reality of several competing Syndicats who are essentially sworn opponents. It is all to do with politics and egos, rather than who makes the better wine, en plus. Découvertes remains a very useful touchstone for the trade and for the press.
RECENT ADDITIONS
mid-April 2011: visits and tastings have been entered on the following domaines, all seen in March 2011: at Châteauneuf-du-Pape, Clos Saint Jean (lot of sugar in the 2009, so delayed bottling), Domaines Pierre André (longtime organic, very Grenache), Bosquet des Papes (Tradition v good value), Cristia (just bottled now), Marcoux, Pegau, Saint-Préfert, Pierre Usseglio, Raymond Usseglio. Mostly 2009 reds, some 2010 whites have been tasted. At Gigondas, the very accomplished Domaine La Bouissière - focus on 2009 also.
April 2011: recent domaines that have been brought up to date include the interesting Gigondas Mas des Restanques, where the style is refined and subtle. Two good Côtes du Rhône domaines are on the score sheet as well - the Domaine Coulange, which is making w.o.w. wines and the long-term classic Domaine La Remejeanne, which I have known since the late 1970s. These are both in the Gard département west of Avignon. 2010 Tavel rosés are also being entered - a fresh and agreeable vintage.
The end of February 2011 saw the passing of Marius Gentaz, who sold his Côte-Rôtie under the title of Marius Gentaz-Dervieux. Please go to Veterans Corner and click on the subtitle The Wines to read an essay of remembrance about Marius and his work - an STGT grower of the highest order.
mid-March 2011: following early March 2011 visits, two eminent domaines at Châteauneuf-du-Pape have been brought up to date: Domaine Monpertuis, where the red wine has STGT tendencies and the white wine is from the school of long-lived white Châteauneuf - the whites tasted back to 1998 and 1992. Also, I had a quick look in at the Château de Beaucastel, where tasting included the 2009 Hommage a Jacques Perrin and some villages 2009s that included Cairanne, along with 2010 grass roots whites. From Côte-Rôtie, 2009 and 2010 René Rostaing. My views on the excellence of the Northern Rhône 2010s have been stated before, and my enthusiasm continues unabated. I also had an agreeable check-up on René`s thickly set, excellent 2005 Côte Blonde.
March 2011: a couple of organic Côtes du Rhône domaines who sell their wine rather cheaply through Monoprix in France, and might be worth a look, particularly the first-named, Domaine Notre Dame de Cousignac and Château des Coccinnelles (ladybirds). Also, from the Côtes du Vivarais, the Vignerons Ardechois, who have been around for a long time, and whose quality can be on the mark, especially in generous vintages such as 2009. About 18 red Hermitage 2009s have been entered as well, under each domaine. Use the Search engine to see their rating, starting at 3 stars and up, I suggest.
Mid-February 2011: joining Côte-Rôtie in a full 2009 Northern Rhône review is Cornas 2009 - click THE LEADING WINES tab under 2009 Northern Rhône in the Left-Hand column. More Crozes-Hermitage 2009 reds have been reviewed under their specific domaine names - see the LVT 2009 r category. This includes visits to father and son Domaines of Alain and Max Graillot, the latter also known as Domaine des Lises.
A trio of wines from Château Val Joanis in the Lubéron have also been entered. As is often the case, my preference is for the simple wines that are less tarted up with new oak etc.
February 2011: the full, in-depth, super-duper 4,000 word report on 2009 Châteauneuf-du-Pape reds is documented under the 2009 Southern Rhône tab. It is a complete explanation of the vintage starting in the spring and draws on many questions and investigations by yours truly. By the way, once you have clicked on that 2009 Southern Rhône tab, please go down one line and click on the Leading Wines title underneath it; there is no need to re-log in.
Leading Northern Rhône 2009s have been entered from Cornas, Hermitage, Crozes-Hermitage and Saint-Joseph - wines around the ***(*) or higher category. Look out for the LVT 2009 tab against the domaine name.
I also urge you to catch up with the Vidal-Fleury range of wines, listed under their home appellation of Côte-Rôtie. Owned for decades by Etienne and Marcel Guigal, this largely merchant business is now receiving due investment and attention now that is established in a brand new cellar in the south of the Côte-Rôtie appellation. I have been impressed by both southern and northern Rhônes from them.
As I have been working on a large contribution to a book on Gigondas organised by the Syndicat of Growers, there are some fascinating tasting notes appearing. I am covering the vintages from 1959 to the present day, year by year. Many old bottles have been tracked down, and they frequently surprise through their stability and freshness after thirty-plus years, particularly in the lesser, higher acidity vintages. Readers can use the Search option for vintage notes, or focus on a few domaines whose wines have been found for this exercise - for example, Domaines Moulin de la Gardette, Pesquier, Raspail-Ay, Saint Gayan and Teyssonières.
See Veterans Corner for a comparison of two wines from the sainted vintage of 1985, the Gigondas Domaine Raspail-Ay and the Châteauneuf-du-Pape Domaine du Vieux Télégraphe. A new domaine at Saint-Joseph, Domaine Christophe Blanc, has been entered, offering a sound 2009 from that excellent vintage, while an overdue listing for the accomplished Domaine Les Aphillantes at Plan de Dieu has been made.
Under Laudun, the Dauvergne-Ranvier merchant business features their very respectable, modern 2009s from Côte-Rôtie and Saint-Joseph. The Côtes du Rhône Domaine de l`Olivier has been posted, as have two suppliers at Châteauneuf-du-Pape, the young team at Domaine de la Biscarelle in the north of the appellation, and the established merchant based in the southern area, Les Grandes Serres, which has produced a good, limited quantity 2009 red Châteauneuf.
mid-January 2011: a full report on 2009 Côte-Rôtie has been posted under the Left Hand tab 2009 Northern Rhône. It is a vintage worthy of great respect.
early January 2011: a variety of domaines has been added, catching up on admin, as it were. Notably: Domaine La Cabotte at Massif d`Uchaux, always a strong source of good wine. The incomparable Domaine de Sainte-Anne, the only real address at Saint-Gervais in the Gard, right bank area; the traditional and very worthy Domaine Saint-Pierre in the Côtes du Rhône, an estate I have known since the early 1970s, also makers of good Plan de Dieu Villages and Vacqueyras. Other names worth a brief look include, at Vacqueyras, the Domaine de la Brunély, at Sablet, the Domaine de Verquière, at Gigondas, the Domaine de la Tourade, at Lirac the biodynamic Domaine de Mayran and at Saint-Gervais the Domaine Clavel.
From the Northern Rhône, please look at Marc Sorrel from Hermitage for some wonderful 2009 and 2010, as well as at Condrieu, the skilled Francois Merlin with his 2009 and 2010.
late-December 2010: Vacqueyras is under the spotlight, with recent vintages 2007, 2008 and 2009 being entered. Look for the LVT 2009, 2008 symbols next to the domaines. Two recently established domaines, the offbeat Roucas Toumba of Eric Bouletin and Domaine Les Ondines of Jérémy Onde, have been entered. Also at Vacqueyras, a traditional domaine, the Domaine Cabassole, and a long-established property where I did the harvest in the early 1970s, Le Clos de Caveau. There are also domaines not based in Vacqueyras who are making good wines: these include, from Gigondas, the Château du Trignon (newly acquired 10 hectare vineyard), Domaine La Bouïssière, Pierre Amadieu and the organic Clos du Joncuas, while from Châteauneuf-du-Pape, the Domaine de la Charbonnière regularly makes successful Vacqueyras.
Cornas (cheval mascot) alert: Cornas ran fourth in a 13 runner, very competitive handicap steeplechase over 2 miles at Cheltenham on Saturday 11 December, 2010. After his hoof soreness last time out, he ran a very good race, creeping quietly into contention running down the hill to the last two fences, then getting tired (he had a high weight). He is obviously manful enough to handle an 11.40 race start (unlike yours truly). Now we have the Big Freeze, his next outing may be on hold for a while. I hope his trainers, Nick and Jane Williams, who love him dearly, will give him some sort of Christmas treat from their snowbound stables. ALLEZ CORNAS!!
Talking of horse racing, I have been recently running a campaign against a bad idea to impose a new, supposedly Super Duper, whizzo day on English racing, and have set up my second website, http://www.horseracingdeservesbetter.org/. If any of you read the issues and News posted there, and care about horse racing, whose integrity and programme have parallels with the long traditions of wine making, please sign up, and save the sport from a spectacular own-goal. The deadline on this is the second week of January 2011.
early January 2011 News: we have lots to look forward to this year, with the issue of the 2009s, some of them showing great flamboyance, and the 2010s taking excellent shape. The 2008 whites are really motoring well, and it would be no crime if some of the Condrieu 2008 were drunk this year as well. 2008 for the reds is certainly not a lost cause, but one notes the reticence of importers to offer these vintage-scarred wines. Vacqueyras 2008, yo! I am also thinking of investigating some of the previously backward 1995s, and drinking more of the 1990s that are just perhaps near the summit from southern Rhône vineyards. Happy New Year, tout le monde, including our cheval mascot Cornas, who goes up 1 year to 9 years old on 1st January, 2011.
mid December 2010 News: The 2009 Rhône en primeur campaign is up and running in Britain, with offers ranging from the 2009 vin de pays La Rosine of Stéphane Ogier at £115 per dozen from OW Loeb http://www.owloeb.com/ - decent value - to the 2009 Vieux Donjon Châteauneuf-du-Pape at £249 from Yapp Brothers http://www.yapp.co.uk/ Please keep watching the LVT tag against domaine names for the Last Vintage Tasted notes on 2009s as they appear.
early December 2010 News: I cannot start without mention of the snow that has swept Northern and Central Europe. Having been in extreme cold of -15°C in Finland in the last week of November, wandering the streets of Helsinki looking for a wonderful restaurant called Juuri (to be reviewed), I thought that I had had enough of the inclement. Nay, my liege. Now we have 25 cm (10 inches) in Sussex, so we are temporarily jumelé (twinned) with Ampuis, the seat of Côte-Rôtie, which also received a snowfall of 25 cm on the night of November 30-December 1. The growers are busying themselves indoors - Patrick Jasmin wrapping and preparing Christmas present despatches (quite an image), and Pierre Clape trying to get his car in the garage at Cornas. The Southern Rhône has also been hit, with snow as far south as the nougat capital of Montélimar.
There have been some early launches of the Rhône 2009s in London, with merchants seeking to replicate their gigantic success with the Bordeaux 2009s, whose campaign starts every year at the stitch-up, ridiculous date of April following the harvest. The Burgundy 2009 campaign starts in Britain in January 2011. I have reservations about these campaigns, and always have. Merchants cajole growers into presenting the wines earlier and earlier - and so less and less finished. The pay-off is the merchants` bank balances, as people pay up front for a good that is incomplete and certainly changes (would you buy a car with 3 seats and 1 indicator light?). The other debris from this is the fuelling of superstar vintages that "everyone" wants, and the complete overlooking of any vintage of lesser status.
I made enquiries about a fine 2009 Côte-Rôtie, a case of which was selling for £600-700. I was asked to also purchase 2 cases of the regular cuvée - if I had done that, my bill would have more than doubled to a total £1,500. It was also interesting to hear the comments of a leading Northern Rhône grower, who had been visited by several British wine merchants in November. "All they talk about is China," he told me; "I receive them here to discuss and sell to the British market." The implication is that the faithful buyer in Britain will be ignored as allocations are diverted to the Klondyke market of China - whether that is in the trade agreement between merchant and grower is another matter.
mid November 2010 News: I like to be cautious about vintage pronouncements, but I have been struck by enthusiasm for 2010 from two fine and discreet stables, that of Georges Vernay at Condrieu, and Jean-Louis Chave at Hermitage. If I add in Domaine Jamet at Côte-Rôtie and Clape at Cornas, Bernard Faurie at Hermitage, you can see that 1) I have been keeping pretty good company and 2) the tom tom drums augur well for 2010. In the meantime, notes on the 2009s will be gradually fed in, so look out for the LVT (Last Vintage Tasted) 2009 signal against the domaine name. But make sure you don`t spend all the dosh on the 2009s - go steady, you with the waving wallet!
RECENT ADDITIONS
mid-December 2010: Vacqueyras is under the spotlight, with recent vintages 2007, 2008 and 2009 being entered. Look for the LVT 2009, 2008 symbols next to the domaines. Two recently established domaines, the offbeat Roucas Toumba of Eric Bouletin and Domaine Les Ondines of Jérémy Onde, have been entered. Also at Vacqueyras, a traditional domaine, the Domaine Cabassole, and a long-established property where I did the harvest in the early 1970s, Domaine Le Clos de Caveau.
mid-November 2010: please see Recent Tastings, and click on the Cornas in London sub tab for a report on a dinner involving 13 wines of Cornas stretching from 2006 back to 1983. A veritable glimpse back in time to some fine, mature wines. Visits to leading Côte-Rôtie Domaine Jamet and leading Saint-Joseph Domaine Gonon have been entered, including a look at their 2010 Syrah. A start-up Vin de Pays domaine run by the son of Marc Sorrel at Hermitage, has been added - Les Alexandrins.
There is often good value from the Côtes du Rhône reds made by Châteauneuf-du-Pape domaines. See a fine collection of 2009 Côtes du Rhônes from Domaine de la Janasse, Domaine du Grand Tinel, and a fascinating Côtes du Rhône white from Clos du Caillou, made from Clairette rose rather than the usual Clairette blanche. Also an STGT Villages red 2009 from La Bastide Saint-Dominique.
There has been action at Châteauneuf-du-Pape, with a host of new names with usually small plots starting to make and bottle their own wine. These are Domaines Julien Masquin, La Celestière (8 hectares in the west of the appellation, a big investment), Mouriesse Vinum, La Consonnière, Saint-Pierre and Château Capucine. A lot of 2009 red Châteauneufs have been written up. The 2009 red and whites at Châteauneuf-du-Pape Château Rayas and Côtes du Rhône Château de Fonsalette have also been assessed. Recent visits to the organic Domaine Romaneaux-Déstézet of Hervé Souhaut at Saint-Joseph and Domaine Georges Vernay at Condrieu, makers of the supreme Coteau de Vernon, have also been included.
Returning from Russia, where I found wine prices as dizzy as usual. The comfortable new Hotel Lotte near the Ministry of Foreign Affairs, has a Pierre Gagnaire franchise restaurant that offers Les Menus de PG. The Rhône interest on the list was represented by 2008 Condrieu Georges Vernay Les Terrasses de l`Empire at €233; this represents a 10 times mark-up - 100% is only for wimps; also 2004 Chapoutier white Hermitage Chante Alouette at €219, the 2006 Chapoutier Hermitage Monier de la Sizeranne red at €271, the 2005 Côte-Rôtie from René Rostaing at €237, the classic 2005 Châteauneuf-du-Pape Château de la Gardine at €174, and to top it all, the 1990 Châteauneuf-du-Pape Château de la Gardine Cuvée des Génerations red at . . . €678. I sat at breakfast one morning, asked for the Wine List, as one does, and, well, didn`t buy, not even the humble Ventoux Château de Pesquié Quintessence, a serious wine it is, at €62, which really almost represents the dot on the card. Of course, the 2000 Château Margaux trades at €4,405 and the 2005 Cheval Blanc at €4,640.
CORNAS cheval mascot alert: talking of big money, Cornas ran at Exeter on Tuesday 2 November, 2010, in a Grade 2, hot handicap for the top 2 mile steeplechasers, worth £40,000 to the winner. Alas, poor Cornas tried his best, but his hoof was hurting, and he ran a lacklustre race, finishing sixth. He is as game as any wine from Cornas, and kept going, despite having what turned out to be an abcess. He will now take time off. Thank goodness the ground was soft. I hope at least that the Irish maestro Barry Geraghty thought he did well in the circumstances. ALLEZ, CORNAS!!
McLAREN VALE BUILDING NIGHTMARE: a 77 hectare suburban zone is due to be built on cereal land next to the McLaren Vale vineyards. The plan is for commercial centres, 1200 dwellings and 2500 residents in the ominously named "Phase 1." Growers are desolate at this prospect, so if you, unlike the Ministers, can take the long view - destruction of heritage, just as we had at Cornas a while back - please fire off an email to Mr Holloway, whose email address is minister.holloway@sa.gov.au More on this debacle features on the McLaren Vale sidebar. Please emphasize the country you are writing from, so the bureaucrats can realise that this is not just a little local fling. Thank you very much.
mid-October 2010 News: creased faces, a few yawns here and there, knocking over the odd glass of water when eating - yes it`s harvest and vinification time, the growers at full stretch. 2010`s crop is reduced, but people are happy with the quality. In the Southern Rhône, Gigondas is still harvesting under stable weather in the week of October 11, while Châteauneuf-du-Pape has largely finished, except for strong waiters like Château Rayas, whose bunches are magnificent on their south-west, sun-setting vineyard near the cellars. Vacqueyras has finished as well. Fermentations have gone well, too. Later areas like Ventoux and Lubéron are still harvesting. For detailed comments, see Goings-On.
In the Northern Rhône, it is near the end of the harvest at Côte-Rôtie, with Cornas and Crozes-Hermitage, Hermitage and Saint-Joseph also mostly completed. Colours are good, quantity is off 2009 levels by a small amount, and growers are content. For detailed comments, see Goings-On.
CORNAS, WINE et CHEVAL ALERT: Willi`s Wine Bar celebrated an extraordinary 30 years of not existence, but extreme life and fleuraison (sounds better in French, flowering) on 9 October, 2010. This trend-setting wine bar owned and run by my old friend Mark Williamson, 13 rue des Petits Champs, 75001 Paris, +33(0)142 61 05 09, did away with the old custom that all Paris wine bars served junk merchant wines and put the Rhône of small growers to the fore when started in 1980. The second edition of my book The Wines of the Rhône was launched there in 1982, when one of the pouring wines for the drinks was the red Hermitage J-L Chave 1978. We knew how to live! Thus it was that the red for this celebration was magnums (magna) of Cornas 2000, Domaine Clape; in spiffing form it was, too. Stephen Browett of Farr Vintners affirmed that it was "the best Cornas he had ever drunk."
The following day, in Ireland, at Limerick racecourse, the mighty cheval mascot of http://www.drinkrhone.com// CORNAS, won his €30,000 2 mile steeplechase by 3 lengths, skipping away from his field after being held up. Much porter was drunk in Dublin later that day. The Mayor of Cornas continues to be eclipsed by his 4-legged rival, and we should entertain serious thoughts of putting up CORNAS for the next round of mayoral elections at Cornas. Ecology and the preservation of the vineyards in the face of housing threats would be central to his policies, of course. Allez CORNAS!
3rd-4th week of September 2010 News: harvesting is well under way, and the crop is in good shape. Quantity is reduced according to Marcel Richaud in Cairanne, and according to Emmanuel Reynaud at Château Rayas at Châteauneuf-du-Pape. Emmanuel will start his harvesting on Monday 27 September, and reports that, while there is not a lot of Grenache because of the dreaded coulure (like my 2010 runner beans, flowers fail to convert into fruit), it is attractive. The sugars are ready, but not the polyphenols, while the whites are in good shape. At the Clos des Papes, Vincent Avril paused on Friday 24 September with rain forecast, and will resume on Monday 27 September, having completed around half his harvesting.
2nd week of September 2010 News: the rains fell, the vineyards survived well. Everywhere in the Rhône received at least 2 inches (50mm) between 6 and 8 September, and the forecast into mid-September is for fine weather. Throughout the Valley, a helpful North Wind - the Bise (Kiss) in the North, the Mistral in the South - has been blowing, cleaning up the foliage and cutting down the risk of rot.
RECENT ADDITIONS
mid-October 2010: please go to Veterans Corner, The Wines, to read about suggestions of what to drink with a bottle of 1996 Châteauneuf-du-Pape Château Rayas white, in response to an enquiry about that from a Norwegian subscriber. Under Recent Tastings, Les Vins Naturels, some organic wines from domaines such as Romaneaux-Déstézet at Saint-Joseph and Dard & Ribo at Crozes-Hermitage have been tried, along with a 1998 Château de Fonsalette red.
2009 Châteauneuf-du-Pape reds are being gradually entered on a domaine by domaine basis, starting with the more affordable Tradition category (the Prestige wines can wait their turn). LVT 2009 r (Last Vintage Tasted 2009 red) is the clue, or use the Search engine under vintage 2009 Châteauneuf-du-Pape, please.
Also updated recently have been the red wines of the Cave de Tain at Hermitage, where the Top Grade reds, notably the striking Epsilon, are bounding forward, and the pricelessly traditional Domaine La Garrigue at Vacqueyras, whose 90-100 year Grenache red Canterelle is a winner. Remember that the Garrigue wines are available at the Hotel Les Florets in the foothills of the Dentelles Mountains at Gigondas, a venue that is run by the Bernard family as well.
mid-lateSeptember 2010: please check out the very successful merchant range from Louis Barruol at Château Saint Cosme at Gigondas - these wines trade with the name Saint Cosme on the label, are mainly Northern Rhône, and are very good. There is a delightful 2009 w.o.w. red as well, a wine to get on and enjoy now. One-off wines to look up include the 2009 white Laudun from Domaine Pelaquié - always great value, great drinking - the white Vin de Table from Matthieu Dumarcher whom I regard as very talented under Côtes du Rhône, and a vin de pays red of great character from Château des Tours at Vacqueyras.
Having tasted their 2009 Côtes du Rhône Villages reds, the Château Courac at Laudun, Domaine La Cabotte at Massif d`Uchaux and the Domaine Montmartel at Visan have been added. The first two have been exporters and providers of good quality wines for some time, while the last-named`s wines are pretty authentic.
mid-September 2010: for Swedish readers, I tried two recent arrivals from the System Bolaget, one good value, the other less so. See the Louis Chèze Vin de Pays Syrah 2009 note (SEK89 or £8), and the Châteauneuf-du-Pape Domaine de Villeneuve Vieilles Vignes red 2007 (SEK339 or £30), a wine that raises some debate. 2009 Northern Rhône whites have been added to, in the shape of Saint-Péray and Saint-Joseph white. I prefer the former to the latter, and would include its 2008 vintage as well - both indicate a risurgimento as a wider group of growers - Cuilleron and friends, Chapoutier - take an interest, even a young debutant called Rémy Nodin.
2010 continued: in the NORTHERN RHÔNE, a few reports follow: at Côte-Rôtie, René Rostaing said: "it is very, very good for the moment. We are 8 days behind the usual date - this delay has lasted since the cold weather during flowering in early June. July and August were very fine, with hot days and fresh nights - excellent for the polyphenols (tannic acidities)."
"The 2010 vintage looks so far like being one from 20 years ago - a structured year marked by dark fruit and tannins - the crop is very healthy. Degree is not important for the moment - 10.5° to 11.5°. Today it is a bit over 20°C, with a dry and very fine North Wind. I will start 22-23 September, with my vines on the Côte Blonde."
Philippe Guigal commented to me: "we had 65mm (2.5 inches) on 6-7 September - if anything, we are content, since a deluge was forecast. Hence the rain is not irreparable. There have been some very dry spots at Côte-Rôtie this year - old vines on rock face hillsides, for instance - where their leaves have been turning yellow already. The hillside vineyards should have a normal yield this year - they flowered in the sun, but the plateau areas have lost crop since they flowered in the rain. The ban des vendanges will probably be announced for 15 September this year." Philippe added that at Hermitage "we have a normal size crop, but a strange situation where the Syrahs are ripening ahead of the whites - this is unusual, and is something we cannot explain technically." As for his Condrieu, Philippe said: "the degree on the best Viognier has fallen from 14° before the early September rain of 65mm (2.5 inches) to 13.6° to 13.7°. The crop will be large."
At Saint-Joseph, from the heart of Mauves in the southern zone, Jean Gonon saw things as follows: "we had 78mm (3 inches) of rain across the day of 7 September, and the night of 7-8 September. It was a soft, continuous rain, not the violent fall that had been announced, so there was no damage in the vineyards, always a good start. 30mm would have been better, but we have observed a strange phenomenon that maturity has accelerated rapidly after the rain. My white grapes have become golden, the Syrah has advanced, and in my garden so have my tomatoes [faster than mine, Jean, faster than mine! Ed.]. A lot of colleagues find the same thing after the rain, even though the degree has fallen a little."
"We have fine but not very fine weather for now - the North Wind is not frank, but all we need now is dry conditions. The forecast is for 10 days of fine weather. The crop is healthy, attractive. After the rain during flowering, people thought the crop would be small, but that has not been the case, and we actually dropped grapes last week. Yield will be normal, around 35 hl/ha. I will start the whites on 20 September, the Syrah on 25 September. Some people have started to pick, but if you taste the Syrah now, the skin is still tough, the grapes are tart and there is still tartaric acid in them."
François Merlin reported that his Saint-Joseph Syrah was not especially advanced: "flowering was under rain this year, so I am aiming to harvest late September or early October, at least a week behind my Côte-Rôtie. We had 63mm (2.5 inches) on 6-7 September, but by 10 September the weather was fine, with a North Wind that is not too strong helping to clean the vineyards. I will be harvesting my Condrieu Viognier from 20 September. The influence of the wind this year has led to small berries on the Viognier bunches. As a result, I expect quantity around 30-35 hl/ha, a bit below the average. After the rain, I sense that degree and acidity have been concentrated., and the grapes have become riper. Strangely this year my Côte-Rôtie Syrah is riper at this stage than my Condrieu Viognier - normally it is the other way around."
In the SOUTHERN RHÔNE, a few reports also follow: at Châteauneuf-du-Pape, Daniel Brunier of Domaine du Vieux Télégraphe and La Roquète told me: "we had 140mm (5.6 inches) of rain from late on 6 September until the night of 7-8 September. Overall the rain has been about half positive, half negative. The later-ripening and dry zones gained, and of course the Mourvèdre was suited by the rain to finish its ripening, whereas the Syrah was largely ripe already, and the white crop has not been helped by the rain. The rain has been well spread across the appellation this time. The previous fall was 30mm (1.2 inches) around Orange, Beaucastel and Coudoulet in late August, while the south and centre around the village of Châteauneuf only had 5mm (0.2 inch) at the same time."
"Mistral wind followed on 8 September, and we were back harvesting by 9 September. At present we have harvested 80% of our white Vieux Télégraphe crop with a yield around 30-31 hl/ha, and will start on Roquète next week - from 13 September. We have also picked a bit of Syrah from Roquète and Grenache for Télégramme. There has already been Grenache on La Crau at 15° and 15°2, so we will really get going on Monday 13 September."
Referring to his Gigondas estate, the beautiful Les Pallières, Daniel continued: "we had 80mm (3.2 inches) of rain on 6-8 September, after 30mm (1.2 inches) at the end of August. The rain was less stormy than at Châteauneuf - it was a finer, slower rain, so there was less trauma for the vines. On 6 September before the rain, the Grenache at Pallières was 14.4° - now we will probably delay our harvesting for at least a week; the soil has clay there, and doesn`t drain as well as at Châteauneuf. The Mistral today is strong, around 60km an hour, and it is about 24°C."
The west bank Gard département and the Southern Ardèche received a lot of rain, but mainly in the far western areas away from the Rhône corridor, and prime vineyards. At Laudun, the accomplished Domaine Pelaquié started to harvest on 10 September, under fine weather. The first rain on 6-7 September there was 150mm (6 inches), then 100mm (4 inches) the following night.
A bit further north, in the southern Ardèche, Hélène Thibon-Macagno of Mas de Libian told me: "we have a small crop because of the Grenache coulure. We started to harvest last week, although a lot of people have started this week, after the rain. We were spared the worst of the local rain - we had 30mm (1.2 in) on the night of 6 September, then 40mm (1.6 in) on the night of 7-8 September, whereas places right in the Cevennes hills corridor in the far west of the Gard département - St Hippolyte du Fort, for instance, north-west of Nîmes - had 300mm (12 in). We have picked about one-third of our crop. The Syrah berries are not big, but are OK, and the Mourvèdre is in good condition. We have strong Mistral today, the temperature is 25°C, set to rise to 28°C on 12 September, and the forecast is good for the next week."
early September 2010 News: the night of Monday 6-7 September is forecast to deliver plenty of rain all over the Rhône, so there is a certain amount of holding of breath across all regions. The one let-out is the lack of rain so far, and the fact that fine weather is also forecast to come in around 9-10 September, with Mistral wind in the south.
In the NORTHERN RHÔNE, a few reports follow: at Côte-Rôtie, Brigitte Roch of Domaine Clusel-Roch, while preparing 200 kg of chips to go with steak at La Vogue, the party in Ampuis for 18 year old conscripts, where pastis and beer are the order of the evening: "we are told there will be 50-100 mm of rain (2-4 inches) tomorrow, 7 September, but for now we are content, and expect to harvest 20-25 September, with a fair-sized crop of 35 hl/ha. The first week of September has been very beau, hot and dry for now." Côte-Rôtie has been dry this year, and not received the rain that has fallen locally at Chavanay to the south.
At Cornas, Pierre-Marie Clape: "today the vineyard is truly excellent, but around 100mm (4 inches) of rain is announced for tonight, 6 September. We had 20mm (0.8 inch) of rain on 15 August, and 5mm (0.2 inch) on 19-20 August, which has helped the vineyard in the face of the dry conditions.
We have also been helped by hot days followed by cold nights - around 25-26 August the days were 34-35°C, but the nights 13°C, meaning good levels of acidity. Even today, 6 September, it has been 30°C, with 12°C in the morning - very good for colour and polyphenol (tannin) levels. Our Syrah is now at 13°+, with total acidity of over 5 gm. On La Côte (central site), the Syrah is at 13.25° and 5.7 gm acidity - the acidity is mainly tartaric, not malic, indicating that it will remain. As things stand, we expect to harvest around 20 September. The bunches look pretty good, and we may be at yields of around 38 hl/ha."
At Crozes-Hermitage, Maxime Graillot of Domaine des Lises: "things are nickel for now, with rain announced for tomorrow; we have had no rain in August, although 20mm (0.8 inch) just before the véraison (grapes turning colour) at the end of July was helpful. Bunches can be small, but are healthy. The yield looks like being a bit less than our high figure of 50 hl/ha in 2009 - around 40 hl/ha. We had a very little oïdium at Hermitage in mid-August, but our little vineyard there is at the foot of the slopes with heavier soils than the most noble sites such as Le Méal. I expect to harvest my Crozes crop on 22-22 September, and my Cornas on 20 September - my vines are on very precocious spots - Sabarotte, for instance."
At Condrieu and Saint-Joseph, Philippe Faury of Domaine Faury: "we have had a very good September so far, up to 6 September, with rain announced for tomorrow, but good weather again from 9-10 September. The Viognier is set to give a good yield, helped by the fact that it flowered before the cold weather of early June - we expect around 35 hl/ha for it. We had a few helpful storms, but no hail, here at Chavanay in August."
At Saint-Péray, Pierre-Marie Clape: on 3 September, our degree was at 12.2°, with total acidity of 4.35 gm - we will probably pick around 15 September, with a correct yield. Some growers have already harvested crop for their méthode champenoise wines."
In the SOUTHERN RHÔNE, a few reports also follow: at Châteauneuf-du-Pape, Vincent Avril of Clos des Papes: "40mm to 50mm of rain would be perfect (1.6 to 2 inches), along with the 3 days of Mistral wind after the rain that have also been announced for 6-7 September. There are quartiers where the tannic ripening lags behind the sugars, and I find the south of Châteauneuf a bit more ripe than the northern area. It`s not bad at all, and similar to the last few very good years we have had - 2005 though to 2009, missing out 2008. We have had a lot of coulure on the Grenache this year (failure of flowers to convert into fruit), which meant we did less green harvesting than usual, and we found millerandage on the bunches - bunches that lacked grapes. That means yields will be around 22 hl/ha for me as things stand, against under 20 hl/ha in 2009, and only 16.8 hl/ha in 2008. The Mourvèdre is ripening close to the Syrah this year."
"When I look back through my records, I see that the current cycle is one of a dry summer, but with rain of some quantity in September. In 2005, we had 92mm (3.7 inches) of rain from 5-8 September, plus 11 mm on 11 September; in 2006, it was 165mm (6.6 inches) from 13-16 September, and so on, so rain at this stage is OK. In fact, the old adage of mid-July and mid-August rain being the saviour of the vintage seems to have gone by the board. I will probably start about mid-September," Vincent concluded.
In the first week of September, the Maison des Vignerons at Châteauneuf found Syrah at 13.1° and Mourvèdre at 12.7°. Colour, tannin and acidity levels are all good.
At Gigondas, Jean-Pierre Meffre of Domaine Saint-Gayan is happy with events so far, up until 6 September: "the crop is pretty, there is no trace of rot - it is very healthy. We were helped at Gigondas by our rainfall of 28-30mm (1.2 inches) on 15 August - the grapes would have been in trouble but for that. Acidity levels are also very good - a result of the hot days but cool to cold nights this year. The second half of August, we were having days at 28-30°C, but mornings at 10-11°C - these levels of acidity will also help us to resist rot.
Yields are down, around 28 hl/ha, because of the worst Grenache coulure (flowers, but no fruit after that, thanks to cold wind and weather in early June) we have had here for some years. The Syrah is very good this year, but needs picking. I expect to harvest my Côtes du Rhône grapes on 15 September, against 5 September last year."
At Rasteau, there was more rain in mid-August - 40mm (1.8 inches) - but there the growers are finding little juice in their white crop because of the dry summer.
The most rain in mid-August was in the southern Drôme, and Richerenches (ex-Tricastin, now Grignan-Adhémar) received around 100mm (4 inches).
At Tavel, Fabrice Delorme of Domaine de la Mordorée: "we started on the whites on 2 September, and will be moving on to the red crop around 9-10 September. The only red picked so far has been some very ripe Grenache for our red vin de pays. We are happy for the moment. We had only a little rain in mid-August - 5mm (0.2 inch) at Tavel, and 15 mm (0.6 inch) at Lirac. Our vineyard at Châteauneuf - on La Crau, and Cabrières, for instance - is in good shape."
late August 2010 News: August has been hot and dry, but the daytime heat running into the low 30s°C has been offset by cool nights which allow the vines to switch off and preserve acidity. In the South there has been some coulure on the Grenache - flowers not converting into fruit, just as I have experienced with my Painted Lady and Scarlet Emperor Runner Beans in Sussex, on the English south coast. Harvest dates look like being around 10 days behind 2009, when the extreme heat in late August made things happen very quickly.
Throughout this summer, the warm day, cool night pattern has been helpful, and bodes well for freshness in the wines. Earlier in August, temperatures moved back towards 25-28°C, cool enough for Christian Vache of Domaine de la Monardière at Vacqueyras to lunch indoors rather than outside under the shade. The nights in both Northern and Southern Rhône have been helpfully fresh - in the South, the mornings start at about 16-18°C, so the vines rest at night, and acidity levels are still good. In the Northern Rhône, around Condrieu and Saint-Joseph, the days commence at 14-17°C.
The vineyards are in good shape, the South being marked by a lot of healthy Mistral wind. However, the young vines have felt the effect of very little rain - after around 30mm (1.2 inches) in late June, there was just 4mm in July around Vacqueyras and Gigondas, with temperatures well into the mid-30s°C. The Grenache was just starting to turn colour - the véraison - in the first week of August. The old vines are in good shape, and reserves of water from the spring rains have played an important role this year in defending the plants from the drought.
The Northern Rhône experienced rain on 2 August, but it was variable across the region: around 10mm (0.4 inch) at Ampuis, home of Côte-Rôtie, nearer 45mm (1.8 inches) at Chavanay, home of Condrieu and Saint-Joseph. The Viognier is reported as having had a very good flowering this year. In this sector, the full hillside vines have fared better with the dry weather than those growing in the plateau areas, and richer soils. Young vines are also suffering from the July heat and drought.
The picture building up is of a harvest around 2 weeks later than 2009`s extremely precocious date - "this will make the vinification more interesting due to probably cooler weather," Christian Vache remarked. In the South, 10-15 September as a start date, in the North around 20 September as a start date.
FULL RECENT ADDITIONS:
mid-lateSeptember 2010: please check out the very successful merchant range from Louis Barruol at Château Saint Cosme at Gigondas - these wines trade with the name Saint Cosme on the label, are mainly Northern Rhône, and are very good. There is a delightful 2009 w.o.w. red as well, a wine to get on and enjoy now.
For Swedish readers, I tried two recent arrivals from the System Bolaget, one good value, the other less so. See the Louis Chèze Vin de Pays Syrah 2009 note (SEK89 or £8), and the Châteauneuf-du-Pape Domaine de Villeneuve Vieilles Vignes red 2007 (SEK339 or £30), a wine that raises some debate. 2009 Northern Rhône whites have been added to, in the shape of Saint-Péray and Saint-Joseph white. I prefer the former to the latter, and would include its 2008 vintage as well - both indicate a risurgimento as a wider group of growers - Cuilleron and friends, Chapoutier - take an interest, even a young debutant called Rémy Nodin.
late August 2010: 2009 Northern Rhône whites were pretty successful, but I would highlight Crozes-Hermitage white 2009 as a real star this year - wines of consummate appeal, very drinkable, and fuller than in all recent years. Yum yum. Condrieu 2009 is also reviewed - a robust set of wines, no surprise, given the extreme heat in August. See 2009 Northern Rhône in the Left Hand column.
Crozes-Hermitage 2008 reds are less glorious, but have been reviewed under the 2008 Northern Rhône tab. Recent domaine visits include at Côte-Rôtie, Guigal, Gilles Barge and Stéphane Ogier. The Guigal top 2006 reds of Château d`Ampuis, Mouline, Turque and Landonne have all been tasted now they are in bottle. At Condrieu, André Perret`s range has been tasted during a July 2010 visit.
Name change: at the end of June, the Coteaux du Tricastin was no more. After all the bad publicity attached to the Tricastin name due to the Tricastin nuclear power plant leaks, growers were desparate to disassociate themselves from that unfortunate monikor. Appeals to be called Côtes du Rhône were rightly rejected, so the solution, a truly Frrrench solution, messieurs et madames, c`est de call eet somezing completely difficile for the silly foreigners. Yes - I bring you - trumpets, please - Grignan les Adhémar. Note the acute accent, you in the back row of the class.
From a heritage standpoint, Grignan is a fabulous fortified castle village, while La Garde Adhémar is a most attractive small hilltop village just visible from the A7 autoroute, where there are the ruins of a sixteenth century castle, and a Romanesque church. In my youth, there was an acclaimed Michelin one star small hotel-restaurant there. Both sides of this equation have a first-class historical pedigree, donc (thus). But - selling the wine around the world, having people remember it, pronounce it without risking feeling silly . . ? Ah well.
July 2010 News: well, Rasteau is now a fully fledged appellation in its own right - for its red wine. The process that started in 2002 came to fruition in early June, with the approval of the INAO, the appellation body. However, the clincher will be the further approval that this promotion above Côtes du Rhône Villages status can start from the acclaimed 2009 vintage - and that depends on "The Minister" agreeing to it before the 2010 harvest. The clock ticks on. We have Countdown! See Goings On for more of the facts, figures, thrills and spills behind this.
RECENT ADDITIONS
late August 2010: 2009 Northern Rhône whites were pretty successful, but I would highlight Crozes-Hermitage white 2009 as a real star this year - wines of consummate appeal, very drinkable, and fuller than in all recent years. Yum yum. Condrieu 2009 is also reviewed - a robust set of wines, no surprise, given the extreme heat in August. See 2009 Northern Rhône in the Left Hand column.
Crozes-Hermitage 2008 reds are less glorious, but have been reviewed under the 2008 Northern Rhône tab. Recent domaine visits include at Côte-Rôtie, Guigal, Gilles Barge and Stéphane Ogier. The Guigal top 2006 reds of Château d`Ampuis, Mouline, Turque and Landonne have all been tasted now they are in bottle. At Condrieu, André Perret`s range has been tasted during a July 2010 visit.
late July 2010: a first look at two leading 2009 Châteauneuf-du-Papes: Domaine du Vieux Télégraphe - including the 2009 red, and the 2008 bottled wine across the range, that includes Châteauneuf-du-Pape Domaine La Roquète. Also the 2009 and 2008 at the Bruniers` Domaine Les Pallières at Gigondas, where the Les Racines cuvée is starting to make a name for itself.
A look at the 5 main grape varieties involved in the red Châteauneuf-du-Pape Château de Beaucastel 2009 has also been included after a mid-summer visit.
Meantime, the hot weather that started in the last week of June - temperatures into the 30s°C - has given the vineyards some impetus to their ripening, after setbacks in June from cold weather and high winds aggravating that effect. Already the enemy of yields, coulure, has hit the later ripening Grenache - the failure of the flowers to convert into fruit. There is enough moisture in the vineyards after the snowfalls and rain of winter, so unless there is hardly a drop of rain between now and September, drought should not be an issue this year.
In the Northern Rhône, flowering has occurred in tune with some of the late June heat, and at Condrieu the Viognier is set for a mid-September or early third week harvesting, according to André Perret.
June 2010 News: at last, summer has arrived in the Rhône. But the real heat delayed until 23 June, with the flowering affected by cold winds and cool nights. The fourth week of June saw temperatures rise to the high 20°sC in the South, and growers started to smile again. At present, the harvest is running 10 to 14 days behind recent dates.
May delivered a big, initial catch-up after the tardy start to the cycle. Memories of the cold winter and the very late bout of snow on March 7 receded, and the first week of June saw flowering at Châteauneuf-du-Pape, a normal date for it.
It is a curious year. When I was in Moscow in late May, the vegetation was 7 to 10 days ahead of the south of England, with high 20°s Centigrade temperatures already experienced. The Northern Rhône is further behind the South, too, with shivery temperatures in May. The gap between the two areas remains as distinct as ever.
2009 continues to look good for both red and whites - the latter low in acidity, but plumptious enough to be very good food wines. On the subject of white Rhône, I have added another noble wine, the Beaucastel 1993 Vieilles Vignes, to Veterans Corner. Yes, 1993: the year of mucho rain. The fruit from 1914 Roussanne is one of life`s eminent joys, so far off the Superhighway in an age of homogenisation. Worth an outlay at auction if you can track it down.
RECENT ADDITIONS
July 2010: two serious domaines, worthy of full attention - note the contrast in scale: the 42 hectare Côtes du Rhône Château de Montfaucon beside the Rhône near Hannibal`s point of crossing at Roquemaure and the more than double that size Château de Beaucastel at Châteauneuf-du-Pape. Montfaucon is improving all the while, while at Beaucastel the 2008s, 2007s and the 2006 red were checked in June 2010. The excellent Perrin & Fils range has also been reviewed, taking in the 2007s that are now all bottled, and some of the 2008s. See Perrin & Fils under Châteauneuf-du-Pape.
June 2010: at last, after a seemly interval, I have put up a report on McLaren Vale, South Australia, a region I visited as the International Judge last October. I cover what this vineyard zone south of Adelaide is doing with its Rhône variety grapes, which hold a big say in the area`s future. McLaren Vale is reminiscent of parts of California in being coastal, breezy, and its food and wine scene is moving towards a more organic, more enterprising approach - a far cry from the old "lager only after 5 pm, mate", mentality that existed in the past. See the left-hand tab McLaren Vale.
Look up Veterans Corner for a duo of shapely 1980s Côte-Rôties - the 1985 Gilbert Clusel La Viallière and the 1988 Bernard Burgaud. Drunk in Oslo with my old friend the importer extraordinaire to Norway and Sweden, Christopher Moestue. One sole, careful owner, and a healthy Nordic climate brought out the best in these two old stagers.
Also a trio of old white Rhônes - the rain-sodden 1993 vintage features - and also for a magnum of 1979 red Châteauneuf-du-Pape from Les Cailloux. This was my contribution to a Wine Trade luncheon held in the august, historic surroundings of the Directors Dining Room at Berry Brothers in St James`s Street, London, with original William Morris wallpaper lining the top of the wood-panelled walls, and no doubt turning a blind eye as stories moved towards the ribald.
STGT: note the Ermitage Le Pavillon red 2001 from M.Chapoutier. Also a pair of Beaumes-de-Venise reds from two family domaines, Chiniard and Grangeneuve - an encouraging sign for this still young red wine appellation.
w.o.w. note the Vieille Ferme 2009 Ventoux from Perrin & Fils - a real winner this year.
May 2010: look up Veterans Corner for a brace of mature white Rhônes - the subject of my eternal pet hobby, to get the world to appreciate them more. Also check the STGT Cornas 2005 La Geynale from now retired Robert Michel. Further STGT from the biodynamic Saint-Joseph Domaine Monier-Perréol, also.
The first across-the-appellation review has been done on Gigondas 2008, and also Châteauneuf-du-Pape 2008, both red and white. It is a cherry picking vintage, not buy anything that moves, so please read the grower comments as well to get an idea of the sort of challenges faced in its making, and, importantly, its assembly before bottling. Click on the L-H tab 2008 Southern Rhône.
2008 Northern Rhône features a review of the leading wines at Cornas. where it pays to be selective, and a charming vintage at Condrieu, from the roughly 35 wines tasted so far.
May 2010: the first across-the-appellation review has been done on Gigondas 2008, with the Châteauneuf-du-Pape 2008 to follow. It is a cherry picking vintage, not buy anything that moves, so please read the grower comments as well to get an idea of the sort of challenges faced in its making, and, importantly, its assembly before bottling. Click on the L-H tab 2008 Southern Rhône.
May 2010 News: the Decanter Wine Awards tasting week took place in the last week of April 2010 in London. The Rhône received a broad cross-section of wines, without the cream of the small estates who can sell their wines almost by allocation, so such events pass them by. Some of the smaller appellation 2007s were starting to show the dry textures of that wind-borne year, while the traditional cuvée Châteauneuf-du-Pape reds were in good form, at good prices, too. When tasting at this event, one knows the appellation and the year, but not the producer.
2008s had a dark extract when the grower was careful with the crop, but a bit anxious in the cellar - leanings towards extraction in some. But the best are agreeable, and I continue to suggest them as very good drinking wines, accessible ahead of the big surrounding vintages, at also affordable prices. 2008 remains a very good white vintage as well.
Of the 2009s presented, it was interesting to note that the better performers in the Southern Rhône were the Villages, rather than the straight Côtes du Rhônes. The former will be a very good category from the genuine domaines who know how to make unforced wines: a lot of immediate pleasure awaits with them, the length along the palate often notable.
April 2010 Cornas (cheval mascot) news: Cornas ran above his station, but was effectively very Cornasien in that he finished an extremely honourable 5th in the Irish Champion Chase, beaten under 10 lengths. When the tempo stoked up at the fourth last fence, he just got a bit puffed. Cornas - always near the top table, but never quite in the host`s chair - such has been the Ardèche wine village`s destiny over time. He now goes on his summer holidays in the west country of England, much more eco-warrior than going abroad, until he re-appears in September. Bonnes vacances, CORNAS.
Previously: Cornas gets above his station by running in the Romanée Conti Stakes, er no the Irish Champion Chase, at Punchestown, the 18.05 race on Tuesday April 20. This is for the cream of 2 mile steeplechasers, worth €87,000 to the winner. His odds are 50/1. Our country boy with 10 swells, rather, a head to head between Auguste Clape and Aubert de Villaine. He goes in good form, will try to be placed, while one of his owners is in Champagne visiting small growers rather than grande marque houses, a TRAIN ticket tucked in his pocket, the sensible fellow. ALLEZ CORNAS, allez VineTrail!!
April 2010 News: wise wine merchants are starting to accumulate a few 2008s, while finding the 2009s challenging in their youth. Meanwhile, there is plenty of debate about 2007 at Châteauneuf-du-Pape: some USA wine forums are buzzing about the Decanter Magazine tasting of 201 wines late last year, where a Day 2 panel of 9 had mixed views on the style of some of the wines, finding them overdone, especially some of the very expensive Prestige wines. In particular, the modest showing of Domaine du Vieux Télégraphe caught the attention of people, who contrasted my strong view on its quality with the Decanter result.
To fill in some of the gaps here, tasting over 100 Châteauneuf-du-Papes in half a day would be beyond anyone I know - many of them weighing in at 15 to 16 degrees. Thus 3 people each tasted 35 wines. If the trio in question liked the wine, it moved to a final taste-off by all 9 tasters. All the wines were tasted blind, I should add, in contrast to most forum commentators and the Great American critics. I did not taste the VT 2007 on this occasion, and remain with my view that it is extremely good - I have even bought some myself.
RECENT ADDITIONS
May 2010: the first across-the-appellation review has been done on Gigondas 2008, with the Châteauneuf-du-Pape 2008 to follow. It is a cherry picking vintage, not buy anything that moves, so please read the grower comments as well to get an idea of the sort of challenges faced in its making, and, importantly, its assembly before bottling. Click on the L-H tab 2008 Southern Rhône.
April 2010: a full review of 2007 Gigondas reds has been posted under 2007 Southern Rhône Leading Wines. Click on 2007 Southern Rhône, then on the tab underneath Leading Wines. Many of these Gigondas have been tasted twice, in cask and latterly in bottle, which is of course a much more reliable indicator. I am utterly suspicious of Grand Pronouncements on the wines of a vintage before bottling - cask samples can give an idea, but before the wine has been finally assembled, they can be misleading. Generally the trend I found between late 2008 and late 2009 was favourable - a majority of the wines had made progress. 2008 Gigondas and Châteauneuf-du-Pape will follow - a vintage which will gain over time, but one that is likely to receive less oaking.
Unfortunately due to illness I have not done my usual early New Year visits to the Valley, and these will resume in late spring/early summer.
At Vacqueyras, the Domaine La Fourmone has been entered: Roger Combe made a firm impression on me when I first met him in the early 1970s - here was a man who spoke (and wrote) fluent Provençal, so, like papa Frédéric Alary at Cairanne - the boys now run Oratoire St Martin and Domaine Alary, he was both a man of letters and of the soil. His daughters Marie-Thérèse and Aline were his successors on the domaine, which in 1973-74 was most unusual in an almost 100% male-dominated activity. Marie-Thérèse is now also an accomplished painter. Fourmone produces both Vacqueyras and Gigondas, and has a small merchant business that takes in some Northern Rhônes as well.
At Beaumes-de-Venise, a small, quite recent start-up, the Domaine Chiniard. A pretty good example of newcomers to wine, who work the vineyards naturally, and make their wine without artifice. In the local vein, the wines are robust, but honest, not Superhighway, and the 2007 is STGT. For Eurostar travellers who find they have a thirst on near the Gare du Nord in Paris, it is on sale at the Caves Bardou, the nearest wine shop, at 124 rue Faubourg St Denis off the gloriously named Boulevard de Magenta (salut, je m`appelle Magenta, what an intro), for €14.50.
At Gigondas new domaines posted include the very well-established Domaine Les Goubert, where Jean-Pierre Cartier prodcues an array of different cuvées across Gigondas, Sablet and Beaumes-de-Venise. His Cuvée Florence caused consternation when introduced in 1985, since it was raised for 9 months in new Vosges oak casks. Tasting of this goes back many years, so the oak effect over time can be gauged. Also the small scale Domaine La Bouscatière, with STGT tendencies, and the promising STGT, whole bunch Domaine Les Chênes Blancs, the reliable Cave de Gigondas and Bertrand Stehelin.
A trio of very sound domaines, as well: at Rasteau, Domaine des Coteaux des Travers, and its robust wines. At Beaumes-de-Venise, the Domaine Saint Amant, pioneers in high altitude Viognier in the Rhône, their red wines making recent progress, with the astute Camille Wallut at the helm. And at the much blighted Tricastin, having dropped the cumbersome Coteaux du and after nuclear mishaps having also applied unsuccessfully to change the name to Côtes du Rhône, the leading property Domaine de Grangeneuve.
A note of interest for lovers of Hermitage: a vertical of Domaine du Colombier 2002,2003, 2004 and 2005 from late last year: the striking point was that, despite the vineyards not being on the most nbole west end of the hill, each one faithfully reflected its vintage. Colombier is listed under the Crozes-Hermitage appellation.
mid-March Cornas bulletin: our mascot horse performed exceptionally in the 2 mile handicap at Cheltenham, the Grand Annual. Quietly ridden, he crept fom midfield of the 21 runners in steady rain that had softened the ground. By the top of the hill, with 3 fences left, he had moved forward to 6th. As they approached the last fence there was a group of 4 horses in contention, with Cornas carrying the most weight of those in the running. Just in the last 50 yards, on the soft ground, did our mascot horse`s stamina peter out, and he finished fourth, beaten about 5 lengths at odds of 16/1. Those who backed him each way will have made a profit. Quite a run. It was a tough assignment, but he did not shirk it. ALLEZ CORNAS!!
March 2010 News: steady, boys and girls. I feel 2009 fever is mounting, before we have even had the chance to sup or savour some of the 2008s. Do not write off 2008 - just be extremely careful about what you buy. It is not a vintage where en primeur should really play any role: wines offered from November 2009 were in no way fully completed, and 2008 is a year where the grower`s judgment about what to discard - grapes and wine - and what to blend was paramount. That blend - or assemblage - is the last crucial step in the process of eking out quality in a weather-affected vintage such as 2008, and until it has been performed, and the wine tucked away in bottle, we are effectively in the dark. This comment applies just as much to a Côtes du Rhône Villages name as it does to Jean-Louis Chave and his red and white Hermitage 2008, by the way.
That is why I have tried to post up simple wines which are finished, and which do reflect authentic local styles. The whites can be great, and the unfussy reds delightful. Areas that have done well include Gigondas in the South, Cornas in the North. Gigondas as a later ripening region particulalry is favoured in a vintage such as 2008, as it was in 2002, when the rains fell and fell in early September. Keep looking for the LVT 2008 tag against domaines, indicating the tasting of their 2008s already.
This month sees the start of more tastings and dinners, as wine merchants emerge from their igloos, and the singing of the birds portends warmer days. It is also the month of the super-charged Cheltenham horse racing festival, which may feature our Cheval Mascot, the mighty Cornas, running in the last race of the 26, the Grand Annual Chase handicap over 2 miles. News on him will be posted for his aficionados. Meanwhile, I have to fend off greedy French growers, all of whom will claim that I had an annual bet against France in the 6 Nations Rugby Tournament - so far France have won all 3 of their matches. Fortunately, I backed them so to do before it started, so have wriggled out of a tight corner and can continue to sup the odd good bottle.
RECENT ADDITIONS
early March 2010: a report on Les Vins Naturels has been added under Recent Tastings. It focuses on the domaines of Dard & Ribo at Crozes-Hermitage, Domaine Gramenon in the southern Côtes du Rhône, and Jean-Michel Stéphan at Côte-Rôtie. These are low intervention growers, who work purely organically, down to little or no use of sulphur dioxide during fermentation and raising.
A few Southern Rhône domaines recently added: in the Côtes du Rhône, two prime organic estates, mother and son: Domaine Gramenon, and the new domaine of Michèle Aubéry-Laurent`s son, Maxime, under the title Maxime-François Laurent. At Rasteau, the Domaine de Beaurenard - the Rasteau offshoot of the Coulons` accomplished Châteauneuf-du-Pape estate, and at Ventoux, a promising, well above average quality property, the Domaine Champ Long, who are cousins of the Bernard family who run the Domaine La Garrigue at Vacqueyras and the delightful Hotel Les Florets at Gigondas.
During February a lot of 2007 and 2008 tasting notes on Gigondas have been added - the 2007s now mostly in bottle, and the 2008s out of the vat. Domaines now present at Gigondas are Notre Dame des Pallières, where quality is rising, the Mas des Flauzières, where quality is also on the rise after excessive extraction in the early 2000s, the also improved Domaine de la Mavette - more body in the wines than 10 years ago - and the small start-up the Mas des Restanques, whose owners are ex-Co-operateurs. Good marks for the class of Gigondas!
At Châteauneuf-du-Pape, two recent newcomers have also been put up: Albin Jacumin and Domaine La Destinée. Albin is part of the soap opera saga - think the 1980s TV programme Dallas, perhaps - surrounding the Château de Cabrières, where lawsuits are flying over inheritance after the divorce of the Arnaud parents. His old 10 hectare Domaine was called La Bégude des Papes. He will become a grower of importance by 2011, with over 20 hectares in total due to come his way - providing the lawyers do not slow the whole thing down. More simply, but interestingly, Domaine La Destinée`s owner Jean-Pierre Folliet came to wine via being a Professor of Tasting, and has a wine shop as well. His wine is good and traditional.
Around the Côtes du Rhône Villages, there are some new names. Set on the Plan de Dieu, the Château La Courançonne has always been good supplier of white and red Séguret, with the Villages wine of Plan de Dieu now stated on the label. Under Côtes du Rhône, in the lower part of the Drôme département, a new domaine, the Clos des Cîmes, first vintage 2007, has been entered - two young people, both oenologues, but one with viticulture in her family, an ex-Co-operatrice. Also under Côtes du Rhône, very near Avignon, the Domaine Saint-Pierre d`Escarvaillac, owned by the Requin family since 1889, has been posted.
Across the river, at Laudun, the Château de Marjolet is a recent name for Laudun red, while the Château de Montfaucon is a very good source of Côtes du Rhône, especially the more full-bodied wine. Also in the Gard, in the accomplished village of Domazan, the Domaine des Romarins has been added, with authentic, robust wines as their trademark. Another start-up in the right bank Gard département is La Gramière, makers of Vin de Table from Côtes du Rhône vineyards, with a US involvement. In the southern Ardèche, the high quality Vin de Pays estate Domaine du Grangeon has been added, with good value wines.
All on its own, for the eclectic, the well-off, the curious: the 2005 Château-Grillet was solemnly tasted over 2 days, to assess and enjoy and appraise this little piece of history, whose style is changing.
late-January 2010: 2008 vintage entries: keep using the Search vintage 2008, or look out for the LVT 2008 (Last Vintage Tasted) acronym alongside domaines. Some of the preferred ones have been entered recently. Few wines achieve 4 to 5 star ratings in 2008, but there are plenty around the 3 star mark, which can be good value from regions such as the Côtes du Rhône and Gigondas.
At Châteauneuf-du-Pape, a few high-class estates have been brought up to date: Domaine de Beaurenard, Domaine de Cristia, Château Rayas, while the Gigondas-owned Château St Jean of Christian Meffre has been added. Over 30 white 2008 Châteauneuf-du-Papes have also been entered - look out for LVT 2008 wh under the domaines.
A couple of right bank Côtes du Rhône domaines have been entered, both at the village of St Marcel de l`Ardèche, and both run by talented women - the Mas de Libian of Hélène and Catherine Thibon, and the Domaine Coulange of Christelle Coulange, the latter taking the brave and realistic decision to sell off all her 2008 in bulk.
At Cairanne, a quartet of domaines, two very established, the others new to quite new: the racy fruit and fun of Marcel Richaud, the Belgian-owned debutant Domaine de la Tête Noire - both offer w.o.w. wines - and the Domaine Armand, with sound Rasteau as well as Cairanne. Also the Domaine Catherine Le Goueil, now making just one wine, called simply Cairanne - a robust wine.
At Sablet, the Jean-Marc Autran Domaine de Piaugier, an innovator 20-plus years ago with oak use and a cleaned-up vinification - Sablet (inc good white) and Gigondas on offer from a wide range of cuvées. Also at Sablet, the Domaine de Boissan of Christian Bonfils, a go-go contemporary of Autran: good Sablet, also good, elegant Gigondas, with some very old vintages reviewed.
At Gigondas, the recently started Domaine des Florets of Jérome Boudier, up past the great hostelry of Les Florets - so in the lee of the Dentelles - has been entered, along with the definitely promising Domaine du Grand Bourjassot - very sound wines from Gigondas and Sablet, with at Vinsobres, the steady Domaine Autrand.
In the Côtes du Rhône, the exotic younger brother of Château Rayas, the Château de Fonsalette, had had its 2008s and 2007s reviewed. Also added are two modest domaines - Domaine du Bois des Mèges at Violès, and the keen start-up of Domaine Gris des Bauries at Taulignan, in the southern Drôme. Likewise at the Côtes du Rhône, the easy drinking wines of Domaine de la Berthèthe near the Plan de Dieu. In the Villages at Laudun, the reliable Co-operative the Quatre Chemins de Laudun has been added - good, fruity wines.
On its own, the appellation of Brézème south of Valence, has been included, the home of good Syrah: this I placed in my book The Wines of the Northern Rhône as it is out on a limb, near the mouth of the River Drôme as it nears the mighty Rhône, having passed through what is some spectacular country east of Crest ("Crey"). Jean-Marie Lombard is the main grower, although Eric Texier, the merchant, is also active and productive there.
Also just brought up to date at Hermitage, has been the STGT grower and near-veteran, Bernard Faurie; he also makes Saint-Joseph, and his 2008s and 2009s have been inspected. The complete line-up of wines from Delas - their 2007s in bottle, and some of their leadings 2008s have been fully reviewed: this remains a house with a very high quality given the number of wines they produce. At Crozes-Hermitage, the offbeat duo of René-Jean Dard and François Ribo (Dard & Ribo) have been visited, with their w.o.w. and STGT wines including Crozes, Saint-Joseph and Hermitage. Plenty of 2009 cask samples were also tasted chez eux. The 2008s and 2007s of Yann Chave, much more mainstream, have also been reported on, as have the 2009s, 2008s and 2007s of Luc Tardy at Domaine du Murinais - also a modern, clean as a whistle fruit operator. At Cornas, the full range of wines from Jean-Luc Colombo - his Cornas 10 hectares, Saint Péray 2 hectares and the négociant wines from north and south - have been tasted and entered, including some interesting whites. At Saint-Joseph, the modest local domaine near Chavanay, Domaine Richard, has been revised, while at Côte-Rôtie, some impressive 2006s, 2007s and 2008s have been tasted at the Guigal-owned Domaine de Bonserine.
February 2010 News: snow hit the Rhône in January 2010, with a foot or more at Gigondas (40 cm) and falls all over the Valley. Good news for the water table, although pruning was a little held up in difficult to access places. In the cellars. growers are working on their 2008s, a vintage in which throwing away any suspect crop was obligatory, but also one where the blender`s art comes to the fore, and fine judgment is needed to provide wines that are reasonably balanced and good to drink without any stiff or jagged notes. I continue to be interested by simple, hand-made 2008s from Côtes du Rhône and also the small wines from successful estates - which can include vins de pays as well.
Beside 2008, 2009 is a boastful, glitzy vintage, with immediate impact fruit and a lot of content. Show biz hits town! All I would advise is to go carefully in buying at an early stage - vinification was not always straightforward - there are some enormous degrees on the Southern Grenache - and growers may have that pecuniary glint in their eyes - a low yield this year, coupled with a frothing media, means prices will rise, nae doubt about that. Only if Greece really hits the buffers may importers see some relief on the € Euro front.
This month, more 2008s will be entered, and the picture of a vintage that follows a known Rhône pattern - a lesser red year equals a good white year - will also be further unfurled.
Cornas (cheval mascot) news: it is slightly back to the drawing board for our steed. He finished 5th, about 25 lengths behind the top-class winnee, the ex-French Twist Magic in his big race at Ascot. Ex-French, eh. Restez chez vous, svp. He tried to mix it with the two best horses and got tired, and was thereafter allowed to come home gently. Plans are now under discussion, since he is not quite in the top league, but is good in the second grade. Having said that, he would still feature in the best 12 steeplechasers over 2 miles in Britain - not at all bad. But the analogy with Cornas - gallant and honest - remains true. Allez Cornas!
January 2010 News: a very Happy 2010 to readers and subscribers. We can look forward to some fun drinking in the next two or three years. From the Northern Rhône, there are the free-flowing 2007s, some fine, interesting 2008s from selected domaines, and an excellent bunch of 2009s, jam packed with fruit, that are likely to show well early. The Southern Rhône offers the imposing, bountiful 2007s, some very drinkable 2008s - although these are lower level wines that often fit into the w.o.w. (what one wants) category - and a strong collection of muscled 2009s. Lovers of easy drinking wines, and hoarders and sippers of big beasts are all catered for.
It will be interesting to see what happens with the style of some Southern Rhônes over the next few years. There has always been a gulf between what one might loosely term the typical European palate and the typical North American palate, and this difference has been brought into very sharp focus with the issue of the 2007 vintage at Châteauneuf-du-Pape. I have actually witnessed a professional taster, spitting all the while as per usual, physically crumble after going through 30 or 40 of the 2007s at a public event. Is this a good sign? Even in the USA, a lively divergence has opened up between Eric Asimov, the New York Times wine correspondent, and the Sage of Maryland, Robert Parker jr. Finesse or power? Can you indeed offer finesse when the degree exceeds 15°? Are growers copping out when they lament the rise in ripening season temperatures, but also know that this style of wine sells very well in certain markets - so why kick against the trend? I cover this point in the March 2010 issue of Decanter magazine, by the way.
During January 2010, I will write a piece on "les vins naturels" - those wines made with little or no sulphur during fermentation, raising and bottling. By nature, these should be wines that hover between the two categories of w.o.w. - easy drinking - and STGT - faithful expression of place. I will ponder the merits of these laissez-faire wines from a Rhône standpoint, and also point to side issues that accompany them, such as their stability. Domaines referred to will include Thiérry Allemand (Cornas), Dard & Ribo (Crozes-Hermitage), Domaine Gramenon (Côtes du Rhône) and Jean-Michel Stéphan (Côte-Rôtie).
December 2009 News: the 53rd Cornas Wine Fair, or Market as they call it in their functional way, is the early December highlight, and features among a welter of tastings of 2008 Northern Rhônes in Tournon, along with similar close inspection of 2008s at Gigondas, Lirac and Châteauneuf-du-Pape. Comments on these will be posted later in the month. For now, having tasted a wide selection of Châteauneuf-du-Pape 2008s, I find they carry friendly fruit, and will drink young, but they are miles better than 2002, which some armchair-bound journalists have wrongly put in the same category as 2008.
Something I have also noticed is the rather heady pricing on two prominent Châteauneuf-du-Pape estates, Clos des Papes and Beaucastel. I have not tasted the Beaucastel, but in December tasted the Clos des Papes at the estate in, please note, its yet to be assembled form. Please log in to see the note on this wine to be. What I also observe is that both these 2008s are being offered, in all their infancy, pre-final blending, at £400 per case of 12 bottles, in bond in Britain. Thus there is duty, shipping and VAT to be added; they therefore weigh in as expensive wines, which will have to do well to justify the price in what is not a great vintage. The old caution of Caveat Emptor (buyer beware) must apply for those who wish to rush in.
Cornas (cheval mascot) alert: the mighty Cornas WON by 13 LENGTHS (13 longueurs pour ses fans les vignerons) in his 2mile, 1.5 furlong steeplechase for younger horses on Dec 17 at Exeter. He was actually joint favourite at odds of 11/10 and eased round, jumping accurately, and won without being fussed by his rivals. His sore hoof (the first four letters of his name, actually) had been attended to, and he prevailed in style. I vaguely cheered him on from minus 15 Centigrade in Finland while discussing the merits or otherwise of the Finnish economy, (unemployment rising in 2010), while the race was run, without my usual bottle of 1991 Clape Cornas to hand. Probably just as well. ALLEZ, CORNAS! His fan club grows all the while, and I took the opportunity of informing the Mayor at the December Cornas Wine Market that his foreign ambassador had 4 legs, and a much higher profile than him. He took it in good part.
RECENT ADDITIONS
December 2009: back from the Rhône, just, without sleeping the night in a snow drift near Brighton, from Helsinki, the first 2008 tasting notes are being gradually fed in. It is a vintage that needs micro-investigation - what the French term "le travail de fourmi (the work of an ant). No blanket statements can be made. Each domaine must be judged separately. Under Saint-Joseph, notes on the whites of Domaine Bernard and Fabrice Gripa should be looked at. Under Hermitage, the 2008s of Marc Sorrel, and his 2007s, all of which are now bottled, are also reviewed. Also under Hermitage, the new venture Nicolas Jaboulet, Perrin Frères has been added, a merchant business that started in August, 2009, and released its first wines in November, 2009. Under Cornas, the 2006, 2007 and 2008 (in cask) of Thiérry Allemand have been tasted in December chez the enfant terrible.
Under Condrieu, the Domaine Georges Vernay range was tasted, including a 1976 Coteau de Vernon, which is also covered under Recent Tastings under the title 1979 & 1976 Georges Vernay. And the Domaine Faury has been updated, their whites from 2009 and 2008, their reds from 2008 and 2007. At Côte-Rôtie, the organic, sometimes no sulphur child Jean-Michel Stéphan and his range of 2007s, 2008s, 2009s have been entered. Jean-Michel is a rare example of carbonic maceration use, his inspiration being the late Jules Chauvet of justified past Beaujolais fame. Also the highly promising Christophe Billon`s 2007s, 2008s and 2009s have been reviewed, as have the 2009s, 2008s and 2007s of another young Turk, Stéphane Pichat, and the traditional Domaine Gallet.
mid-November 2009: starting to be fed in are STGT and w.o.w. wines tasted in the Rhône this month, along with the first 2009s, notably the whites. Look for any STGT wine with 11/09 as the tasting date. The vins de pays 2008s are shaping into very good value, easy drinking wines - there are some under the w.o.w. bracket, and right good they are, too. Domaines visited and written up so far are at Condrieu, the two Frankies - François Merlin, and François Villard, along with the nicely local, STGT-leaning Marie & Pierre Benetière. One of my first ever visits to Condrieu in June, 1973, was to Pierre`s brother who was then a négociant in the regional wines, and thus one of the few people dealing in finished wine in bottles at the time. My domestic drinking in Aix-en-Provence was the starred litre bottle, plastic top, Ventoux red and rosé from the Cave de Beaumes-de-Venise, about 80 centimes a pop if I remember rightly. Bottles with corks were for big hitters, pas moi. I did have a few pairs of smart espadrilles, though, even if not in the I Marcos league.
At Côte-Rôtie, René Rostaing and the brothers Bonnefond, Patrick & Christophe have also been revised. At Saint-Joseph, neighbours Emmanuel Barou, Pierre Finon and Pascal Marthouret, the first two successful with vins de pays and Finon especially with his whites, the last-named in the w.o.w. camp. Also Louis Chèze, up on the plateau at Limony, whose domaine has almost become an empire since he started in the 1980s, and Domaine du Chêne at Chavanay.
At Séguret, the ever reliable, good quality Domaine de Cabasse, also a hotel in the summer months, has been added, as has a small but active enterprise at Ventoux, at the village of Le Barroux, St Jean du Barroux. (Mass in the chapel just outside the village there is spoken in Latin). At Plan de Dieu Côtes du Rhône Villages, a young man with a small vineyard, Hervé Bessac, is a new entry, as is the large 70+hectare Côtes du Rhône estate at Suze-la-Rousse, Château La Borie, provider of well-fruited wines. Another good domaine with clearly-fruited wines is Domaine Marie-Blanche at Signargues, one of the recent Côtes du Rhône Villages.
Cornas (cheval mascot) alert: please reach for your nearest bottle of Cornas. If you don`t open it, at least touch it. Whisper to it, hum at it, intone positive thoughts towards it. For our steed is running at Ascot on Saturday 21 November, in a £34,000 9 runner handicap steeplechase over 2 miles, 1 furlong (1 furlong = 1/8 of a mile, thus 220 yards). The race starts at 2.05 and is on Channel 4 in GB. He has the top weight and is meant to be the classiest horse in the race. His trainer was keen to run to him, saying he is in good form at home. I expect a gallant showing, but he may be finishing second or third. His odds are 4 to 5/1. Allez, Cornas! LATE WIRE: Cornas finishes third, an honourable run, but never really in the front rank. Well run, Cornas. The bottle of 1991 Cornas Auguste Clape that I got out of the cellar helped to some extent, it would seem.
November 2009 News: growers report their 2009s as fermenting well, but in the southern Rhône, some vats have started to take their time, so loaded with sugar have they been. The malolactic fermentations have been remarkably quick to occur this year - the drought and hot summer meant there were low levels of malic acidity, with some "malos" taking place before the primary, alocoholic fermentation had finished - something very rarely experienced. In the Northern Rhône there appears to be considerable enthusiasm about the new vintage, both from a quality and a quantity standpoint. In the Southern Rhône, there are also great hopes. An issue yet again may be that of low acidity wines with high levels of alcohol, which could prompt more than desirable cellar intervention. We will see. I have visits to the Rhône before Christmas, and will be reporting back on both 2008s and some early impressions of 2009.
Cornas (cheval mascot) alert: Cornas ran a most honourable second in a Grade 2, hot handicap steeplechase at Exeter on 3 November. I was, ahem, drinking 2001 René Rostaing Côte-Rôtie in London at the time, so apologise to our Cheval Mascot for such negligence. Would he have won (beaten 3 lengths) if I had been drinking Cornas, or indeed, if we had organised readers to ALL drink Cornas that day? His jumping was apparently good, and he went down fighting. One report that the jockey had "tack trouble at or near the last fence" is a little alarming - do vignerons drop their pipettes? So Cornas ran up to expectations, also having been backed rather heavily from 12/1 into a starting price of 5/1. Maybe his fan club is growing. Meanwhile, his daring owners, the Vine Trail crew, have returned from Melbourne after watching another of their equine empire, Capecover, like Cornas a New Zealand bred, run in no less a race than the Melbourne Cup - the race that stops a nation, the race that creates a public holiday across Australia, making it doubly popular. Drawn in stall 19 - wide - he will be finishing strongly, as he likes to make his move late. How late is late? - a Hegelian question for this Sunday morning. The answer I'm afraid - late in the absolute, metaphysical sense: 17th of 23.
late October 2009 News: I am nearing the end of an instructional and entertaining visit to the vineyards of McLaren Vale, South Australia. The Vale lies south of Adelaide, has a breezy, maritime climate, and the majority variety in its vineyards is Shiraz. I have been the International Judge at the McLaren Vale Wine Show, an event that runs over two and a half days. There is definite potential for this region to become better known in future years, and there are encouraging moves such as a series of six sub-regions - McLaren Vale, McLaren Flat, Blewitt Springs, for instance, to be created - a sort of mini appellation network. This is very reasonable, given the diverse soils and rock sub-strata here. A precise map logging the geology is in preparation, and there are definite signs that a good amount of the growers see the need to make more precise, less blockbuster, "me-too" wines. I have also been impressed by the pure Grenache wines I have encountered. A full Report will follow in the future.
For lovers of mature Châteauneuf-du-Pape, I would also remind you of the very extensive look at the 1998 vintage posted recently under RECENT TASTINGS. I will be in the Rhône in the next few weeks to see some of the first vat samples of 2009, and to take a good look at how the 2008s are faring.
Meanwhile, I apologise for the weird encryption, a grown-up word for gobbledygook, on some domaines, which is a result of recent changes on the site. These are being attended to, and the domaines affected will be back in full shortly.
JEAN-LUC COLOMBO: not a great month of October 2009 for the free-wheeling Wunderkid of Cornas. See Goings-On.
CORNAS, cheval mascot, alert: Cornas travelled to the west of Ireland for a very winnable 2 mile steeplechase on 11 October, and was made favourite for the contest. He jumped like a tiger for the first 5 or 6 fences, but unfortunately his pilot asked him to be too bold and to jump too extravagantly at a back straight fence and he took a crashing fall. Very happily, he and the rider seemed OK after the race. Back to the drawing board for our Cheval Mascot, thus. A bit like Cornas, the wine - never really the King at the Rhône Annual Ball, despite good mentions by the cognoscenti and off-beats. Team Cornas have had to stick to the Guinness, but it is now called la bière des chuteurs, not la bière des vainqueurs, as it used to be termed during my days in the Cameroun, West Africa. Don`t say that out loud, by the way.
October 2009 News: the last crop is being picked, and the scene is set for a very good vintage. It was predicted here, it`s all in writing. If only I could back winners using these forecasting methods! Rain on 16 September was a fantastic boon for the growers, since the vines had started to seize up, with sugar levels rising, but tannic maturity not following. Reports also emphasize a loss of crop that is severe in places such as Gigondas, and overall quantity is well down on "normal" years - the last one of those was 2007. In the meantime, the fruity charms of the best 2008s are coming through, acting as a welcome easy drinking pause between what will be considered to be two very good vintages.
Recent Additions: a long and winding report on 1998 Châteauneuf-du-Pape - 10+ years on - has been posted under RECENT TASTINGS. I set the scene at the time of the vintage so there is a full context surrounding the behaviour of the wines as they mature. See GOINGS-ON for other recent additions, which include the now complete report on 2007 NORTHERN RHONE.
September 2009 News: a very hot August has marked its path through the vineyards, resulting in some blocked ripening here and there. In this situation, the vines need moisture to continue the ripening of their tannins - stalks, stems, pips can vary between green and yellow, and this makes life difficult for a grower to press the harvest button. Thunderstorms have occurred, but are very localised. Patrick Coste of Domaine Le Pointu at Châteauneuf-du-Pape related how in late August the north of the town of Orange was temporarily flooded after a thunderstorm, while his domaine, just south of Orange, received no rain. The first picking of white grapes and those intended for rosé has started. See Goings-On for the latest news.
Taken as a whole, the outlook is bright in both the Northern and the Southern Rhône, but rain would help to bring balance to the vintage - otherwise the spectre of firm tannins arises.
Recent Additions: most of the 2007 Northern Rhône vintage report has been completed - see the sidebar 2007 Northern Rhône. Domaines added at Châteauneuf-du-Pape include Roger Sabon, Moulin-Tacussel, Lou Fréjau, de l`Harmas, Panisse, Vieux Lazaret and a handful of fairly recent start-ups - La Ferme du Mont, Bouvachon-Nominé, Le Pointu. At the Massif d`Uchaux, the interesting Château d`Hugues, run by the exotic character Bernard Pradier, is also included.
August 2009 News: reports from the vineyards are extremely encouraging. July was hot and dry, and a little rain at the start of August most welcome. By the first week of August, temperatures in the southern Rhône soared, with 38°C recorded at Châteauneuf-du-Pape on a very still August 5 - not a breath of air. By and large, harvest dates look like being about one week ahead of their usual dates, with the Syrah in the South rocking on at speed. Please click on Goings-On for some comments from different growers across the Rhône Valley. In England, the south-east, which includes my home territory of Sussex, has fared better than the Midlands and North, which have been beset by rain recently. Runner beans are thriving.
Tasting notes of 2007s from Gigondas and Vacqueyras are gradually being fed in, while the summary report on Northern Rhône 2007 is coming to fruition, gradually. The individual notes have been supplied under each domaine - please use the LVT (Last Vintage Tasted) indicator to track that under each domaine.
July 2009 News: growers up and down the Rhône tell me that the growing season is going well, smoothly, and that harvest dates at this juncture look like being on the early side. They have had none of the drip-drip weather that led to widespread mildew in 2008, and are as hopeful as they can be before the all-important months of July and August. As it has in Britain, the weather in June in the Rhône has been hot, but water reserves are fuller than they have been for a few years - so, touch wood, things are looking promising. The good feeling about the 2009 vintage continues.
June was sad in that Châteauneuf-du-Pape lost one of its most senior figures, Paul Avril of the Clos des Papes - see Goings-On for my little obituary on Paul, an outstanding ambassador for the region, and a charming man of poise and intellect. Alsace also lost its great ambassador, the ebullient Jean or Johnny Hugel. With officialdom and big business systems stifling more and more of the characters of the wine trade, these are the sort of people who nowadays stand out for their drive and enterprise, both Avril and Hugel men who represented "lesser" regions of France thirty-five years ago when I first met them. It is fitting to think that now neither region is in any way "lesser".
Recently posted items include domaines from Cairanne, Costières de Nimes, Rasteau, Roaix, Signargues and Ventoux - see under those appellations. In constant renewal are the central drinkrhone categories of STGT and w.o.w. - Soil to Glass Transfer wines and what one wants wines. Refer to these (date tasted in right hand column is a good indicator of recent activity) for natural, terroir wines or easy drinking, free-flowing wines. A cross-section of 2006 and 2007 wines from Vinsobres have been entered, while the next project is the full report on the 2007 northern Rhône. For the full list of domaines recently posted, see Goings-On.
June 2009 News: les anciens will be sitting round the camp fire, mumbling about how the weather they anticipated a good while ago has come to pass - heat, sun, abundance. I hope they have handy supplies of rosé handy, but I expect their dish is more a Syrah or Grenache-inspired red. Having just celebrated two major and marvellous events, the Yapp 40th anniversary of their existence as the leading Rhône and Loire wine merchant in GB, and the Tim Johnston (Juveniles, Paris, famous for many a good bark at annoying people or regions near the Gironde, including the ejection of the Mondovino team onto the trottoir outside Juveniles, an event written up, no less, in the stately Revue de Vin de France) ?40th birthday luncheon - GOODNESS, this is a long sentence, but the home straight is in sight - I can testify to the refreshing qualities of the 2007 Tavel rosé La Forcadière from Domaine Maby (http://www.yapp.co.uk/) and the utterly delightful 2008 Château de Roquefort Côtes de Provence Corail rosé from the excellent biodynamic estate of Raimond de Villeneuve near La Ciotat, south of Marseille (http://www.leaandsandeman.co.uk/).
I have posted a review of 2008 Tavels under Recent Tastings. I find 2008 a really great rosé vintage from the Southern Rhône and Provence, providing the grower has been realistic and not pushed for too much extraction. There is no need for many of these wines to exceed 13 degrees, in which case the best are gorgeous to drink outdoors - great for the aperitif, picnics, barbecues and so on. Ship `em in, I say. There is also a recently posted full report on the 2007 Northern Rhônes. I am still grounded after knee trouble, so the dinners in the Rhône have been held over until 2010. Note that a few 2008 vat sample tasting notes are appearing after domaine visits made between December 2008 and March 2009. A full list of recent domaine additions is under the Goings-On tab in the left-hand margin.
May 2009 News: some optimism is appearing about the 2008 vintage, notably in Bordeaux. The Rhône is mercifully spared the annual fiasco of pubescent wines being assessed by the great and the good when some of the wines have not even finished their malolactic fermentation - or if they have, they may well have been in heated cellars to get to that stage. Nor have final blends been decided upon. It is interesting that the wines flying off broker`s lists in London are the Premier Grand Crus, plus the usual Lynch Bages, Léoville Barton very reliable wines. The Merlot wines of the Right Bank are also starting to hot up.
I have posted the notes from a Chapoutier 2008 tasting held in London at the end of April in the next days. See Recent Tastings. This was all the parcellaire or single plot wines, the reds 100% Syrah, the whites 100% Marsanne. I would always prefer to taste in the cellar of the grower rather than from a sample shipped away from its region, but the results were quietly encouraging, with terroir coming through in some instances from this cool vintage: a really hot year like 2003 of course suppressed terroir in its first years. Here and there on the site are a few 2008 notes from the odd vat of Grenache or Syrah that I have included for interest`s sake, rather than a formal assessment.
Recent additions: a full report on 2006 Northern Rhône has been posted, and a host of Northern Rhône domaines from the last 5 months - see Recent Additions in Goings-On. Also, the top 4 2005 Côte-Rôtie wines from Guigal, which were bottled at the end of January, tasted in mid-March in Ampuis. Also, the latest from Domaines Bernard and the organic, counter culture Jean-Michel Stéphan at Côte-Rôtie - both have vineyards mainly in the southern sector there. The Domaine Guy Farge at Saint-Joseph has also been added - Guy being an ex-Co-operateur (Tain) who now makes Saint-Joseph from good vineyards at St-Jean-de-Muzols and also Cornas (allez!)
I note that the Meteorological Office in England is now forecasting a long, hot summer, something this website was on about at least two months ago. Listen to les anciens, the veterans, and get out more is my comment to them.
April 2009 News: 2008 has performed in a usual Rhône way - providing good whites and likeable rosés, the latter less heady than recent vintages. Thus the aperitif can be drawn from Tavel and neighbour Lirac, or from some of the enterprising Côtes du Rhône domaines which take trouble over their rosés. Notes on Tavel will be posted in the next weeks. See Goings-On for news of an award given to me by the growers of Vinsobres last month.
The third week of April 2009 was the stage for the Decanter World Wine Awards, which involved a large amount of tasting over four days in London. This year there were more Rhône entries for the Decanter event than ever before this year, and the number of gold medals given doubled from last year`s tally of two to four. Their identities will be revealed in due course - I do not know yet who made them since the wines were all tasted, and re-tasted blind. There was one 2008 white, and three 2007 reds.
Recent additions to the Northern Rhône feature three new domaines of good quality each one: the saucily-named SCEA La Tache at Saint-Joseph, Christophe Curtat at Saint-Joseph - both in the prime southern zone of that straggling appellation - and at Crozes-Hermitage Domaine Saint Clair, of Denis Basset. Please also keep checking the STGT and w.o.w. categories as tasting notes on 2007 are being fed in. Notice that Crozes 2007 from good domaines looks like delivering really friendly fruit, classic for w.o.w. However, there are a lot of got-up wines as well from Crozes. Also check out the rock solid qualities of the Domaine Durand at Saint-Joseph (and Cornas), and the Domaine Belle at Crozes-Hermitage (and Hermitage).
Also recently included has been a vast array of Chapoutier wines, also those from their offshoot Ferraton (both listed under Hermitage), Marc Sorrel from Hermitage, and from Crozes-Hermitage, Alain Graillot, with a first look at his 2008s, as well as the wines of his son Maxime, at his Domaine des Lises - a name to remember.
Cornas (Cheval) News: our Cheval Mascot ran on Saturday 4 April at Aintree, near Liverpool, in a 2 mile novice chase event that preceded the world famous Grand National race. He finished fourth in this championship race, and was bang there until the winner quickened away to win by 12 lengths - presumably it is a Bessards/Méal style beast, that Kalahari King, while Cornas is, well Cornas - honest virtues and a real trier. He is off on his summer holidays now, with some lush turf to pick at. Repose-toi bien, Cornas.
He had been skipping around at his home in Devon, and clearly likes the spring weather that Britain has recently enjoyed. Fingers are crossed, but once again he crosses swords with the best beasts around - a reprise of his race at Cheltenham last month, when he finished seventh after slipping on landing two fences from home. The flat racecourse at Aintree will suit him a little better. Auguste Clape has not yet been informed of Cornas` next outing, but was in grand form when seen two weeks ago tasting with the crowd in Tain l`Hermitage. ALLEZ CORNAS !!!
End of March 2009 News: the bi-annual Découvertes en Vallée du Rhône event was its usual whirlwind of colourful people from around the world, and the gang of journalists that meets up every two years - notably from Belgium and Denmark - which results in late night assaults on STGT Montlouis and other delights. Visitor numbers were down, unsurprisingly, but the audience was more professional and focused than in 2007. The USA and Canada were well represented, as were Belgium, Norway and Germany. British trade visitors were low in number, high in quality - Averys, Flint Wines, Berry Brothers - the last-named continuing to outpace most of the British traditional merchants through their commitment to the real Rhône of small domaines and good quality names that now include Beaucastel. London merchants that rely on Bordeaux have hard yards to catch up, especially after a less than star vintage in 2007.
The main focus was the 2007 vintage. The southern Rhône will be covered in detail in the coming weeks as I reside in England and scribble away. It will start with a bringing together of the Châteauneuf-du-Papes, red and white: many of these have now been tasted. Please also keep consulting the STGT and w.o.w. categories, where wines are being added all the time.
mid-March 2009 News: the bi-annual Découvertes en Vallée du Rhône event takes place from March 16-21. This is attended by wine importers, retailers, press and a few way out investigators - two years ago there was a VERY hearty bus of Slovakians who would all taste the same wine at the same moment, it appeared. Traffic problems ensued, and noise levels were high. Did they place many orders? I cannot say. It is that time again, and bookings will probably be down on 2007 - we will see. Reports will be posted the following week.
early-March 2009 News: having tasted over 400 Côtes du Rhône and Côtes du Rhône Villages reds in Avignon from 2006 and 2007, then 120 2006 Châteauneuf-du-Papes that have now been bottled, I need bread and water, possible the dentist, and also the time to assemble the notes on-line. These tastings took me 7 consecutive days, given that I am not a locomotive, unlike some of the high profile scribbling brethren. I will be leading with the most prominent domaines from those vintages.
CORNAS, our Cheval Mascot News: "mid-division, hampered 3rd, headway on outer approaching 3 out, close 3rd and going well when stumbled 2 out, ridden before last, weakened flat". The Form Book does not lie. Cornas, in the top race of the year for his group of young horses over 2 miles, performed with pulsating quality on March 10 at Cheltenham. He came cruising down the hill on the outside, the jockey sitting motionless, and hearts started to quicken. At the second last fence, a downhill obstacle, he made a good jump but slipped on landing, and in the words of his jockey Daryl Jacob "lost his momentum and about 3 lengths - otherwise we would have been fourth." Thus he was 7th, but I can say that he did what good Cornas wine should do - showed guts and a willing attitude, with no affectation (ie new oak). VIVE, CORNAS!!!
Previously: Cornas the Cheval Mascot, has his big, high-profile day on Tuesday 10 March at Cheltenham in the second race, the 2.05, called the Arkle Chase, over 2 miles - named after Ireland`s champion, the greatest horse I ever saw, when I was a callow youth in 1965. He is a 50/1 shot, in a field of 18 runners. He will run well, although a slight foot problem last week took a day or two to clear up. He should not be 50/1, and if all went well, he could finish in the first six. The place odds for him coming in the first three are around 10-12/1. I will be ringside for this race. ALLEZ CORNAS!!!
The end of February heralded the first inkling of spring in the southern Rhône, and by the first week of March, the almonds and mimosas were adding a bit of welcome colour to the landscape. The last of the pruners were also out and about. The 2008s are settling down, and will be reviewed for the first time since December in mid-March when I return to the Rhône, both north and south. With an anti-cyclone situated over the Azores for around 10 days, it was a good time to be tasting - very stable days, cool nights, and healthy sunshine.
Cornas (cheval) News: Cornas, our website Mascot, has now run WITH GREAT DISTINCTION in the 3.20 Novices Chase at Sandown, the feature race on the card. He was beaten a measly neck into second place, after a mighty round of jumping, only inhibited by a slight mistake at the second last fence where he lost about 1+ lengths. Without that, he would have won. There is something rather wonderful about shouting "Go on, allez Cornas" at the television, while jumping around and making the animals take to the hills. The forecast paid over 50/1, so there are funds from this latest venture of our Mascot. Hats off to Nick Brookes and the team at VineTrail.
Previously . . Cornas runs in the 3.20 race at Sandown tomorrow, the 20 February. The race is over 2 miles, and there are 5 runners, of which he is the outsider - just like Cornas (le vin), always underrated! We will find out if he is good enough to compete in the big championship race at Cheltenham in March, the Arkle Chase. Fingers are crossed for a good performance. ALLEZ, CORNAS!
February 2009 News: snow has hit France, as well as coating England thanks to the Russian Steppe blowing in. For those who live in New York, there is an excellent production of Uncle Vanya on at the Stage Theatre Company on E 13th Street: Chekhov letting no-one off in his depiction of 1899 ennui, just 20 years before the Revolution. Maggie Gyllenhaal is captivating, the acting of Denis O`Hare and Peter Sarsgaard in the male suitor roles completely complementary. Meryl Streep was even in attendance, watching her daughter Mamie Gummer perform the role of the love-lorn Sofya. So much for Russia for now, but it`s that sort of day.
The mail has come in about the Paul Jaboulet Aîné article in Decanter, February 2009 - in support, I am both glad and sad to report. Amateurs of these wines from the past lament the moves being made, the result being a loss of personality. I hope that management take these comments as the prompt to sort things out, and to strive to better understand the region.
Being entered this month are 2007 tasting notes, led by Châteauneuf-du-Pape Domaines - see Goings-On for the full list. They are indeed wholesome, and a couple have even crept into the w.o.w. (what one wants) category, even if a little more expensive than usual for that.
This month is marked by a vast tasting of Côtes du Rhône reds in Avignon, as I seek out value for the current times. More on that from March, as I have two almost consecutive visits to the Rhône, the second being for the Découvertes week in mid-March.
Cornas (cheval) alert: I wish this bulletin had been written 2 days ago, since our Cheval Mascot triumphed in his first novice (young horses) steeplechase over 2 miles at Ludlow (the local racecourse for the very good Tanners Wines in Shrewsbury) on Thursday 15 January. He won by 5 lengths after making a mistake at the first fence, then took hold of the bit and wooshed away from ten rivals. His odds were 7/1, and the owners nibbled away at him enough to make the price fall from an early 14/1. Free wine from Vine Trail, folks. I had not one centime on - drat! I encourage Cornas drinking this weekend in sympathy.
January 2009 News: vinous highlights of Christmas-New Year came in the form of the 1990 Pol Roger and the 1978 Graves Château La Louvière blanc. 2 bottles of each, in each instance the last 2 bottles of a case bought at issue. The Pol Roger showed yet again just what a fantastic vintage 1990 is for Champagne - full of mousse still, with a honeyed complexity running through the most elegant of palates. Great length. The second bottle showed a fraction more age, with a Comté cheese note on the bouquet. Oh for a magnum, a Jereboam or a daughter born in 1990, not 1991, so I had more of the 1990s.
The Louvière shows my love for white Graves - ever since I was introduced to Château Haut-Brion blanc 1959 during an outdoors luncheon at Beaumanière Restaurant in Les Baux when it was in its finest 3 star pomp in 1973. Wham! Quelle finesse, what lingering scented delights. As a neighbour of Carbonnieux, La Louvière is in good white wine territory that has never really had full appreciation - not a bad thing for the value hounds. The 1978 La Louvière white is still fresh as a daisy, the colour a simple pale yellow, and a wine of remarkable staying power: decanted, it was still going without any concession to dryness or oxidation 24 hours later. The Sauvignon as the 75%+% senior partner showed through most of all, with a murmur of acidity at its heart, the Semillon aiding the finish and its breadth. Wonderful wine - when you open such "aulde friends" that have moved house with you several times and are still doing the business, wine becomes one of the greatest pleasures, and flashbacks to what was going on in the world and your own life come readily and picturesquely to mind. Often it is the unassuming wines, not the grandiose, that cast this spell.
Rhône highlights: from the Rhône, highlights were the still young and shapely 1999 Côte-Rôtie from Patrick Jasmin, the also young and compact 1998 Domaine de la Solitude Châteauneuf-du-Pape red, and above all, my little chou, my sweet friend, the 1990 Saint-Joseph red from Jean-Louis Grippat, my bon ami whom I bumped into, amid great emotion, at the Cornas Wine Marché in December, Jean-Louis having retired from his life as a vigneron when he sold his domaine and vineyards to Marcel Guigal in 2001. What a long, existential sentence that was - I must have been reading Donleavy in my sleep!
Best Value Wine: please also see Best Value Wines for a tremendous value white Laudun from Marks and Spencer in England, on sale at £4.49. Scroll down to the Southern Rhône section there.
Future visit: the later part of February heralds a visit to the Southern Rhône to taste an extensive series of Côtes du Rhônes and Villages, with the thought that value for money will be ever more important in 2009, and for the paupers in Britain with their battered economy and currency, vital. There is the usual gala set of 2007 Burgundy tastings in London during January, with people keen to see how the whites are performing. Certainly, that is likely to be a Burgundy vintage for the northern European palate, unlike the Southern Rhône, which is packed with sweet Grenache.
Tardieu-Laurent: the masters of oak, based in the pretty Lubéron village of Lourmarin, buy wines from old vine plots and raise them over a couple of years. A tasting of their range was held at their British importers, Corney & Barrow, in December 2008. See Tardieu-Laurent under their entry in the Cornas appellation.
Paul Jaboulet Ainé: added so far in January have been the tasting notes of my December 2008 visit to Paul Jaboulet Ainé. My recent article in the Decanter Magazine of February 2009 took around 9 months to write, since I was so vexed by the style of the wines emerging from the new management regime. I regard Jaboulet, the icon of my youth in the Rhône, as vital to the region`s heritage and well-being. Thus wines that do not come close to local expression are of great concern for the Rhône`s identity.
We are talking about the long view, and of integrity here. Does one let the house buyer purchase the Graded, Listed building, and knock it down? Do we, the consumers, want to drink Me-Too wines, expecting applause when we sagely extol their virtue of holding "the correct amount of blackberry"? Such talk is cheap. The successful campaign to stop the building of an apartment block on the vineyards of Cornas 12 months ago resulted in the Mayor of Cornas losing his seat, the groundswell of fuss from overseas playing a large part in that event, as recounted to me, with due thanks, by the NEW Mayor of Cornas in December, 2008.
Consequently I feel that my position on Jaboulet is important for the region. If all winewriters go round intoning that the new wines are better than the last ones, or that they have pretty fruit, they are only doing at most half their job. Historical context is vital in the most noble vineyards, so I for one am prepared to stand up and be counted on that, after 37 years covering the Rhône.
Other recent additions: also added to the roster of domaines in January and December have been the Domaine de La Guicharde at Massif d`Uchaux, the Domaine de Lucéna at Visan, and the Domaine des Pasquiers at Sablet, along with Domaine de Montvac at Vacqueyras; Domaine Jean David at Séguret - both interesting domaines, the latter STGT, organic wines. 2007s were assessed at Château de Beaucastel, a visit to Domaine Pontifical at Châteauneuf-du-Pape has been entered, and at Cornas, Vincent Paris` first vintage of La Geynale, the 2007 (I am in the group owning that vineyard) and his other young wines were tried, plus a tasting with Jacques Leminicier of his Cornas and Saint-Péray 2007 and 2006. Dec 2008 visits to Guigal, Vidal-Fleury and René Rostaing at Côte-Rôtie, André Perret and Domaine Georges Vernay at Condrieu (and Saint-Joseph) were also logged, as have June 2008 visits to Domaine La Fourmente and Domaine L`Orbieu at Visan.
mid-December 2008 News: a few hundred 2007 Northern Rhône reds and whites were tasted in early December, and there are certainly wines of some pedigree around in this vintage, which is less flashy than the Southern Rhône. Notes to be posted over the coming weeks. In both North and South, the 2008s I have tasted have been OK, as they say . . direct fruit, and more in the glass than the doomsayers (at least those who deem any poor year in Bordeaux equals a poor year everywhere else in France) have been muttering.
There was a foot of snow on 11 December, it lying for some days at 300 metres on the plateau above Côte-Rôtie: that made for very cold, dank cellars and nutters trying to overtake me on snow-bound roads. Water reserves in the Northern Rhône are now back to normal, the first time in several years, so perhaps 2009 starts out on a well-balanced footing. The Southern Rhône is still short by I would estimate around 20-30% of its "normal" water reserves.
Pricing is going to be a hot topic in 2009. With a good vintage in 2007 and a dodgy year in 2008, one would think that the growers will go all out with prices as high as the market will take on the 2007s. But we have an enormous slowdown, and galloping unemployment. Will 2008s be a lot cheaper? Well, they should be, but then the crop is down by at least 30%. So lowering prices on a greatly reduced crop is not easy to do, especially if the bank is breathing down your neck. Some high profile merchants have gone long on buying up large stocks of 2007 Côtes du Rhône reds, with a view to buying up very little of the 2008s, and hoping for a good vintage in 2009 to keep supply of that wine going.
In Britain, with its particularly enfeebled economy, the added bugbear is the weakness of sterling, collapsing against the Euro as I write. Duty increases from November only add to the gloom. This is the pragmatic Celtic-Anglo Saxon way of hitting merchants, as opposed to the Gallic one of banning internet comment on drinks and generally making people feel bad about working in the wine trade or growing vines.
Our cheval mascot, Cornas, raced twice in November, which was once too often, and "he was quiet when saddled" on the second occasion, despite his owner claiming he was a hardy New Zealand-bred. He finished 7th in that race at Ascot, by the way. Maybe Auguste Clape should feed him some oats and tell him to get a grip. His next destination is to jump larger obstacles after a rest over Christmas. Maybe some Yuletide Syrah in the bran mash . .?
Plans for the vineyard visit will be firming up in the next 2 months. The target date is likely to be towards the end of May 2009. Happy Christmas to readers in the meantime.
December 2008 News: Cornas kicks off the Northern Rhône village wine festivities. that occur every December. This is when the local growers have a chance to sell their recent wines to their nearby public, and a frequent sight is that of septuagenarians wheeling their diable trolleys ("diable" because of the two handles that stick out) laden with cases to people`s cars. I first attended the Cornas Marché aux Vins in 1973, when it was called the Festival of the Syrah and the Roussette. Those were long days, with post-midnight assembly in the cellar of Auguste Clape. I shall be back there again this year for the 2008 version, and then a series of 2007 tastings and domaine visits across all the Northern appellations.
The Cornas Fair is followed a week later by the Chavanay Wine Fair, with more of the Saint-Joseph, Côte-Rôtie and Condrieu vignerons present, that little bit nearer their homes.
2008 in the Southern Rhône has fared reasonably well: fruit without great stuffing around it has shown up at Châteauneuf-du-Pape, Gigondas and Vacqueyras. But the fruit is clear. Meanwhile, the 2007s there boom along, with bags of fruit and abundant sweet appeal. Some wines are facile, and lack tannic structure - these are not the wines of a Great Year. The best domaines seem to have that all-important tannin, are very good indeed, and can live well. 2007 notes will be fed in from mid-December, after my visit to the Northern Rhône that starts in this first week of December.
The cheval mascot, Cornas, has run twice since the last news was posted - 5th at Ascot, then 8th at Newbury, both in hot handicap hurdle races over 2 miles. I am a shade poorer after these two sorties, and have not yet heard from Nick Brookes of Vine Trail about the inside story. This month`s Allez Cornas! award therefore goes to the village before its Marché aux Vins.
I repeat the advice to see the Châteauneuf-du-Pape 2006 whites, listed under the sidebar 2006 Southern Rhône, and also to keep in touch with the STGT and w.o.w. categories - the latter invariably points to good value wines. Added recently has been the Perrin et Fils collection of Southern Rhône wines - an extremly strong line-up - and these are listed under Perrin et Fils in the Châteauneuf-du-Pape appellation.
Mid-November 2008 News: CORNAS alert. Our cheval Mascot Cornas ran 4th in a good race at Sandown Park last week. His trainer, Nick Williams, is also a chartered accountant, like his wife. They train about 15 horses with great amounts of care and attention, no doubt the same way as they look at The Books. Cornas is now due to run at Ascot on Friday 21 November, in the 3.50 pm 2 mile Handicap Hurdle, and has a chance. I will be en route for Châteauneuf-du-Pape, but will be urging him on or flapping my wings in support. Nick Brookes of Vine Trail will be on the spot, and will relay post-race reports. ALLEZ CORNAS!
Note that new Gigondas domaines have been inserted, and 2007 Gigondas tasting notes for those domaines. Also, at Crozes-Hermitage, the new Domaine Philippe & Vincent Jaboulet, and an update on the 2007s from Vincent Paris at Cornas and Yves Gangloff at Condrieu. Please see the Châteauneuf-du-Pape 2006 whites, and keep in touch with the STGT and w.o.w. categories - the latter invariably points to good value wines.
November 2008 News: the harvest is in, the die is cast for 2008. It is certain that yields are markedly down on the abundant 2007, and I suspect that the better names will rise to the top in a year that will need precise selection. Areas that escaped the abundant September rains, and hail, will fare best. I am told that Languedoc endured less rain than much of the Southern Rhône this year, and that Alsace shows promise on its Rieslings.
I set off to the Rhône 3 times in the next 6 weeks, starting with a close look at Gigondas in the first week. I will cover 2006s, 2007s and some raw cuvées of 2008 Grenache to get an idea of matters. Please note that there are now more Gigondas domaines entered, and that some of those who also produce Beaumes-de-Venise, notably Domaine de Cassan and Château Redortier, are also now logged up.
The end of October also brought the very sad news that Monsieur Henri Brunier, the most amusing and charming proprietor of the Domaine du Vieux Télégraphe, died at the end of the month. See Goings-On for a closer appreciation of him. There was also the passing of Henri Estevenin, one of the colourful characters of Châteauneuf-du-Pape, a restaurateur, and booming bon viveur whose sons run the Verger des Papes restaurant near the Château.
Gradually the net is spreading to cheaper wine appellations such as Costières de Nîmes, where I have added the good value Château La Tour de Béraud, under the same ownership as the accomplished Château Mourgues du Grès.
October 2008 News: what a crazy month was September 2008. Whacky or what? I experienced some of the turmoil first-hand when working in New York, Boston and London. Already the wine merchants are offering the Menetou Salon or Quincy rather than the Sancerre, or the Costières de Nîmes rather than the Rhône Villages. The Rhône growers joined in the general volatility with difficult weather in the first half of the month - notably two large storms in the Southern Rhône - but then welcomed the Mistral to blow from North to South and so commence cleaning-up operations.
Châteauneuf-du-Pape growers started to pick their Grenache around 21 September, and Gigondas got going a week after that. Morning temperatures of 9-10°C (48-50°F) rising to day levels of not more than 20-24°C (68-75°F) suggest a good year for the white Rhônes. Yields are well down on 2007 - 20-40% off - and it will be a year demanding careful selection by buyers: for the growers, precise, watchful and pre-emptive vineyard work will pay its rewards this year. Playing catch-up in the cellar will be a dodgy course of action.
Here on the website, there were more domaines loaded under Gigondas in September, and this will continue in October. A new Châteauneuf-du-Pape domaine, Domaine des 3 Cellier (one half of the now discontinued Domaine Saint-Benoit) has been added, and also the awakening Domaine Durieu and the steady, traditional Eddie Feraud.
The big news at Gigondas in September was the purchase by the Perrin family of Château de Beaucastel of the excellent, STGT Domaine des Tourelles - see Goings On for the explanation. A series of tastings of white Châteauneuf-du-Pape 2006s has also been done, and will be rounded up, along with the prominent Châteauneuf-du-Pape 2006 reds, under the 2006 Southern Rhône left hand tab during this month.
Visits to the Rhône to taste 2006s and 2007s and some vats of 2008 will occur in the next months leading up to Christmas. We also bid farewell to the home photograph of my runner beans (still giving crop on 3 October, 2008) and greet a shot of Gigondas from the air that I took in February 2008. In rainy vintages, Gigondas often performs well, helped by the altitude and later ripening of its vineyards. A sound September is, of course, a pre-requisite.
September 2008 News: the flowering beans retain their picture slot, but their coulure has been similar to that experienced by the Grenache in parts of the Rhône - when the flowers do not convert into fruit. Lack of sunshine hours has been a big problem in England this summer - August is about 97 hours versus an average of 165 hours. Down in the Rhône, growers are crossing their fingers for a good start to September, but have been boosted by a hot and fine second half of August. Please see Goings-On for some latest reports from the growers.
On a personal note, two visits to Moscow have marked my August, a Moscow that had a third week of heat around 25-33°C, high indeed. Wine exists in something of a desert in Russia, since taxes are punitive for those on a normal working wage. A typical Côtes du Rhône red sells for around £40 or US$73 in a restaurant. In good food shops, such as the one on the main avenue of Tverskaya, Guigal and Paul Jaboulet Aîné are on the shelves, with off vintages such as 2002 present, but also recent Beaumes-de-Venise sweet wines including the 2006 that bear the new Jaboulet labelling. Smaller Rhône domaines do not figure among the oceans of Bordeaux.
One small venue of note is Le Sommelier, address 5 Smolenskaya Street - opposite the Ministry of Foreign Affairs on the main Ring Road - one of the seven splendid Stalin era buildings. This is on the west side of the city. You can smoke a cigar and eat Jabugo Iberian ham, while sipping a domaine wine here, with a variety of choices. Côtes du Rhône red from Domaine Charvin and Condrieu from Yves Cuilleron are both available there. The telephone number is +7495 7826363, web http://www.lesommelier.ru/. Good hunting!
Another mention of dinners in the Rhône for April or May 2009. Let me know if this piques your interest - some have replied already, and this is restricted to subscribers. Email me at jll@drinkrhone.com, por favor.
In September, I will be in New York and Boston at the start of the month, and the next vineyard visit will be after the growers have harvested - some time in October, therefore.
August 2008 News: Cornas, le cheval mascot, has been rudely usurped by my own efforts at cultivation, just when vignerons are doing likewise in their vineyards. The beans that are flowering on the left are Scarlet Emperor, a classic Runner Bean, and on the right is Hestia, a dwarf Runner Bean. Both have been grown from organic seeds, but the year in southern England has been as tricky as it has in much of Europe, with very little sustained heat of any note. The beans are currently being cropped and the family feel healthy. I have always though that wine writers should be obliged to grow crops so they understand the vicissitudes and pitfalls that await anyone trying to make wine. That might rule out rather a lot of scribblers, probably no bad thing.
In the Rhône vineyards, we enter the bend into the home straight for 2008, with weather in August playing a major role in the outcome for the 2008 vintage. There has been widespread mildew in the vines after so many constant rainfalls in May and June - nothing large, but enough to wipe away any treatments. It was also cool at flowering time. Please see Goings-On for some more comments on 2008 so far.
There is also a tasting review of Paul Jaboulet Ainé, with the wines entered under their domaine heading. The 2005s and 2006s were put under the spotlight in May, 2008. The Tavel 2007s have been covered, and also little retrospectives on 2003 and 2000 Châteauneuf-du-Pape reds.
This month I have two visits abroad, not connected with the wine, so there will be gradual progress in entering Gigondas. I am also considering organising some dinners in the Rhône around April or May 2009. These would involve drinking a young vintage or two, and one that was more mature, say 5 to 8 years old. Some growers would be present, and there would be a vineyard visit on the day of the dinner. This is a very early idea, but it would be helpful if any subscribers could register their interest. Because space is limited in many of the venues, this will be reserved for subscribers only. Please contact me at jll@drinkrhone.com
July 2008 News: we retain Cornas, le cheval, as our photo mascot, even though he is taking a summer rest and probably galloping around some prime West Country turf near his stables. A small degree of extra sophistication has hit town this month, as links are created to wines singled out in tastings. I have given the STGT wines their own slot, as this is so fundamental to the approach that I most appreciate and respect.
From June, the highlight in London was an exceptional lunch at the 1 star Michelin Ledbury restaurant, a dish of ravioli of crab and lemongrass with sweetcorn and girolles being the complete star: beautiful with the Saint-Péray Les Pins 2006 from Domaine Gripa. Before that I was in the Rhône, which had its first really warm weather on Tuesday 17 June, after 5 or 6 weeks of indifferent climate. Outbreaks of mildew were reported in the Gard area, west of the river in the Southern Rhône, and elsewhere growers were struggling to contain that and some oidium on their vines. Cool weather, a lot of small rainfalls and no stable high pressure meant that copper or sulphur treatments for mildew and oidium were not gripping on the vines. At that stage the harvest was about 10 days behind the time of recent vintages.
To be posted this month will be a very full appraisal of 2005 at both Châteauneuf-du-Pape and Gigondas, as well as notes on 2006s and some 2007s. About 35 Tavel 2007s will also be put up, as these wines are obviously time sensitive. The new wines will be flagged up when entered in the section marked The Wines, where each domaine`s close-up is to be found. Visan, a Côtes du Rhône Village with some promising domaines, is finally emerging from a long dormant phase, and some 45 wines from there will be posted up, with their domaines as well. This is the sort of place that should be offering good value for money as winemaking standards improve and younger growers look after the vineyards more carefully than previous forebears.
For the moment, sample domaines that are free to all to assess what you receive on drinkrhone.com are Domaine Courbis and Jean-Michel Gérin in the North, and Domaine Pierre André and Domaine Chante Cigale at Châteauneuf-du-Pape in the South. This should give a flavour of what to expect. I can always be contacted at jll@drinkrhone.com as well.
June 2008 News: I am leaving my cobra story for anyone who may stray on to the website, just to show that international travel surely ain`t what it used to be: this comes from the Hotel des Cocotiers in Douala, Cameroun, the only hotel where I have witnessed a snake in Reception. This was being lit up by a man in Wellington boots, who retreated each time he tried to hit the reptile, only infuriating it even more. I was watching this panto, when a waiter sidled up to me. The Camerounais have a wonderful sense of humour, and delivery. He knew me well from previous visits: "Bon jour, chef," he started - "pas bon, eh?" I didn`t know whether I should comment on the badness of the situation - no-one checking in etc - or the badness of the man`s aim. I opted for the classic British middle way: "C`est vrai, non. Where does the snake come from?" He informed me that they had been clearing some land next to the hotel, and this snake had been knocked out of a coconut tree. He reserved the best to last: "C`est un cobra ......... pause for effect ...... femelle, vous savez" and doubled up laughing. The female of the species, oh my goodness - this is SERIOUS!!
May 2008 News: The really big news in April was the triumph of my friend Nick Brookes` horse, Cornas. Nick is the supremo of Vinetrail, http://www.vinetrail.co.uk/, and a full-on Rhône supporter, as can be judged by the name of this beast that was actually bred in New Zealand. Not called Hawkes Bay, then Nick? Cornas prevailed in a 2-mile hurdle race at Wincanton, near another noted Rhône merchant`s stable, that of Yapp Brothers, http://www.yappbrothers.co.uk/. Boy, this is becoming a merchandising intro. The nub of the matter is that Cornas won at 12/1, a very considerate starting price for those not into the turf: ie invest 1 bottle on him, and receive a whole case, plus your original bottle, in return. He went unbacked by me, as at that precise moment I was in the ladies lavatory, the one with the door open, on the M4 motorway service station having received food poisoning in a Tapas restaurant in Monmouth, Wales. 3 members of my extended family were also felled in similar fashion. Go Cornas, and beware tapas in Monmouth.
April was marked by a full week of tasting a few hundred Rhônes at the Decanter Wine awards, followed by a Rhône dinner at the marvellous Hambleton Hall Hotel in the heart of England, its smallest county of Rutland. This is rolling country where King Richard III was born, and Mary, Queen of Scots beheaded in February, 1587 at the Castle of Fotheringhay - an area well worth a visit. The submissions for Decanter had grown this year, and a few more high quality wines were involved, with beneficial results. I think I have to be a bit hush hush for the moment.
Meanwhile, on the site, the main domaines of Vacqueyras have been loaded, and the next step is for more Gigondas. I am also feeding in 2006 Northern Rhônes. The Big Tasting slot now includes the vertical of Château de Beaucastel red held in Hong Kong in November 2007. There are also some very good small bistrots newly listed in Eat and Stay - notably at Tavel, Vacqueyras and Tain.
April 2008 News: a reminder that Hong Kong very smartly reduced wine duty from 40% to ZERO on February 27, 2008 - what a move to tie up the burgeoning Asian market, a real hub there from now on. Berry Brothers have a wine education school starting up, and there is big action there now. Here in Britain, we were hit with increased duty on wine - 15p a bottle if I recall - in the mid-March budget. Second: Le Parisien, the French newspaper, published an article on Champagne last year, and it has been deemed by the Judge of First Instance to have constituted publicity for wine. The threat is now that all articles on wine in France should bear a health and pregnancy warning. Websites on wine in France are also menaced by another judicial move that may prevent them showing any publicity. If all young drunks got hooched up on wine, this might be more explicable but all growers feel under threat now from this sort of over-reaction and grim disapproval from those on high.
The only other commercial tip I can relay from my weeks in France in January is - try not to fly internally: the Air France monopoly will cost you about twice more than your local aller-retour flights from a nearby country. Some 2007 Pomerols may be OK, as will the southern Rhône. At the moment, 2006 views have been posted on a series of Châteauneufs, including Beaucastel, Clos des Papes and Rayas 2006, for instance. More will be posted this month.
In the meantime, you will see that the website has moved to a subscription service. The cost is £40 a year. The idea is for a data base that is gradually built up over time. The website will be updated on a gradual basis, but it should be treated as a live archive rather than a daily or weekly newspaper. I emphasize that I do not and cannot earn my living from wine writing, so I also work in communication training, which takes me around the world, far from the vineyards. So blocks of data will be loaded at intervals. Please do not expect daily updates.
I am often asked the question - when is the Southern book coming out? My answer is: my post-tax revenues from the 700+ page Northern book so far - advance and royalty - are less than US$4,000. Expenses obviously lurch this figure into a blazing Syrah red. I would expect - and hope - that many of you would not get out of bed for such derisory income for work that took over 2 years. So you do what you can: the website is the first stage towards a Southern book.
One other item of news: on 28 March, 2007, I formally participated in the purchase of 0.8795 of a hectare at Cornas, split between the site of La Genale and Thezier. A group of British and Scandinavian wine enthusiasts and professionals assembled the necessary to acquire this land and to rent it to the nephew of the vendor for a 40-year period. The seller was Robert Michel, who was taking his retirement. The nephew is Vincent Paris. He will continue to produce a wine called La Geynale. As a result, I declare an interest in the domaine Vincent Paris, as of spring 2007. VIVE LE CORNAS!
You may note that the website is a little more polished than before. You can now search more easily for specific wines, specific vintages or specific tasting notes triggered, for example, by how many stars you seek in a wine. If you want a 4-star St-Joseph, go to Search, plug in St-Joseph in the Vineyard box and 4 stars in its box, and there should be an abracadabra moment of revelation. Scroll down past mountains of Guigal and St-Joseph is there at the bottom, in correct alphabetical order. I cross my fingers on your behalf(ves).
This is a site intended to cover the Rhône Valley wines, people and vineyards. It is being gradually launched, since its composition will be the fruit of over 30 years' work, and that means a mighty number of little orange Rhodia notebooks (must be size 14).
My name is John Livingstone-Learmonth. I am the author of 4 books - "The Wines of the Rhône" - published by Faber & Faber in the 1970s, 1980s and 1990s. My latest work on the region, The Wines of the Northern Rhone, was published by University of California Press, on sale from November 2005 (US$55, £ 35.95). It can be referenced on http://go.ucpress.edu/livingstone-learmonth.
The book won two Awards in 2006. The first was a Special Commendation for the André Simon Award. It has since been voted the Louis Roederer International Wine Book of the Year 2006. Press reaction has also been favourable, and I have received some enthusiastic e-mails from readers in countries including Canada, Sweden, Denmark, Australia, even England. None from France yet, but I am informed of an American gentleman who likes to drink at Willis Wine Bar in Paris. He was seen seated at the counter with a bottle of Clusel-Roch Les Grandes Places and Barge Côte Brune Côte-Rôtie on either side of him, my book in front of him, muttering "this book is going to cost me a lot of money." He has since returned to drink a magnum of Clape Cornas.
Buy the book in the UK
Buy the book in the US
The first data to be placed on the site will be on the Northern Rhône domaines, and will include tasting notes not placed in the recent book. Thereafter, information on southern Rhône domaines will be fed in.
Over time, there will also be coverage of good value wines, best wines, where to stay and eat, and growers' recipes. For the best wines, the tasting archive will go back to the 1980s and even 1970s.
The data will be gradually increased and the links and layout finessed over the summer of 2007.
You can contact me at this address jll@drinkrhone.com