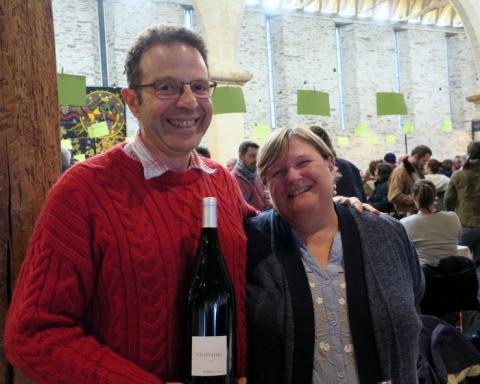 FAREWELL TO THE WINES OF A REMARKABLE GENTLE MAN
MARCH 2018
The decision of JEAN MAROT to end his career as a vigneron at the age of 65 is understandable, but sad. Having lost 80% of his 2017 crop to frost, he sold the remaining 20% of the 2017 off as bulk wine, so that the last vintages of his VENTOUX VINDEMIO now on sale are the 2015 and 2016. I recommend readers to seek them out.
His route into wine, and then along its path has been one of small steps of discovery, prompted by the ebb and flow of life and its challenges. JEAN was brought up near PARIS, his father a doctor at MEUDON, a suburb south-west of the capital.
JEAN dutifully followed his father's path into medicine, becoming a pharmacist at MEUDON, before moving to the TARN region in South-West France, then to NÎMES in the GARD département. In 1984 he moved across the RHÔNE to be the pharmacist at ROBION, near CAVAILLON [excellent melons] in the VENTOUX.
"It was during my eleven years at ROBION that I started to move to homeopathy," he relates, his voice as deep and measured as his wines. "My daughter had a series of health problems, including bronchitis, and my wife FLORENCE and I had to look after her. What cured her was homeopathy. I had been brought up on the classic chemical route, which was how my father worked, so this was a big revelation."
Meanwhile, JEAN had been slowly discovering wine. "I had a good friend near MONTPELLIER with a wonderful cellar, including ROMANÉE CONTI; it wasn't until I was 25 that I started to drink wine with him, and that certainly showed me something! I had always liked to work the soils since I was a small boy, so things started to move in one direction," he recalls.
In 1995 he set up LE MURMURIUM, working vineyards at MORMOIRON and VILLES SUR-AUZON, two neighbouring villages on the south side of MONT VENTOUX. The vineyards were worked conventionally with chemicals, however; "by 1997, I realised I had been struggling against chemical practices for so long that I had to convert it to organic," JEAN says, even though the vineyards were rented.
The MUMURIUM arrangement lasted until 2006, when JEAN went on his own sole path, creating VINDEMIO. "It hadn't been easy in the 1990s – I was self-taught in organic since there weren't people around me in the VENTOUX to encourage that," he says. Gradually he enlarged his circle of like-minded contacts, pointing to JEAN-LUC ISNARD, another biodynamic practitioner at DOMAINE TERRES DE SOLENCE at MAZAN, near CARPENTRAS. "He advised me, and helped me to take the next step forward, so I was biodynamic from 2008 onwards," he says.
"Working biodynamically and looking back at my career in wine, I have learnt to have a lot of humility, from the effect of working with nature", he reflects. "We are connected in the universe. Homeopathy is in tune with biodynamic working, and I have no regrets about the path I have taken. Both the vine and wine are living things, and all I have wanted to do in the later years is move more and more towards finesse."
His trio of red wines starts with imagine – "it's what happens when you taste wine, and also the song of John Lennon." There's regain – "the title of a Jean Giono novel [second harvest in English], a book about the renaissance of a village, and also referring to the lands after a summer rainfall." And lastly, amadeus – "I like opera, Mozart, and wine is like music." These all brim with character, as does the offbeat regain white.
For the future, "the next stage, my third career", JEAN wants to give advice, to help young people to learn about biodynamie. "To help those who want to work simply, to give them practical, not complicated advice. There's too much complication in what they are taught these days," he states.
For VENTOUX, JEAN's withdrawal is a loss, but there are domaines still working away well in the spirit of organic and biodynamic practices. These include CHÂTEAU PESQUIÉ, CHÂTEAU UNANG, CLOS DES PATRIS, LA FERME SAINT-PIERRE, DOMAINE DE FONDRÈCHE, DOMAINE DU GRAND JACQUET, MARTINELLE, OLIVIER B, SAINT JEAN DU BARROUX of PHILIPPE GIMEL, and the already mentioned TERRES DE SOLENCE.
So it's not adiós, JUAN, it's hasta luego, and bonne route in your advisory travels!