1947: THE VINTAGE THAT GAVE HOPE
MARCH/APRIL 2020
SO MUCH SYMBOLISM IN ONE SMALL GLASS OF WINE
In early 1991, growers at CÔTE-RÔTIE started to speak warmly of their 1990 vintage, which was backed up by my early tasting of the wine from cask. It was MARIUS GENTAZ DERVIEUX who commented to me that it reminded him of 1947. The only 1947 I had tried before then was the ALBERT DERVIEUX CÔTE-RÔTIE, ALBERT being the brother of MARIUS' wife. ALBERT had kept bottles of 1947 to celebrate the birth year of his daughter CHRISTIANE, who is now MADAME ROSTAING, the wife of RENÉ, and the spitting image of her father.
As the proud possessor of the magnificent 1947 VOUVRAY LE HAUT-LIEU made by GASTON HUET, I thought I would call him, and ask for his recollections on the vintage. His story was a powerful one. GASTON had walked and hitch-hiked home from his prison camp in Eastern Europe, and become the Mayor of VOUVRAY in the LOIRE.
"Well," he told me, "of course I remember 1947. It was the year when it was so hot that I took to sleeping on the lawn of my garden." I asked him if he realised at the time that a legendary vintage was on his hands. As a completely self-effacing veteran, his answer was that he had been very happy with the harvest, no more than that. But then he added a comment that has stuck with me for the rest of my life.
"You know, MONSIEUR," he said, "1947 was an important year. It was the first time that we thought that Nature was capable, once more, of giving us des jolies choses. The abundance of the year cheered us up, and we started to realise, for the first time since the War, that life could perhaps come back to normal."
The symbolism of this vintage, best known for the remarkable CHÂTEAU CHEVAL BLANC from SAINT-ÉMILION, returned to me recently. I was visiting the DOMAINE DE ROSIERS at CÔTE-RÔTIE, a low profile family affair with around eight hectares. I have known ANDRÉ DREVON, then his son LOUIS, and now LOUIS' nephew MAXIME – three generations.
I was there to taste the recent vintages, 2016 to 2019, and was duly doing that with LOUIS and MAXIME. We exchanged comments while doing so, as is my wont, and at some stage I encountered a wine whose good balance reminded me of 1985. I told them so.
As we neared the end of the recent vintages, a bottle was produced from the cellar, and opened, and offered to me. It was their 1985. This was a delightful surprise; it was tremendous, a bouquet that was full of running, the balance great, exactly as I remembered it, giving an elegant, effortless wine, detail in the tannins, the adjectives "wonderful" and "wicked" scratched in my trusty Rhodia 14 notebook.
Then another bottle appeared, covered in black, furry cellar matter, no label this time; it was placed in a wooden cradle, and MAXIME got to work to clear access to the cork. My heart skipped a beat or two in anticipation.
The cork was largely in good shape, enough for the wine to be clear of it when poured. I was presented with a glass, and off I went into new territories of tasting delight. For it was a 1947, and yet was as bright and vibrant a wine as you could imagine at even a quarter of its age. The colour was unbelievable – ruby, hints of red, absolutely no brick in it. Quite remarkable.
The bouquet was on what is termed a PINOTE trail [ça Pinote], when the SYRAH takes after the PINOT NOIR; this can happen with mature HERMITAGE, the J-L CHAVE being an example, or occasionally with CHÂTEAUNEUF-DU-PAPE; generally I associate it with a balanced vintage whose summer was not in excess. A recent CHÂTEAUNEUF in that vein, which is notably stylish, has been the 2014 CLOS DES PAPES. The aromas accompanying the PINOT effect were serene, floral, fresh, spiced.
The palate still held sun in its stylish gras richness, and was precise, clear, the finish mineral. There was unbelievable detail on the second half, and it bore the noble silken feel of sève [sap] of old vines. It was a stunner, a total delight.
At the time, the DREVON family lived from what is called MARAÎCHAGE, mixed market gardening, with apricots, cardoons, chard, summer vegetables, and a few vines. 1947 was the wedding year of grandfather ANDRÉ DREVON, which is why several of these oldest bottles in the cellar have existed until this day.
The harvest of its SERINE came from vines on the CÔTE BAUDIN that were planted in the 1910s, the vineyard taken out and re-planted by ANDRÉ in 1982-83. Vinification was with whole bunches, as was the custom of the day, and raising was in old 228-litre oak casks for three years. LOUIS recounted that there had been three casks, two of which were sold to the newly established merchant ETIENNE GUIGAL, who had worked chez VIDAL-FLEURY before setting up his business ETS GUIGAL the year before, in 1946. The third cask was for family consumption. Now I was being allowed to delve into this family secret, this family heirloom.
The bottle of 1947 was the response of LOUIS and MAXIME to hearing the dreadfully sad news of the passing of my wife FIONA, of peritonitis, after a wrong diagnosis, at home. As an act of friendship, it was supreme. As an act of hope for the future, it was untouchable.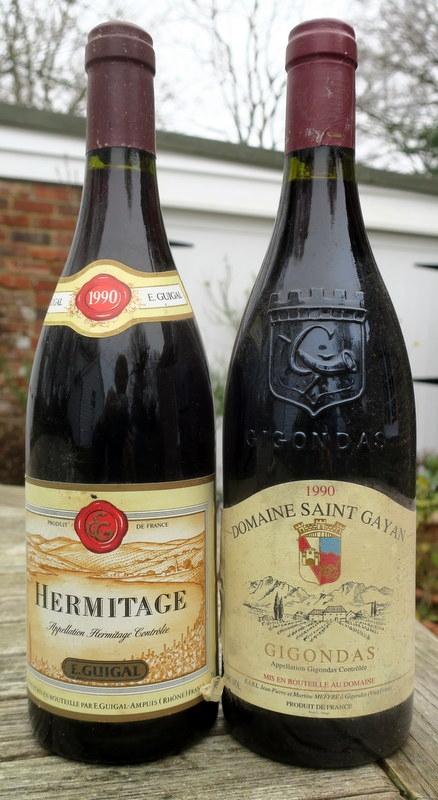 STILL CRAZY AFTER ALL THESE YEARS
JANUARY/FEBRUARY 2020
FRESH, WELL AND ENTERTAINING AT 30
Since I made my first RHÔNE visits in June, 1973, there have been three universally great vintages across the RHÔNE, both NORTH and SOUTH. They are 1978, 1990 and 2010.
With my future son-in-law BRENDAN chalking up his 30 years in JANUARY, 2020, it was an occasion to show him the wonders of such great vinous years. The two bottles selected were the 1990 HERMITAGE E.GUIGAL RED, and the 1990 GIGONDAS DOMAINE SAINT GAYAN RED.
1990 was a vintage of high sunshine, and completed what seemed like a trio of very good vintages. 1988 had been a dry year, with small, thick-skinned grapes and therefore firm tannins, but it was so far clear of the dodgy 1987 that it garnered attention for that fact alone. 1989 was a robust, full-blooded year, more sunny than 1988 and more generous of content.
1990 was impressive from the outset, a year with more sun and better balance than the previous two vintages. Its impact was immediate when tasted pre-bottling. At HERMITAGE, the harvest started around 22 September for vignerons such as BERNARD FAURIE, who, for the first time, spoke of cuvées coming in at 14°, his average around 13.5°. That was high for those days.
The difference with 1989 and 1988 was some August rain in 1990, a late in the month storm at GIGONDAS included, and that was the touch paper for its splendour. As JEAN-LOUIS CHAVE remarked, "nature was very generous."
My Tasting Note of what is now regarded as a legendary 1990 HERMITAGE LA CHAPELLE from PAUL JABOULET AÎNÉ, which I tasted from cask on 11 February, 1992, included "very ripened fruit aromas, a touch of surmaturité; perfect harmony of really big elements, very prolonged aftertaste, carries the great success of the tannins being completely enveloped by the fruit and the flesh. Challenging, Grand Vin, 30 years minimum."
The GUIGAL 1990 HERMITAGE [made before the purchase of JEAN-LOUIS GRIPPAT's 1.5 hectares in 2001, and the 2 hectares of de VALLOUIT, therefore pre-EX-VOTO] was raised for two years-plus, with no new oak – the new oak on it started in 1994. It was based on BEAUME and MÉAL, and was a wine that always lay in the shadow of the CÔTE-RÔTIES de la maison.
I bought a case of it on release, and have nibbled at a bottle here and there over the years. It has always shown well, with some reserve. The absence of new oak has always permitted it to be pleasingly more naked than many wines from GUIGAL. This bottle, with a very good level and a perfect cork, showed exemplary freshness, and bore the balance owned by only the very best vintages. It actually blossomed and improved from Day One to Day Two.
Its note: ****(*) good lustre in the red, pale topped robe. Smoky red fruits, lots of brightness at 30 years, notes of white pepper. The palate is also fresh, even linear, good bustle in its red fruits with cedar-smoke notes and tannins that sparkle. The main impression is how young, and Nordic, it is, with further gras and flesh to come around its spine. Has great style, true pedigree, the aftertaste salted. 13°. Day 2: violets, floral tunes on the nose, ground black pepper, mixed in with rocks – a bouquet of much elegance. The palate is getting into its stride, smoothing out, has brilliant length and a softer texture than yesterday. Up to *****, another 20 years.
Moving to the SOUTH, but not entirely, given the innate stamp of its fresh terroir, we come to GIGONDAS, and one of my favourite petits chous over three decades, the 1990 DOMAINE SAINT GAYAN, of which I bought numerous cases. Its composition in those days was 70% GRENACHE, 20% SYRAH, 5% MOURVÈDRE, 5% CLAIRETTE BLANCHE, CINSAULT from 14 hectares largely on the northern part of the GIGONDAS vineyard towards SABLET, clay-limestone with chipped stones, a little sand. Raising was two years in concrete vat, then one year in old barrels of 18 hl to 30 hl.
At the time, JEAN-PIERRE MEFFRE rated 1990 highly, ahead of a "sometimes very good 1986, a good-ish 1988 and a 1989 with its very big drought, and rather hard tannins that may soften with time."
My Tasting Note from concrete vat on 15 October, 1992, was ***** good dark purple robe. The bouquet is an earthy affair, lots of dark fruit and meaty, bosky aromas. The palate leads on striking fruit, really exemplary; it runs very well, the length is primo. There is good all-round substance here, very nice depth without being plush. This has great scope for the future.
I have drunk this wine at regular intervals, bar a stretch of two to three years around 2010 when it curled up, became grainy and dry, and led me to believe that its finest days might have been over. Now, at 30 years, it boomed out of the glass, the level and the cork also perfect: ***** good, clear ruby red; shapely, sensaround bouquet of appealing sunny depth, sweet plums, toffee apple, has a buttery association. The palate produces typical Gigondas freshness, a spine of menthol-cut, comes with real good forward movement, carries spiced, Christmas box flavours. The aftertaste has a discreet thickness, which is the main clue as to the high sunshine hours of the vintage. It's well orchestrated, well balanced, is a wine of detail, with lovely lift on the aftertaste. 14°. Day 2: nose is still vigorous, up front, more spiced than yesterday. Menthol and licorice prominent on the finish. This can certainly continue for another 15 years.
Both wines were remarkable due to their balance, which meant that the vintage imprint was barely noticeable – almost no suntrapping on the HERMITAGE, and just the thickness of the late texture on the GIGONDAS. Both these 1990s carry great detail and definition – study of them is well rewarded.
I am left wondering how the recent super-dooper vintages – 2015 NORTHERN RHÔNE, 2016 SOUTHERN RHÔNE, 2019 NORTHERN RHÔNE will show in 30 years – built as they are from dry summers, but increased heat levels compared to 1990. Will they show the same deft balance and detail? Bonne question, SHERLOCK.