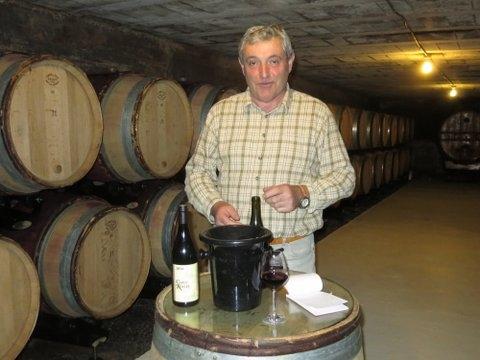 SINGING IN THE MESSIDOR RAIN
JULY 2014
The opening days of July have marked an important development in the ripening season. Rain, has fallen, and it has fallen in sensible, helpful amounts to free the vines of their stuttering progress as drought conditions started to build up. For those who do not study history, the period of mid-June to mid-July was named as the month of MESSIDOR under the Revolutionary regime in the late eighteenth century.
NORTHERN RHÔNE: as the vineyards prosper, so does the lawn. BERNARD BURGAUD in CÔTE-RÔTIE broke away from cutting his gras to tell me about current conditions: "the vineyard is magnificent, with perhaps a ten day advance now. The period of drought – pretty much in May and June (unlike 2013, which were the opposite – very wet) – could have given problems if it had gone on further. The recent rain has really got things going; it fell softly to nourish the vines and to allow the grapes to expand.
There was a little rain in May and June, but the drought was aggravated by a lot of wind, both North and South. Just now we have had a tranquil fall of around 30 mm (1.2 inches) a couple of times, and that water entered the soils well. Things are extremely healthy, with neither mildew nor oïdium. As for yields, the budding was partial in some of the precocious zones, so they may have less crop later on. We might be heading for a harvest date of 15-20 September at present."
Further south in the village of MAUVES, the cradle of the original SAINT-JOSEPH appellation, BERNARD GRIPA talked about his vineyards in SAINT-JOSEPH and a little further south in SAINT-PÉRAY: "the vineyard looks well, is handsome and healthy, but we may have a small crop, and I am not sure why. We had a lower budding than usual, and the white crop has been particularly hit. Everyone at SAINT-PÉRAY is in the same boat.
We've had 40-45 mm (1.6-1.8 inches) of rain recently, which has helped the grapes to expand. I reckon that's enough rain to see us through the season now, and maybe we have a mid-September date for the harvest in sight."
SOUTHERN RHÔNE: THIÉRRY SABON at CLOS DU MONT-OLIVET, CHÂTEAUNEUF-DU-PAPE: "things aren't bad for now; it has been a little more wet than we would have liked. Over the first week of July we have had around 120 mm (4.8 inches) of rain, the last a storm of 40 (1.6 in) on 7 July. The vegetation is very pretty, there is a decent amount of bunches, so much so that we will be cutting them back from the middle to the end of July. Nights have been cool - a help, also, and a light Mistral is drying the bunches, with the days not over warm at 25°C. It is all a lot better than last year.
This year, for once, we haven't had much coulure – flowers not converting into fruit – since our vines are mostly in an early sector. The bunches are good and loose, which helps as well. As for the Syrah, its crop may not be very big. The white grapes are splendid, and we may even have to cut them back this year, unusually. Our CÔTES DU RHÔNE vineyards near BOLLÈNE will give less crop than CHÂTEAUNEUF-DU-PAPE, but the old GRENACHE, while not very abundant, will be good quality."
From GIGONDAS, GUY BOUTIÈRE, father of MATHIEU at DOMAINE DU PESQUIER, often a source of STGT wines, related: ""it's not too bad; there is a very handsome crop in prospect – we have good bunches, and have had no hail. Between the very end of June and the first week of July we have had two 15 mm (2 x 0.6 inches) storms and 50 mm (2 inches) the week before, a total of around 80 mm (3.2 inches) that I reckon will take us through to the middle of August. Some areas here have had 100 mm of rain (4 inches), but it has been well-timed. What we need now is Mistral wind and heat. The fact that there has been no coulure on the GRENACHE has been good, and I would say we are just a few days ahead of a normal harvest date - not before the 15-20 September."
Across the river in TAVEL, which is always ahead of the VAUCLUSE vineyards of CHÂTEAUNEUF-DU-PAPE and GIGONDAS, GUILLAUM DEMOULIN from the excellent, stylish CHÂTEAU DE TRINQUEVEDEL at TAVEL, explained: "this year the vineyard is joli, very beau, very green. We have had two weeks of rain off and on, but that resolved the drought that had been building on some spots such as LES VESTIDES, and the sandy zones with young vines. In total, we may have had 75 mm (3 inches) in about three falls, but no hail, and no mildew.
Flowering went well, and for once we didn't have coulure on the GRENACHE, which was great after the catastrophe of 2013 with it. Things are good at LIRAC as well. I expect the crop size will be average, and we are probably heading for harvesting in the first week of September."