STGT DOMAINES & WINES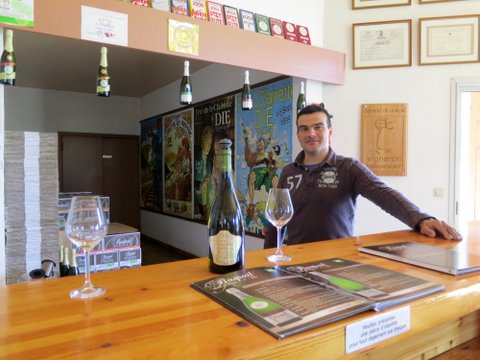 FRÉDÉRIC RASPAIL IN THE FAMILY CAVEAU AT SAILLANS IN THE DRÔME VALLEY. THIS IS ABOUT THE BEST ADDRESS AT CLAIRETTE DE DIE, WORKING ORGANICALLY SINCE 1997. HIS TRADITION CLAIRETTE DE DIE IS AUTHENTIC, GENUINE, LOVELY FOR THE APERITIF OR AT TEATIME, WITH SOME OF THE LOCAL ALMOND BISCUITS

NORTHERN RHÔNE DOMAINES
As described in "The Wines of the Northern Rhône", Author`s Note, page xiv, there is a group of domaines whose wines reflect what I consider to be the beauty of the vineyard and the cellar in one bottle. I call this group the STGT - the Soil to Glass Transfer Group. Their wines reflect a sense of place, or terroir, the expression of their sector and also the vintage style delivered by the year`s weather. Simplicity of approach and purity of flavour are features, and the vigneron`s hand is present with the lightest of touches.
I add that STGT domaines also frequently turn out wines that do not achieve five or six-star status - they do not aspire to place demands on the drinkers, or to parade a temple to their high opinion of themselves. Even disasters can occur, with wines askew and out of kilter. So much the better for such transparency.
These are also domaines whose wines I would often be happy to buy in supposedly "off" vintages, the lesser years beset by vineyard problems and uneasy ripening. 2002 at Gigondas is a classic example of an underrated vintage. 1987 in the northern Rhône is another, as is 1991 to some extent.
The core domaine for STGT is Auguste Clape at Cornas, with Clusel-Roch at Côte-Rôtie and the brothers Gonon at Saint-Joseph in close attendance. The Northern Rhône domaines I place in this category are as follows - please login for domaines and a full list of all Northern and Southern Rhône STGT wines.