VETERAN WINES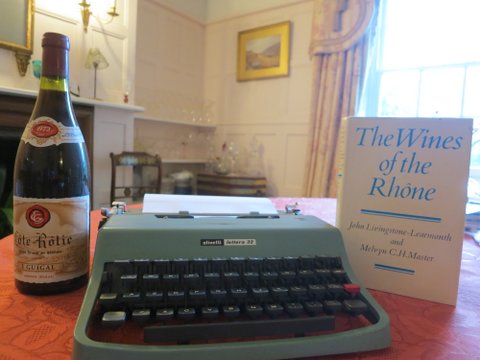 SNAPSHOT OF LIFE IN 1973, WORKING ON THE MANUSCRIPT OF THE FIRST BOOK ON THE RHÔNE, MY PORTABLE TYPEWRITER AT THE READY WITH GALLONS OF TIPEX TO CORRECT MISTAKES
1973 CÔTE-RÔTIE CÔTES BRUNE ET BLONDE, E.GUIGAL
June 1973 was the month when I ventured, with great trepidation, up the N7 road – the Paris-Nice highway then – to TAIN in the Drôme. I had a rendezvous with MAX CHAPOUTIER, the father of MICHEL and MARC. There was no autoroute in those days, so the journey from AIX-EN-PROVENCE was not fast.
This was my first vineyard visit, and in my honour MAX flew the Union Jack flag. Tain had just added the l'Hermitage part to its name, to try to make the world more aware of its heritage from that noble hill and its deep wines. They did not sell very easily, and all help was welcome.
Few people bottled in those days, and the Rhône still served as a supplier of wine for regions further north – Gigondas sent to Burgundy, for instance to boost the likes of NUITS-SAINT-GEORGES for the British market.
Recent vintages had been variable. Disasters such as 1968 were still in growers' minds, while 1972 at Hermitage had been ravaged by hail, with PAUL JABOULET AÎNÉ cropping under 20 hl/ha for their LA CHAPELLE. Despite the loss of the crop, the remaining wine was very dark and beautifully concentrated when I tasted it in 1973.
Further north at CÔTE-RÔTIE, life was more simple. The merchant houses of DELAS (then family owned and based in Tournon), CHAPOUTIER and PAUL JABOULET AÎNÉ dominated HERMITAGE and its environs, with smaller merchants such as LÉON REVOL in Tain and EUGÈNE VÉRILHAC, GILLES PÈRE ET FILS, PAUL-ETIENNE PÈRE ET FILS and AMÉDÉE DUBOURG at SAINT-PÉRAY confirming the trade routes that tended to suppress the urge for growers to bottle their own wine, then find a market for it.
At CÔTE-RÔTIE the principal merchant house, also owner of vineyards, was JOSEPH VIDAL-FLEURY. Their wines were well distributed and well regarded. They could also be found in England – principally the CÔTE-RÔTIE and the HERMITAGE. A relative newcomer called E.GUIGAL had started out in 1946 – VIDAL-FLEURY dated from 1781, and had a leather chair used by THOMAS JEFFERSON in their office, so were very much the Grands Seigneurs of Ampuis. E.GUIGAL was run by the ex-cellar master at VIDAL-FLEURY, ETIENNE GUIGAL and his studious son MARCEL, who had joined him in 1961.
In 1973-74 the Guigals owned nearly three hectares of vines at CÔTE-RÔTIE – largely centrally sited across the CÔTES BRUNE and BLONDE. Today they own over 40 hectares. Their network of suppliers of crop ran to about 40 small growers. There were just two CÔTE-RÔTIE wines, as well – the CÔTES BRUNE ET BLONDE blend, and LA MOULINE, a wine introduced in 1966 and taken only from the CÔTE BLONDE.
In my first book, written in 1973-75, I stated "La Mouline is without reservation the leading wine in Côte-Rôtie, perhaps a little more delicate and less long-lived than usual, but possessed of superb colour and harmony. Not surprisingly it is served in many prominent Parisian and Lyonnais restaurants." The wines remained regional, therefore, with no acclaim of any note outside France.
Around these two businesses slotted growers such as MARIUS CHAMBEYRON, the father of NICOLE LEVET of today's VIGNOBLES LEVET, GEORGES JASMIN, aided by his son ROBERT, ALBERT DERVIEUX, President of the Growers' Union, ALFRED GÉRIN, the Mayor of Ampuis who had woken up the appellation through a liaison with American investors in 1971, RENÉ CLUSEL, PIERRE BARGE, MARIUS GENTAZ and EMILE CHAMPET, about to be discovered by ROBIN YAPP, the English dentist turned wine merchant specialising in the Rhône.
The MARCHÉ d'AMPUIS was a cosy, sociable affair in January, with about 15 stands, and much chat between growers who saw it as chance to exchange thoughts and the latest news. The presence of the odd outrider such as yours truly was indeed noted. No speakie French = bad news to make any headway, so those skills had to be sharp.
Very few growers held wine back in those days; ALBERT DERVIEUX was one of the few whose vintages went back to 1929 – "the year of the century for him then. Other notable years that he had held on to included 1945, 1947, 1955, 1961 and 1969. The general practice was that of a farmer who takes in the harvest, sells it as rapidly as possible, then moves on to the production of the next fruit or vegetable.
With my British culture, I was much more exposed to the drinking of old wine, and to keeping bottles back. MELVYN MASTER, who had hired me to write the book, had a most marvellous cellar thanks to his family's involvement with the brewing trade in England – FRIARY MEUX breweries. The consequent selling of fine wines with the beer meant that his cellar was replete with magnums of 1870 CHÂTEAU MOUTON-ROTHSCHILD and 1929s, 1945s, the lot – mainly Bordeaux and Sauternes.
I still have the odd bottle of 1971 CORNAS from AUGUSTE CLAPE in my cellar today, along with CONDRIEUS from the 1970s – VERNAY and CHÂTEAU DU ROZAY. These were bottles purchased here and there rather than in rigorous, disciplined case quantities, since I didn't have the cash for that strategy.
Hence it is that I can occasionally revisit my jeunesse - my youth - in wine, open a bottle and evoke so many memories and pleasures delivered right there in front of me, on the table, in a large glass.
Late last year I decided to try one of my 1973 CÔTE-RÔTIE BRUNE et BLONDEs from GUIGAL. As it turned out there was a cancellation for lunch that Sunday, so we were three to drink this memorable bottle, and I can heartily recommend that tactic!
I remember the early 1970s as never being very warm – nothing like the heat we experience today, notably unlike 2015 and its prolonged heat in the mid-30°Cs. Rain was regular during the summer, and growers didn't have high expectations. At Côte-Rôtie 1968 had been poor, 1969 memorable but with a tiny crop, 1970 very good, 1971 excellent, 1972 mediocre.
Enter 1973: there was nothing especially distinguished about this vintage. The crop was huge, the largest since 1966. At 59,422 gallons or 2,701 hectolitres, it was almost 3.5 times more than the 1969 crop. In those days, too, Côte-Rôtie had not expanded anything like it is today, with under 70 hectares all told – Hermitage ran to 123 hectares, so made more impact commercially.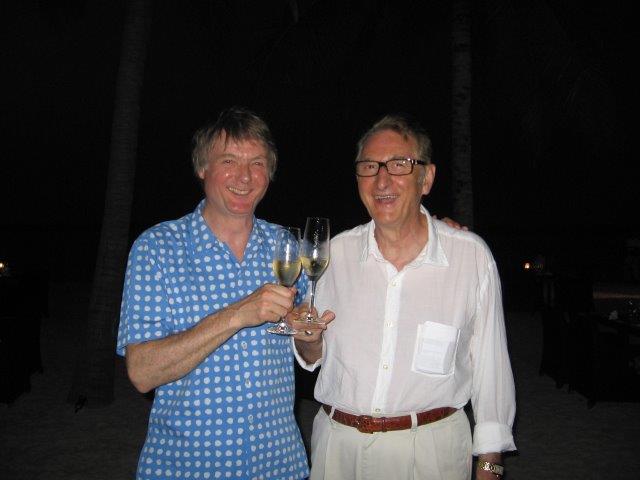 STILL IN THE GAME: JL-L and MARCEL GUIGAL, enjoying a glass of champagne in the MALDIVES
MARCEL GUIGAL recalled the year as one with "a lot of finesse" when I spoke to him about 1973. "1971 was very, very good, a Grand Vintage, while 1972 was poor, and 1974 less good than 1973. In those days the wine was pretty much similar to today – it was half from the Brune and half from the Blonde, with 4-5% Viognier present. We raised it in 2-3-4-5 year 228-litre oak casks for three years, whereas the Mouline was raised in new oak. One of the keys then was that you could buy excellent crop since so few people bottled their own wine."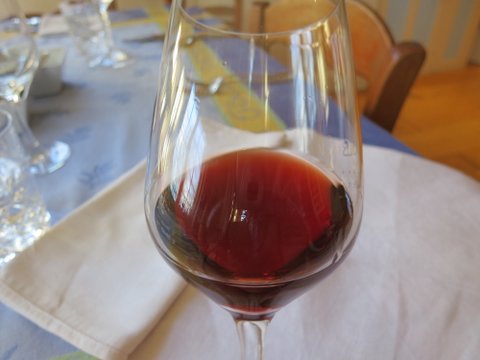 The wine was titled Côtes Brune et Blonde on the label. In those days, there was no requirement to indicate the degree of alcohol on the label. It was a real treasure, and greatly exceeded my expectations. The clarity of the finish was notable, and its achievement of freshness along with glimpses of warm, southern origins spoke very accurately of the vintage. Whole bunch fermentation was the norm then, so its acidity and ability to live had been enhanced by that. Its tasting note ran as follows:
1973 ***** has a good cork, extracted with only a sliver at the bottom being loose. The robe is a very healthy plum red, which augurs well. The bouquet is still very much alive and well: there is some roasting and damp forest above a slightly floral, liqueur plum air, all together and delivered with freshness and snap. Quite remarkable. The palate gives a fine line of red berry fruit with noticeable smoky charge around it, along the sides. It ends on a bosky-menthol clarity, clean as a whistle. It still has the imprint of the higher than average acidity of the year. A small spot of tasty gras surfaces just before the mountain stream clarity of the finish. Lovely wine – what a player after 41 years. This has travelled far with me, and the grapes were harvested while I was working on the manuscript of the first book on the Rhône. Coffee and plum fruit gras richness appears after one hour – it has expanded on the second half of the palate. It still has some southern depth and rush of glow as it ends. It is delicious with roast Sussex lamb from the marsh pastures near Rye – the lamb enhances its aromatic gras, and provokes an essence of red fruit juice. After eight hours, it is still thriving with a delicate, floral roundness, and just the first arrival of mineral, older and more cutting elements. Dec 2014
Adieu, mon très bon ami, in a trail of mature glory.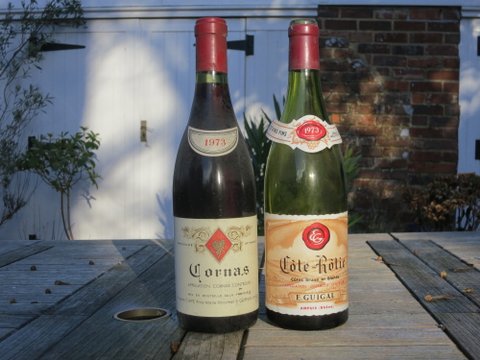 THE TWO VETERAN 1973s
1973 CORNAS, AUGUSTE CLAPE
For good measure, I also drank a 1973 from AUGUSTE CLAPE in December 2014, this time with STEVEN SPURRIER, my friend of over 40 years. It was wonderful, an exciting wine.
AUGUSTE CLAPE taught me much of what I know about wine; in July 2015, he celebrated his 90th birthday, and I was able to greet him in his cellar when I visited the domaine in June this year. His skill of making good wine whatever the vintage conditions set him apart from most growers back in the 1970s, and his capacity to seek to do better, to refine methods, or to innovate was noticeable when I first met him.
Thus it was that he tried, albeit by mistake, oak and chestnut casks to raise his 1973; the Ardèche had a tradition of chestnut use in those days – CHAPOUTIER, an Ardechois family, used mostly chestnut casks, while the trees also gave the marrons and chestnut stuffings for la cuisine.
I was on hand to witness this oak versus chestnut tasting of the 1973; Auguste admitted that he had mistaken the identity of one of his casks, believing it to be oak. Hence there was one cask of chestnut-raised CORNAS 1973, and the rest oak-raised.
I quote from my first book on the Rhône: "the difference between the two wines was marked' both bore a similar bouquet, but on the palate the "chestnut" wine was dominated by the tannin emanating from the wood of the barrel. By contrast, the youthful fruit and grapiness of the "oak" wine were much in evidence, and this barrel appeared to have the greater future. M.Clape added that to the best of his knowledge wines matured in chestnut generally came round after about two years, but were unlikely to attain the smoothness and suppleness of flavour of a wine matured in oak."
At the time, AUGUSTE worked 3.64 hectares, averaging around 13,300 bottles a year – there was of course no Cuvée Renaissance in those days. Ageing was in the roughly 12 hl ex-beer barrels that still line his cellar, with the wine released at two to three years old. "I would prefer to allow the wine longer to develop its potential properly," he told me, "but I have to comply with the wishes of my clientele."
1973 at Cornas was a shade better than at Côte-Rôtie, the ripeness of the crop more secure. It was also a large crop – 2,029 hectolitres, against very small crops such as 1968 (773 hl) and 1969 (874 hl). The Cornas vineyard then ran to just under 75 hectares, and had been gradually growing in the previous five years. There were many old Syrah vines, with clones largely unknown. Young men were few – ROBERT MICHEL was one (under the aegis of his father JOSEPH), as was ALAIN VOGE, but the main heart of the vineyard was tended by mature growers. The approach was conservative. These were the days before THIÉRRY ALLEMAND and JEAN-LUC COLOMBO.
In terms of repute, Cornas was then very much the country cousin, the junior citizen some way behind Hermitage and Côte-Rôtie. A little of the wine appeared in merchant form, with EUGÈNE VÉRILHAC at SAINT-PÉRAY a good source, with bottles found as far south as Orange. The DELAS family were also vineyard owners in those days, adding a little heft to the reputation outside the Ardèche.
I have always backed the CLAPE CORNAS wines for their longevity – decades of cellaring bring rewards with the majority of their wines. Thus it was that the 1973 delivered a joyous drinking and rewarding occasion chez Steven Spurrier.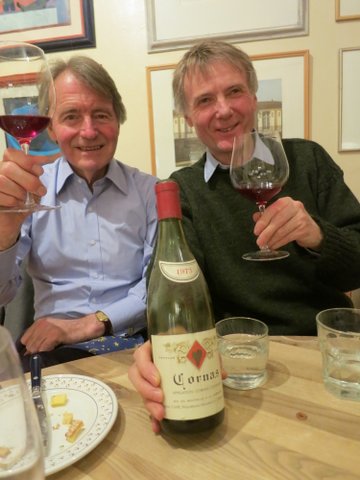 NO CAPTION NEEDED
Its tasting note was as follows:
1973 ***** clear, attractive ruby red robe, a sage depth to it. This is very typical Clape Cornas on the nose, open one hour – it has floral, plum fruit airs with a lean towards Pinot Noir, graceful snap. There are peony flowers, rose hip, good lift – it is starkly beautiful. The palate accentuates freshness with a most discreet raspberry-red berry hover of roasted, fungal elements. There is a diaphanous, silken form to the fruit, and a cavernous presence from the hillside. Another old Syrah that gone to the Pinote stage – it has a juicy sweetness, an aching beauty, an inspiring graciousness. It is outstanding. The most neat pockets of scented strawberry, tender fruit appear towards the finish. It is orb-like on both nose and palate. "It has become sweeter in the glass," Steven Spurrier. I took this from my cellar yesterday to bring to drink with Steven in London. In 1973 the world was full of terrible wines, corked bottles, bad barrels, oxidative wines, so this stands out incredibly for its sense of place, nobility and grace. It has a caressing softness, a spherical texture, is a wine that renders me in raptures. 2026-30 Dec 2014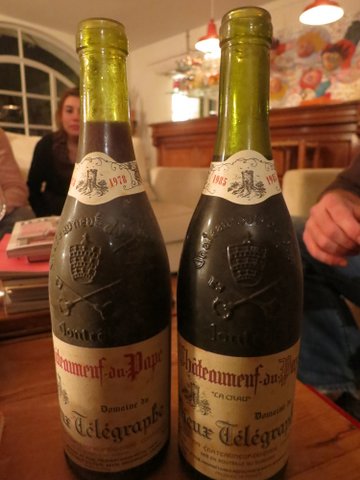 THE TWO NOBLE VIEUX TÉLÉGRAPHES, ROUSED FROM THEIR SLUMBERS IN THE CELLARS OF THE DOMAINE TWO HOURS EARLIER. NOTE THE EXCELLENT LEVEL OF THE 1978
VIEUX TÉLÉGRAPHE RED 1985 & 1978: TWO OF THE MOST NOBLE CHÂTEAUNEUF-DU-PAPES ONE CAN DRINK
It is a pleasure to have friends among the vignerons, friends known for four decades, their father before them. Such is my good fortune at DOMAINE DU VIEUX TÉLÉGRAPHE at CHÂTEAUNEUF-DU-PAPE, which I first visited in 1973 to meet the redoubtable HENRI BRUNIER.
HENRI was a rugged Provençal with a constant twinkle in his blue eyes. I am sure that he contemplated a spot of good sport with a gangly British youth as I came into view and launched a series of damn fool questions, but he largely refrained from slicing and dicing me. We spoke of the history and origins of the domaine, the Vieux Télégraphe title deriving from the tower built on the plateau of La Crau just after the French Revolution in 1793 by the inventor of the optical telegraphy system, one Monsieur Chappe. I tasted his wines of the late 1960s and 1970s, and in my first book described them as "always splendidly full-bodied and well-balanced."
My first book came out before the 1978 was made, so it makes its first appearance in my second book, published in early 1983, when it was regarded as one of the notable wines of the excellent 1978 vintage, cited alongside the 1978 REDS from CHÂTEAU FORTIA, CHÂTEAU DE BEAUCASTEL, CHÂTEAU LA NERTE (very dark, thick wines then), LES CAILLOUX, LES CLEFS D'OR and LE BOSQUET DES PAPES. At the time the grape mix was 75-80% Grenache, 13-15% Syrah, 3-5% Cinsault and 3-5% Mourvèdre.
Over to HENRI's son DANIEL BRUNIER: "the 1978 wine was the last vintage vinified by my father Henri, since my brother Frédéric, a qualified oenologue, took over the vinifications in 1979 in our brand new winery. This was therefore the last vintage to be prepared in a very, very traditional way – after a light crush, it was fermented in large, closed barrel (foudre), with no open vats like today. It wasn't destemmed, and there was no real temperature control during a long fermentation process over 30 days, before being raised for two years in oak, with no fining nor filtration."
By 1979, the new cellar boasted stainless steel fermenting vats fed by harvest containers that ran along rails above them; fermentation time had been cut to 10 to 12 days. The wine was also raised for half the time; as Henri told me at the time: "I am now only ageing my wine in oak for a year; seven or eight years ago (in the mid-1980s), I would leave it for two years, but that extra time was bringing in more oxidation than any positive elements. Sometimes I now take my wine out of the cask and leave it before bottling in enamel-lined vats; this can give it five years' extra life, as well as retaining its fresh aromas better."
So despite the obvious pre-occupation with the wine tiring prematurely, and the lack of temperature control during vinification, and the two years of large barrel ageing, the 1978 lives on in imperious fashion. It is a tribute to the marvellous inherent richness of Châteauneuf-du-Pape, a wine that has been messed about since the mid-1990s as the word "power" has replaced the word "balance", and ridiculous terms such as "sucrosity" have entered the accepted lexicon. As my great friend and hero GÉRARD CHAVE of HERMITAGE has always stated, "where is the truth? The truth lies in the old bottles."
For DANIEL BRUNIER, the 1978 was a big surprise when we drank it together on 6 December, 2012. "First of all, there is impressive density in its colour of red and ruby, it shows youth, and no sign of ageing – it could be ten or five years old. You wouldn't say it was over 30 years old. It is a Reference Vintage, a Vintage of Anthology – there was no intervention here, just the heart of the maker, a wine made in innocence. The dry demands of the tannins are the defect that make its quality. Without that, it would be dead. With that, it is analytically not correct, but is a wine of superb quality still.
We had the capacity for 300,000 bottles then, and in 1978 produced 10,000 of them, the rest of the wine sold to the merchants Paul Jaboulet Aîné, Chapoutier and Barton & Guestier. My father Henri was a man of the vineyard rather than the cellar and kept back one large barrel for his own reserve of those 10,000 bottles."
The other significance of the 1978 was that it launched Vieux Télégraphe on to the export market, being sold in 1980 to Kermit Lynch in California, and Jeremy Hunt of Thorman Hunt in London. "We also had buyers in Zurich and Geneva in Switzerland, and in Germany, and those four markets remain cornerstones, with the same importers in Britain and the USA today," commented Daniel.
From my point of view, this is a wine that I have known all its life, both in barrel and bottle when first tasting it with Henri. When I wrote my third book on the Rhône in 1991, I commented that the 1978 Vieux Télégraphe red was "much denser than their current style", referring to the changes in approach in the cellar engendered from 1979 onwards. This particular veteran bottle was drunk with Daniel in December 2012 for the simple reason that I told him that I considered the 2010 as capable of being as good as the 1978, so off Daniel went to find a bottle.
DECANTATION OF THE 1978 BY A SPECIALLY TRAINED PROFESSIONAL
When first opened, it was a little bit severe, pinched and mineral, certainly with a marked spinal column, a wine of some rigour and reserve. Then, after we decided to decant it, it expanded into great richness on the nose, a wonderful display of thick berry fruits and enormous richness along the palate. At 34 years it was extra young and deep; I was conscious that this sort of wine does not come along very often. It was extraordinary - not showing signs of stopping with its probing, widely spread density, thick tannins and big length - a real treat, and fresh, still well able to live another 15 to 20 years with absolutely no problem on this showing. It was both emotionally and spiritually satisfying, a magic moment.
The Tasting Note on 1978 VIEUX TÉLÉGRAPHE RED went as follows: ****** red plum robe, still right there. The top is ruby, the interior a deep red. Smoky, leather, pine and bosky airs at first; Daniel Brunier selected it from the Vieux Télégraphe cellars two hours ago for dinner, and we feel it will benefit from decanting, so off we go. The bouquet now is enormously wide, with a deep, lingering black fruit presence. Quelle jeunesse – what youth – here. This is extraordinary, Grand Vin. At the end old Grenache on La Crau speaks its strong message, reveals its true drumbeat, what makes it tick. It is a complete meal in its own right, and after 2 hours the finish is crunchy. It provides freshness and stimulation. I have drunk this several before, including at venues such as the restaurant Beaugravière in Mondragon when it was about 10 years old; for home, I bought two cases at the time. They have been a complex joy over the years. Grand Vin, indeed. 13.9° - did someone say that Châteauneuf-du-Pape needs to have 15° to be truly ripe, and therefore balanced, and therefore long-lived?? 2024-26 Dec 2012
Previously July 1991 ***** served blind at Les Domaines Wine Bar, state of the art, in Avignon by patron Christophe Tassan. Has a great, dark colour, lots of prune darkness. The robe is still profound, has a touch of ruby at the top, good lustre. The nose bears very dark, intense fruit, is attractive, has authority. It opens really agreeably as it breathes, provides the classic Châteauneuf complexity and offers airs of cedar and prune. The palate flavours are firm and round; this is a wine of good structure, a real framework for the future, is intense wine with excellent, dark fruits present. It continues a long way, is extremely persistent. After 90 minutes, the nose properly opens, and displays a splendid set of garrigue, local mixed scents and herbs. Tasted and drunk with great pleasure after the 1981 Rayas red – I am keeping good company here! 2009-2012 July 1991
Meanwhile we also drank the 1985 VIEUX TÉLÉGRAPHE RED. 1985 is a vintage I have always loved for its balance. It was a hot year, with rain in late summer. The wines showed well straight away, being elegant, stylish, sometimes plump. My comment on the Télégraphe 1985 at the time was that "it held greater depth than the 1983 and 1984, but the emphasis once more was on a flattering early fruitiness – very up-front sort of wine with not much mystery about it. The taste of concentrated black fruits held early appeal, but the wine should not be specially cellared, since it lacks potential to become more complex and more interesting."
That turns out to have underestimated the role of its balance keeping the wine going towards the age of thirty. As Frédéric Brunier recounted in March 2007, "the 1985 was open very quickly – everyone loved it – and its setback never came. It just kept going."
This bottle was starting to show tiredness since it had last been drunk 30 months before, and in reality acted as a very good warm-up for the mighty 1978: two veterans side by side, evocative of their youthful era and the routes they had taken in the intervening years.
The Tasting Note on 1985 VIEUX TÉLÉGRAPHE RED went as follows: ****(*) attractive, evolving red with marked ruby present in the robe, which is clear. Was brought out of the Vieux Télégraphe cellars two hours ago for dinner. The nose presents a really attractive floral, peony and spice aura – it is captivating and open, is a joy. There is a lovely aromatic herbs presence, a strong garrigue showing. A touch of fungal influence and also farmyard are also here - "it is becoming Pinote," Daniel Brunier, reflecting on how noble Châteauneuf can show Pinot Noir leanings as it ages. The palate red fruit is fine, but comes with a pinched note after the debut, is toning down on the palate, but still spreads with a winning breadth. Fine, pebbly tannins are present. There is an accurate little point of red fruit on the finish. This bottle is a little more tired than I might have expected if guided by the last bottle 30 months ago, but there you go. It is still a winner. 2020-21 Dec 2012
Previously June 2010 ***** mild, garnet robe, orange at the top, light ruby in the middle. Attractive aroma that gives immediate pleasure from its floral, cigar box mix; comes with a following trail of "high" red fruit from its age – this is harmonious, and very 1985 in style – offers a lovely feast of mature Châteauneuf aromas such as cinnamon, plum. Silken, Beau Vin on the palate; its texture is rounded, but there are still low-key tannins on the final stages, bringing extra depth. There is genuine harmony here, the old wine attributes of variety and mystery are delivered with a kid glove hand. The aftertaste resembles fennel seed, licorice, brewed coffee (maybeKenya, is fine). Shows slightly old bones, but retains its balance and tuning. A feather in the cap of the excellent vintage, whose prime quality in both Northern and Southern Rhône was its balance. 2017-20 June 2010
Previously March 2007 ****(*) ruby robe; sweet tea, fungal aroma, with a good, still present strike of rounded, lissom black fruit that I remember from its youth. Rich, southern sweet appeal on the palate – notably round in shape and homogenous, remarkably so for its age. Finishes nice and clearly. The Sunny Vintage of all time – has a bit of Pinot here, the Pinoté effect. Very faithful to its year. Savoury and delicious wine, lovely to drink on its own. 2017-19 "It was open very quickly – everyone loved it – and its setback never came. It just kept going," Frédéric Brunier March 2007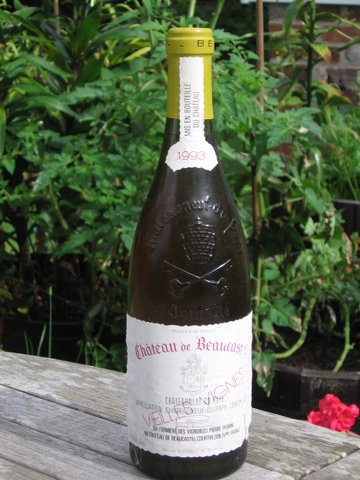 1993 WHITE CHÂTEAUNEUF-DU-PAPE MADE FROM 1914 ROUSSANNE AT BEAUCASTEL
A BRACE OF 1993 CHÂTEAUNEUF-DU-PAPES, YES 1993
After the great success of 1989 and 1990, Châteauneuf-du-Pape returned to earth with a bump. 1991, 1992 and 1993 were all indifferent vintages, modest ripening, rainswept crop, blight and poor demand all figuring in the appellation`s fortunes. At the time, growers told me of a renewal of demand from early 1995, with the 1994 price for a 225-litre (Bordeaux) cask in bulk moving up from 5,200 Francs for the 1993 to 5,700 Francs. The small domaine price at this time for a bottle intended for export was 45-50 Francs (up to £5), with a good domaine Côtes du Rhône 20-23 Francs.
Maturity was sound in 1993 after a dry summer, although rain at harvest time was a setback. To increase colour and depth, Clos des Papes ran a 5-8% bleeding juice off the skins - saignée - by vat. The reds were upright and "dark" at first - Jean-Claude Sabon of Clos du Mont-Olivet compared his 1993 to 1988, which was a firm, tannic-led vintage from a dry summer. They also started out with rather dry finishes, but I remember being pleasantly surprised by their relative depth on the palate. The picture I built up when visiting domaines was one of gradual improvement from 1991 to 1992 to 1993, then to 1994 - even if now I would rate 1993 closer to 1994 than was applicable at the time.
At Clos des Papes and Domaine Charvin respectively, 1993 yields were around 35 hl/ha and 32 hl/ha, against 30 hl/ha and 31 hl/ha in 1992 and 26 hl/ha and 25 hl/ha in 1991, when the rains destroyed much of the crop quality. Laurent Charvin, whose first vinification was the 1990, found 1993 "similar to 1994, the latter being a bit more rounded."
The Boiron family at Bosquet des Papes had started their special old Grenache cuvée of Chantemerle in 1990; the Grenache for this dated from 1915-1930, and made up 80% of the wine, the complement formed by Syrah and Mourvèdre. Whole bunch fermented, the Grenache was raised in a mix of large barrel, demi-muid (550-litres) and concrete vat for 18 to 24 months.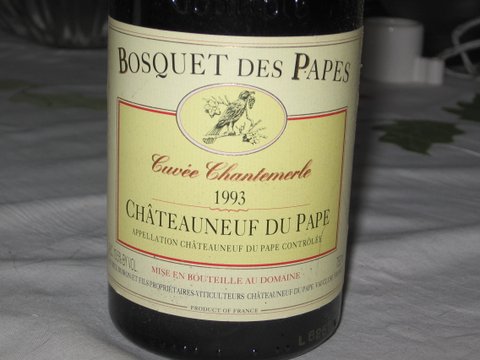 1993 CHÂTEAUNEUF-DU-PAPE BOSQUET DES PAPES CHANTERMERLE RED
Its recent tasting note - I have had six bottles in my cellar - ran as follows: **** called Cuvée Chantemerle in these days: marked advance on its ruby robe, a pocket of red at its centre. Toasted, spiced first aroma that is full of Christmas box appeal, with an underlay of gras, the ripeness of the South. Good, grain and spice airs here. The palate sings a fine tune, its texture combining moderated sweetness with pebble grain. A spice-forward wine, but its core of low-key gras richness is elegant, and excellent for the vintage. It picks up a becoming, near floral roundness on the finish, and runs truly to the line. The tannins are a very neat fit, with a posting of juice in them. Elegant and interesting, a wine that has always been good. 13.5°. 2019-21 July 2012.
White wine was still an occasional option for domaines in 1993 - it was the first white vintage at Le Vieux Donjon, for instance. "It was a very old red grape vineyard that needed restoration," Lucien Michel told me, "and we planted one-third each of Clairette, Grenache blanc and Roussanne. We didn`t want Bourboulenc, which is commonly found here, because it is subject to blight." This first white wine was bottled in January 1994 after steel vat fermentation at 18°C. "We couldn`t wait any longer, to try it out," he explained, "and from next year we will bottle in April, to give the wine more time."
More experienced white wine makers were estates such as Château La Nerthe, which had bolstered their white vineyard through the 1991 purchase of the Bérard property at Bédarrides. They made two cuvées, the classic - vat only - and the Clos de Beauvenir, 60% Roussanne, 40% Clairette blance, which was fermented and raised half in new, half in 1-year oak casks. The Perrin family at Beaucastel were seasoned white wine makers by the early 1990s, that pedigree established by their grandfather, who planted their Roussanne in 1914, just next to the Château, in big galet stone strewn soils, with some sand - typical of Courthézon - mixed in with the clay.
The Vieilles Vignes was fermented half in stainless steel and half in 1-year 228-litre oak casks, and raised until around August the following year, when the red wine from the vintage before would also be bottled. The malolactic fermentation was usually completed, with 1988 a rare exception. "The malo never arrived in 1988," Jean-Pierre Perrin told me at the time, "but because of the Roussanne`s good acidity level, we are happy to allow the malo to take place as a rule." 6,000 bottles were made.
I bought a case of the 1993 Roussanne when it was first released - my tactic is to buy white Châteauneuf-du-Pape in the lesser red wine vintages, so there are 1991s and 2002s also chez moi. It has always been a strong performer, with a dip in its drinkability around eight to ten years old. I consider it as a very special, stimulating wine for all sorts of reasons, both physical and cerebral, and offer no excuse for reporting on this for a second time in veterans Corner, the previous note dating from June 2010.
1993 CHÂTEAUNEUF-DU-PAPE CHÂTEAU DE BEAUCASTEL VIEILLES VIGNES WHITE
Its tasting note, with the June 2010 note after it, ran thus: ****** nice, full apricot colour that is rich to the eye. The bouquet is a wonderful, varied ride - vanilla, linden (tilleul) , lavender, honey, intense white peach, honeycomb - all cast in a complete, elegant setting. The palate is fresh, and that is its strong impression. It has a supple, flowing texture, and is very, very long. It shows good grip on the finish, is really decisive there. It has menthol and snap in it from the vintage. The aftertaste brings in nut, apricot jam. A highly interesting, compelling wine. 13.5°. Can keep ticking over. 2021-23 July 2012
PREVIOUSLY JUNE 2010 ****(*) the robe has the extraordinary sheen of old Roussanne - this can turn brown, as the 1990 did for a while, then revive back to where it is now - a ripe, rich gold, with apricot tints - pas comme les autres, indeed. Pear, baked pear aroma that is at first very reminiscent of Viognier. It has a graciously mild air that brings in extra sensations as it breathes (has come straight from the cellar) - barley sugar and mandarin, then it develops honey, apricots, orange marmalade. It is a fresh, full wine on the palate, comes with a tang of bitter, a grip to it - the freshness defies its colour, don`t be put off. Decant it, since it needs waking up, is tight as a drum. Has a smooth and stroking texture -it glistens as it goes, is long and satisfying. Impressive and arresting wine that is delicious with roast leg of pork, the texture like stain ensemble. There is a fine and persistent line of acidity through its calm, steady richness - this is atypical Rhône off vintage success. Delicious, warm and friendly, with just that rainy vintage tang of bitter at the end indicating a slightly below par crop. Has a warm glow on the aftertaste - very southern. 2020-23 June 2010
It may seem contrary, but there are many examples of the rewards of tucking away wines from less heralded vintages - 1980, 1984, 1991, 1997 and 2008 are all examples. The one proviso is that they come round more quickly these days, thanks to better ripening, better crop sorting, longer stem-free macerations and earlier bottling. This remark applies both to red and white Rhônes
1971 CÔTE-RÔTIE, GEORGES JASMIN
If I could pass on one piece of advice to any young man or woman the moment he or she started to become interested in wine, it would be to buy and lay down some magnums from the best recent vintage. The idea is to have these "old friends" with you, wherever you have moved to, whatever the place and the circumstances, many years later - at least 20 years qualifies. When opened, such bottles that have travelled the journey with you are tremendously evocative, and the experience is both spiritual and physical.
When I started to write my first book on the Rhône in summer 1973, certain of the old growers took me in, as it were, dedicating time and patience to my questions and my ignorance. I would occasionally be invited to lunch, and the confidence they gave me allowed me to feel that I could re-visit them several times if more perspective were needed. Since my book`s publication was delayed by three years due to the first oil crisis, I also became aware that these visits were meant to lead somewhere, that a tangible result should stem from them.
In the early 1970s, there were around 80 viticulteurs, or vineyard owners and cultivators, over the appellation`s 70 hectares (172 acres, precisely). Only 15 of those bottled their wine, so the Foire d`Ampuis in January was really a drinking affair with the village hall not too crowded. As a generational observation, the first name Marius was frequent - Gentaz, Chambeyron - as was Joseph - Duplessy, Vidal-Fleury. The gringo quota was extremely low at the Foire, and I remember being amazed to see an obviously British presence one year in the early 1970s in the form of gentlemen in tweed coats and smart cavalry twill trousers - they turned out to be Mark Walford and Roy Richards who today still run the very successful Richards & Walford agency from Lincolnshire in England.
The Jasmin family were from Champagne, and Georges` grandfather came down to Ampuis to work as chef at the Château d`Ampuis. This is the same Château where Etienne Guigal met his future wife Marcelle, who worked as a chambermaid there from the age of 16 for the then owners the Roche des Breux family, leading lights in the silk industry at Saint-Etienne. Their son was Marcel, and the rest is now well known, with Marcel buying the Château in 1995. Philippe and Eve Guigal now live there, with their twin sons.
Monsieur Jasmin grand-père bought the vineyard attached to the Château, which stands at one end of the Côte Brune; today this is Moutonnes. His family started to make their own wine, and got on with bottling it as well. It was certainly bottled before 1909, and won medals at the Foire de Paris in those early days.
Moutonnes is east of the Côte Brune, towards Vienne, and is a well-placed site for early ripening, with a south-east exposure. Its loose soil contains some limestone and is fine, with about 50 cm (20 in) of it on top of hard rock, so it can suffer in years of drought. It gives full-bodied wine that these days can be reductive, although back in the 1970s air exposure would have been greater during vinification.
By the time I was first talking to Georges, his late 1920s vines on Moutonnes were in full expression, all of them the Sérine with its delicate, small grapes. Georges would also use some Viognier. As I wrote at the time: "Georges Jasmin is now in his seventies, but looks at least ten years younger. He has a fine twinkle in his eye, and his strong leathery face is always ready to crinkle into a smile or a chuckle. His harvest is never very large, not only because he uses the Viognier - a small producer - but also because he has some Syrah vines over 40 years old. These vines never produce a lot, but their grapes carry a very concentrated juice."
The wine would be aged for two years in casks supplied from the tonnelier or barrelmaker in Serrières, 15 miles south of Ampuis, and now one of the Saint-Joseph communes. Georges` most distinguished customer for his wines was Fernand Point, the 3 star chef at La Pyramide in Vienne. The Pyramide was THE place for the beau monde travelling to and from the Côte d`Azur, well-placed beside the N7, the main road south, and Point was one of the first post World War Two chefs to cultivate a high profile image, adding touches of showbiz to the formula. He also made sure that diners drank from le coin, from nearby, so Condrieu from Vernay and Château-Grillet were much in evidence chez lui.
I loved the 1971 Northern Rhônes in cask, and bought the magnums from Georges, as well as all I could afford of 1971 Cornas from Auguste Clape, and 1971 Saint-Joseph from Gustave Coursodon. I was little better than a student, so one case would stretch the budget, but I still have one or two of the Clape Cornas and also 1 lone solider from Gustave Coursodon (with the then popular gaudy red plastic capsule at the top of the neck, with a crude perforated "cut here" line around it). It actually reaches the point where I feel I should re-import the wine to the Rhône to drink with the family descendants, since hardly any domaines kept wine back in those days - it was there to sell, not to be an item of curiosity; within five years or so, not one bottle would be left, unless there had been a birth or a marriage.
So, on the longevity of the wines, witnesses were few. However, Albert Dervieux, the father of Madame René Rostaing and Mayor of Ampuis, was a man with ancient bottles in his cellar, and he told me: "I drank one of my 1929s, the year of the century, in 1969, and it was still in marvellous condition. The colour had turned almost brown, I grant you, but the wine still retained much of its strength and all its character. Normally I would say a Côte-Rôtie can live between 20 and 30 years, but they should be good to drink after 10 or 12 years." I am pleased about the symmetry with my magnum, drunk also after 40 years.
The Jasmin label of those days was elegant, with the lower left hand corner bearing the italicised inscription VIGNE La Chevalière du Château d`Ampuis, and the top of the label carrying GRAND VIN FIN. No first names in those times, naturally, so the bottom right corner just shows Jasmin propriétaire Ampuis (rhône). The top neck label above the vintage label stated "servir chambré".
My contemporary review of 1971 at Côte-Rôtie for my book "The Wines of the Rhône", written in 1973-75, was as follows: "An excellent vintage. Big, strong-bodied wines with a classic Rhône 'warmth' about them. Very deeply coloured, this is a year to put aside until around 1980. The wines' overall finesse suggests that they should drink well until at least 1993."
Here is how the 1971 turned out 40 years later, a wine of beauty rather than majesty.
1971 CÔTE-RÔTIE, JASMIN ***** ah, the last of the 6 magnums bottled for me by hand by Georges Jasmin in 1973. He also bottled 6 magnums for Tim Johnston, who is coming to dinner tonight and who, as usual, rocketed through his 6 magnums. Wax around the top, servir chambré written on the neck label, and the level extremely good, given the cork had shifted out by about half an inch. The robe is a pale red, traditional Tavel-like, tawny and garnet present, is clear as a dye. The bouquet is a beauty - roses, fine red fruit airs, very pure, comes with a little marzipan. The biggest impression is its florality, the aroma of a rose garden, pronounced purity. Redcurrant fruit is foremost, and after 50 minutes, spice and cloves. The palate starts brightly, is soft and caressing, has fine redcurrant and quince flavouring. I would term it nicely delicate, not fragile, and the red fruits are just that - extremely delicate. It has a lovely poise, shines a sunbeam of precise delight. I note the absence of spices and the emphasis on fruit. Has a fine, fine, neat finale, similar to petals falling on to your palate. A triumph, and a bearer of joy. Can live on, but it has accompanied me for 40 good years of my life, and now is its time. Adieu, mon ami. Dec 2011
LE VIEUX DONJON, Classic Châteauneuf-du-Pape
One of the last bastions to remain faithful to making just one wine, Le Vieux Donjon exemplifies the sturdy qualities of mind and body required at Châteauneuf-du-Pape. There has always been a stubborn streak in Lucien Michel, a true Provençal, amateur of la chasse, and a man of gruff, no-nonsense views on the world. He once tried to bar me from Châteauneuf-du-Pape after I had written a trenchant "wake-up" Châteauneuf piece, indicating that top Villages were making better wines than many snoozers at Châteauneuf, around twenty years ago. I was reprieved after the intercession of other growers, and subsequently elevated to the status of Honorary Citizen, so voilà!
Lucien is synonymous with one of his true deep-rooted Grenache vines, a human co-resident of the parched outcrops that he patrols in his search for game. It is land that is windswept, often parched, but also subject to ravages of heady heat and violent, drenching tempests. It is no surprise that, to this day, the world described in the novels of Marcel Pagnol remains firmly entrenched in the make-up of local dwellers.
The Michel approach of just one wine per domaine is an important one for wine lovers to explore and to consider. In the Southern Rhône, the first big promoter of small cuvée wines that were plot specific or theme-related was Robert Parker Jr. Growers certainly saw the advantage of such a modus opeandi - if Parker liked the wines, they would sell, and the extra cachet of being produced in small lots permitted a much higher price for sections of their vineyard crop.
We are talking about the late 1980s here, with the Domaine Font de Michelle, which I would actually describe as conservative, bringing out their Cuvée Etienne Gonnet for the first time in 1988. Guillaume Gonnet, the motivated and switched-on son of Micky Gonnet has taken on the reins recently, and explained its origins thus: "the Grenache for Etienne Gonnet comes from La Crau - we have three plots across our 4 hectares there, all close together - the youngest is 1918, the oldest 1900, and there is a slither of 1950s. This crop goes equally to the Etienne Gonnet and the Tradition - for example, 60 hl of it in 2007, of which 32 hl to EG and 28 hl to Tradition." Grenache forms 65% of this Prestige level wine, the rest made up of much younger vine fruit - the 20% Syrah dates from 1982, the 15% Mourvèdre from 1967. La Crau is the sprawling plateau east of the village that runs towards Bédarrides, and is also the heart of the Domaine du Vieux Télégraphe, the Bruniers being first cousins of the Gonnets.
Domaines such as Pegaü and Charbonnière have issued high profile and certainly for the former, expensive cuvées such as Da Capo, with the highest profile recent convert being the Clos Saint Jean, which completely changed its approach in 2003. Vincent Maurel told me that he wanted to freshen his wines, stating "we have a new quality of wine since 2003 - it`s fresher, more full, has better colour, and overall there is a better link between terroir and wine. His brother Pascal added, "our wines are now more concentrated, a lot more supple and are agreeable to drink young." Certainly, the Maurels were worried by accusations of tiredness in their wines, and wanted to freshen the raising and the winemaking. Now they have two Prestige wines, which Vincent describes thus: "La Combe des Fous is the supple, feminine wine, and the Deus ex Machina is the robust, more hearty wine." In 2007 a third Biggie wine, Sanctorum, composed of 1905 Grenache, was launched, amounting to 400 magnums of expensive goods. On an everyday level, the **(*) 2007 Combe des Fous retails for nearly £300 a bottle, the ***(*) 2005 for around £200, while Deus goes for more - around £385 for the **** 2007, £320 for the ****(*) 2005. The ***** Da Capo 2007 sells for about £500 a magnum, and is a better wine in concept and execution, produced only occasionally.
Against these mercantile battalions are ranged the seemingly more puny forces of the roughly 15 hectare estate - for example, Régis Barrot`s Domaine Lucien Barrot et Fils - a 16 hectare "estate", alongside the 15 hectares of Vieux Donjon, with both masters reflecting rugged southern attitudes. There is of course also the Clos des Papes, where Vincent Avril discards serious amounts of wine and crop to the merchant trade or the vineyard across his 34 hectares in his goal of achieving one high class offering each year. The Clos Saint Jean is a 40+ hectare property, so has volume to play with, although Pegaü runs to only 18 hectares. In the latter case, it was the great excitement of Robert Parker that persuaded father Paul to launch high price micro-cuvées.
I was tasting in the Pegaü with Paul one day maybe fifteen-plus years ago, shortly after an enormously high Parker score had been published - one of the first on Pegaü - and the telephone rang. From where I stood I could hear excitable American tones babbling at the purely French (and Provençal) speaking Paul, who handed me the telephone to take the call. It was a merchant with a long name from New York who had never imported a bottle before, but wanted - immediately, before anyone else rang - as much of the wine in question as he could get, blindly following the score so he could speculate on the wine. It was hardly a moment of great edification.
Marie-Josée, the tenacious wife of Lucien Michel, explained to me the family`s rationale for sticking to just one wine: "it is simple - if you take out the best, you are left with the less good. Also, a Prestige wine needs to be a minimum of 5,000 bottles, and you need to have a lot of wine in production. We are only 14 hectares of red vines, so a Prestige cuvée would make a big difference to the core wine." A simple and effective explanation, particularly with reference to the first remark, I think we can deduce.
When I taste literally hundreds of Châteauneufs from any vintage, it is often the Tradition wines that give me the most genuine pleasure, and they are also the wines I could actually envisage buying on the grounds of value for money. Casting back to previous vintages, I have the Domaine de la Solitude and Les Cailloux 1998s in my cellar - both still showing well, unlike many 1998s, and both genuine examples of Châteauneuf-du-Pape: the Real Thing. Neither cost a fortune at the time.
At a Decanter tasting of 2009 Châteauneuf reds held over two days in London in September, 2011, I concluded a round table discussion of the 12 second day tasters (sommeliers, consultants, importers, writers, lots of MWs) with the question, "who here would spend £600 or more on a case of Châteauneuf-du-Pape for their own cellars?" Not one hand went up, even with my so-called modest bar of £50 a bottle, not even close to the £200s and so on of the Prestige barons.
A look back to mature Vieux Donjon is therefore an instructive exercise, given the ability to compare these vintages with the current ones on a largely like-for-like basis. The main change in the vineyard has been the 2008 purchase from the Tintignant family of three hectares on Les Pialons, part of the Cabrières plateau north to north-east of the village. This was a forward-looking move with the arrival of the Michels` daughter Claire at the domaine, now responsible for vinifications since that 2008 vintage.
The domaine is in fact an assemblage itself, a blend of families. The Michels are a Châteauneuf-du-Pape family, with Lucien, via his father Marcel, contributing mainly southern area vineyards - Bois de Boursan, Les Marines, along with a couple of North-Western plots, namely on Cabrières and Pied de Baud. Marie-Josée is from Courthézon - she is a Grangeon, the sister of Alain Grangeon, and therefore the aunt of Baptiste and Dominique Grangeon, the go-ahead duo running the Domaine de Cristia. The union of the domaine occurred when the couple married in 1979, with Marie-Josée responsible for the heartland plot of nearly 10 hectares on Les Pialons; this is clay-limestone, big galet stones country, on the summit of Châteauneuf-du-Pape, the highest point of the plateau north of the village.
The oldest Grenache there pre-dates the First World War, the youngest dates from 1983. The Trintignant vineyard of 1970s Grenache and some Muscardin needed some sprucing up, but that is being brought into shape now, and Grenache accounts for 75% of the wine these days. In the 1970s and early 1980s, Grenache accounted for 95% of the wine, which was a pretty typical percentage across the appellation, the figure most often being 80% and above. Later in the 1980s, the Grenache proportion reduced to 85%, supported by Syrah and Cinsault. Mourvèdre was introduced in the late 1980s, and the current, stable share of Grenache is 75%. There are eight plots.
Since those days, changes to the vinification have been slight, even timid. A move towards more modern thinking, but not necessarily towards more authenticity, occurred in 1997, when about 35% of the crop was destemmed, the Mourvèdre (10% of the final wine) always featuring in that process. Destemming runs at a maximum nowadays of 50%, with the highest level in the past being the 80% for the 2004 vintage, when ripening was difficult. Raising has continued in much its usual manner - large 50 hl barrels for around 18 months. Use of such foudres has been a bone of contention over the years, with domaines who maintain them spotlessly in the clear, but a significant number failing to keep them properly clean, with results such as Brett and taint in the wines.
In 1983, the family built a new cellar beside the dirt road to the Château de Vaudieu on the eastern exit of the village. Previously the wines had been vinified in the Michel home on the avenue Saint-Joseph, which is part of the Roquemaure road out of the village, close to another long-established Châteaunevoise family, the Sabons of Clos du Mont-Olivet. This allowed more space to work with the crop, while the fermentation with a light crush and pumping overs during a three to four week process remained largely unchanged.
When first tasting Le Vieux Donjon, in the mid-1970s, I would visit the communal cellars that bottled and sold their wines, the Prestige et Tradition on the main avenue near the Post Office. This was an association of 11 growers who pooled their resources for bottling and storage of that bottle stock, and was a second version of the Les Reflets grouping, the latter featuring notably the Clos du Mont-Olivet, Les Cailloux, Domaine de la Solitude and the Nicolet domaine of Chante-Perdrix, the last-named one of the unsung quality stories of Châteauneuf to this day - very good 2009, for instance. Prestige et Tradition was set up in 1966, which was therefore the first bottled vintage of Le Vieux Donjon under the ownership of Marcel Michel.
Prestige et Tradition centred around Bosquet des Papes of the Boirons, the Cuvée du Tastevin of Lucien Barrot (pa of Régis) and Le Vieux Donjon - all three made the fullest, richest wines, and they remain pillars of genuine Châteauneuf to this day, with definite STGT leanings. Other domaines there included some that have made progress recently after years of, shall we say, nondescript performance - I signal La Cuvée du Sommelier of Jacques Mestre, now called in the plural Cuvée des Sommeliers of Christophe Mestre (robust, a bit coarse, now more polished), and the Domaine de l`Arnesque of Pierre Laget, now revitalised by Julien Biscarrat. I wonder how many readers have heard of, or drunk, the Clos de la Cerise of Jean Jeune, for instance, while wines such as Le Vieux Chemin of Joseph Revoltier and Jean Barrot`s L`Hurlevent I have found in obscure side street wine shops in France and the USA. Most domaines of the grouping ran to between 8 and 12 hectares, and the shop in the downstairs cellar also served to introduce these wines to passing foreigners and importers. The wines were all filtered.
This year I rang to ask if I could review a couple of mature vintages, and the Michels kindly brought out the 1990 and 1981, both top rank years. I would add 1978, 1985 and 1989 to the most noble stretch between 1970 and 1990.
1990 was a summer of great sun and drought, the third consecutive year when conditions had been very dry. Some growers opined that 1990 was superior to the other two years due to the vines adapting by then to the drier soils, but I would not put it as precisely as that. First, I rated 1989 extremely highly at the time, not living in fear of its stern tannins given that I considred its core matter as sufficient to integrate all elements over time. Second, there was some well-timed rain at the end of August, just as the vines were wilting, and blockages were occurring. In the following ten days, aided by the healthy influence of a Mistral wind from the north, the Grenache gained 2°, galloping past the 14° level in many cases. Harvesting commenced for many domaines between 10 and 15 September as a result.
I found the 1990s dense, potent and expressive from the start - real glass fillers, exuding brimming fruit qualities, with a marked weight of extract. I felt that the 1989s, by contrast - less showy, less ample, more tight and reserved - held the longer ageing potential, and could turn out to be more complex over time. In the best cases, I stick to this view today. The 1990s have evolved safely and steadily over time, their sunshine in the glass attributes never failing to please and impress. It is certainly a vintage that I enjoy drinking now, an honour and a treat when a bottle comes my way. I include the 1990 Clos des Papes, of which I still have a little - this is an extraordinarily classy wine, one with real breeding, and more reserve than current, more plush vintages of the Clos. Likewise the stylish, full-bodied Beaucastel 1990, a wine that dipped severely around the mid-2000s, only to revive into mature glamour recently.
1981 was a cussed vintage, another dry year, but a less sunny one than 1990. March featured days above 20°C, but also some around 10°C, and the summer was patchy, a mix of good and bad, until settling down to a spell of hot weather in August. At harvest time the vineyards were dry, and the crop limited - the smallest since 1975. I recall a tale of small, windswept grapes and high initial acidity, prompted by thick skins and, in retrospect, probably underripe stems. Most domaines still fermented whole bunches in the early 1980s, one should remember.
I found the vintage complicated at first, not easy to pronounce upon, especially as I was wrapping up the manuscript for my second book of The Wines of the Rhône in December 1981. Publisher Faber and Faber had allowed me, at my insistence, a last minute spot to comment on the 1981 vintage under the different appellations - in those days the average time of producing a book was 9-15 months, so any effort to be even vaguely contemporary was important. In that book, I described 1981 at Châteauneuf as "a difficult year, and although it is early days, the wines do not seem apt for long keeping, and their lack of balance could lead to the making of some disappointing bottles." Oh well. At least I modified that for the next edition, published in 1992. By then, I had become a firm enthusiast.
The 1990 Le Vieux Donjon was one of the most majestic Châteauneufs I have drunk in recent memory. It brought together all the attributes of these southern lands - the herbal complexity, the ripeness of the sunny weeks, the near oily texture of a wine from assured southern climes. Châteauneuf-du-Pape should not be a Big Wine - it should be a wine of finesse, of rolling seduction, a wine of stroking appeal. Here it was, in my glass. My fellow taster, the esteemed Niells Lillelund, author of a Rhône book in Danish and writer on food and wine and the arts, was also moved to respectful silence, the only activity for a few moments being the movement of his eyebrows.
The 1981 played its part quite correctly, too, in summoning the drier, harder ripening cycle of that year against the ritzy features of the 1990, when that late rainfall had been so beneficial. In such vintages as 1981, it is often the tannins that are the most resistant element in the wine - think of 1983, and the notable refusenik legend of the 1983 La Chapelle Hermitage. Here, 30 years on, the tannins still showed a firmness in keeping with the vineyard`s behaviour - quite as it should be. The dish to eat with the 1981 would be perhaps a pheasant, whereas the 1990 was better suited to venison or hare, for instance. Certainly the latter was likely to be in perfect step with richer flavours that would dominate the more spinal 1981.
Of other older Vieux Donjon vintages, the 1998 is a star performer - six star wine when I last tasted it in June 2008. At the time, Claire Michel commented to me: "it has a lot of perfumes, and a complexity that reveals itself bit by bit. It was closed, but for less time than the 1999, and also was less really closed." At its issue I had found it heady, imposing, and suggested leaving it until 2005 at least, which I think has turned out to be correct. Since then I have even had it marked down as both STGT (Soil to Glass Transfer, authentic) in April 2008, then w.o.w. (what one wants, indicating extreme sweet charm, juicy drinkability) in June 2008 at the domaine. Not bad versatility!
If seeking The Real Thing at Châteauneuf-du-Pape, where the Grenache is quite rightly seasoned with other varietal influences, and where the land is allowed to speak, I would highly recommend Le Vieux Donjon to anyone`s cellar. A little each year would allow some marvellous, stimulating glances back if conducting a retrospective tasting a few years on, as well. On current pricing, Yapp - http://www.yapp.co.uk/ - their British importers - offer the **** 2006 at £27.50, and the *** 2008 at £24.95. In the USA, the wines retail for between the US$40-50 mark, the agent being Alain and John Junguenet who distribute through Michael Skurnik wines http://www.skurnikwines.com/, and other names as well. The 1998 is around £50 in GB, and around US$110 or so in the USA.
****** I would give this 7 stars if I could! The robe is still full, with the only light spot the top. This is a real rocker - a nose of great give, I can stay here all day, keep sniffing away, and forget taxes etc. It shows a succulent plum air, the lavender and summer hot stones of the area, licorice touches - there is mystery in the nose as well, a moveable feast. The palate has an explosion of flavour, is greatly ample, hints at game, shows mighty depth, a probing fullness. The texture is succulent, and the wine really glides around the palate. There is a triumph of spice at the end after this journey of beauty and stimulation. This wine is relaxing and meditative, and is the run of vintages such as 1947, 1961 and 1978. It is very, very long, has definite length, is a glorious Châteauneuf-du-Pape. This is why I write about wine. The texture is fabulous, also the harmony. "It has been like this for some time. I would eat a brochette of woodcock or thrush," Marie-Josée Michel. It was uncorked at 11 in the morning, decanted 30 minutes ago, and now it is 4.25 pm. It finishes freshly. Wonderful experience tasting and, yes, drinking, this. 80% Gren, 10% Syrah, 5% Mourvèdre, 5% Cinsault and others. 2032-35 March 2011
***** real good depth in the robe, there are parts of ruby, but the interior is a sure red plum colour. Very good mineral flick across the nose, which has the dry cut of the vintage in it - that clarity. Very much on the herbal, garrigue run - there is lots in the bouquet. The nose develops fig airs that remind me of Barolo - it gets sweeter on the nose with air. The palate has its character of good grain, prune, black fruits in the flavour, a near salty tone. It runs along upright lines, a shade of crisp medicine in its taste. There are prune-cedary notches on this, which is a linear wine alongside the spherical shape of the 1990. "It is very fresh, and is a lot on the fruit; it shows licorice and secondary aromas, but here I am relatively surprised, and content," Marie-Josée Michel. This was vinified in the village at the family home of 9 avenue Saint-Joseph. As it breathes post decanting, it becomes rounder, but retains the mineral effects on the end, and there is still a firm side to the tannins. Opened 11 am, decanted 45 minutes ago, it is now 16.45 hrs. 2023-25 March 2011
MARIUS GENTAZ, 1922-2011
The last time I spoke to Marius Gentaz-Dervieux was 30 June, 2001, when I telephoned him. I had first met him in 1973 when starting my research for "The Wines of the Rhône", a manuscript rather than a book, since I had no publisher lined up.
When going to Côte-Rôtie for the first time in June 1973, I was encouraged to visit what were then the allegedly high profile names - I have a scribbled list of four in an old note book from the time: Albert Dervieux, President of the Growers' Syndicat, Monsieur Battier of the Maison Vidal-Fleury - then the biggest name internationally, Etienne Guigal, and Marius Chambeyron.
Later visits unearthed Joseph Vidal-Fleury himself, the local grandee who died in 1976, and a cast of story tellers, hard grafters, old men who took me under their wing. Among these featured most notably Georges Jasmin, the genial grandfather of Patrick Jasmin and Alfred Gérin, the free chatting Mayor of Ampuis, who had assembled a group of Franco-American investors to buy vineyards at Côte-Rôtie in 1971.
Working away without fanfare of any sort were other men who lent serious backbone to the reputation of Côte-Rôtie, then a name little recognised for its true worth or quality inside or outside France - René Clusel, Pierre Barge, Marius Gentaz.
Marius in particular was a hidden presence. His cellar was in the village, on a corner on the way to the little port of Ampuis - not far from where René Rostaing now has his cellar. His wife Yvonne ran the business side of the domaine via a little notebook kept in the kitchen, while Marius went up the hill every day and got quietly on with his job. A small, strong man, his physique was suited to the hillsides, a low centre of gravity an undoubted asset, which also helped his ski-ing prowess.
His underground cellar was intimate, and special. There were two tiny, must-covered windows well above head height, and if one really craned it was possible to glimpse the Brune hillside on which he held a priceless, tiny plot. Tasting in the cramped space with Marius took me back to thinking about the Mikhail Lermontov poem The Captive Knight (1840) where a prisoner can see the blue of the heaven, and so imagines the steppe outside, through his running horse and the freedom of the heedless, playing birds, also thanks to a tiny window above him.
Marius` heart lay on the hillsides, his route to them taken circuitously, similar to Auguste Clape, the King of Cornas. His father had been a gendarme, Marius born in Saint Colombe a few miles north of Ampuis. He started out working in the metallurgical industry, but after meeting and marrying Yvonne, he went to work with her father Jean Dervieux on his vineyards at Ampuis. These wines were bottled with the name Dervieux-Cachet, the Cachet referring to the maiden name of Jean Dervieux`s wife.
When Jean Dervieux retired, part of his vineyard went to Albert, part to Yvonne, his son and daughter. From there Marius started out with his 0.55 hectare, that was split between two plots, 0.3 hectare on the Côte Brune next to La Turque, and 0.25 hectare on La Landonne. He subsequently obtained a little over 0.6 hectare on Leyat, over the hill heading north from the Brune, which he planted in the late 1960s.
"My first vinification on my own was 1952," Marius recalled to me in 2001, when he stated his age as "seventy-eight and a half". "My father-in-law was Monsieur Jean Dervieux, father of Albert Dervieux, and I handed over the vineyard to René Rostaing after 1993, a small vintage. He had been working half of it, 0.6 hectare, before then as I gradually went towards retirement."
Yes: Côte-Rôtie vineyards of 1.2 hectares (not even 3 acres) - what a jewel, what a treat, what sublimity. Marius was one of the only growers with Viognier on his Côte Brune, its clay content not considered suited for the white vine. Planted in the 1920s, however, these Viognier contributed intense fruit from their low yields, and crept into the main body of the wines, just adding a touch of silky middle palate.
Marius did nothing more in the cellar than was strictly necessary - again, think of and compare with Auguste Clape at Cornas, about three years his junior. He had switched to small concrete fermenting vats in the late 1970s, away from open wood vats, but continued with whole bunches throughout. Just a little manual cap punching would be done to ensure an immersed cap, and the wine raised in used oak casks - the Burgundian size of 228 litres - for 15 to 18 months. There was no such thing as one single bottling - the 1988, for instance, was bottled in several takes between April and October 1990. Fining before bottling was conducted with four egg whites per cask.
I mention all this detail to evoke and praise an era when hand-made wines were so literally just that. They were also a true representation of the spirit of the classic old-school men of the soil, men who were more viticulteurs than vignerons, and the sort of men whose quiet observations fell with rewarding precision on to any keen learner such as me.
The fact that his wine was titled Côte Brune, when it was partly Côte Brune, but all from that northern area near the Brune, also indicates the spirit of that time. It would not pass muster with the desk-bound fonctionnaires who rule so much of wine today, of course.
So when I rang Marius in 2001, I was after insight into those ancient times, a direct and personal link. My call had been prompted by one of the old growers wondering if 1999 at Côte-Rôtie did not resemble 1947,and I wished to follow up on that point. "1947 was a hotter year than 1999," Marius told me. "We harvested in very early September, me and my father-in-law, around 8 to 9 September. The wines held a lower degree in those days, and we used to vinify for around 20 days, and bottle a lot later than now, when 18 months is the normal thing. There is of course more demand now, which has encouraged that earlier bottling."
"In 1947, our yields were lower than now, as well," he continued. "The vines were generally older - they were the old pointed Sérine, not the Syrah de Mauves - their wine was a lot more tannic and their yield lower than the Mauves Syrah, which gives more juice and liquid. The other great vintage of the time was 1952, my very first year on my own. Since then I've never had grapes that were so ripe, heady and perfumed as I did in those two vintages, even including 1978. I would say, though, that wines these days are perhaps more aromatic than they were in my starting years."
On one of my visits to Marius, in late 1986, he showed me his 1985 from the cask. I could hardly write my notes, so overwhelmed was I with its beauty and balance. I remember shaking as I wrote in his dark little cellar. Once upstairs in the kitchen, I plucked up the courage to ask if I could buy some. Madame Gentaz reached for the little carnet, consulted it, and asked the deliciously dangling open question, "how many bottles?" Well, here was a challenge - the fine line between greed, or thirst, and the bank balance, and the thought of living happily ever after with a wine of such distinction.
"Perhaps 60 bottles," I mumbled, hardly ever buying in such quantity, 24 being a sound maximum. But I had the hots! "Well, you know we have arrangements in Britain with an importer there," she replied. "Yes, yes, of course," I answered, "but this is just for me, no-one else." She got out her pencil and wrote my name down in the carnet, a moment of supreme satisfaction.
Two years later, I had a call from my old buddy Tim Johnston, who today runs Juveniles Wine Bar in Paris. "Your name isn`t great in Ampuis," he informed me. "Why on earth not?" I asked, pretty amazed. "You haven`t paid Marius Gentaz for the 1985," he told me. What - wine I had not yet collected, not even seen in bottle, that was waiting for me to go and collect at some future date.
The story ends badly. A voyou, a crook, any name you like, a man known to me who ran importing businesses in Britain that had a habit of going bust had visited the Gentaz family. When he asked if there was wine available, Madame Gentaz told him "only the 5 cases of 1985 for Monsieur Livingstone." His reply, as told to me by Madame G, was "oh, that's for me." So he had taken possession of MY wine, shipped it to Britain, and not paid. I never saw a bottle of that beautiful vintage, about which, sitting here writing this, I still feel pain.
Happier moments have existed with Marius and his wine, such as the time I introduced Kermit Lynch to Steven Spurrier and Simon Loftus at the Turf Club in London (Kermit wearing a tie, quite amazing). Over a fine, fine dinner, we drank Côte Brune from the maestro - true, STGT wine which was much enthused over. When I informed Kermit about Marius' passing, he wrote back: "I hate to say that his will always be my model for Côte-Rôtie, because no one else comes close to his magic touch."
Now we have the memories of Marius and his unassuming, magic work to reward us. Madame Rostaing, Christiane,the daughter of Albert Dervieux, told me that Marius had "taken on the passion of the soil, la terre. His vineyard was his Paradise, his garden. Even one month before he died, he still cultivated near the Rhône his vegetables and the few vines he had down by the river." His two daughters Monique and Susanne survive him, as does his wife Yvonne who is not well, and in a retirement home.
To celebrate Marius, I drank a bottle of my 1990 with a bottle of the 1981 belonging to Mark Savage, an intellectual among wine merchants, and a fellow turfiste, when we assembled for the annual sports at Cheltenham in March, 2011. Between the cut and thrust of consumption, betting, admiring horseflesh and generally living on tilt for those four days, we considered and enjoyed two of his works of art. The notes below tell their story. Adieu, Marius.
1990 Côte-Rôtie Côte Brune, Marius Gentaz-Dervieux
***** plenty of red still in the robe. Burgundian, pepper-spice floating on top of serene red fruit, a beautiful nose with violet traces, violet and prune. After two hours, strawberry airs enter. The palate has a grippy, tenacious debut, very much in the Brune style, has a core of fine red fruit, but is never flamboyant. It shows earthy qualities, tightens on the finish, shows a little reduction there. Beautiful, STGT wine - even from a hot summer the wine has emerged fine, well-cut, very pure - terroir rules. Very drinkable, very fresh, FINE wine. The palate offers stealthy improvement, richness coming through, and width. It ends on a wonderful little ball of red fruit, with a glinty finish - snap! "1990 was a dry year, very dry. It was hot, too. There wasn`t a lot of juice in the grapes, but I regard it as a beau vintage," Marius Gentaz-Dervieux. 2024-26 March 2011
1981 Côte-Rôtie Côte Brune, Marius Gentaz-Dervieux
***(*) quiet ruby-red colour; the finesse of fruit with a grain side to it comes through on the nose. It expresses pepper and a softly floral air, develops strength in its white pepper-spice side as it breathes. There is a slight farmyard note in with the brisk, cool red fruit. After two hours, its finesse once more shows thanks to a Pinot style often found in old Syrah wines of grand standing. The palate is still right there, open half an hour now. Bears an intense little ball of plum fruit, though stops a little short. It dries towards the finish, is a fragile wine. The fruit is aromatic, and keeps ticking away in its understated manner. March 2011
Postscript: Marius' vineyard now supplies the grapes to René Rostaing's wines. The Côte Brune was re-planted by Monsieur Rostaing in the early 2000s as it had reached a tired state, and M.Rostaing is considering whether to produce a wine only from that plot in the future; up until now it has been part of his Classique Cuvée. The La Landonne still goes into the Rostaing La Landonne wine, while the Leyat fruit forms part of the Rostaing Classique cuvée. So there are still gentle smudges of Marius' endeavour available to us.
I am an unconditional fan of 1985, the year of supreme balance all across Europe. 1985s were sunny, open and always fun to drink. They came at a time when the Rhône was waking up to the needs of cellar care that prevented over-heating and consequent bouts of volatile acidity, the 1982 harvest having been a line in the sand on this. High heat at harvest time had meant some vats ran away with themselves in 1982, growers often only able to spray water at them in a futile attempt to control temperature.
The consistency of evolution of the 1985s has been striking, and I find it hard to come up with a vintage of such similar attributes - utter reliability and delivery of fine fruit throughout its life: sun, with a terracotta patio glow from southern rays, in the glass. As Frédéric Brunier reflected on this 1985 in March, 2007: "it was open very quickly - everyone loved it - and its setback never came. It just kept going."
The first bottle of VT 1985 was not quite right when tried with Daniel Brunier in June 2010. We were dining at the Verger des Papes beside the ruins of the Château, and the bottle had left the cellar an hour or two before. No going back. So I picked up this bottle a day or two later, and drank it outside on the terrace in marvellously fleuri surroundings at Les Florets, the super-friendly Hotel-Restaurant in Gigondas. I have reproduced this tasting note and the previous one from 2007 to demonstrate the consistency of the vintage.
***** mild, garnet robe, orange at the top, light ruby in the middle. Attractive aroma that gives immediate pleasure from its floral, cigar box mix; comes with a following trail of "high" red fruit from its age - this is harmonious, and very 1985 in style - offers a lovely feast of mature Châteauneuf aromas such as cinnamon, plum. Silken, Beau Vin on the palate; its texture is rounded, but there are still low-key tannins on the final stages, bringing extra depth. There is genuine harmony here, the old wine attributes of variety and mystery are delivered with a kid glove hand. The aftertaste resembles fennel seed, licorice, brewed coffee (maybe Kenya, is fine). Shows slightly old bones, but retains its balance and tuning. A feather in the cap of the excellent vintage, whose prime quality in both Northern and Southern Rhône was its balance. 2017-20 June 2010 Previously March 2007 ****(*) ruby robe; sweet tea, fungal aroma, with a good, still present strike of rounded, lissom black fruit that I remember from its youth. Rich, southern sweet appeal on the palate - notably round in shape and homogenous, remarkably so for its age. Finishes nice and clearly. The Sunny Vintage of all time - has a bit of Pinot here, the Pinoté effect. Very faithful to its year. Savoury and delicious wine, lovely to drink on its own. 2017-19 March 2007
The Raspail-Ay vineyard of Le Colombier is centred near the domaine on the western outskirts of the village of Gigondas. It is on a slight slope, with clay-limestone soils, and the approach is conservative, as befits a family of public service and letters - Dominique Ay was a helicopter pilot in his youth, and his father François well-connected across French arts, letters and high places.
In 1985, the crop was not being destemmed, but the Syrah was already up to thirty years` old, which helped to structure the wines. Raising was done in large barrels - 130 hl at a time - followed by 600-litre oak raising. Such a combination of sizes was the norm at Gigondas in the days after World War Two as growers started to bottle their wines more and more. Racking occurred every 6 months, so the wine was not left alone. Nevertheless,no such instinct as extraction existed at the domaine, so the wines have always lived a long time in bottle, their early power a ttributed to the presence of clay in the soils.
I have to quote what Dominique Ay told me at the time, which this bottle utterly contradicts - wait for it: "I expect this to be a nice, mid-weight wine for a life of 6 to 8 years," he explained; "it doesn`t have the chewy intensity of the 1981 or 1980. It is pretty good, but just lacks a bit of punch." Balance, my dear Watson, Balance will rule the world, win the races, be your best friend when drinking wine. I drank this with other Gigondas growers, including Louis Barruol of Saint Cosme and Franck Alexandre of Domaine Les Teyssonnières.
**** pretty, ruby-red colour, a good sheen in it. Fresh toast aroma, pain grillé, chicken stock - the bouquet is gentle and rounded, gives the effect of stones baked by the sun, pepper, then honey. There is a little creep of age in the flavour and texture, - the palate is more fragile than the nose. Has a grainy late texture, and ends on that note. I notice a touch of Zan licorice in the aftertaste. After 20 minutes, it is still right there, but needs to free up, loosen. As the air gets to it, pretty fruit comes through - red berries - and it benefits greatly from the air, becoming very varied, and changing a lot. A wine to keep the spirits high and the mind engaged. "Remarkable," Louis Barruol. "Very, very good," Franck Alexandre. 2017-19 March 2009 Previously June 1986 **** (large barrel) intense, dark, sympa bouquet, friendly fruit airs. Firm palate, but not hard - balance is correct, tannins shapely, a bit of heat at the very end. This is 13.8°. Pretty good. June 1986
A subscriber from Norway recently asked me the following questions: "I got hold on a bottle of Rayas Blanc Reserve 96 the other day. Since I have no experience on white CdP, I must ask which glass should I drink this from? Also what can be combined with this wine? What kind of food or cheese?"
I set to solving this with a wide coverage of minds other than mine, and here are some of the proposals. On the glass, my suggestion seemed acceptable to those I asked in Châteauneuf-du-Pape, sur place.
THE GLASS: I suggest a Riedel Syrah glass. Long stem, tulip shape, deep inside, with a funnelling of the aromas towards the drinker. A glass designed to show the generosity of the wine. Pour only a modest helping, though, a little at a time, so you can swirl it well, and enjoy its rich colours.
TO DECANT OR NOT: I would probably lean towards decanting, given that this is the Rayas stable. All their wines over the nearly 40 years I have known them have benefited from airing, starting life out of the bottle tight and reserved, even flinty at times. I would expect progress - greater expression and complexity - to emerge over several hours, so don`t be in a hurry.
THE FOOD: here you have the choice of going two ways - exotic bottle, so exotic food, or playing it more straight down the line. Let`s start with exotic.
1. A cold haché of veal - minced veal - with gros sel, say from the Camargue, pepper and Nyons or Beaumes-de-Venise Virgin olive oil. The salt from Denmark that I like, the Loeso Syde Salt, would also be suitable.
2. Black truffles - here a pasta with grated black truffles, again some olive oil and some sea salt, also a touch, just a touch of finely ground black pepper. A black truffle dish with scrambled eggs is also a contender, but I would not recommend a full-blown meat and black truffle dish. I would seek delicate strength, not overt power, in the dish.
3. A carpaccio of salmon with aniseed and chives, with young new potatoes, olive oil and balsamic vinegar, plus 2 asparagus heads (English or green asparagus, not the larger white asparagus).
4. I think cheese would not be suitable, since it would potentially be rather clumsy.
Now, news from Emmanuel Reynaud, the owner of Château Rayas, who offered these suggestions when I visited him in October, 2010:
1. Foie gras with simple toasts, drinking the Rayas white in a large glass, seated in an armchair. "The wine should be decanted. The 1996 is very rich now," he said.
2. Wild cold salmon that is firm in texture, but is not too rich - it must not be smoked.
3. On its own.
So, there are some thoughts on what is a wine whose early acidity implied a long life ahead - a classic example of white Rhônes doing well when the vintage is less uniformly fat and rich for the reds. JL-L October 2010
**** the robe is moving into ruby, though there is plum red at its heart. Game, damp earth, animal aroma at first - a brewed-up plum in the fruit side of it. Has the grounded nature of this tannic vintage - it was never an Air Child. The bouquet develops depth, a smokiness alongside the plum, as it breathes. The great feature of the palate is its freshness. The attack is still chiselled, its firm tannins implicit. This is a long way from the fat, sweet fruit bombs of recent years, much in vogue. The plum fruit has a floral, fragrant side to it, with good spice within. Maybe a touch better drinking in winter or autumn times - it is a bit stiff, a bit military, and not for the Sweet Tooth brigade. Air aids its gentle side, bringing floral features to both nose and palate. 2018-19 July 2010
Previous Note: Feb 2006 ****(*) soaked, southern aroma, drips with a mix of Earl Grey tea, a plum sweetness, leather and herbs. Bouquet moves around, changes through the drinking. Rich, oily palate, a great texture wine. Damson, herbal, game finale. In good form now. Length good, prune, stone fruit aftertaste is very long. 2016-18 February 2006, Stockholm
The 1995 Vieux Donjon all but represents this highly accomplished, traditional domaine`s farewell to whole bunch fermentation. From 1997 half the crop was destemmed, although the Mourvèdre (just 10% of the wine) had always been destemmed. Lucien Michel is a strong-jawed man of the south, a chasseur of beasts for the pot, and for him, the decision to destem was probably made with some degree of reluctant acceptance.
The 1995 was impressive from the word go, bearing masses of the vintage character - firm tannins from the dry summer, with some tasters reeling back on first encounter with this wine and many of its neighbours. Time, as usual, aids such wines, and this has gone through a demonstrably Belle Epoque phase - hence the previous tasting note from February 2006 in Stockholm. What we have now is a fine exposé of the subtle charm of the Grenache at Châteauneuf-du-Pape, the wine offering floral influences on both nose and palate. Ah, the word "subtle". Perhaps this is only available these days in "lesser" vintages - a bit like writing people letters rather than Facebooking them.
***** consistent mature red robe; the bouquet is well together - this is great, promising indeed. It is broad and still thorough. Toast and cedar are present in what is a handsome and varied bouquet. The palate is filled with fruit, has lovely, super balance, a hallmark of this vintage. Very persistent, the finale is fragrant, very fine and typical. This is a storming wine, has delightful clarity and focus, comes with a fresh, airborne feel to it - I think of space and freedom, above a couch of resilient red fruits. A complete beauty that sings a noble tune. After 90 minutes, the vintage influence moves aside and the terroir influence takes over - the typically Côte-Rôtie violet appears on the nose, and after 2 hours, the clear, mineral tang of the northern zone schist comes through in the later stages. 2018-20 June 2010, Oslo.
I described this Clusel 1985 in my 1992 book "The Wines of the Northern Rhône" as "a charming ten-year wine, but short on tannic support" - er, yes. Maybe the Norwegian air is my excuse. But you can never beat balance and stable storage in cold climes to keep a wine going. This had been lovingly looked after by my old friend Christopher Moestue, whom I escorted on his first trip around the Rhône in 1984-85. "La Voix du Nord" is now a very successful importer of fine wines into Norway and Sweden, with his leading Rhône agencies being Beaucastel and Guigal.
Gilbert Clusel was one of several young growers who gave Côte-Rôtie impetus in the early 1980s - others included the Jamet brothers, Jean-Michel Gérin, Bernard Burgaud and Pierre Gaillard. Gilbert took over the vineyard from his dad René, having studied at the famous Wine School of Beaune. In those days, such formal education was more unusual than habitual, but there is no doubt that attendance at Beaune instilled more precise working practices and also a respect for the fine and complex wines of the Pinot Noir. This showed up in the unforced winemaking chez Clusel, and was backed by his abandoning of chemical products on the vineyard in 1984.
By this time, Gilbert was with his future wife Brigitte Roch, and in 1984 experimented with one cask of new oak in the raising of his wine, sourced from 1930s and 1958 old-fashioned Sérine, the local Syrah. He had started his quest for perfection, or at least, verity in his wine.
The winter of 1984-85 was very cold, and the 1985 cycle started with a month`s delay; by harvest time, after a dry spring and summer, and a very sunny summer as well, the lag had reduced to just one week behind the usual mid-September harvest date. The wines were instantly likeable, their rounded fruit and tinkle of balance making them a good buy, and a pleasure to drink. 1985 was one of those vintages that was good all across Europe, an easy one to remember if wondering what to buy when travelling. This wine surprised both of us with its freshness, but its balance confirmed the memories of its early years.
*** the robe is still red. Interesting nose - shows subdued blackberry, has reserves in it, can still do a spot of arm wrestling, since it has a slight local yokel air about it - there is mystery, also black fruits in with paint stripper and a spot of Brett. The palate is a shade dusty, is very 1988 in style with its upright shape. It loosens and flattens, becomes a bit coarse, then revives on a precise finish that is slightly flowers and berries mixed together - the second half of the palate beats the first. Indeed, the finish is delectable, very Côte-Rôtie. The air keeps bringing out fine, small black berry fruit which bears a traditional, rather gamey overlay. 12.5°. To 2018 or so. June 2010, Oslo
Bernard Burgaud joined his father Roger in 1980, which prompted them to start bottling their wine - a princely 1,500 bottles a year. His best site is Les Moutonnes, a little north of the Côte Brune, with other sites higher up near the plateau. Bernard has always been a practical winemaker, not a theorist, so the style differs markedly from the Gilbert Clusel. By these vintages, he was using 20% new oak, and would observe to me that he found the anti-new oak brigade snobbish. His vinification included 8 times a day cap punching in enamel-lined vats, with 15-month cask raising after the malolactic fermentation had occurred in large barrels.
The Burgaud wines have until recently always been dark, brooding, a little savage in nature, needing time to fuse and bend a little. This was a big wine from the outset, its platform built from the dry year and the consequent firm tannins. In my 1992 book, I described it as excellent, carrying an extreme dark colour: "its densely packed fruit is sufficient to edge above the firm tannic underlay. Although restrained on the bouquet as a young wine, it gives every indication of developing and softening over the next fifteen years."
***** a magnum, so all the better for that, in my cellar for many years: red, ruby colour; sweet, beautifully rounded nose that is plump and satisfying, has a floral trail behind, minor game notions, but also very typical herbal, grassy airs. The palate is also scented, has a definite tannic spine, is fresh. It is really on song now, with its good juice and squeezy pleasure. It ends firmly, and I note the "dark" presence of the Mourvèdre that helps to underpin it, also the dry year in its compact spine. The length is good - the wine has a gentle progression along the palate. Fine acidity in this. Very good indeed, much liked by the 14 wine trade veterans present. 2020-24. June 2010
Note: this was an intermediary stage for the Domaine Les Cailloux. Lucien, born 1906, was one of the first growers I met at Châteauneuf in 1973, partly because he bottled his wine via the small Les Reflets grouping, and so was one of the few vignerons offering wine in bottle. His son André was full-time on the estate, having started in 1972, and was judiciously adapting methods without upsetting his dad. Thus the crop was whole bunch crushed and fermented (Lucien), and raised 70% in enamel vats (André`s innovation since 1977, driven by his dislike of old wood that for him tainted the wine) and 30% old 50 hl foudre or barrel (Lucien). There was also cooling equipment, installed after the very hot year of 1976 (André).
The wine was high in Mourvèdre - 20-22%, the vines planted with prescience by Lucien in the 1950s; it held around 73% Grenache (average age about 50 years then) and the remaining 5-6% was Syrah, planted in 1972 when the INAO central body advised it as an improver vine for the region. If only they had suggested more Mourvèdre...
"I made no Cuvée Centenaire in those days," recalls André, "so this includes crop from the north and the south of the appellation" - Farguerol (N-W, very stony soils near Cabrières and Mont-Redon) with its 1900s Grenache, also Vaudieu with its sand and Cansaud and Les Serres down in the south with their more free-draining soil. Farguerol (4.5 hectares) and Cansaud (3.5 hectares) were the main sites. "There were snowflakes at harvest time, near the end, which was very, very rare," continues André. "It had been a dry year, and the crop was very ripe and healthy. We picked in a hurry from the end of September until 10 October. The vinification lasted 3 weeks, with only pumping overs, and I had to heat the cellar to finish the sugars. We only used natural wild yeasts in those days, remember. The wine was quite tannic to start with, and averaged 15°; Farguerol`s wine came in at 16° to 16.5°- it was the last picked, with the first picked crop 14° to 14.5° - all this talk today about high degree is one thing, but Châteauneuf has always been like that" (implying that nowadays you should not over-extract - which was never done in the old, laissez-faire days - and should continue to blend expertly. How do you learn to blend expertly? Working on a family estate over several generations is a pretty good start).
The wine was raised for 16 months, bottled 18 months after the harvest in several different tranches. Maybe 200 to 300 magnums were produced. The label has a healthy artisanal 1.5 L engraved on the bottom right hand corner.
Any wine like this gives the drinker an insight to a time several decades ago when the grower was just that - a person feeling his or her way by instinct, common sense and a dose of patriarchal instruction. If Wine Schools could all have a Department of Instinct, as I have implied to the growers of McLaren Vale, then we would all be better off - people and wines.
****(*) the same comment as for the Vieux Télégraphe below - this was a vintage of severe rain and flooding at harvest time in the Northern Rhône, and bad rain in the South. The degree was also 13.5°. This is the old Roussanne cuvée, from the plants beside the domaine on the approach road from Châteauneuf. They stand in big galet strewn soils, with some sand - typical of Courthézon - mixed in with the clay. They date from 1914, so this is already a wine "pas comme les autres" - quite rightly, I consider it as a very special, stimulating drink for all sorts of reasons, both physical and cerebral. Note: the robe has the extraordinary sheen of old Roussanne - this can turn brown, as the 1990 did for a while, then revive back to where it is now - a ripe, rich gold, with apricot tints - pas comme les autres, indeed. Pear, baked pear aroma that is at first very reminiscent of Viognier. It has a graciously mild air that brings in extra sensations as it breathes (has come straight from the cellar) - barley sugar and mandarin, then it develops honey, apricots, orange marmalade. It is a fresh, full wine on the palate, comes with a tang of bitter, a grip to it - the freshness defies its colour, don`t be put off. Decant it, since it needs waking up, is tight as a drum. Has a smooth and stroking texture -it glistens as it goes, is long and satisfying. Impressive and arresting wine that is delicious with roast leg of pork, the texture like stain ensemble. There is a fine and persistent line of acidity through its calm, steady richness - this is atypical Rhône off vintage success. Delicious, warm and friendly, with just that rainy vintage tang of bitter at the end indicating a slightly below par crop. Has a warm glow on the aftertaste - very southern. 2020-23 June 2010.
It is worth reproducing the previous note on this from over 2 years` previously, suggesting that the wine has indeed made progress since then: March 2008 ****(*) apricot-gold robe that looks very mature. There is a honeyed, some would say maderised note in the bouquet, but it is still rich and sweetly-toned, like a lime marmalade; also has the old white Rhône damp wool airs. The texture and flavour are rich and on the path to dessert wine. Tightens with a little Roussanne grip, and shows salty touches at the end. Finishes clean as a whistle. Is rich all through, the sort of wine for foie gras, or rich, cream-sauced veal or chicken, for instance. Is a deliciously textured, sensual wine, still has ways to go, despite the outer appearances. 2016-19 March 2008
**** first of all, note that this was a vintage of severe rain and flooding at harvest time in the Northern Rhône, and bad rain in the South. Degree only 13.5° on the label - the "only" refers to compared with these days, the 13.5° refers to a good result given the conditions - indicating that southern Rhône whites frequently perform well in "off" vintages. Note: mild yellow robe with some maturity, but young at 17 years. Hazelnut front aroma, damp wool also, the classic aged white Rhône - but the bouquet, like the robe, is still young, and trails a salty late air. Has a near Marsanne bitter tang. The palate is fine, a great example of a more acid year that evolves beautifully over time. It has a persistent, well-shaped flavour of dried fruits that tickles the palate. The texture is pliant and gentle. It is not like a Southern white - it is more refined and elegant than that. You can detect the vintage acidity, the relative struggle with the crop, via its firm, touch bitter nature - and it is that which prevails over its Southern instincts and origins. Has a beautifully fresh aftertaste. A lovely companion for the best fish dishes. 2020-24 May 2010
1993 was the year when the Bruniers planted more white vines on untilled land that was stronger in limestone and sand than their previous sites, planted when the white was a sideshow. This was made from 40% Clairette, some of it planted in the 1930s, supported by 30% Grenache blanc, and 15% each Roussanne (fermented in 3-4 year oak) and Bourboulenc. They had also raised the temperature of fermentation to around 20°C, up from 16-18°C that had been the "get fresh" fashion of the late 1980s. In other words, they were starting to take white wine more seriously, and to allow it to express its local origins, rather than feel they had an out of fashion, oxidative product put in the shade by the zippy Sauvignon wines of the New World.
***(*) 14°. ripe, golden tinted robe that looks rich. Has a broad, exotic fruits nose - this mixes Riesling petrol with guava and spice. Ample wine - it was never going to be about finesse. The palate at first seems as if it is holding up, but not a lot more. It gives a banana, flan flavour, but at first the sides are drying, becoming taut. It is suited to lobster, rich seafoods, mushroom dishes, Roquefort cheese. The attack delivers tangerine zest, orange peel flavours, so there is evident life there. As it airs, it broadens, takes on depth, the flavour shifting to brioche, baked fruits. Refines and finishes more softly after 15 minutes, is at a viscous stage now. Day 2 and Day 3, it is still good, soft drinking. I`d love a magnum (non-existent) of this! 2013-15 May 2010.
1997 was a year of high summer heat, and so low acidity, the wines opulent and heady, with oily textures. I always rated this highly (4 stars). It was made at a time when André was fermenting at higher temperature than today - his cooling system was basic - meaning around 20°C (68°F). He was also using proportions of late picked harvest, but in 1997, he used that crop to make a dried grape wine called Vendange d`Automne. Hence this Chéry (it still had the Coteau attached to the name then) came from regularly ripe harvest, not the exaggerated bunches.
***(*) STGT, showing well, the vintage 2001 clarity, a wine of traditional character. To 2013-14 Apr 2010
*** has rebounded from a dip in mid-2008. Interesting N Rhône influences (is 25% Roussanne, Marsanne) that bind it together, stop looseness. Most appealing freshness, too. Wheel out a passing lobster and stoke up the fire. To 2014. Apr 2010
***** Grand Vin de Caractère - the finesse, the understated pure quality - more, more, more, please! Wines of this nature are so hard to find these days, when so much is made for instant, enforced gratification. Relationship with the finest, most subtle orchestral music. To 2022. March 2010
***** the first vintage of the new owners, the transaction completed with ripe crop on the vines. Reminiscent of fine Châteauneuf from the sand, cool-textured, rather dainty, but still youthful. Moving up in grade as it ages, no doubt. Beautiful with sirloin beef stir fry. To 2022. Feb 2010
***** complex, copious, nuanced bouquet. Fresh and well palate, wonderful at 21 years, big marks for character, plenty to think about, notably fresh. To 2021. March 2010
** still fresh, not slipping, indeed is cussed. Decant this to wake it. To 2014. Sept 2009