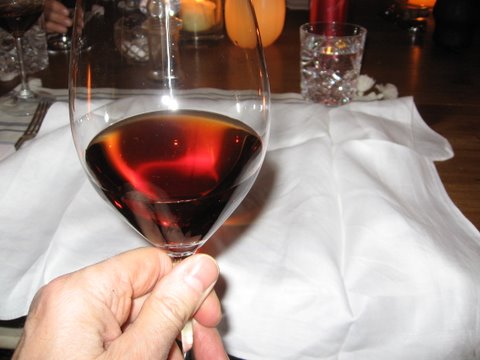 40 years of travel together: the 1971 Côte-Rôtie of Georges Jasmin, drunk at home in England in December, 2011, the last of the 6 magnums hand produced for me by the Jasmins
VETERANS CORNER is a few of the old wines, les anciens, that I have drunk with pleasure, often when they should no longer have been running with the pack. There is no strict theme, except the thought that old bottles do indeed tend to provide the truth (to quote Gérard Chave at Hermitage). A lot of these were never destined for the spotlight, nor did their growers actively seek acclaim through flashy winemaking.
If any readers have also drunk these wines in recent times, any comments would be welcome, and would be posted up as well. Once logged, in, to read the close-ups, click the subheading The Wines in the Left Hand column immediately under the Veterans Corner heading.
DECEMBER 2014: 1973 CÔTE-RÔTIE CÔTES BRUNE ET BLONDE, E.GUIGAL, and 1973 CORNAS, AUGUSTE CLAPE. A mighty duo, drunk a few days apart.
DECEMBER 2012: 1978 & 1985 CHÂTEAUNEUF-DU-PAPE DOMAINE DU VIEUX TÉLÉGRAPHE REDS, drunk with DANIEL BRUNIER. The 1978 is a supreme wine.
AUGUST 2012: a WHITE and RED 1993 CHÂTEAUNEUF-DU-PAPE from a modest Vintage, still going strong in 2012.
FEBRUARY 2012: a journey down memory lane with a magnum of 1971 CÔTE-RÔTIE made by GEORGES JASMIN, grandfather of PATRICK, and personally bottled as a magnum for me. It allows a look back into Ampuis of those days.
SEPTEMBER 2011: my thoughts on LE VIEUX DONJON at CHÂTEAUNEUF-DU-PAPE, a domaine that makes just one wine, as opposed to lots of super-cuvées. I reflect on the history of the domaine, and notably on its 1990 and 1981.
MARCH 2011: my essay on the life of MARIUS GENTAZ, 1922-2011, a superb viticulteur and grower at CÔTE-RÔTIE.
JANUARY 2011: to review 1985, a wonderful vintage of ultimate balance, from GIGONDAS and CHÂTEAUNEUF-DU-PAPE - DOMAINE RASPAIL-AY and DOMAINE DU VIEUX TÉLÉGRAPHE respectively.
OCTOBER 2010: to see some thoughts on drinking the 1996 CHÂTEAU RAYAS CHÂTEAUNEUF-DU-PAPE WHITE, in reply to a subscriber from Norway. Go on, Norge!
To see more, please Log In and click the subheading under Veterans Corner, namely The Wines.