SAINT JEAN DU BARROUX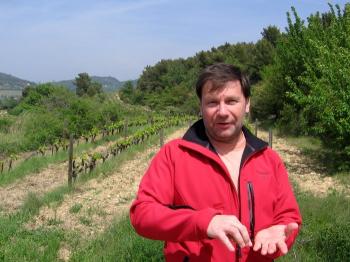 LVT 2017 r 2017 wh This is an organic domaine, created in May 2003 after Philippe Gimel had worked at Domaine de la Janasse (2002-03) and previously at Château de Beaucastel (2000-2002) in Châteauneuf-du-Pape. Big wines. Philippe is from Lorraine, and worked for five years as a pharmacist in Nancy. He is an active internet blogger and informer. The 2003-05 vintages were made in a friend's garage, from 2006 to 2015 he used the hangar of a cherry grower. From 2016 he has had his own cellar at Malaucène, which has permitted him to to organise better fermentations, given the installations are much less cold than they used to be.
These are big red wines of good character, raised for up to two years, with never less than 80% in vat. In the exceptional vintage of 2016, the red Ventoux La Source was a **** Thinker's Wine, with subtleties, and the L'Argile was also a **** wine, in the cool style of this domaine. The Ventoux La Pierre Noire red, 80% Grenache, 20% Syrah from the early 1970s, comes from poor rocky clay soils on the Dentelles de Montmirail & St Jean du Barroux, and it was a balanced **** wine in 2016, despite power and generosity.
The reds age well, as does the white Ventoux La Montagne, with Philippe deliberately holding back its issue until six to eight years after its vintage, a move that is merited.
Philippe Gimel chemin de Saint Jean 84330 Le Barroux
Tel: +33(0)490 70 84 74
http://www.saintjeandubarroux.com
contact@saintjeandubarroux.com
Countries exported to:1) USA 2) Denmark (Vinstouw) 3) Switzerland, Germany, Austria, NL
Percentage Exported: 90-95%
British Importers: Dudley & de Fleury Wines 2A Ledbury Mews North London W11 2AF +44(0)207 036 9696 www.dudleydefleury.com enquiries@dudleydefleury.com
USA Importers: European Cellars, Eric Solomon, 2129 E 7th Street, Charlotte NC 28204 +1704 358 1565 www.europeancellars.com philippe@europeancellars.com