DOMAINE GONON, JEAN and PIERRE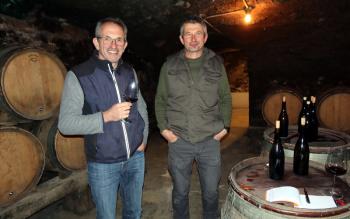 LVT 2019 r 2019 wh An STGT domaine par excellence, and fantastic value and consistency - these red Saint-Josephs are top notch Syrahs. Production increased from 2006, and now runs at 25,000 in reduced vintages such as 2016 and 2017 to 30,000 to 32,000 bottles. The Vieilles Vignes red, occasionally produced in small quantities [800 bottles, one cask], is exceptional.
The Gonon brothers, true countrymen and taught by their father, make delightful, delicious wines of genuine pedigree. There is a sensible transfer of fruit from mature vineyards to the cellar, where methods are calm and watchful. No new oak in sight. The white is a high-class example of Marsanne, laced with a little Roussanne from a top, south-facing vineyard, Les Oliviers. Both red and white can evolve well over 20 years in the good vintages. There is also an extremely good IGP Ardèche Syrah called Les Îles Feray from the plain, with a few young hillside St Jo Syrah, pre 10th year, on tap also. The Chasselas from an old Raymons Trollat vineyard is also a little gem that has gained in quality in recent years, its cut and shape guided by the poor granite soils.
Brothers Jean, Pierre Gonon 34 avenue Ozier 07300 Mauves
Tel: +33(0)475 08 45 27
Countries exported to:1) USA 2) Belgium, Norway 4) GB
Percentage Exported: 25%
British Importers: Vine Trail The Poland Building Aardman Animations Gas Ferry Road Bristol BS1 6UN +44(0)117 921 1770 www.vinetrail.co.uk enquiries@vinetrail.co.uk The Wine Society Stevenage SG1 2BT +441438 740 222 www.thewinesociety.com
USA Importers: retail: Chambers Street Wines 148 Chambers Street New York NY 10007 +1212 227 1434 David@chambersstwines.com