M. CHAPOUTIER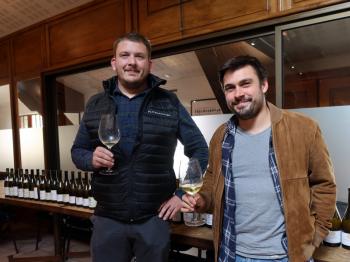 LVT 2019 r 2019 wh 2018 rosé 2016 Muscat VDN The big name at Hermitage, with a large vineyard spread on the hill and also in vineyards across the northern Rhône as well. There is biodynamic working of most of the vineyards. Chapoutier were the first wine estate to put Braille on its labels. Full-bodied wines are the house style, with deep red or black fruit flavours. The special red Ermitage wines are big extraction, full-on wines that take time to settle. They are also very expensive. Recently, they have been showing a sense of place. The 2015s capture this etraordinary vintage well, brimming with content but also largely fresh. Of the 2018 Hermitage reds, a year of high sun, I enjoyed the balance of Les Greffieux [always a stylish climat] a ***** wine.
The white Hermitages are all from the Marsanne grape, and are deliciously warm and generous, although I note a dreaded New Wave presence in the 2015s - where "tension" is favoured over richness, the result being wines that are dumb and taut, made to be modern and steely. They live often for 20 years or more and are standard bearers for Marsanne northern Rhône whites. Ermitage L'Ermite blanc, 1930s Marsanne, comes from sandy granite, gore soils around La Chapelle; it can be STGT wine [a fabulous ****** in 2016, also in 2018, a Rolls Royce wine]. Its neighbour Le Méal, 1960s Marsanne, soaks up the sunshine in hot years, so vintages such 2019, 2010 and 2009 all show it in an excellent, beautifully rich light - the 2019 ****** STGT wine, the other two years both *****. It merits a fine butter-based or sauced cuisine. The Hermitage Chante Alouette white is some way cheaper, always good, and needs to be left for six or seven years after its early flourish.
There is very reliable red Crozes-Hermitage, that is good value for money. The other reds are solid. The expensive Les Granits white from St-Joseph is a very fully flavoured, traditional wine that is a treat with provincial French cuisine [****(*) in 2016 and in 2018]. The Condrieu Coteau de Chery is finding its stride now [less full-on oaking], the 2016 a ****(*) wine of great finesse. It is soaringly expensive.Michel has been pushing hard for increased plantation rights - up to 10% od the current surface area in a single year - at Saint-Péray. This pressure on land prices is making life difficult for young growers. His Hongrie Saint-Péray respects its high quality lieu-dit, the 2018 a ****(*) wine with verve and energy, the 2019 also a top notch, serious wine, ****(*).
In the South, there are big, sometimes plush Châteauneuf-du-Pape reds that accentuate the local Grenache grape - ripe, warm flavours, texturing and plum fruit. The Bernardine is named after the domaine bought before the Second World War, while the two elite wines, Barbe Rac [in the West of the appellation] and Croix de Bois [the East of the appellation], are unctuous, capable of refinement, very expensive, plot-specific wines. The 2015s showed a move towards more tight features, less leaning towards the plush sucrosity. A good Vacqueyras red, Grenache with Mourvèdre, was added in the 2010s, the 2018 a ****(*) STGT wine. There are also vineyards in Roussillon, Alsace, joint ventures in Australia and the south of France; the approach looks outside the Rhône.
Michel's empire extends to the Hotel Fac & Spera (Deed & Hope, the family motto) in Tain l'Hermitage, which has a good value-quality bistrot, and the good quality Ferraton Père & Fils vineyard owner and merchant across the N7 road. His daughter Mathilde also offers a three colour range of Southern Duché d'Uzès wines, which are well fruited. There are vineyards in Australia, Portugal and Alsace as well.
18 ave Dr Paul Durand 26600 Tain-l´Hermitage
Tel: +33 (0) 475 08 28 65
Countries exported to:1) GB 2) Japan 3) USA
Percentage Exported: 60%
British Importers: Mentzendorff, London, www.mentzendorff.co.uk The Wine Society Stevenage SG1 2BT +441438 740 222 www.thewinesociety.com
USA Importers: Terlato Wines International 900 Armour Drive Lake Bluff IL 60044