TARDIEU-LAURENT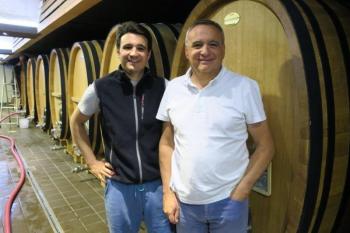 LVT 2017 wh 2017 r 2017 rosé The Former King of new oak. Michel Tardieu is the Rhône connection, now on his own having been associated with his Burgundian ex-partner Dominique Laurent until 2008. This is a high class merchant business which raises the wines in southern Rhône cellars at Lourmarin in the Lubéron. Some of the wines are organic, the Tavel Vieilles Vignes, for example. Michel's children came into the business in the 2010s, and in October, 2018, it was announced that he had sold 49% of the business to EPI Group, owners of Champagne Charles Heidsieck, Piper Heidsieck, Biondi-Santi [Brunello] and Chateau La Verrerie in the Lubéron. Improved cashflow and a widened home and overseas sales market were cited as reasons.
Always excellent sources have been used - old vines, good growers, prime sites. The Tardieu family work with over 80 vignerons. Since 2012, there have been changes in the methods. That was the first year they delivered their casks to the vigneron whose wine they were buying, for the first 8 to 12 months raising. For the Northern Rhône, some of the casks are new, for the Southern Rhône there are no new casks, with 1 to 5 year casks used. The wines then go to their cellars at Lourmarin into 22.5 hl oak barrels – mainly for the Syrah – for a second year or part of a year.
The Southern wines – notably the Grenache wine - spend their second year in 45 hl barrel. Overall, the Southern Rhône wines are assembled in September, after not quite one year's raising, and the Northern Rhône in November, after a little more than one year. The reds are neither fined nor filtered. The whites are unfined, filtered. There are two lines; at the top is the Vieilles Vignes range, which receives 18 to 24 months raising. Under that comes the Becs Fins range which are raised in concrete vat, the whites for 6 to 8 months, the reds for 10 to 12 months.
Their Cornas has always been my favourite - it comes in a more savoury style than some, but the richness is genuine and prolonged. The Hermitage is also very consistent in red and white. These are expensive wines - not surprising after the oak has been paid for! In the south, the Gigondas and the Côtes du Rhône Guy Louis red are very good - both value for money.
Costières de Nîmes is no longer part of the range. There are 10,000 bottles of Lubéron red, sold locally.
Michel Tardieu, wife Michèle, son Bastien, daughter Camille route de Cucuron 84160 Lourmarin
Tel: +33(0)490 68 80 25
http://www.tardieu-laurent.com
Countries exported to:1) GB 2) Japan 3) Germany 4) Switzerland 5) USA – before was 1) USA 2) GB 3) Luxembourg
Percentage Exported: 70%, stable
British Importers: Corney & Barrow No 1 Thomas More Street London E1W 1YZ +44(0)207 265 2400 www.corneyandbarrow.com
USA Importers: Wilson Daniels Ltd PO Box 440-B St Helena CA 94574 +1707 963 9661 www.wilsondaniels.com Martin Scott Wines Ltd, 1981 Marcus Avenue Suite E117, Lake Success, NY 11042, +1516 327 0808, www.martinscottwines.com