JEAN-LUC COLOMBO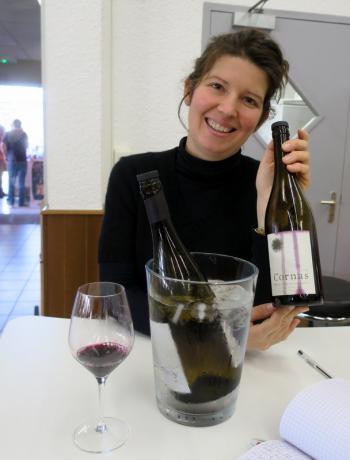 LVT 2018 r 2018 wh The Wandering Minstrel of Cornas. Anne Colombo vinified the wines until 2013, and the touch from her was lighter than in the past - less new oak as well. Daughter Laure joined full-time in summer 2011, having vinified here in 2010, and spent time at Château Haut-Brion, two years at the Wine School of Montpellier, and a stage at Châteauneuf-du-Pape Domaine Saint-Préfert. She also worked for a year in marketing in Delhi, India.
From 2013 Laure has made more of a personal mark on the wines, has backed off new oak, is using more Burgundy rather than Bordeaux casks, and older used casks, as well, and is fine tuning the fruit. She has her own Cornas Domaine de Lorient, as well as the main Colombo business to look after. Since 2017 the family has much enlarged cellars on the rue des Violettes on the west side of the village, and greater care is coming through.
There is a wide négociant range from purchased wines from both Northern and Southern Rhône. The three Cornas can have good style, but there are times when one wishes for a more souful, and less technical, expression. Oak, although reduced, remains a jester in the pack. 2018 is superior to 2017 for them, notably via the **** Terres Brûlées and the **** Les Ruchets. Since 2016, Laure has included stems on Les Ruchets, the 2018 at 20% of them, a wise move given the hot summers. The whites are now interesting, refined, with a tendency at times towards a New Wave, airborne treatment. Again, Laure has adapted to the heat by cutting the Roussanne proportion on the Saint-Péray La Belle de Mai from 70% to 50% in 2018, stating that the Marsanne handles the hot summers better. There is a very good vin de pays Clairette, Les Anthénors, from the Bouches du Rhône west of Marseille.
Jean-Luc, wife Anne Colombo, daughter Laure 10 rue des Violettes 07130 Cornas
Tel: +33(0)475 84 17 10
Countries exported to:1) USA 2) GB 3) NL, Switzerland, Belgium, Sweden – before was 1) USA 2) Switzerland 3) GB, NL, Germany
Percentage Exported: 50%, stable
British Importers: Mentzendorff & Co Ltd 52 Bermondsey St Bermondsey London SE1 3UD +44(0)207 840 3600 www.mentzendorff.co.uk
USA Importers: Taub Family Selections 48 Harbor Park Drive Port Washington NY 11050 +1561 893 9998 www.taubfamilyselections.com has been Palm Bay International 301 Yamato Road #1150 Boca Raton FL 33431 +1561 362 9642 www.palmbayimports.com