DOMAINE JOHANN MICHEL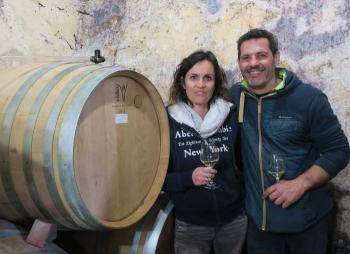 LVT 2019 r 2018 wh The family grouping – called GAEC in French - exploded in 2003, and Johann's father Jean-Luc remained with 2.45 hectares, the produce of which is sold to négociants including Tardieu Laurent. His sister Chrystelle went off to do other things, and in the early 2010s returned to Cornas to start her own domaine. Johann is very motivated, and is doing well, coming up with wines that have great purity of fruit. He attributes increased finesse and freshness to the working of the vineyard soils since around 2015. He gives his own wines very accurate appraisals, which I like and respect.
The style is modern, nearly New Wave. From 2018 he has included 20% of the stems in his classic Cornas; the special Jana, taken from 2000 Syrah on Chaillot, was supplemented from 2016 with 50% Syrah from 2000-early 2010s Syrah on the sandy, South facing soils of Les Côtes; it has been a whole bunch wine since its first year of 2005. The 2018 was an excellent ****(*) wine of great fineness and high potential. In 2016 Johann introduced a third Cornas called Mère Michel from massale cuttings of Serine off the 1947 Yves Cuilleron vineyard at Chavanay. There are two Saint-Pérays, both elegant, and, from 2016, a Saint-Joseph red from the southernmost commune of Saint-Joseph, off the limestone of Guilherand. There is also a handy Vin de Table Syrah from the plain at Cornas.
Johann, Emmanuelle Michel La Ferme de Charavan 115 chemin de Ploye 07130 Saint-Péray
Tel: +33(0)475 40 56 43
Countries exported to:1) USA 2) Japan 3) Australia, Sweden, Germany, Belgium, Switzerland, Denmark before was 1) China 2) USA
Percentage Exported: 65%, sharp rise from 10%
British Importers: N/R Flint Wines London order around 2014
USA Importers: Kysela Pere et Fils Ltd 331 Victory Road Winchester VA 22602 +1540 722 9228 www.kysela.com was Wines of France Inc PO Box 1003 Mountainside NJ 07092 +1908 654 6173 junguenet@aol.com