DOMAINE ALAIN VOGE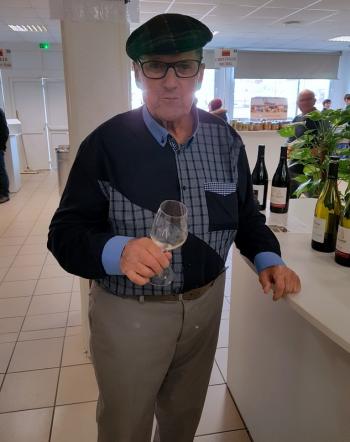 LVT 2019 r 2019 wh Since 2004 until the summer of 2018, Alain Voge was in a partnership with Albéric Mazoyer, an Ardechois man who used to work at Chapoutier as a vineyard and winemaking advisor. Alain worked all his life at Cornas since his teenage years and continued to be very involved with his domaine until his death in early September, 2020. Albéric's successor is Lionel Fraisse. In the earliest days, I find a slight sense of more fleshy content under him, an accentuation of greater overt richness, while the whites may have a little more poise, a good thing.
There have always been many different wines at this domaine, with various versions based on vineyard ages and oaking levels. The best two, the Cornas Vieilles Vignes and the Cornas Les Vieilles Fontaines, are very good - full, with a good core of sweet fruit and tannic persistence. They drink notably well around 5 to 10 years old. Appraising the 2018 Cornas range, I found the *** Les Chaillés (€32) mechanical, clipped when young, the ****(*) Les Vieilles Vignes (€46) capable of being stylish and convincing, and the ***(*) Les Vieilles Fontaines (€80) neo-modern, arm's length wine in search of "tension". There was some acetate present in them, which should burn off. With the 2019 vintage, the Vieilles Vignes was a real vin de tendresse, a most beautiful do, ***** wine that Alain was surely proud of, while the 2019 Les Chaillés was a lively, genuine **** wine.
The St-Péray also comes in oaked and non-oak styles, and there is a little sparkling St-Péray as well. The St-Péray Les Terres Boisées was renamed Ongrie [after its site] in 2016, and is an accurate reflection of its granite and clay soils on Hongrie - STGT wine in 2011, 2012 and 2016, ****(*) in 2018, **** in 2019, the clay aiding moisture retention in the hot summers, with the vines now over 40 years' old. A red St-Joseph was first produced in 2005 from a rented site near Cornas. At times, the oak can be intrusive if the wines are drunk too young. The domaine recently converted to biodynamic practices.
Lionel Fraisse 4 Impasse de l´Equerre 07130 Cornas
Tel: +33(0)475 40 32 04
Countries exported to:1) USA 2) Sweden 3) Japan
Percentage Exported: 33% and rising
British Importers: Goedhuis, London Decorum, Lay & Wheeler, The Wine Society Stevenage SG1 2BT +441438 740 222 www.thewinesociety.com Clarion Wines The Barley Mow Centre 10 Barley Mow Passage Chiswick London W4 4PH +44(0)208 747 2069 www.clarionwines.co.uk
USA Importers: Citadel Trading 1123 Broadway New York NY 10010 +1212 245 2844 www.citadel-trading.com Wine Warehouse 6550 E Washington Blvd CA 90040 +1800 3312829 www.winewarehouse.com Galaxy 2755 NW 31st Avenue Portland OR 97210 +1503 248 9493 www.galaxywinecompany.com Worldwide Cellars 5320 Main Street NE#114 Fridley MI 55421 +1612 378 0316 www.wwcellars.com info@wwcellars.com Synergy Fine Wines 3999 Holly Street Unit 4 Denver CO 80207 +1303 831 6130 www.synergyfinewines.com