VIGNOBLES ALAIN JAUME, DOMAINE GRAND VENEUR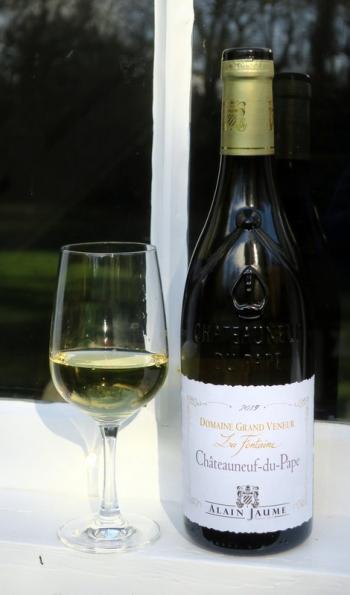 LVT 2019 r 2019 wh 2018 rosé A domaine based in the Orange sector of the Châteauneuf -du-Pape appellation, this has been a good source over the years. Grand Veneur was the domaine wine until the 2014 vintage, when the title Vignobles Alain Jaume was adopted. Some of the reds feel extracted, over cellar-influenced, so need time to regain a more comfortable poise. The Châteauneuf Vieilles Vignes red can be a storming good wine - ***** in 2016, for example, while the Châteauneuf Le Miocène red is consistent, noted for a good ****(*) showing in the tricky 2017 vintage. The whites are elegant, with the 100% Roussanne [all oaked] La Fontaine especially stylish, and the classic wine Le Miocène, based on 60% Clairette blanche, an STGT wine in both 2012 and 2015, and nicely traditional, a **** wine, in 2018.
The merchant side of the domaine is called Alain Jaume & Fils. Clos de Sixte is the Lirac estate, Château Mazane and a merchant wine called Grande Garrigue the two Vacqueyras reds - both have stepped up a gear, with the Mazane 2016 a ***** wine; the Grande Garrigue, **** in 2016, has been a most successful ****(*) in 2017 and 2018, leading Vacqueyras in those vintages. There is a neat, stylish Côtes du Rhône white also, Blanc de Viognier.
In May 2015 the Domaine La Grangette Saint Joseph at Jonquières, 1 km from Violès, was bought from the Tramier family. Its 50 hectares on clay-limestone soils are mainly Côtes du Rhône and its wine will be used to expand the domaine Côtes du Rhône red quantity.
Alain Jaume, sons Sebastien, Christophe 1358 route de Châteauneuf-du-Pape 84100 Orange
Tel: +33(0)490 34 68 70
http://www.domaine-grand-veneur.com
jaume@domaine-grand-veneur.com
Countries exported to:1) USA 2) GB, Belgium, Germany, Switzerland
Percentage Exported: 80%
British Importers: H&H Bancroft +44(0)207 232 5440 www.bancroftwines.com Georges Barbier London +44 208 852 5801; Dennhofer Wines Northumberland +44 1661 844 622; Earle Wines Harrogate HG3 1JH +44 (0)1423 330 900 www.earlewines.com sales@earlewines.com; Genesis Wines London +44 207 963 9060; Jurgen Kaiser Leeds +44 1132 666 393 H2Vin Ltd 22 Melton Road Whissendine Rutland LE15 7EU +441737 355 765 www.h2vin.co.uk info@h2vin.co.uk
USA Importers: Kysela Pere et Fils Ltd, Fran Kysela, 130 Windy Hill Lane, Suite W5-12/12A Winchester Virginia VA 22602 +1540 722 9228 www.kysela.com La Cigale Fine Wines Ed Proctor 3431 McCart Ave Fort Worth TX 76110 +1817 923 6747 www.lacigalewines.com ed@lacigalewines.com