DOMAINE PATRICE MAGNI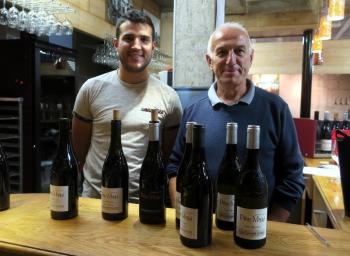 LVT 2018 r 2018 wh This is a steady domaine with vineyards notably near the village (Les Bosquets, the plateau just North), and the South-East on Cansaud, a total of 8 hectares of Châteauneuf-du-Pape, of which 1.25 ha are white. In the past, the wines have been light; 2011 was more full, if reflective of Cellar Effort, while the 2012 was open, the 2015 red more grounded, as befitted that vintage, the 2016 a **** wine. The style in the hot vintages of 2017 and 2018 is rather plush, soaked, derived from long macerations, and the use of rack and return (part vat emptying/refilling) and lees stirring - more freedom would be welcome. From 2015 there has been a new red wine called Le Pressoir, made from 40-50% Mourvèdre, with 50-60% Grenache, just 1,500 to 1,800 bottles; the 2015 was a juicy and stylish ****(*) wine, subsequent vintages less convincing.
The 2015 white Sensation, mainly Grenache blanc and Clairette blanche, was an expressive, elegant ****(*) wine, one of the best whites of that year. Its crop is harvested early, to acheive a tight, clear wine. The 100% Roussanne is new and 1-year oak cask handled, a thicker offering more aimed at la table, the 2018 a **** wine. There is also a Côtes du Rhône red called La Cueillette from vineyards in the North-North-East next to the Châteauneuf-du-Pape boundary. It is a genuine, concrete vat-raised, full-bodied wine suited to red meats, la table.
Patrice, son Thomas Magni 13 route de Bédarrides 84230 Châteauneuf-du-Pape
Tel: +33(0)6 89 35 67 22
domainepatrice.magni@wanadoo.fr
Countries exported to:1) Denmark
British Importers: Cameron Cavendish Pearls Farmhouse Ipswich Rd Helmingham Suffolk IP14 6EN +44(0)870 760 8345 www.cameroncavendish.co.uk wine@cameroncavendish.co.uk La Rousse Foods, Dublin 12 +353 16234111 www.laroussefoods.ie
USA Importers: Martin Scott Wines Ltd, 1981 Marcus Avenue Suite E117, Lake Success, NY 11042, +1516 327 0808, www.martinscottwines.com