DOMAINE DU VIEUX TÉLÉGRAPHE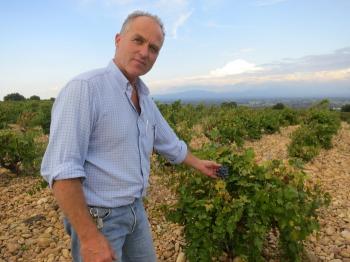 LVT 2019 r 2019 wh 2018 rosé Top end Châteauneuf-du-Pape, longstanding quality. The whites are rich - the Châteauneuf La Crau 2015 blanc being a true southern imprint ****(*) wine, for example, the 2016 a ***** wine, both the 2018 and the 2019 *****(*) STGT wines, bundles of garrigue connotations and innate strength in a well packaged ensemble. Its axis of Grenache blanc and Clairette blanche gives its true foundation, allied to the imprint of the galet stone soils on La Crau. It lives very well, too, a good 20 years.
The red Châteauneuf-du-Pape La Crau requires a long time to come round in a big vintage such as 2016, when it was a ****(*). The 2017 was also a ****(*) wine, perhaps indicating a revival - since it hasn't been running to its most impressive levels in recent years, however, since it used to be one of the top three or four wines here. The 2019, a ***** STGT wine, was rich, concentrated, beautifully persistent. I find fruit purity is gaining as we enter the 2020s.
The Bruniers also own Domaine La Roquète at Châteauneuf, Domaine Les Pallières at Gigondas (with Kermit Lynch) and have interests in Lebanon, at the Massaya vineyard. Since the 2010 vintage, La Roquète has been dropped as a named source of red wine, its 25.5 hectares of fruit now going into the second estate wine, Télégramme, and a new Vieux Télégraphe cuvée, Piedlong et Pignan from sandy soils, which is most refined, both the 2017 and 2019 ***** wines, based on pure, perfumed content, a real good sense of place. One white, Clos La Roquète blanc, continues to be made from a sandy 3 hectare plot, and this was an STGT wine in both 2016 and 2017. It always displays finesse.
Among the lesser wines, the Vin de pays de Vaucluse Le Pigeoulet is good in both red and white, the latter a striking **** wine in 2018, carrying garrigue virtues, for la table. The Le Pigeoulet red gives great drinking, and, since 2011, there has been a full red Ventoux, Mégaphone, which was a **** winner in 2016.
Daniel, brother Frédéric Brunier, Daniel's son Edouard 3 route de Châteauneuf-du-Pape 84370 Bédarrides
Tel: +33(0)490 33 00 31
http://www.vieux-telegraphe.fr
British Importers: Thorman Hunt, Pratt Walk, London SE is agent, Justerini & Brooks aka J&B, 61 St James`s Street, London SW1A 1LZ, +44(0)207 484 6400, www.justerinis.com Honest Grapes 141-157 Acre Lane London SW2 5UA +44(0)203 603 1646 www.honestgrapes.co.uk help@honestgrapes.co.uk