DOMAINE DES PÈRES DE L'ÉGLISE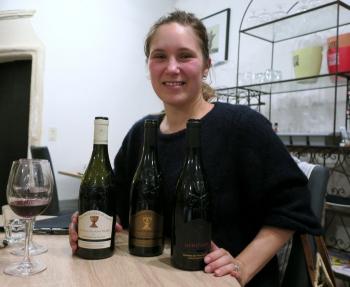 LVT 2019 r 2019 wh Quality is rising. The classic Châteauneuf-du-Pape red, called Calice St Pierre, is down the line, a touch wild, but it is cheap and authentic: the 2016, called Le Calice de Saint-Pierre, was an STGT ****(*) wine, price €18, while the **** 2019 was also STGT, grounded and full of garrigue prompts. The top red, called l'Héritage de Pollus, is 100% Grenache from Coste Froide; it was ****(*) in both 2018 and 2019, the production just 3,000 bottles.
There is a good, thorough Châteauneuf-du-Pape white, 70% Grenache blanc, that was **** in 2014 and 2017, with a second 100% 1960s Clairette Châteauneuf-du-Pape white called Origène introduced in 2019, a full wine needing time. The Côtes du Rhône red is a genuine wine, ***(*) in 2016, **** in 2018.
In 2018 the Gradassi family bought a 6.5 hectare vineyard on sandy soils at Saint Laurent des Arbres, one of the four Lirac communes, from an ex-Co-operateur of the Cave de Lirac, the vineyard in very good shape, with Thiérry Sabon of Clos du Mont-Olivet also having bought from the same source, the wine too difficult to sell to be viable for the old owners. The 2018 Lirac was an on the go ***(*) wine suited to stews, while the Côtes du Rhône blanc from the same vineyard includes Carignan gris and Clairette rose; it was a ***(*) genuine table wine in 2018.
Roland Gradassi, sons Serge, Jean-Paul, niece Laetitia 2 avenue Impériale 84230 Châteauneuf-du-Pape
Tel: +33(0)490 83 71 37
http://www.peres-de-leglise.com
Countries exported to:1) Switzerland 2) Germany 3) Sweden 4) USA also PRChina before was 1) USA 2) Switzerland
Percentage Exported: 90%
British Importers: used to be: Daniel LAMBERT Wines Ltd 8 Rhodfa Ceiros Pen-y-fai Bridgend Mid Glamorgan CF31 4GG +44(0)1656 661010 DLWAwine@aol.com
USA Importers: Vignobles LVDH - Alan Cohen - 2600 Amanda Court Woodstock MD 21163 +1 410 521 3726 lvdh@comcast.net