DOMAINE GRAEME & JULIE BOTT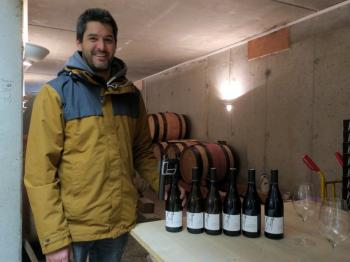 LVT 2018 r 2018 wh Graeme Bott is a New Zealander who came to the Northern Rhône in 2010. Back home he had done wine studies, and worked at Hawkes Bay when he was 17, in the mid-2000s. The next hot variety at Hawkes Bay at the time was Syrah, so that became his focus, drawing him to the Holy Grail, Côte-Rôtie. An old cellar master of Stéphane Montez gave him two addresses there – Montez and Stéphane Ogier, the latter whom he joined, working six months a year there, and six months a year with Tim Kirk of Clonakilla, another skilled Rhône varietal enthusiast and practitioner.
After three years of split tasks, he joined Ogier full-time as cellar master, having met his wife to be Julie there. They created their company in 2015, just after the first purchase of brush land, a smidgin, at Condrieu. This is now 0.35 hectare on L'Alleau, in the heart of the old part of the Condrieu appellation. The first vintages were all made with purchased harvest – 2016 3,000 bottles, 2017 6,000 bottles. From 2018 they have used own vineyard harvest, from Seyssuel notably. They also own 0.16 ha of 1989-93 Syrah at Sémons, and are planting on 0.24 hectare on the top site of Lancement. The aim is to arrive at 10 hectares over time. Vintages 2016-2018 were vinified in garages, and from 2019 the Botts have rented the ex-Didier Côte building with much more space at the northern exit of Ampuis.
Elegance is favoured, which means that the whites are crisp, on the steel, the Condrieu made in that style, which for me, reguires a little more gras, maybe a day or two more on the vine. Alternatively, one can set it aside for three years. The reds are promising, with the Syrah Vin de France First Flight a ***(*), w.o.w. wine and first tasting of the Seyssuel 2018 (not on commercial release) also lively, and racy – good signs, thus. The Côte-Rôtie has a clean-winded style, the St Jo red also crisp and willing in 2018, when it was a **** wine.
Looking to their own vineyards, Julie has been learning to work with a horse, with attention to the soils a natural result of that.
The couple are media savvy, and more will be heard from the Botts in a rush.
19 rue du Pont Royal 69420 Ampuis
Tel: +33(0)6 12 73 27 51
Countries exported to:1) USA, Ireland (Thirst), Switzerland, NL
Percentage Exported: 50%
USA Importers: Banville Wine Merchants 126 E 38th Street New York NY 10016 +1212 268 0906 www.banvillewine.com info@banvillewine.com