2019 NORTHERN RHÔNE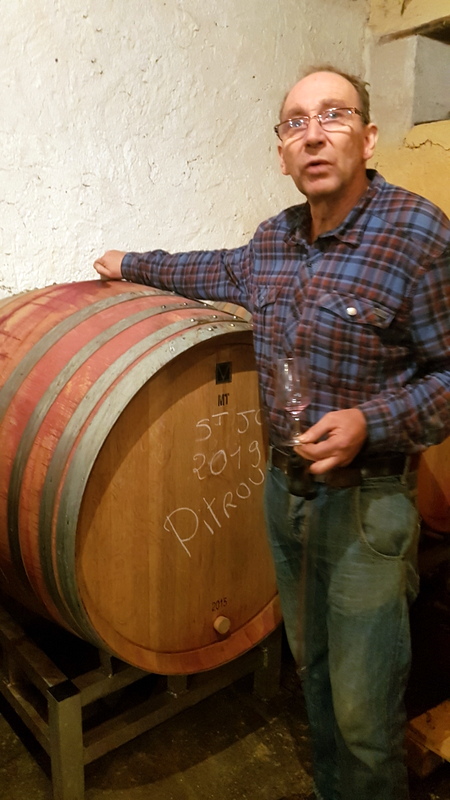 FRANÇOIS RIBO WITH A DEMI-MUID CASK OF HIS 2019 SAINT-JOSEPH CUVÉE PITROU, 1940s-1950s SYRAH FROM 0.55 HECTARE ON PITROU AT SAINT JEAN-DE-MUZOLS – A SPARKY BOUQUET, HANDSOME, INTERESTING, IRON-FILLED: DARD & RIBO ON TOP FORM IN 2019
INTRODUCTION
MAY, 2020
2019 NORTHERN RHÔNE is an exceptional vintage at CÔTE-RÔTIE, so be ready! There the SYRAH wines are full, but have flair, generous delivery, lovely length, real flow, and good structure. They are not sunstruck for the most part, either. Of course, they are no longer 13.5°, more like 14.5° (OK for export to the USA, thus!), but it is a really, really good year. Across the board, it beats 2018. Prepare your finances. You have been warned.
The success of the vintage turned on August rain that prevented the vineyards becoming stressed. The rain varied – healthy amounts at CÔTE-RÔTIE, little at CORNAS, meaning that the former and its environs have delivered fluid, racy wines, while the latter has delivered more solar packages, placing it more on a par with 2018.
I have mostly tasted CÔTE-RÔTIEs for now during my visits to growers there, but SAINT-JOSEPH is also very good, while CROZES is more complicated, due to a gigantic hail storm that swept across CROZES-HERMITAGE in June, starting at MILLAU in the AVEYRON region, ending up in SAVOIE. Hence some domaines such as LES HAUTS CHASSIS of FRANCK FAUGIER lost 80% of their harvest.
Another local detail in shaping the wines in the environs of HERMITAGE is that HERMITAGE received a rainfall of 50 mm (2 in) in August, 2019, with MAUVES across the River in SAINT-JOSEPH receiving 25 mm (1 inch), and CORNAS dry that day. Hence there is relatively more dense packing in CORNAS. One unusual reference on the quality of the year was given chez STÉPHANE PICHAT at CÔTE-RÔTIE. He has made a FINE from the distillation of the lees in 2018 [the first] and 2019, the only grower in the appellation to make one. His 2019 was much more together and more joyous than the brazen, rather spirity 2018.
Because of the exceptional circumstances of the virus, I have immediately put up my very partially formed views on the vintage to give readers a steer on what I consider has become a phantom vintage – phantom because it has hardly been tasted. My visit in June-July 2021 was much greeted by growers, who told me that I was the only non-French journalist they had seen all year; there will therefore now be some bulk added to the early reports.