2018 SOUTHERN RHÔNE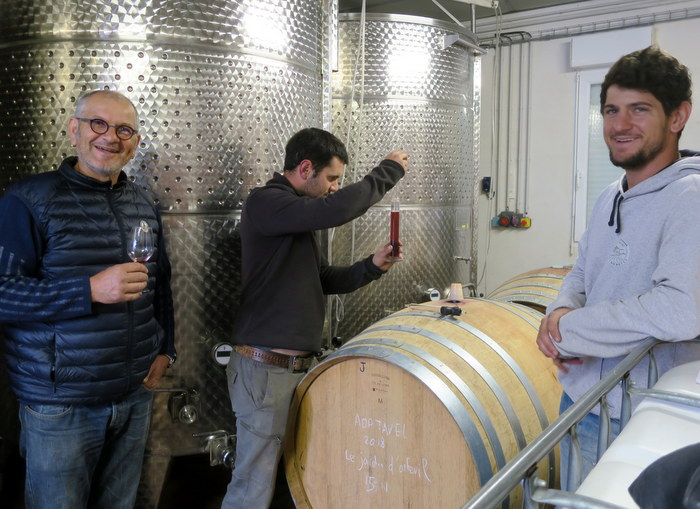 ERIC PFIFFERLING WITH SONS THIBAULT & JORIS, DOMAINE DE L'ANGLORE, SHOWING ME THEIR 2018 TAVEL
INTRODUCTION
2018 is a year of prominent fruit and low acidities across the SOUTHERN RHÔNE. Rampant rain in the spring and early summer, coupled with Southern winds and an absence of cleansing MISTRAL, and humid conditions brought on one of the worst attacks of mildew that I have witnessed in my coverage that started in 1973.
Yields were terrible for organic domaines if they worked on a large scale – step forward CHÂTEAU DE BEAUCASTEL at COURTHÉZON, the North-Eastern part of CHÂTEAUNEUF-DU-PAPE. Many of the 24 hour windows to treat the vineyards occurred at weekends, with LUC CHARVIN telling me: "my maximum yield is 30 hl/ha usually, so 25 hl/ha this year was a good result. I did six treatments in two weeks with the constant on-off rain – I treated at night, in the afternoon, on Sundays." He has been officially organic on his eight hectares – a manageable size for a family enterprise - since 2011.
I have tasted a good amount of 2018 organic and VIN NATURE red wines, and can report that they are successful, parading upfront fruit with a pleasing roundness and approachability. Good Bistrot and bar wines they are, so be alert for those. If travelling in FRANCE, there should be plenty of choice on restaurant lists from these categories.
Whites are low acidity wines, with, if I take LIRAC as an example, sound content, suitable for la table via their density, one or two also offering finesse, a high achievement in 2018. TAVEL has some very good **** to ****(*) wines, but also some misses from good names: it isn't a homogenous quality year, therefore.
2018 is therefore a vintage for careful selection rather than across the board purchasing. It will undoubtedly be given the heavyweight treatment for en primeur sales by importers, but I would advise a measured approach on that front.