2018 NORTHERN RHÔNE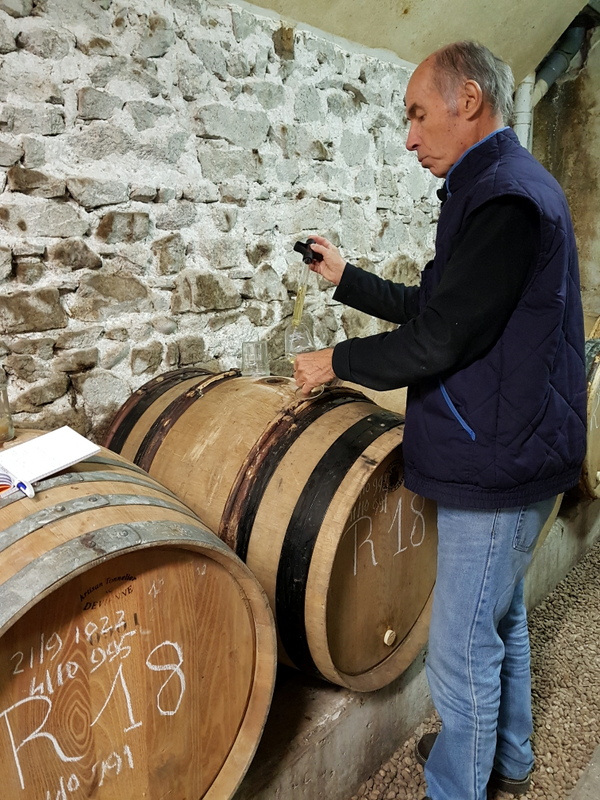 MARC SORREL WITH HIS LAST VINTAGE OF HERMITAGE BLANC LES ROCOULES
INTRODUCTION
DECEMBER, 2019
2018 in the NORTHERN RHÔNE is a vintage of scale and power for the reds, the result of the high and prolonged summer heat. At HERMITAGE, a radical outcome was the BESSARDS of laissez-faire, gifted, old school BERNARD FAURIE weighing in at 15.2° - this is Wild Wine, BESSARDS DE LA NOCHE, a confrère of SERGE GAINSBOURG.
HIERARCHY OF THE SOILS NEVER STRONGER
It's a vintage where the Hierarchy of the soils has never been stronger. There are striking wines from the most noble terroirs, which have often prevailed in the battle with the weather. It is an extreme vintage, however: the run of hot years since 2015 – the exception being 2016 – now encompassing 2017, 2018 and 2019 as well.
2019
2019, by the way, is extremely promising, with greater freshness and a more fluid style than 2018: a vintage to be extremely interested in. I will be posting notes on those I tasted during my many visits.
VINEYARD MANAGEMENT
Growers have had to be alert in their vineyard management and in their cellar handling in 2018. Vineyard management has pointed to the benefits of working soils – a pick axe that penetrates just 5 cm will permit better water absorption than those sprayed with Round Up. Canopy management is also vital – to allow aireation and protection from the high sun rays. Leading domaines such as J-L CHAVE tie their adjoining vines in an arc [more labour required] to help the distribution of energy rather than cutting the tops of the longest shoots, which stuns the vines.
CELLAR WORK
In the cellar, cooling equipment was vital. The harvest was being brought in at high heat. Extraction is a No-No – cap punching being less performed in these hot years, with infusion, cap submerging, gentle pumping overs the order of the day for the most skilled, and flexible in approach.
XAVIER FROUIN is the long time oenologe for the CAVE DE TAIN, and sees the picture across several appellations bar CÔTE-RÔTIE and CONDRIEU. He gave this picture of the challenges in 2018: "2018 posed a lot of problems in the vinification – there was a lot higher pH than 2017 [low acidity]; those working with wild yeasts, low SO2 and lacking cooling equipment had stoppages of fermentation, the malo bursting out, a lot of Volatile Acidity. They were obliged to de-vat fast, apply SO2 – so quality is heterogeneous."
LESSER ZONES TRAVAILS, A TRICKY YEAR AT CROZES-HERMITAGE
However, from lesser zones, wines may have dodgy balance and be over sun-affected. They will be ritzy and flashy, potentially to drink in their younger years. Growers experienced a testing year at CROZES-HERMITAGE, where the wines from the old fruit bearing alluvial soils on the flat land exemplified by the plain of LES CHASSIS bore ripeness that was more extreme than any vintage I can recollect in my time since 1973, including 2003.
These are wines marked by soaked fruits and mass, which actually renders them not so good young: time may help to loosen them a notch or two. There are 15° wines from CROZES – a far cry from the frisky, free drinking style that has made the appellation's name over the past 20 years.
CÔTE-RÔTIE's first instinct this year is to show vintage, sun and obvious fruit. The northern sector has fared better, since those wines have more iron, more cut in them than the more perfumato southern ones, their structure and clarity better as a result.
HERMITAGE 2018 is a rich affair, and gives wines where terroir can certainly play a part over time: patient cellaring is required.
CORNAS carries sun, generosity, with terroir markings here and there. It's a case of being selective on a domaine by domaine basis, choosing those wines that have the most CORNASIEN mineral, and local pedigree in them. The best – THIÉRRY ALLEMAND, for example, no surprise there - are real rockers, though, even if THIÉRRY himself prefers the more stylish years such as 2016.
SAINT-JOSEPH REDs: there are not that many really easy flow wines. Given the weight in them, many need a couple of years to loosen, in order to become more user friendly. A few have been bottled too soon – within the first year - vis à vis the demands of the rich matter for further raising – at least a second winter. Again, approach on a domaine by domaine basis: there are some wines with a refined Burgundian style, which is very welcome in such a year.
2018 NORTHERN WHITES: here we have a triumph. 2018 is a great year for NORTHERN RHÔNE WHITEs made from MARSANNE and ROUSSANNE. They combine deep, rolling gras richness, with lines of clarity and length. For the future, growers are going to have to manage carefully their ROUSSANNE, which ripens in a rush, and can be prone to unexplained yield variations from one year to the next, as well as any passing oïdium.
2018 is a very good vintage at SAINT-PÉRAY, with lots of **** wines. It's an excellent HERMITAGE BLANC year - a long life ahead – and the best SAINT-JO whites have stylish length and detail in their content.
CONDRIEU: I noticed much improved winemaking in the face of the hot vintage challenges. Most wines were successful in not being too New Wave, and being balanced and flowing all through, with no tail off or drift. Balance was good in the leaders, with floral touches, good length.
Owing to my personal circumstances so far this year, my review of 2018 NORTHERN RHÔNE, which would usually have started via a host of domaine visits during spring and early summer, finally got going in November/December 2019. I will be loading the notes before the appellation reports, so please use the SEARCH ENGINE, with a minimum setting of ***(*), for example, or higher at ****(*) if you want the top, top wines.