2016 SOUTHERN RHÔNE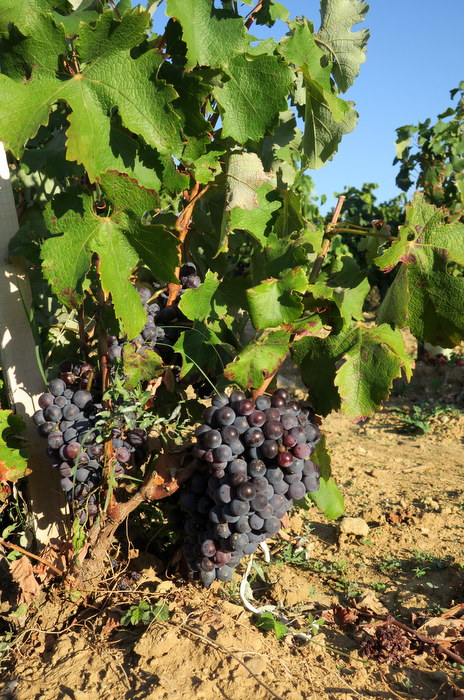 EXCEPTIONAL QUALITY HARVEST: 2016 MUSCARDIN CROP FROM 1998 VINES ON GRAND PIERRE, DOMAINE DU BANNERET, AT CHÂTEAUNEUF-DU-PAPE: NERVE, ACIDITY, FLORAL NOTES IN THE GRAPES
2016 is an exceptional vintage at CHÂTEAUNEUF-DU-PAPE, and is very good indeed elsewhere. Perhaps 2016 will be the vintage that re-establishes CHÂTEAUNEUF-DU-PAPE as the source of serious, well-balanced red wines. Balance has often been absent in the power years of the 1990s and 2000s, for reasons that I will not go into here.
As with 1990, 2016 produced a large crop, with growers able to take their time on the harvest during an exceptional September, when temperatures were in the high 20°sC at the end of the month. I consider 2016 superior to 2015 in the SOUTHERN RHÔNE.
Notes on several hundred 2016 CHÂTEAUNEUF-DU-PAPE REDS and WHITES, and on 2016 GIGONDAS have been put up under each domaine. The LVT 2016 r [Last Vintage Tasted 2016 red] indicates those domaines next to their entry. Full vintage reports on CHÂTEAUNEUF-DU-PAPE REDS and WHITES, GIGONDAS and VACQUEYRAS REDS and WHITES have been posted.
I have tasted TAVEL 2016s, and CÔTES DU RHÔNE 2016 REDs, along with 2016 COSTIÈRES DE NÎMES and other satellite appellations. The results are extremely well-fruited wines which really fill the glass, and extend with assured length. The number of w.o.w. wines should be high as I continue these tastings – they give ready pleasure.
The whites are very good, too, combining good quality gras with freshness.
I have posted tasting results on the above wines on the 2016 SOUTHERN RHÔNE subtab THE LEADING WINES page.