2014 NORTHERN RHÔNE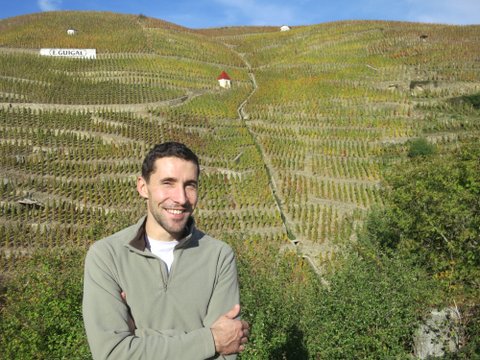 JULIEN BARGE of DOMAINE GILLES BARGE. In the background the iconic CÔTE BRUNE, where several generations have worked a prized vineyard. The Barge 2014 CÔTE-RÔTIEs are successful, above average wines
2014 in the Northern Rhône was a stressful year for many, the coup de grace after a rainy summer being the attack of the drosophila fruit fly in late August – millions of them covering bunches of Syrah in a grim black mantle. Growers had to take immediate action, especially in appellations such as CÔTE-RÔTIE.
The white grapes were largely spared, so the white wines from MARSANNE and ROUSSANNE – CROZES-HERMITAGE blanc, SAINT-JOSEPH blanc, SAINT-PÉRAY and of course HERMITAGE blanc – continued their vein of good recent form, aided by the cooler than usual conditions.
At CONDRIEU, the VIOGNIER was also largely spared the fruit fly pest, so that growers could make very good wines. The best, most experienced practitioners still rise to the fore there, a concern being that high prices do not always equate with high quality.
The reds are attractive, the best holding enough depth to be termed interesting, stimulating, and capable of a gentle life over around 15 years.
Full Reviews have been posted on CROZES-HERMITAGE WHITE and on CONDRIEU. Please click on THE LEADING WINES subtab under 2014 NORTHERN RHÔNE to read about them.