2011 NORTHERN RHÔNE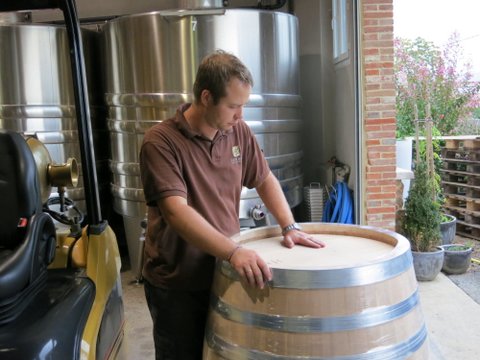 STÉPHANE PICHAT ADMIRES HIS NEW 400-LITRE MEYRIEUX CASK, FRESHLY DELIVERED FROM BURGUNDY. IT IS MADE OF A BLEND OF OAK FROM THREE CENTRAL FRANCE LOCATIONS - NEVERS, ALLIER AND COMPIÈGNE. HIS CONDRIEU WILL BE FERMENTED IN THIS CASK. STÉPHANE'S 2011 SYRAH IGP COLLINES RHODANIENNES IS IMPRESSIVE
2011 is taking shape one year on in the Northern Rhône. It appears to be a vintage that extols fruit, supple tannins and is largely drinkable quite early in life. In October 2012 a series of vineyard visits was conducted, wiith tastings of vintages from 2009 to 2012. Most commonly, none of the 2011 reds was in bottle, with cask by cask samples tasted - as in the case of JAMET, GARON and XAVIER GÉRARD at CÔTE-RÔTIE, for instance. Judicious blending is the great skill and art form still to follow.
Meanwhile the voracious importers and wine merchants present these wines with glorious tasting notes as if they were describing a finished work of art - the En Primeur season cranks into life. With Bordeaux 2011 a damp squib, funds are needed to place on deposit by them - yours!!
I will be tasting over 400 Northern Rhône red and whites in November, 2012, and reports will follow that. Visits to Domaines such as CLAPE, CHAVE, GRAILLOT, GRIPA, GONON are scheduled and will be recounted in despatches.
In the meantime, Log In to THE LEADING WINES 2011 here and see some early thoughts on the always impressive category of VIN DE PAYS or IGP varietal wines made by domaines in the Northern Rhône, their usual title including the term COLLINES RHODANIENNES, the SYRAH and the VIOGNIER most commonly used.
October 2012 visits to these domaines are also reported in if you go direct to the domaines in question using the Search engine.
At CÔTE-RÔTIE: FRANCOIS & XAVIER GÉRARD, JAMET, JASMIN, LEVET, STÉPHANE PICHAT.
At CONDRIEU: FRANÇOIS MERLIN, ANDRÉ PERRET, CHRISTOPHE PICHON.
At SAINT-JOSEPH: STÉPHANE MONTEZ of DOMAINE DU MONTEILLET.