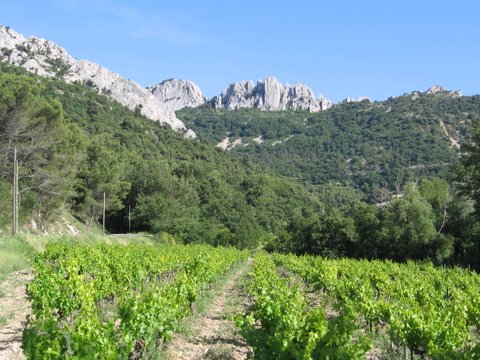 VINEYARD NEAR LES FLORETS ON THE WAY UP TO THE COL DU CAYRON, THE DENTELLES, AT GIGONDAS 2010 GIGONDAS is notably superior to recent vintages such as 2009 and 2007
REVIEWS of 100s of the best 2010 GIGONDAS and CHÂTEAUNEUF-du-PAPE REDS and over 60 of the best 2010 CHÂTEAUNEUF WHITES have been posted. 2010 is highly drinkable, but also highly good, a genuine, profound vintage. The wines are filled with bustling matter, are very long, very fresh, and sit well against the solar ray years of 2009 and 2007. The whites are fresh and full, very good indeed.
Among the reds at CHÂTEAUNEUF-du-PAPE, I have managed to find 7 6-star wines and as many as 30 5-star wines. In 2009, there were 5 6-star wines, and 23 5-star wines, for example. Please log in to read more, click THE LEADING WINES subtab.
TAVEL ROSÉ AND SOME TOP RED AND WHITE 2010 CÔTES DU RHÔNES HAVE BEEN POSTED. Click the sub tag THE LEADING WINES under 2010 Southern Rhône.
FOR OTHER 2010s, USE SEARCH ENGINE PLEASE.