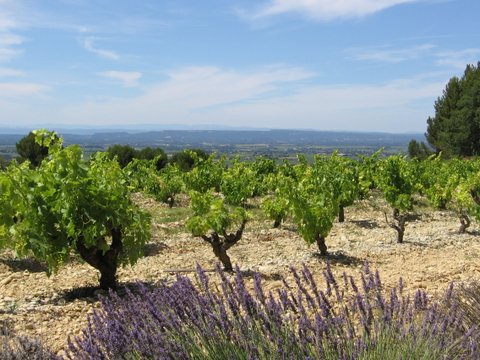 The Eygues Valley, with Saint-Maurice in the distance. View from the plateau east of Buisson, a tucked away area north-east of Cairanne. Saint-Maurice is on the rise. Note the Marks & Spencer 2009, available in GB for under £5.50 for a case.
OK, IT'S LONG - 4,000 WORDS. BUT IT IS A COMPLETE INVESTIGATION INTO THE CHATEAUNEUF-DU-PAPE 2009 REDS. IT ISN'T RAYMOND CHANDLER, BUT THERE IS DIALOGUE, AND SOME MYSTERY.
FOR THE THE FULL STORY BEHIND THIS VINTAGE, READ ON, AND SEE THE LEADING WINES AS WELL. THE 2009 VILLAGES REDS HAVE ALSO BEEN COVERED.
IF YOU ARE LOGGED IN ALREADY, GO TO THE LEFT-HAND BAR AND CLICK ON THE LEADING WINES TAB UNDER 2009 SOUTHERN RHÔNE. YOU DO NOT NEED TO LOG IN AGAIN
IF NOT, PLEASE LOG IN TO SEE THIS 2009 REVIEW.