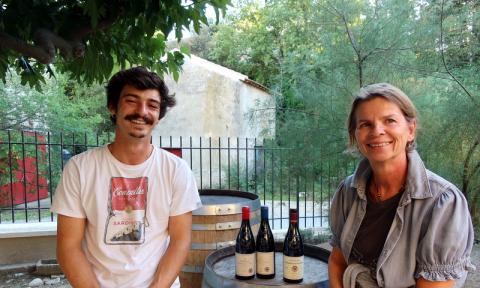 DÉCOUVERTES EN VALLÉE DU RHÔNE: GEARING UP FOR THE 12TH EDITION
JANUARY-MARCH 2023
THE BI-ANNUAL DISPLAY OF RHÔNE WINES TO THE WIDE WORLD
MONDAY 3 APRIL TO THURSDAY 6 APRIL 2023
It is now all of 24 years since the Rhône opened its doors for inspection by an international audience in the form of a week long roam through the vineyards to showcase each of its appellations.
This gave a chance for growers on the more peripheral areas, including regions such as Tricastin [as it then was, now Grignan les Adhémar] or Costières de Nîmes or even Saint-Péray to offer their wines to buyers and press from around the world.
In those days, the events took place on the ground, the vineyards being part of the offer – to show the context from which the wines came, rather than just the finished product. One hilarious moment a few years in was the near star ship status of a wind battered tent in the vineyards of Tavel, the tent near lift-off through the day, the sloping floorboards adding to a sense of disequilibrium, along with a permanent struggle to be heard against the Mistral's flapping powers.
Another less than sporting moment was the decision by the Prefect of the right bank Gard département [30] to position police alcohol breath testers near the exits from the venues. We all know that if you taste and spit around 30 wines, you are likely to be a little over the limit. Well, they had a field day. Talk about biting the hand that feeds you, wine being a vital staple for the largely agrarian economy of the Gard département.
Découvertes has since then shortened and concentrated more on being in one place, the South's two days at notably the Palais des Papes, while in the North for its two days, there are tastings at Ampuis, Mauves and Tain. Expected for this year are around 500 domaines and négociants.
One of the anomalies surrounding Découvertes is the absence of Châteauneuf-du-Pape, which has never subscribed to the Inter Rhône organisation, so does it own thing with interesting events each year sur place on its own terrain.
There are also a series of evening events, which can veer between the contrived to the ridiculous to the genuinely enjoyable. I would recommend the Femmes Vignes Rhône evening which is always serious and well organised, the association of female winemakers and wine professionals founded in 2004. Their website is
The website for Découvertes 2023 is