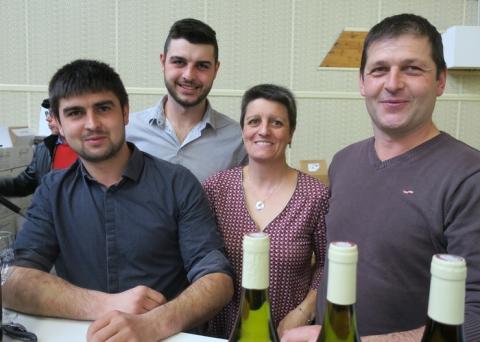 THE MYSTERIOUS CASE OF CLAIRETTE BLANCHE ON GRANITE IN THE NORTHERN RHÔNE
MARCH 2019
COLLINES RHODANIENNES VIN DE PAYS are the secret weapons of the NORTHERN RHÔNE, especially as prices for the main names continue to rise at pace. I receive numerous emails these days from readers wanting tips on travel and visits in the NORTHERN RHÔNE: for 40 years, there was complete radio silence!
The VIN NATURE movement has eschewed categories such as VIN DE PAYS – COTEAUX DE L'ARDÈCHE or COLLINES RHODANIENNES – in favour of VIN DE FRANCE, which allows greater liberty of grape variety use and mix. Their wines, and those of so-called conventional growers, ones who work organically and/or biodynamically, are closer together than once they might have been. Judging by domaines whose wines I have tasted recently – most based in the SOUTHERN ARDÈCHE - fruit quality is good, and it's an old canard to say that these wines may come at you all faults blazing. More on them will follow.
For now, I want to focus on an unusual wine that stirred my interest due to its composition. It is an IGP COLLINES RHODANIENNES from the DOMAINE DES AMPHORES, called DÉTOUR. This is a domaine that I visited a few times between 2000 and 2007 – fair quality, perhaps wines a bit pushed along - then it rather fell off my radar.
I bumped into the patron, PHILIPPE GRENIER, when out on my wanderings in 2018, and managed to see him late last year. The domaine and its wines have mightily grown up, the whites presenting a rocking good range, from VIN DE PAYS via SAINT-JOSEPH on to CONDRIEU. Son RÉMI is the winemaker at CHÂTEAU-GRILLET, while the GRENIERs' other son, SYLVAIN, works at DOMAINE MICHEL LAFARGE in VOLNAY. These are good portents.
Until 1994 it was a mixed farm, notably fruit with the raising of chickens and goats, before the switch to a vine and wine enterprise. The vineyards have been organic since 2002, and officially biodynamic since 2016 (although biodynamie has been practiced years before that). The prime soil type is granite, muscovite [mica] and biotite [white quartz, feldspar], hard, rocky granite above CHAVANAY.
The main AMPHORES vineyard is on RICHAGNIEUX, which is home to none other than the SOUTHERN RHÔNE's very own CLAIRETTE BLANCHE, vines dating from 1970 to 1972 that PHILIPPE took over in 2006. "My grandfather worked with CLAIRETTE in the day, as did many of his neighbours" says PHILIPPE.
Indeed, there used to be a tradition around CHAVANAY of growing CLAIRETTE. JEAN CHOL, the father of DIDIER CHOL, who sold his vineyard to OLIVIER DÉCELLE and his winemaker buddy PIERRE-JEAN VILLA in late 2017, used to produce two different CLAIRETTE wines, a semi-sweet and a méthode champenoise. JEAN had learnt how to make the latter in CHAMPAGNE, and started it in 1947, the domaine continuing it into recent times, satisfying a local market, particularly around Christmas time.
The DOMAINE DES AMPHORES COLLINES RHODANIENNES DÉTOUR BLANC is composed of 60% CLAIRETTE BLANCHE, topped up with 30% MARSANNE (2010) and 10% ROUSSANNE (1997). It is vat fermented at up to 20°C, vat raised, and bottled in May after the harvest, the malo completed. There are around 4,000 bottles.
"The CLAIRETTE from the granite leans towards the MARSANNE and ROUSSANNE's aromas, typically giving a floral, white flowers such as acacia, and white peach presence to the wine," comments PHILIPPE.
"The CLAIRETTE is harvested 15 to 20 days after the other two, often around mid-October. Its ripening comes along very quietly, so it brings freshness, while CLAIRETTE at 11° reins back the ROUSSANNE at 14°."
For it is true – the ROUSSANNE may in theory contribute elegance to local whites, but as summer sunshine intensity grows, so it lurches into high degree zones, jeopardising balance. It's a heaven-sent gift, therefore, to be able to temper it with nearly 50 year-old vine fruit from such an interesting, valid source that normally struts its stuff at CHÂTEAUNEUF-DU-PAPE.
The 2017 DÉTOUR expressed white flowers on the bouquet, and a touch of aniseed which I often associate with CLAIRETTE. It was well founded on the palate, held stylish, joli gras, with verve on the inside. There was then the bonus of the CLAIRETTE taking care of any typically bitter notes from the MARSANNE on the finish. "Rocking good VIN DE PAYS", I wrote. This can be yours for a meagre €8. Go long!