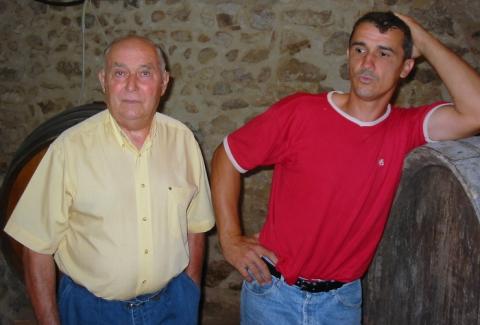 ENCORE UN VIGNERON QUI A COMPTÉ POUR CORNAS QUI NOUS QUITTE : RENÉ BALTHAZAR
FEBRUARY 2019
"One more vigneron who has counted for CORNAS leaves us" were the words of OLIVIER CLAPE to me in early February, 2019. He was referring to RENÉ BALTHAZAR, the father of FRANCK, 93 years' old, a man of the generation of AUGUSTE CLAPE and MARCEL JUGE, a decade behind the VERSET brothers NOËL and LOUIS.
In that handful of names resides much of the patrimony of CORNAS, men who stuck at it in the difficult decades, men who got up and went back for more toil each year on the steep, slippery hillsides, men who mostly worked away without being sure a child or family successor would take over the reins from them. Imagine all that effort, with no guarantee that one's work would lead somewhere.
When I first researched my book THE WINES OF THE RHÔNE in 1973 and 1974, I didn't meet RENÉ: his wine was sold to merchants, notably DELAS. I knew he cultivated 1910s SYRAH – SÉRINE – on the CHAILLOT vineyard, which his father had bought in 1930 after coming down off the plateau at ST ROMAIN-DE-LERPS to the more worldly delights of CORNAS.
The family had existed on a combination of cereal and vine. "My father was a corn thresher, and made his wine, too, with half the three hectares rented, the other half owned," RENÉ told me. "My father would sell the wine in the spring after the harvest to cafés, especially a big one at ANNONAY [home of the hot air balloon, which lies north-west further into the MASSIF CENTRAL]. I started a little bottling in the mid-1970s."
I placed RENÉ in the band of traditionalists, since he never destemmed [unlike colleagues such as GUY DE BARJAC, JEAN LIONNET, ALAIN VOGE], while raising was in demi-muids – 600-litres, all old – rather than the 12 hl foudres of CLAPE, or the 225-litre or 228-litre casks [pièces] of the VERSETs and MARCEL JUGE. Raising would run for around 18 months. He favoured the 600-litre casks since "they keep the wine's perfume better than the pièces." He would ultimately make about 3,000 bottles a year.
Over one hectare was on CHAILLOT, with 0.36 hectare near the village on MAZARDS, which held 1959 and 1961 SYRAH. This was indeed old vines' wine. In my book of 1991, I wrote: "a stiffer style of CORNAS than M. DE BARJAC's, very much the dark impulse wine of yore, is made by NOËL VERSET and RENÉ BALTHAZAR." This would always be presented to me in the stone-clad, tiny cellar near the Church, RENÉ one of the old generation of growers who let you taste in silence, proffering only an occasional observation.
By the 1990s, I knew of his fretting about whether son FRANCK would leave his engineering post in nearby VALENCE. FRANCK's arrival on the domaine in 2002 was therefore a cause of deep-seated pleasure for Dad - nothing spoken, just a glow of satisfaction would emanate from him.
The fact that FRANCK has made very good wine from an enlarged vineyard will have furnished him with much contentment, as well as the fact that FRANCK's CHAILLOT cuvée bears the classic floral airs of the CHAILLOT vineyard - a successful transfer of the baton from Père to Fils.
Quiet and retiring as he was, RENÉ made wines that I considered to hold a solid structure, with the development of an interesting complexity as they aged. He was a pillar of CORNAS through the dark days, and I salute both him and his family for their tenacity and achievement, allied to his enduring sense of modesty. ADIEU, RENÉ.