EAT & STAY
TIPS FOR THE WEARY, HUNGRY OR THIRSTY RHÔNE TRAVELLER
SOME HOTELS AND RESTAURANTS


I zip around the Rhône at speed, and rarely have an indulgent pause, sadly. So this collection of names is rarely expensive or luxurious, but these venues do the job well for the weary or hungry/thirsty traveller. I suggest linking with their respective websites when such exist, and you will have the Full Photographic Monty to peruse, as well as tariffs.
ASSEMBLAGE, 56 avenue Maréchal Foch 07300 Tournon
+33(0)475 08 19 52/+33769 24 47 90 table@assemblage.restaurant http://www.assemblage.restaurant
Chefs Gilles Brun, Serge Brun
Open Tuesday-Saturday lunch 12.00-13.15, Wednesday-Saturday dinner 19.30-21.00
I hear good reports on this buzzy Tournon restaurant, said to be the project of an Argentinian lady; both chefs have worked extensively abroad, Serge mostly in London, Gilles in South America including at Punta del Este, the summer playground for smart Uruguayans.
Lunch menu is €22, dinner €42. Two Thursdays a month there is an evening of food and wine pairing, with a grower and sommelier present. Saturdays see what is called Retour du Marché that involves oysters, gambas, grills with a glass of le vin du jour – this takes place outside the restaurant at lunch time, and is an al fresco breeze of an event.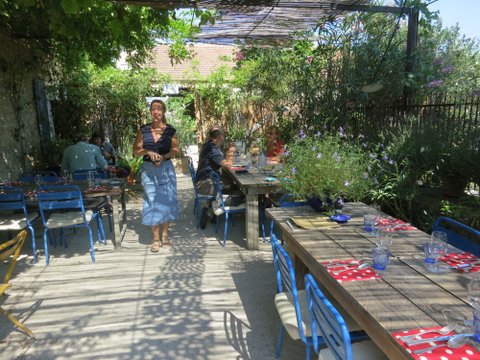 LA FLEUR BLEUE, Chemin du Sublon, 84110 CRESTET
tel +33(0)490362345, +33(0)615574927 e-mail info@lafleurbleue.fr www.lafleurbleu.fr
Crestet is a handsome hillside village between VAISON-LA-ROMAINE and MALAUCÈNE to the south, along the picturesque D938. You may know its brightly coloured, sometimes custard coloured pottery – POTERIE DU CRESTET. The sleepy, well-tended village is up the hill, whereas LA FLEUR BLEUE is near the main road at the bottom of the hill. It is an intimate place, a small parking area, and all very au naturel. A chicken picks away at the soil behind the restaurant, and in summer one sits on simple blue-lined chairs at wooden tables outside, under a leafy climbing vine. The winter restaurant is intimate and welcoming. There is room for around 25 at any one time. Husband David is the chef, wife Fiejette the front of house; they are a good looking couple, and one arrives with a skip in the step thanks to the cosy, relaxed ambience. The term Fleur Bleue actually has a sub meaning in French of cosy, by the way.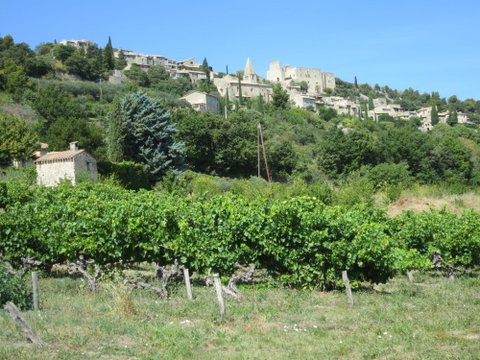 FLEUR BLEUE opened in 2010, and is now a restaurant with two gîtes for people to stay in. David changes the evening menu every three weeks, while the Lunch menu changes every two to three days. Prices are extremely fair: this is genuine home cooked food, based around good local ingredients – barely any air miles or kilometres come to that when it comes to the wholesome, brightly flavoured Gazpacho made from the neighbour's tomatoes. The wines are keenly priced – Fiejette picks up tips from drinkrhone, and sees no reason to over charge when she knows the wines can be bought at the cellars just down the road. The 2012 VENTOUX MARTINELLE Blanc, 100% Clairette, was enjoyable, suited to Provençal herbs such as sage in the risotto and pork main dish, stepping out well with the saltiness of the pork. It also showed well with the pudding of fig crumble. There is a great lunch deal of €15 which includes a glass of wine, a starter and a main course – Monday, Tuesday, Thursday and Friday. The fixed menus range from the low €20s to the mid €30s. I highly recommend a restorative visit in the company of friends to a place with local charm, a tang of international and zero pretension.
DAVID & FIEJETTE WORM: open Lunch time & Evenings Monday, Tuesday, Thursday, Friday, Sunday. Telephone preferred. Holidays occasionally taken, example 1st 2 weeks of September.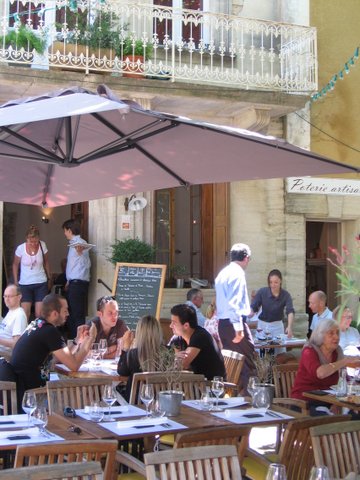 Deserving of a Michelin star, the accomplished, almost sophisticated L'OUSTALET at GIGONDAS. The PERRIN Family in the Restaurant Trade, a sure bet, as with any of their projects. It was launched by CHARLES PERRIN, the son of FRANÇOIS. A classy night (or lunch) out. Last visited May 2013. See Review below.
For many years the centre of gastronomic operations at Gigondas, this is a restaurant that deserves a Michelin star. Since about 2010 it has been owned by the Perrin family of Château de Beaucastel, with their chef from the Château, Laurent Deconinck, installed as doing a fine job. Fine is the word - this is the most modern, swish cooking of the region, as if one were in an accomplished city bistrot, done to the black stone eating dishes. There is room inside for about 30 diners, while the terrace comes alive on warm summer days - eating al fresco under the plane trees as village life goes by.
There is an à la carte selection of seasonal dishes, which can mean risotto au girolle mushrooms, or green aparagus tart, €13-14, with main courses at €23-25 - these can be roast lamb with blettes from Ventoux, Iberian ham in laurel or Mediterranean fish such as bass or daurade. Desserts are €12-14 on their own, with cheeses from Le Barroux, the village behind Les Dentelles where mass is said in Latin. The menu formula is priced at €32 for two courses, €39 for three. There is also a suggested food and wine pairing menu or dish by dish with a different glass of wine each time, and this goes for €86.
The flavours are clear, unencumbered, and of course the WINE LIST is a treat. Its foundation came from La Mère Germaine at Châteauneuf-du-Pape when that hotel-restaurant went bust (it has since been revived, and is doing OK). The Perrins, with a sound nose for an affaire, stepped in and bought the cellar. Prices start in the high €20s, with the 2007 Perrin Cairanne (good) at €28, 2007 Visan La Florane at €30, and solid quality wines from Richaud (2004 Cairanne), Beaurenard (2006 Rasteau Argiles Bleues, big wine, decant) at €46 and €40 respectively. There are lots of treats, such as Sang des Cailloux Vacqueyras, Pesquier Gigondas (€34, v fair), Gigondas Saint Cosmes (Le Claux, Le Poste 2008s, decant) at €58-60, and a 1999 Gigondas Teysonnières at a friendly €50. The Châteauneuf reds go back to 1998-99 and include Henri Bonneau (€180 plus), Beaucastel, Solitude, Les Cailloux Centenaire (2000 is €180), Pegaü, Janasse Vielles Vignes etc etc. Beaurenard red 2006 catches the eye at €54. Auguste Clape - yes, the Maestro`s Cornas is here, likewise Georges Vernay, Jean-Louis Chave, Jamet, Graillot and Guigal. Phew. I need a lie down. Vigneron spotting is an additional activity here. Highly recommended, but be prepared to spend.
Open Tuesday to Saturday, and for Sunday lunch 21 June to 21 September.
SEPT 2011 START-UP, NORTHERN RHÔNE
LA CAVE DU TAUROBOLE
Opened at the end of September 2011, this is an enterprising new venture on the main N7 road running through Tain – opposite the Place du Taurobole, where there is ample parking. Dig the newly restored Bull, the sacrifice to Mithras in his day. It represents a passion for wine and an enthusiasm for cooking on the part of Nathalie Monterastelli and her husband Xavier. She is fromValence– which makes her Valentinoise (the French always do such descriptions much more lyrically than the Anglos), while Xavier comes fromMontpellier, and used to work as a wholesaler in polystyrene (if misspelt, I don't really care) products.
"I took 10 years off while raising 4 children, and then worked in a pharmacy," says Nathalie; "we have a passion for wine, and we also like the conviviality (correctly spelt, a word that matters) of the wine trade, and cooking. As this is a small place, people get talking together." There is space for 22, with comfortable high white bar stools to sip and listen to Supertramp, for instance (last seen at Wembley in the year dot, 1970s). There is an upstairs room for 10 as well.
The Rhône is here in good force – Clape Cornas, Yves Cuilleron, Jean-Louis Chave, Alain Graillot, Georges Vernay, Bonnefond, Yann Chave, from the south, Janasse and Beaucastel Châteauneuf-du-Pape, Soumade and Oratoire Saint Martin from Rasteau and Cairanne, the 2004 Château des Tours Vacqueyras for €26, all good stuff. There is a €5 extra charge if the wine is drunk on the spot. There is a host of good Burgundy domaines – François Likulski, Méo Camuzet, Laurent Ponsot etc. Wine by the glass starts at €3.50.
The dishes are simple and well-flavoured. I had a rich chestnut soup, while charcuterie from the Haute Loire or Iberia is around €6-7 for a small portion, €10 for a large, foie gras maison comes in at €10, Plat du Jour €11 or €12 – for example a Nordic assiette, combining salmon caviar and raw salmon. Cheeses come from the very reputed Tournon cheese shop of Lambert – Vieux Gouda, Tomme de Savoie, Comté, St Nectaire, Salecs.
Nathalie & Xavier Monterastelli Open Tuesday-Saturday for lunch & dinner, except Saturday lUnch
LOCAL WINES CROZES-HERMITAGE, ST-JOSEPH, HERMITAGE, CÔTE-RÔTIE
LA TABLE DE SORGUES
12 Avenue du 19 Mars 1962
84700 Sorgues
tel +33(0)490391102, fax +33(0)490833842 www.latabledesorgues.com
Taking over from Gérard and Josette Alonso is a hard act to follow here, but they have carried it off. Sorgues remains regarded as a slightly infra-dig venue for the good burghers ofAvignon, and, to some extent, the citizens of Châteauneuf-du-Pape. But Picasso actually painted a picture here – what do those people know, huh? The house is actually the old residence of Vincent Avril of Clos des Papes' great grandparents.
The format remains essentially the same – an emphasis on fresh market produce. The Le Croqs spent 17 years at the Château de la Caze in the Lozère département, near the Gorges de Tarn in South-West France. He is from the Lozère and she is from Marseille, and has lived in Cayenne, French Guiana, and Paramaribo in Surinam, both places where I have worked, and eaten crocodile and experienced a coup d'etat respectively. "We opened on 4 September, 2012, and continue the tradition of Alonso with just one formula per day, with fresh produce," Sandrine told me. "There is more choice of fresh produce here than in the Lozère, and also we have been able to serve dishes such as Scottish grouse, and fish such as bar (sea bass) is wonderful. We like to work the most simply possible."
There is a Petit Menu at €36, and with one extra dish added, a Grand Menu at €51. A flaky tart of pear and Roquefort or a caviar of Aubergines with smoked salmon and flying fish feature among starters or amuse-bouches, with more main courses including Brittany lobster served with fresh chestnuts from the Ardèche, line-caught Sea Bass back, and lamb from the Basque country served with artichoke and confit of tomatoes. In December 2012, the food was appreciated by a table of 5 of us.
Noted on the wine list – in the Lozère they worked with 350 wines, so wine selection will remain wide – are 2010 CÔTES DU RHÔNE VILLAGES TERRE D'ARGILE RED from DOMAINE DE LA JANASSE for a fair €33, 2010 DOMAINE DE LA FERME SAINT-MARTIN LA GERINE VENTOUX RED at €24, and also the strong character 2008 CÔTES DU RHÔNE from the CHÂTEAU DES TOURS at €35, and an organic, or near-natural wine, the excellent 2010 VIN DE PAYS ROMANEAUX-DESTEZET WHITE at €42, DARD & RIBO, also very Naturel, with their 2010 CROZES-HERMITAGE RED at €36, and 2010 SAINT-JOSEPH RED at €50. CHÂTEAUNEUFS are also not overpriced – 2007 CHÂTEAU DE VAUDIEU RED at €48, 2007 CHÂTEAU DE LA GARDINE PEUR BLEU (no sulphur) at €50.
Sandrine & Jean-Paul Le Croq
Closed Sunday, Monday. Open lunch & dinner Tuesday-Saturday. Closed 11-27 August 2013.
LOCAL WINES CHÂTEAUNEUF-DU-PAPE, CÔTES DU RHÔNE, ORGANIC WINES
SOUTHERN RHÔNE RESTAURANT, RECENT START-UP, entry July, 2011
LE LAURIER
This is a very agreeable Slow Food restaurant in the village square at Faucon, south-east of the Rhône Village of Puyméras. The local vineyards, plenty of them with old stand-alone Gobelet plants, provide Côtes du Rhône. Eating outside in summer is accompanied by the tinkle of running water from the fountain in the Place, and the steady peel of the Church bell every half hour. Take your time. It was started in early 2010 by Alexandre Dedde, an escapee from Paris, whose wife Charlotte Rabix`s family created the Cave Co-opérative at the Rhône Village of Saint-Pantaléon-les-Vignes. The cooking is very precise, led by fresh local ingredients with an emphasis on organic suppliers. "We change the menu every month to be closer to the seasons," says M.Dedde. The Menu de Marché is €25, with three dishes included. Starters cover gazpacho of aubergines au citron vert, with fermier goat cheese, a super-fine, delightful avocado mousse with fresh prawns/gambas, also served with glorious, juicy sweet local tomatoes, and a raw salmon sashimi with raw organic vegetables (all starters €8 if à la carte). Main courses include Navarin of lamb, Sea Bass or Loup de Mer with an aubergine purée, a tomato sauce and sweet spices - the fish notably juicy - and a Paleron of Beef slow cooked, served pink with fondantes potatoes; these are all €16 or €17 if à la carte. The top Menu, Menu du Laurier, is €35 - Valréas snails and foie gras, ris de veau (veal sweetbreads), poached peach. Wines listed include the organic Gramenon (their il fait soif 2010 is €31) and between €20 and €30, a range of the local Puy de Maupas, Echevin, the Faucon-based domaines of Roche Buissière and Faucon Doré, both of them organic, Alary, Marcel Richaud, Jean David, Domaine du Moulin, Coriançon. Also Vacqueyras Sang des Cailloux,Châteauneuf-du-Pape Marcoux. From the North, Belle, Courbis, Johann Michel at Cornas. The organic olive oil is Vierge Extra de Nyons; it is extremely aromatic and soft, comes from Daniel Pasquier, Quartier Les Rizannes, 26110 Mirabel aux Baronnies, tel +33(0)475 271488. I suggest a visit - the outdoor stable area, or the tables next to the Place are good. Orders taken from 12.15 to 13.45, and 19.15 to 21.00.
Open Wednesday lunch to Sunday lunch; JULY/AUGUST: open all days except Monday, and Tuesday lunch; owner Alexandre Dedde
A NORTHERN GEM IN FINLAND, entry December, 2010
RESTAURANT JUURI Korkeavuorenkatu 27 00130 Helsinki tel +358 9 635 732 e-mail varaukset@juuri.fi
I get tips about restaurants regularly, but it is all the more gratifying when the tip brings home a real winner. Christopher Moestue, based in Norway, has extended his wine importing empire to Finland, and through his Finnish office I was told about Juuri. What a gem! The temperature was minus 15°C, and I went up and down the street near the centre of town (Etelesplanaadi) in the dark, cold, ice, unable to find my destination. En route I saw a light on - a restaurant - and wandered in a relative state of deshabillé into Chez Dominique, one of Scandinavia`s smartest, poshest restaurants. The discreet charm of the Bourgeoisie, indeed. Well-lacquered heads swivelled as I walked in, dripping snow. I was sent on my way, further down the street, and survived that early test of social nerve. Juuri, by contrast, is simple: wooden floor, simple wooden tables, and most striking of all, an uplifting, almost spiritual sense of calm. Mostly couples, all absorbed in their food, drink and conversation. There is a front and a back room, perhaps the space for 20-odd people in each room. The menu revolves around local ingredients, and the starters are called Sapas - tapas from Suomi (Finland). Examples: lingonberry marinated salmon on maltbread, freshly salted whitefish, smoked vendace from Pielinen, Finnish fish pastry with white radish salad, slightly smoked reindeer heart with gelée made of rowanberry wine (a true classic), beetroot and nut stew and small mushrooms, grilled salsify and rosehip jam. These Sapas are €4.30 each: absolutely precise cooking here. The main courses varied from €24 to €32, and I had a fabulous Arctic char fish, fine and perfumed, with wonderful flesh and a delicate taste which culminated in a little lingering earthiness similar to that of a freshly caught sea-trout from a Scottish river (I am thinking of the Laxford in North-East Scotland). This was from Lake Saima, a fresh water lake, the Arctic char variety called Rautua as opposed to the more common sea Arctic Char called Nieria - a perfect example of the attention to detail that is led by co-owner Jarkko Myllymaki. "We only use Finnish ingredients - there is a lot of nature up north," he told me, "a lot of small producers, and we sell some of them in our own shop next door to the restaurant." Elk, organic lamb are other main courses. The wines feature Offerus Saint-Joseph red from Jean-Louis Chave - €8.40 for a glass, €50 for a bottle - Domaine Richeaume from Provence, excellent organic Grand Cru Riesling from André Stentz in Alsace, and a host of organic and Finnish winemaker names from around the world, such as Julicher in New Zealand. Started in 2004, Juuri (it means "root" in Finnish) exemplifies the revolution in Finnish cooking - mighty strides have been made since I first visited in the mid-1990s, I mean mighty, enormous progress. Bravo, Juuri. If you stray north, please make this a Must Visit.
Jarkko Myllymaki, manager Roni Auvinen LOCAL WINES ST-JOSEPH red
NORTHERN RHÔNE

HOTELS

HOTEL LES DEUX COTEAUX
18 rue Joseph Péala
26600 Tain l'Hermitage
tel +33(0)475 083301, fax +33(0)475 084420
Right beside the Rhône with views across to the St-Joseph vineyards above Tournon, a Vieille France hotel where I have stayed since the early 1970s. Unpretentious, it is in a central location, with the footbridge to Tournon beside it. There is no restaurant, except for breakfast. This means wining and dining nearby is definitely on the agenda, with no fear of breathalysers and interference. The rooms were upgraded during 2005/06, and the prices remain fair.
Parking is down below on the Quai or in a lock-up Garage, for which there is a charge.
Monsieur and Madame Billon
Closed Sundays from mid-November to mid-February


HOTELS WITH RESTAURANT

not much for the moment, readers, better to go out . . .

RESTAURANTS

LE BATEAU D'EMILE
65 quai Jules Roche
07340 Serrières
tel +33(0)475 340111
This is a classic bistrot, hang-out diner for mates and local people. Guingette is a French term, that in classic films was usually the venue for actors such as Jean Gabin or Jean-Paul Belmondo - an open air café or dance venue for crowds at the weekend. Often they were close to streams or rivers.
Here at this Guingette it is Yves Gangloff or Alain Graillot who might drop in for a liquid snack with chums. Or you might bump into the always up for a party François Villard (Frankie), Pascal Marthouret or Frédéric Boissonnet, the last two of contrasting shape and dimension.
It is in the northern Rhône, Saint-Joseph small town of Serrières, right beside the Rhône on the west bank. When arriving from Tournon on the N86, there is a police station on your left as you enter town, note, before you arrive at the bridge over the Rhône. Next to this are the tribunes, the concrete seats, for the jousting competitions that used to be a regular feature of life on this working river. The high quality, expensive Hotel-Restaurant Schaeffer is on the left. Cross the roundabout, descend a little, still on the N86, and tucked on the left is Le Bateau d`Emile (a 1961-62 film that featured Lino Ventura, maybe Gabin`s successor in the hard-jaw stakes). Parking is opposite.
Michel and Pascale Maron have run the Bateau since 1993. Good day, Cap`n Mike: "I am more Mediterranean than Nordic," he says of his cooking. "My cuisine reflects that - my boudin, or black pudding, is from the Basque country, and we like live music here." He adds, when I tell him that his restaurant features here, "I wouldn`t know about that - I spend one minute a year on the Internet. Good Man, capital, Dear Watson! There are wooden tables inside, a pretty vine-covered terrace outside for summer eating. It has a lived-in feel, with photos of friends and jazz musicians dotted around.
The Menu du Jour hovers around the €17-18 mark. In late 2009, for instance, it comprised an endive salad with lardons or a leek tart, then a salmon a la plancha with delicious pumpkin creme or gratin of andouillettes, and to end a most juicy (maison, merci, Pascale) apple tart served warm, or a creme glacée with chestnut meringue. Darn good value, quite exceptional. The entrée is around €6.50-7, a suggestion du jour €11.50, and cheese (fromage blanc) or dessert €4 if served on their own, outside the menu. A really good dish, for example, is the filet de boeuf poêlée with a potato gratin in wild mushrooms. The celebrated boudin Basque is around €15, as is the fish from the market.
Wines: Saint-Joseph from Anthony Vallet, Yves Cuilleron, Laurent Marthouret (€27-32), also Laurent`s vin de pays Marsanne, white Crozes from Alain Graillot (€30), a good range of Viognier Vins de Pays - Stéphane Ogier, Yves Cuilleron, Pascal Marthouret, Aurélien Chatagnier - around €34-35. Up higher, Côte-Rôties from S Ogier, Yves Gangloff, François Villard, Yves Cuilleron, Pierre Gaillard (strong Vins de Vienne representation, but then Yves (x2) and Frankie love to party and make music). Red Crozes from Combier, Hauts Chassis, Colombier - all low €30s - and a tidy vin de table from young Jérome Despesse at Cornas, and a Côtes-du Rhône from Luc Pelaquié - plenty of options, pop pickers! The Gigondas also comes from two real grower domaines - Monardière and Tourelles.
A highly relaxed, enjoyable venue. Take your time, pencil appointments only afterwards. Open every day for lunch except Monday, for dinner at the weekend - Friday and Saturday, sometimes Thursday.
LOCAL WINES VIN DE PAYS DES COLLINES RHODANIENNES, SAINT-JOSEPH
LE 7 par Anne-Sophie Pic
285 bis avenue Victor Hugo
26000 Valencetel +33(0)475 445386, fax +33(0)475 409603 e-mail pic@relaischateaux.com
The cheaper way to experience Anne-Sophie Pic's now 3 star Michelin cooking. This is the bistrot next to the 3-star restaurant with its handful of rooms. The layout is simple, and the food inventive. If the bouillabaisse en gelée – a bouillabaisse in aspic – is offered, jump at it. It comes in its own little jar and is a delight. The dishes reflect sound ingredients as one would expect. Prices are fair but rise if a decent bottle is opted for. Anne-Sophie is in partnership with Michel Chapoutier at a small, recently planted vineyard at St-Péray.
Anne-Sophie Pic
LOCAL WINES ST-PÉRAY, CORNAS, HERMITAGE, CROZES-HERMITAGE


AUBERGE DE LA SOURCE
69420 Tupin-Semons
tel +33(0)474 595403, fax +33(0)474 568065

CHANGE of OWNERSHIP, note: Gérald and Françoise used to run one of the best value and friendliest local restaurants in the northern Rhône, within the Côte-Rôtie appellation. The views are supreme, with the restaurant perched on the heights at Semons, the twin village to Tupin that is passed in a blink down below on the N86 south of Ampuis. Drive up the windy road leading off the N86 at the roundabout between Condrieu and Côte-Rôtie.
Dishes are simply prepared, the service is friendly, the ingredients sound. It is always full of locals and growers. The twinkly lights are rarely out. Great value.
NOTE Gérald et Françoise sold out in 2010, and I have not tried this restaurant recently.
LOCAL WINES CÔTE-RÔTIE, CONDRIEU, VIN DE PAYS DES COLLINES RHODANIENNES


LE BISTROT DU COIN
4 bis Avenue Fosch
07300 Tournon
tel +33(0)475 088768
This remains in good form in 2011. A true bistrot with a simple, unpretentious setting. The manager, Stéphane Barbaret, is a wine enthusiast and a friend of Fabien Louis, of the Wine Bar Des Terrasses du Rhône au Sommelier across the river in Tain. The wines are therefore from small domaines such as Gilles Robin, Gripa, François Merlin and François Villard at Condrieu and Côte-Rôtie respectively. The food is well presented and cheap – good value all round. It is ideal for a quick bite such as a steak or salad. Helpings are generous, particularly of the salads, and a plat du jour – for example, Pork à l'Ancienne - was a very reasonable €9 in December 2006. The evening menu cost €17.50 in December 2006. There are half bottles available, too. It is on the way out of Tournon towards the north, on the left just before the first big roundabout. Parking is pretty simple, but tuck in your wing mirrors.
Stéphane Barbaret
Closed Sunday and Monday
LOCAL WINES CROZES-HERMITAGE, ST-JOSEPH, CONDRIEU
BISTROT À VINS LE MANGEVINS
6 av du Dr Paul Durand (rue de la gare)
26600 Tain l`Hermitage
tel +33(0)475 08 00 76
This venue is ROARING! Book well ahead - it has been constantly Sold Out in 2011-12. Vincent is chums with young growers such as Fabrice Gripa and the new names at Crozes such as Franck Faugier of Domaine des Hauts Chassis and David Reynaud of Domaine Les Bruyères. He opened the Mangevins in 2006, on the site of an old wine bar run by the Greek family of well, Le Grec (Georges, the proprietor of the Wine shop at 7 Place du Taurobole in Tain). It is a few yards before Chapoutier in the road leading to the station. There are only a few tables, so booking is advisable.
Vincent`s partner Keiko is in the kitchen with the most deft cooking, and this is an excellent address for good value main courses, and wines that are well made, if not explosively cheap. The formula is simple – fresh ingredients - so the daily menus can change according to what is in the market or not. The dishes are inventive and since 2012 there is one price fits all - €30 for lunch or dinner, excluding wine, of course. Examples of starters: foie gras maison poché au vin de Syrah, steamed St Jacques scallops with an agrume salad, and the wondrous Tataki of wild salmon (very briefly seared wafer slim cuts of the salmon, ginger seasoning, brilliant with Condrieu 2009 Domaine Vallet), Past starters have included salad of beetroot with smoked herring, crème brulée au foie gras for lovers of rich combinations, or petit gratin de crozets au sarrasin, a dish from Savoie. Main courses for example: onglet of veal steamed or grilled in its juice (a regular favourite), a pavé or steak of tuna or roast lamb en canon, also poached back of eglefin (haddock) in a curry sauce, of from the Jura, a saucisse de morteau cancoillotte. Red snapper and rabbit have also been on when I have eaten there. Vincent sources his meat from the Ardèche. Cheese is €5, dessert €4 - such as panacotta au praliné and apricots, a petit gateau of chocolat Valrhona (the Valrhona premises are 250 yards away) or in high summer a peach soup au Muscat de Beaumes-de-Venise.
Wines by the glass range from €3 to €7, and can include Gripa Saint-Péray and his vin de table, Cuilleron Saint-Joseph Terres Sombres, Dom des Hauts Chassis Crozes white or Jean Foillard Beaujolais. A fun and relaxed place, no frills, and I completely and utterly recommend this if you want to perhaps find out more about growers or even see growers. Gérard Chave was sighted for his debut meal before Christmas 2007.
Vincent and Keiko
Closed Saturday, Sunday
LOCAL WINES HERMITAGE, CROZES-HERMITAGE, SAINT–PÉRAY, SAINT-JOSEPH
RESTAURANT LES CÈDRES
26600 Granges-lès-Beaumont
tel +33(0)475 715067, fax +33(0)475 716439 http://www.restaurantlescedres.fr/
QUALITY. I rarely get to restaurants such as this and on this occasion it was in august company - literally – with Auguste and Pierre-Marie Clape of Cornas. The Bertrand brothers are the third generation here. The family owns the successful Drôme restaurant Le Grand Serre, and the brothers came here in 1988. Their mother Janine is on the desk, and Jacques cooks, with Jean-Paul running the front of the house. The food is refined, with the handling of game dishes especially notable. The restaurant interior is modern and light. The wine list is extensive on the Rhône, and there are also value buys from regions such as Savoie – Michel & André Quenard – and Bandol – Tempier, with some age on it. Service is impeccable. The restaurant has its own car park. It fully deserves its Michelin 1 star, and must be near 2 stars now. INDEED - I can confirm that my judgment has been spot-on (wish it were like that on the Turf): 2007 sees Michelin raising it to 2 star status. Bravo, la famille Bertrand!
Jacques et Jean-Paul Bertrand
Closed Monday and Tuesday, 26 April-3 May, 23 August–3 September, 24 December–7 January, Sunday evening from October to March
LOCAL WINES HERMITAGE, CROZES-HERMITAGE, ST-JOSEPH, CORNAS, ST-PÉRAY


RESTAURANT LE CHAUDRON
7 rue Saint Antoine
07300 Tournon
tel +33(0)475 081790, fax +33(0)475 080661
This is the champion in Northern Rhône Wine Lists. It is run by a supreme enthusiast Marc Grillon and his wife Dominique. It is just off the big main parking square in old Tournon – not the one by the river. The wines are from dozens of domaines, some of them small and new on the block. There are plenty of old favourites – multiple vintages of J-L Chave, Clape, Paul Jaboulet Aîné, Chapoutier etc. Growers come here to eat, and there is outdoor dining in a small courtyard in warm weather. The food is steady and grilled meats are always good. Lovely outdoor terrace in summer, flowers and colour everywhere; on a warm or hot summer`s evening, one feels nearer the Mediterranean by the glass.
Marc et Dominique Grillon
Closed 1-21 August, 23 Dec-7 January, Sunday, and Tuesday and Thursday evenings
LOCAL WINES HERMITAGE, CROZES-HERMITAGE, ST-JOSEPH, CORNAS



RESTAURANT LA GRAPPE D`OR also BRASSERIE LA TABLE DE NATH
13 avenue Jean Jaurès 26600 Tain l`Hermitage tel +33(0)475 082852, fax +33(0)475 080904 www.lagrappedor26.fr
This is one of the low-key, good value restaurants of Tain. It represents the timeless virtues of home cooking, the dishes hand prepared and genuine. The Grappe d'Or looks out on the car parking space on the north exit of Tain, beside the old N7 Paris- Mediterranean highway. The Grappe d'Or has rather a conservatory atmosphere, while the Table de Nath is more intimate and cheaper. The Grappe d'Or menu is around €26, with main courses around €17, while La Table de Nath offers a very good value starter and main course menu for just €13.50. Starters include terrine de pintade (guinea fowl terrine) or a warm tuna and tomato tart; main courses can be a boeuf bourguignon. Guy's pommes dauphinoises are a particular favourite of mine. Nathalie is front of the house, Guy in the kitchen. Wines are from domaines such as Fayolle Fils & Fille and Philippe & Vincent Jaboulet at Crozes-Hermitage. The list is limited in range, but sound. A plus is the fact that the restaurant and bistrot are open on Sunday evenings, when Tain and Tournon are Ghost Towns.
Nathalie & Guy Lambert, Closed Tuesday evening, all day Wednesday, Thursday evening
LOCAL WINES CROZES-HERMITAGE, ST-JOSEPH
RESTAURANT LE TOURNESOL
44 avenue Maréchal Foch
07300 Tournon
tel +33(0)475 070826, fax +33(0)475 070826 http://www.letournesol.net/
Cyril from the Ardèche, and Héa, from Cambodia via Quebec, opened the Tournesol in 1999. It is the best restaurant in this west bank area of the Rhône around Tournon, and they are to be praised for keeping it fresh, and even for improving its standards. They are great travellers, and Cyril gets ideas from those wanderings. "The Ardèche is a rich source for produce such as guinea fowl, cheese, chestnuts, mushrooms, and fruits such as apricots from the Coursodon family at Mauves." His roots are truly local - his son was born in the same room as him, for instance. Tournesol has a simple dining room with tables well spaced and carefully prepared dishes here on the road out of Tournon towards St-Jean-de-Muzols. Take your time – the atmosphere is relaxing. Meat dishes are good, with the emphasis on fresh produce from the market for vegetables and cheeses, including Ardèche goat cheese. The wine list is hot on Crozes-Hermitage – Darnaud, Delas, Gilles Robin, Domaine des Hauts Chassis (Faugier), with Gonon, Gripa and Durand from St-Joseph. About mid-level prices.
Cyril et Héa Jamet
Closed Sunday, Tuesday evenings, Wednesday
LOCAL WINES CROZES-HERMITAGE, ST-JOSEPH, ST-PÉRAY


RESTAURANT WITH WINE SHOP

LE CERCLE DES VIGNERONS
98 boulevard des Allées
69420 Ampuis
tel +33(0)474 567229, fax +33(0)474 567214, e-mail cdesvignerons@aol.com www.lecercledesvignerons.com
Richard Dommerc is the man behind this badly needed venture in the main village of Côte-Rôtie. He used to manage the Domaine de Bonserine that was scooped up into the Guigal Empire in 2006, but by then Richard was already on the go with this bistrot-wine shop. He sniffs out the smallest growers and the southern Rhône selection is also led by solid names. The lunchtime food relies on simple but well sourced ingredients, and there is a jolly atmosphere with growers circulating on most days. The wine shop is in the next room to the diner. The Cercle is located in the main street of Ampuis – the N86 road - about 250 yards past the church towards Vienne. Parking nearby is simple.
Richard Dommerc
Open Monday, Thursday, Saturday 10.00-19.00, Tuesday 11.00-19.00, Friday 10.00-22.00
LOCAL WINES CÔTE-RÔTIE, CONDRIEU, SEYSSUEL, VIN DE PAYS DES COLLINES RHODANIENNES, ST-JOSEPH


WINE BAR

DES TERRASSES DU RHÔNE AU SOMMELIER
22 rue des Bessards
26600 Tain l'Hermitage
tel +33(0)475 084056, fax +33(0)475 084056 www.ausommelier.com
Wow! A wine bar in the heart of the Northern Rhône. Lock up your daughters (or sons)! Well, this is an idiosyncratic wine bar. If people loom into view around the first hour of opening, Fabien Louis stays open, if not – CHIUSO, folks. In October 2009, he is running a weekly wine and food tasting on Saturday mornings between 10.00 and 12.30, covering Comté cheese and Jura wines, cheese and white wine, pork and Gaillac, and goose and wine matching. Cost €5 per tasting. Roll up to his new location, even nearer the Hermitage hill at rue des Bessards. Fabien is a fervent wine educator and taster and drinker, and has run a wine bar in Tain since about 2001. It is always best to call first to know if he is going to open. He speaks some English – you don't need to SHOUT. The food is simple – cuts of Spanish ham, caillettes, tuna, but you are really there to try the many wines. St-Joseph from the young domaines of Stéphane Montez and Stéphane Robert of the Domaine du Tunnel mix with the traditional delights of Raymond Trollat and Pascal Perrier's Domaine de Gachon. There are small domaines, and noble Côte-Rôties, and plenty to truffle out. Fabien may still run a tasting journey on the Tournon to Lamastre steam train that runs in the summer: it winds its way into the Ardèche hills, and I'm sure the return journey looks different. Fabien supplied me with a photo for my book, by the way. I must declare an interest.
Fabien Louis
Open rather on demand, and according to announced events, so RING TRRRRR
LOCAL WINES CROZES-HERMITAGE, ST-JOSEPH, VIN DE PAYS DES COLLINES RHODANIENNES, CÔTE-RÔTIE


SOUTHERN RHÔNE

HOTELS WITH RESTAURANT

AUBERGE CASTEL MIREÏO: NOTE, ODILE AND BERNARD RETIRED IN 2015. THE RESTAURANT UNDER THE NEW OWNERS IN APRIL 2015 FAILED TO PERFORM AT THE PREVIOUS LEVEL
Route d'Orange
84290 Cairanne
tel +33(0)490 308220, fax +33(0)490 307839 e-mail info@castelmireio.fr www.castelmireio.fr
At the southern entrance to the village of Cairanne, this is a solid hotel-restaurant. Bernard Kbaïer comes up with some great touches – his foie gras maison has Port and Cognac in it, so adding a marked, agreeable tang, as if there were some red fruit present. The home grown verveine has a spring in its step, a good, lithe feel, and there is also homemade Confit de Vin from Odile's relations at the Domaine Berthet-Rayne here in Cairanne: this is recommended with entrecôte or pigeon, for instance. The Berthet-Rayne white Cairanne Castel Mireio 2010 is also excellent, by the way. The dining room has a bright yellow pastel Provençal setting as befits this local house. The food is carefully done and in the mid-plus price bracket. There are 8 rooms that have been newly modernized behind the house, as well as two separate self-catering gites that I have not seen, and a swimming pool. Wines are from domaines such as L'Oratoire St-Martin, D&D Alary and Berthet-Rayne.
Odile et Bernard Kbaïer
Closed Sunday and Wednesday evening September-June, Monday lunch, and Tuesday/Saturday lunch in July-August
LOCAL WINES CÔTES DU RHÔNE VILLAGES CAIRANNE, RASTEAU


LES FLORETS
Route des Dentelles
84190 Gigondas
tel +33(0)490 658501, fax +33(0)490 469427 e-mail accueil@hotel-lesflorets.com www.hotel-lesflorets.com
This 10-room hotel is a jewel, where I have stayed for over 25 years. It is up the hill towards the Dentelles mountains – take the turning to the left before you go into the village of Gigondas. Peace and quiet reign here. The terrace has vineyard and hill views, and is the location for the restaurant in the summer. The inside dining room is cosy and the cooking traditional, with emphasis on lamb and game dishes. It has been of a wobbly standard recently, with confusion in the concept of the dishes. There is always a wide cheese board. The rooms are comfortable and were modernized in the last 5 years. The Bernards own the Domaine de la Garrigue, whose Vacqueyras, Gigondas and Côtes du Rhône wines are very good, coming in an understated style and repaying drinking when aged at least 5 years. The wine list is full of Gigondas – red and the heady rosé – obviously. Prices are mid-plus.
Thiérry Bernard and family
Closed 1 January to mid/end March, Wednesdays, Monday evening and Tuesday from November to April
LOCAL WINES GIGONDAS, VACQUEYRAS


LE MAS DES GRÈS
Route d'Apt, the N100
84800 Lagnes, near L'Isle-sur-la-Sorgue
tel +33(0)490 203285, fax +33(0)490 202145 e-mail info@masdesgres.com http://www.masdesgres.com/
This is ideal for anyone exploring the Lubéron or southern Rhône. It is spoiling to stay here – the classic shuttered Provençal farmhouse has its vines and shading outside the house, dining is under the plane trees in the evening, and there is a medium-sized pool to be lazy beside. Feel no pain. Nina is half Swiss German, half French and big, long-locked Thiérry half French, half Italian. The fact that I stayed during the 2006 World Cup added to the general banter. There are 14 pretty spacious rooms that are done in a comfortable, coolly Provençal style. Dining is very good, with fish sourced from Marseille including the local rascasse and daurade, and cherries from the neighbour (for example). The wine list has a wide selection of rosés and serious estates such as Beaucastel, Rayas and even Cornas from Auguste Clape - Thiérry: "I love the wines of the south." Visits can be arranged to vineyards, Roman Provence, Antique Shops, while Cookery and Painting classes are also on offer. Save up before going: this is quite an expensive venue, but well worth the treat. L'Isle-sur-la-Sorgue is 6 kilometres away, and Marseille airport barely 45-50 minutes.
Nina et Thiérry Crovara
Open mid-March to mid-November
LOCAL WINES CÔTES DU LUBÉRON, CHÂTEAUNEUF-DU-PAPE


RESTAURANTS WITH ROOMS

RESTAURANT LA BEAUGRAVIÈRE
Route Nationale 7, the N7
84430 Mondragon
tel +33(0)490 408254, fax +33(0)490 409101 e-mail reservation@beaugraviere.com http://www.beaugraviere.com/
Guy and Tina Jullien's empire of the black truffle, with the most extensive wine list in the Rhône.
The restaurant is simply furnished, and carries a rather retro air with its red-rust tones. Dining is outside under the plane trees in the summer. Dishes are from the older school of French cooking, with the theme of black truffles strong in the season. This is a restaurant where growers can often be seen, dining with their importers or with serious wine enthusiasts. There are 3 simple rooms that have welcomed many an indulgent diner in the past. The wine list is a feast – go to their site to see some examples. At Châteauneuf – the Crown Jewel - it is strong in the big names such as Beaucastel and Rayas, but also there are old wines from less well-known estates such as Pierre André at nearby Courthézon. Guy was a good friend of the late Jacques Reynaud and has a special soft spot in his heart for Château Rayas and the true soul of Châteauneuf-du-Pape.
Guy and Tina Jullien
Closed 15-30 September, Sunday evening and Monday
LOCAL WINES MASSIF D'UCHAUX, CHÂTEAUNEUF-DU-PAPE


HOTEL LA MÈRE GERMAINE
Place Fontaine
84230 Châteauneuf-du-Pape
tel +33(0)967 00 7834, e-mail andre.mazy@laposte.net http://www.lameregermaine.fr/
RE-OPENED JUNE 2011 after a year closed due to the previous owner Frédéric Albar`s business going belly up. Now in the hands of the old maitre`d, André Mazy, and back in form. The 8 rooms are €70 each, while the restaurant formula has settled down, with a new chef David working well with morilles and well-sourced beef. The Menu du jour is €37.
In the heart of Châteauneuf, beside the fountain and the old house of the Avril family (Clos des Papes), this has been revitalised by Frédéric Albar, a good-looking local man with a fine sense of humour. La Mère Germaine has wonderful views over the vineyards, and still carries its Deco style from its early heyday from 1922 onwards, when it was the stopping place for the Beau Monde of Paris on their way down to the Côte d'Azur. There is a good bistrot (very good carpaccio of tuna, good lamb, beef), and outdoor dining in the summer under the plane trees. Since spring 2009, the cuisine has been revitalised by Jean-Claude Aubertin, who ran the very successful Ma Cuisine in London`s Walton Street and subsequently had his Aubertin restaurant nearby in Villeneuve-les-Avignon. The rooms are simple but up to date. The wine list is extensive and fairly priced. Try the white Châteauneufs – there are lots of them.
Closed 26 February-11 March, Tuesday evening, Wednesday and Sunday evenings except July & August
LOCAL WINES CHÂTEAUNEUF-DU-PAPE RED + WHITE


LA TABLE DU COMTAT
84110 Séguret
tel +33(0)490 469149, fax +33(0)490 469427 e-mail table.comtat@wanadoo.fr http://www.table-comtat.com/
THIS WENT INTO ADMINISTRATION IN DECEMBER 2011: great is my sadness. There is no revival likely, I am told. My earlier report: Franck Gomez is truly what the French term a Vieux Routier. He ran this restaurant with its 8 rooms back in the early 1970s when I was researching my first Rhône book. It had a Michelin star then, and I recall swanky Swiss and Belgian cars parked outside – not easy, given very little turning space. (My car was a white NSU 1200TT, capable of 160 kms per hour or 100 mph, yes, the ton!! A right little raver, it was, with its engine in the back). The view from here is magnificent, the house standing deep in the old village of Séguret that is itself glued to the hillside. Below extend the southern Rhône vineyards – taking in villages such as Sablet and the vast Plan de Dieu, now its own Villages appellation. Franck`s daughter Valérie now runs it, her father having taken honourable retirement. The chef is Michel Ducellier, who used to be the chef at the nearby upmarket hotel offering evening meals, the Domaine de Cabasse. The dining room is a little plain, but the view makes up for much. The cuisine under the new faces has become lighter and less Vieille France traditional. Mid-level prices. A simple wine list features some domaines such as Château La Courançonne and Domaine La Fourmone.
Valérie Gomez
Closed Tuesday evenings, 20 November-8 December, February, Sunday evening and Wednesday except for July and August
LOCAL WINES CÔTES DU RHÔNE SÉGURET, SABLET, GIGONDAS, VACQUEYRAS


CHAMBRES D'HÔTE – BED & BREAKFAST, CAN INCLUDE DINNER

LE VIEUX PLATANE
Behind the Cave Co-operative
84290 Cairanne
tel +33(0)490 307704, fax +33(0)490 307815 e-mail mphilippi@levieuxplatane.fr www.levieuxplatane.fr
In the vineyards a little north-west of Cairanne - the turn is off the Ste-Cécile road near the Co-operative - this is a friendly chambre d'hôte. It is owned by a young couple from Paris, who bought it from a Dutch widower, Dick Philippi, who lost his wife and colleague in the venture Mirjam in August 2009. It is notable for its peace and quiet. There are 3 rooms and 2 suites, and a swimming pool. The centre-piece is the old plane tree, said to be 300+ years' old. Dinner is being offered two nights a week in 2015. Prices are fair and for a chill out while visiting the vineyards and domaines, I recommend this.

Open all year but advance reservation essential 1 November-31 March, and minimum 3 night stays in July/August. No Credit Cards – be warned.
LOCAL WINES CÔTES DU RHONE VILLAGES CAIRANNE, RASTEAU
BAR-RESTAURANTS

LE CAFÉ DU COURS BAR, RESTAURANT
Cours Strassart
84190 Vacqueyras
tel +33(0)490 658708
The sisters running this are from Vacqueyras, a good start. Their parents were Co-operateurs, so they grew up with wine. Things just got better. They took over the restaurant in April 2006, so are fresh as daisies. BUT – beware: if you come in summer, do not expect fast service, since the restaurant bulges at the seams, and service is tardy. You have been warned. The helpings are full, and there is a good, natural local feel to the place – with no pretension at all. A hearty spaghetti carbonara as the €8 plat du jour (Jan 2008 prices) will keep anyone going at working man's prices. The Menu du Jour operates at €11 or €17 or €25. A typical main course could be a daube provençale or grilled barbecue meats. The terrace outside is open in summer, with a view of all passers-by in Vacqueyras, but again, the service slows right down in June, July and August.
The wine list is extensive – no surprise given that the sisters also own the wine shop or caveau across the road, La Taverne de Raimbaut, where the wines are on sale at the same price as at the domaines. On the restaurant list there are 26 red Vacqueyras, 8 whites and 2 rosés (including Monardière). Couroulu classique at €20, Montvac at €19, Les Deux Monardes at €23, Roubine at €21 – all are good value reds. There are also 6 Gigondas.
Nathalie Sordi & sister Céline
Open every day from April to October, midday and evening. In winter, closed Monday & Tuesday evening.
LOCAL WINES VACQUEYRAS, GIGONDAS
LA TABLÉE BAR, RESTAURANT
rue Frédéric Mistral
30126 Tavel
tel +33(0)466 500621, e-mail chris.gu@yahoo.fr
This is a spirited, all-girl operation on the street en plein centre ville of Tavel. I highly recommend it. Come here for good home cooking between 11.00 and 15.00. Seating options are the terrace right beside the road – fine, you can see exactly what is going on; or a shaded patio inside at the back, or by the bar. The newspapers are mainly local, but include the all-important sports paper L'Équipe. At midday only, there is a €9-10 plat du jour. This could be a crisply-skinned cuisse de poulet (grilled chicken leg) à la ratatouille, where the rata is made up of nice chunkily cut courgettes and other vegetables, with a mixed salad as well. There are 2 or 3 Tavels by the glass, including Palai Mignon. Christel Gumelli is from Rochefort down the road, and started this in 1987, with the restaurant since 1997. If this were wine, it would be a w.o.w. (what one wants).
Christel Gumelli
Open Monday to Saturday 07.00 to 21.00, closed Sunday. Restaurant food is served 11.00-15.00. At other times, sandwiches, saucisson, croquet monsieur are offered.
LOCAL WINES TAVEL
RESTAURANTS

LES ABEILLES
4 route de Vaison
84110 Sablet
tel +33(0)490123896, e-mail js@abeilles-sablet.com www.abeilles-sablet.com
This was taken over in early 2004 by Marlies and Johannes Sailer, who ran the restaurant L'Oustalet with great success for several years in the old village of Gigondas. There the cooking was rich and carefully done. There are two bedrooms, and breakfast, lunch and dinner are offered. I have not eaten here yet, but hear good reports about it from growers. Johannes also runs cookery lessons during the winter months. He signals his duck dish served for two in two stages – breast first, then the leg - that was popular at Gigondas, and his lamb that is sourced from a small owner between Nyons and Gap. For those in a hurry at lunchtime during the week, there is a choice of 3 dishes at €15 each. There many Gigondas reds on the list – Bouissïère, Cayron, Santa Duc, Tourelles and the Sablets are from Boissan, Chamfort, Piaugier and Verquière.
Marlies and Johannes Sailer
Open all year except 15 November to 28 December, closed Sunday and Monday, but Sunday lunch served from April to September
LOCAL WINES CÔTES DU RHÔNE SABLET, GIGONDAS

RESTAURANT CHEZ SERGE
90 rue Cottier
84200 Carpentras
tel +33(0)490 632124, e-mail restaurant@chez-serge.com www.chez-serge.com
The centre of operations for anyone wanting to know more about the sprawling Côtes du Ventoux. Serge is a busy, extrovert enthusiast who grubs out domaines that make individual wines and presents them with some gusto and noise in his home habitat. The restaurant comes in different rooms, including upstairs, and the atmosphere is friendly. The brief courtyard serves for outdoors dining in summer. The food is very good, with a chef from northern France when I last visited in December 2006. Dishes are wholesome rather than modernistic. There is a black truffle season in January here.
Born most propitiously on 1 New Year's Day 1961 – quel beau millésime - Serge takes people on domaine visits – a minimum of 6 people. His website is good value, too.
Serge
Closed Sunday, lunch from 12.00, dinner from 19.30
LOCAL WINES VENTOUX, CÔTES DU RHÔNE, VIN DE PAYS DE VAUCLUSE


LE GRAND PRÉ: PLEASE NOTE - THIS CLOSED IN 2014 DUE TO THE SEPARATION OF RAOUL AND FLORA
Route de Vaison-la-Romaine
84110 Roaix
tel +33(0)490 461812, e-mail info@legrandpre.com
In storming form in 2012, with the Menu at €59. Roaix has been one of the most hidden Côtes du Rhône Villages for the past thirty years: a Co-operative shared with Séguret and hardly any growers bottling their own wine. Some progress is being made now, notably through bright new domaines such as Pique-Basse, and for a gentle drink full of red fruits, an easy going wine, Roaix may well be the ticket. The village's profile has risen sharply in recent years thanks to the arrival of Flora and Raoul Reichrath. The Dutchman Raoul is particularly ace on fish – brandade, daurade, sea bass. The ingredients are sourced with great care and the lamb is another winner. In summer the tiny courtyard of this old farmhouse is the dining room.
This deserves its Michelin 1 star status. The wine list relies on a few names per appellation, and these, too, are domaines with character. Roaix is from the good Domaine des Escaravailles, the Ségurets are from the organic Jean David, the Scots-owned Domaine de Mourchon and the large Château de la Courançonne.
Raoul Reichrath
Open from February to late October, closed Saturday lunch and Tuesday
LOCAL WINES CÔTES DU RHÔNE ROAIX, SÉGURET, GIGONDAS
LE VERGER DES PAPES
4 Rue Montée du Château
84230 Châteauneuf-du-Pape
tel +33(0)490 83 50 40, fax +33(0)490 83 50 49, e-mail vergerdespapes@wanadoo.fr http://www.vergerdespapes.com/
A longstanding part of the Châteauneuf furniture, the Estevenin family descend from old local roots. Dad used to roar at me – "have you see my melons?" (he did, really), . . "my melons of Caderousse?" (a local village that produces them, and of course a GREAT word for a robust Provençal accent). One of the merits of this restaurant is its location, up by the Château ruin – park there (leave nothing visible in your car) and walk down a few yards to the terrace and restaurant. I have always eaten good grilled foods here such as the lamb. Starters can comprise pavé de courgettes aux herbes, or a hot asparagus tips tarte, a tartine of red mullet. Fricassée of lapereau (young rabbit) with thym and black olives reflects the Provençal leaning of the cuisine; for vegetarians, there is fresh artisanal pasta in basil, or a gratin of vegetables with ewe`s cheese. A good place to chill, one that is visited by Châteauneuf enthusiasts from around the world.
Philippe and Jean-Pierre Estevenin
In the spring-summer season, open every day except Sunday evening, out of season closed Monday. Closed 20 December to 1 March.
LOCAL WINES CHÂTEAUNEUF-DU-PAPE, TAVEL, LIRAC