DOMAINE STÉPHANE PICHAT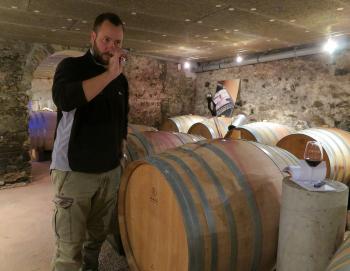 LVT 2016 r 2015 wh This is a name to watch. Stéphane is in his thirties, a relative newcomer, who made his first wine in 2000. His grandfather, but not his father, worked the family farm, his father selling the crop to merchants. In 2007, 60-70% of his production is to be bottled. He has started to export, as well. He has some striking, fun labels. Stéphane's wife's family make a solid quality Côtes de Castillon (70% Merlot) from the 9 hectare Château Fillol.
There is a pleasing clarity in his wines, with some STGT leanings, and they reflect their northern sector schist well. He has cut back on the use of new oak for his main wine, Le Champon, a good move. A pneumatic press has been from 2012 – Stéphane is pleased with results from that. Since the early 2010s, soils have been worked, while Stéphane moved to whole bunch fermentation on his top class Les Grandes Places (67% 1936 Serine) in 2015, with 35-50% whole bunch in 2013 and 2014, and since 2011 a reduction in its cask ageing from 36 to 24 months: all good moves. I am a fan of his Vin de Pays Syrah, which is well structured, genuine wine that ages well.
Stéphane Pichat 6 chemin de la Viallière Verenay 69420 Ampuis
Tel: +33(0)474 48 37 23
Countries exported to:1) Switzerland 2) GB 3) Australia, USA, Belgium - 2009: 1) Belgium 2) GB 3) USA 4) Switzerland 5) Germany, Luxembourg
Percentage Exported: 33% - 2009: 33%
British Importers: Champagne & Chateaux, London Stone Vine & Sun 13 Humphrey Farms Hazeley Rd Twyford Winchester SO21 1QA +44(0)1962 712351 sales@stonevine.co.uk www.stonevine.co.uk
USA Importers: Wine House Los Angeles CA 90064 +1310 479 3731 www.winehouse.com Baron Francois Ltd 236 West 26th Street, New York, NY 10001 +1212 924 1414 intern@baronfrancois.com www.baronfrancois.com Weygandt-Metzler Importing Ltd, PO Box 56, Unionville PA 19375, www.weygandtmetzler.com