2015 SOUTHERN RHÔNE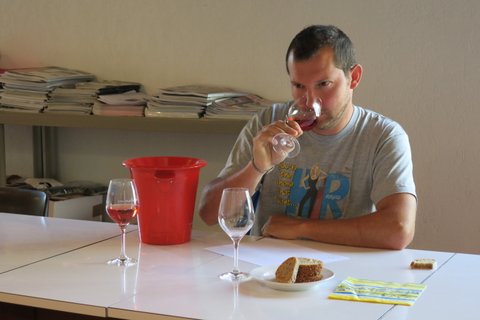 GUILLAUM DEMOULIN OF CHÂTEAU DE TRINQUEVEDEL POPS IN TO TASTE A FEW 2015 TAVELS WITH ME. "IN MY TEN YEARS I HAVE NEVER SEEN SUCH HANDSOME GRAPES."
The review of this very good vintage starts with TAVEL rosé, where it is very successful. I have also reviewed over 40 2015 CÔTES DU RHÔNE ROSÉs. I have been tasting whites from areas such as LUBÉRON, COSTIÈRES DE NÎMES and VENTOUX: these are well balanced, hold an easy richness, and are pretty neat all round.
I will be posting notes on these in the coming weeks.
For now, to read about TAVEL 2015 and how life is pretty hard for the growers there these days, please be logged in, and click on the LEADING WINES subtab. 2015 CÔTES DU RHÔNE ROSÉ is also reviewed, with a good number of **** and ***(*) wines.