LES VIGNEAUX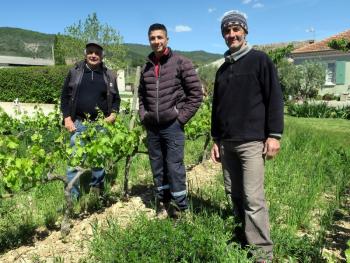 LVT 2018 r 2018 wh Grandfather Gilbert [72 years in 2019] built the cellar in 1979, having been at the Cave Co-operative of Valvignères, the wine sold to the merchant trade. Christophe joined the domaine in 1994, and the first bottling was in 1995. Their son Paulin came on to the domaine in his turn in late 2017. They are one of four organic independent domaines at Valvignères.
The Comtes work 12 ha of vineyards, 7 ha near the domaine, and 5 ha 1 km away, on white stony limestone with white clay soils, with Grenache on mild slope grey marl soils. From late 2019 there are 3 hectares of cereal – barley, wheat, hay. They have been organic since 2001, worked with zero added SO2 since 2007, biodynamic since 2009. In the past, they sold 3.5 ha of vineyards to Andrea Calek.
They were the first family to plant Chardonnay in Valvignères, in 1987. Some of their Viognier is massale. The vinification is "semi-carbonic", via whole bunches and ranging from 8 to 21 days for the most serious reds.
All wines are Vin de France. This is a good range, good quality address. Fruit quality is clear, with freshness in the wines, even after hot years such as 2018, the ***(*) 2018 Syrah an example: deep soils help to combat the potential stress of drought conditions. The late 1970s Grenache that makes up the Grain . . . cheux red contributed mystery and complexity in 2017, a **** wine. There is also a good Pinot noir called Du bout des doigts, 2001 Pinot that receives an 8 to 10 day vinification and brief vat raising, the 2018 a **** w.o.w. wine.
Gilbert, his son & daughter-in-law Christophe & Hélène, their son Paulin Comte Serre de Gouy Impasse les Vigneaux 07400 Valvignères
Tel: +33(0)475 52 51 91
http://www.domainedesvigneaux.com
Countries exported to:1) GB 2) Japan 3) Denmark, Germany
Percentage Exported: 35%, a good local market the main chunk
British Importers: Les Caves de Pyrène, Pew Corner, Old Portsmouth Road, Artington GU3 1LP www.lescaves.co.uk +44(0)1483 554750/538820 sales@lescaves.co.uk
USA Importers: N/R