LE MAZEL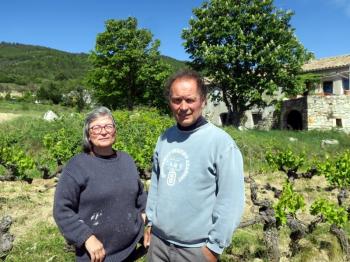 LVT 2018 wh 2017 r The family own 25 hectares on this organic domaine, which includes woods and spare land, with 20 hectares of vineyards. 15 ha of these give their wines, while the harvest from the other 5 hectares is sold.
Gérald's grandfather was born in Marseille, but didn't go for city life, and became a daily hired worker on the land, "a pure peasant", before buying land. The Oustric family then worked their lands of around 30 hectares at Valvignères en polyculture in the past – cereal, fruit such as cherries, a few apricots, with some vines, the wine from which was sold in bulk. Gérald's father Paul was one of the founders of the Valvignères Co-operative in the late 1950s. Paul's wife Suzanne was from Tournon, so when it came to planting vines in those early days, she rooted for Syrah rather than hybrids.
Gérald first worked on the domaine - in the vineyards - in 1982. His first vinification was 1997. A lot of importer interest was drawn to Mazel led by the renown of Jacques Néauport, with whom he became friends in the mid-1980s. Vinification is by macération carbonique, with minimal intervention over a month. Oak raising was stopped after 2013 – now it is only concrete or stainless steel vat, which lasts 12-20 months.
Mazel has been the mother lode for many start-up Vins Natures producers in the southern Ardèche. Directly, Gérald set up Andrea Calek and Sylvain Bock, selling Calek five hectares in 2007, and Bock three hectares in 2011, since he felt his 30 hectares were too onerous.
These are zero added SO2, Vin Nature wines that express very lucid fruit, but also carry firm underpinning, aided by the age of the varieties such as Grenache (oldest 1954) and Carignan (1962, Gérald's year of birth, and 1965). Levels of alcohol on the reds are low, often around 12°. If well stocked, they can age and evolve with interest. The whites are led by Chardonnay (1987, 1989) and Viognier, the Chardonnay following in the footsteps of Louis Latour who reckoned the clay-limestone soils well suited to Chardonnay back in the 1970s. Cabernet Sauvignon has been abandoned, due to tiny yields in the face of drought summers, while Gamay d'Auvergne, not du Beaujolais, will be planted in 2021.
Gérald & sister Jocelyne Oustric 07400 Valvignères
Tel: +33(0)475 52 51 02
Countries exported to:1) Japan 2) Scandinavia
Percentage Exported: 70%
British Importers: Wayward Wines 1C Regent Street Chapel Allerton Leeds LS7 4PE +44(0)113 266 8758 www.waywardwines.co.uk has been Les Caves de Pyrène, Pew Corner, Old Portsmouth Road, Artington GU3 1LP www.lescaves.co.uk +44(0)1483 554750/538820 sales@lescaves.co.uk
USA Importers: T Edward Wines Goatboy Selections 66 W Broadway #406 New York NY 10007 +1212 233 1504 www.tedwardwines.com