DOMAINE GAYLORD MACHON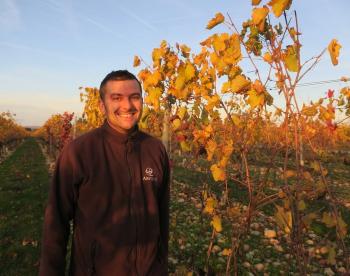 LVT 2018 r 2018 wh An address to note, with promise turning into achievement from a committed Questor vigneron. The domaine is in the southern sector at Beaumont-Monteux. Gaylord is an ex Co-operateur who reverted to the family domaine of 5 hectares in 2002. The vineyard is now 8.5 hectares. He left the Co-operative in 2008, and sold the crop to Paul Jaboulet Aîné. 1st wine in 2011 from 0.7 hectare, vinified chez David Reynaud of Domaine Les Bruyères. His grandfather made his own wine until 1956, and Gaylord built his own cellar in 2014. The vineyard is worked under the HVE label - Haute Valeur Environnementale - which takes into account bio-diversity. There is a definite Beaumont-Monteux imprint, with saline and black olives notes, in his reds, notably the principal cuvée called Lhony.
The 2015 Crozes white La fille don't J'ai rêvé was an excellent ****(*) wine, a mini-Hermitage blanc, while the 2016 Crozes-Hermitage Ghany red, the earlier drinking of the two reds, was a **** wine. The 2017 Lhony was a ****(*) wine of falir, striking length ans gusto in 2017.
Gaylord Machon 4 route des Vignes 26600 Beaumont-Monteux
Tel: +33(0)6 11 16 41 35
http://www.domaine-gaylord-machon.com
domainegaylordmachon@outlook.com
British Importers: Lea & Sandeman 170 Fulham Road London SW10 9PR +44(0)207 244 0522 www.leaandsandeman.co.uk has been Carte Blanche Wines Andover Road Basingstoke RG25 3AF +44(0)7713 459 175 info@carteblanchewines.com www.carteblanchewines.com
USA Importers: Augustan Wine Imports Grégoire Montot Florida FL