MATTHIEU BARRET, DOMAINE DU COULET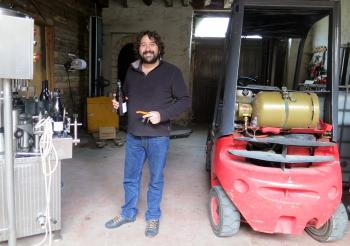 LVT 2018 r 2018 wh An organic-biodynamic wines. Matthieu is a lively presence at Cornas, although family roots are long present at the village. The family let out some of their vines to Jean Lionnet in the past. There are biodynamic working practices, and fashionably low levels of sulphur used in the winemaking. The wines have moved past a phase when they were over extracted, and Matthieu has managed to achieve stylish fruit and a definite leaning towards the elegance of Burgundy, even if they now lean towards New Wave, pared back. They are expensive. The 2015 Cornas Gore is a ***** wine, the 2015 Cornas Billes Noires a **** wine. Since that magic vintage, I have found some of the wines rather functional.
There are also a red Côtes du Rhône Villages from Visan, and a Vin de Table from Roussanne and Viognier planted inside the Cornas zone. Matthieu's new cellar beside the old chapel on the way into Cornas, launched for the 2017 vintage, has given him acres of extra space. Since 2013, there has been a Côte-Rôtie Matthieu Barret SARL, made in conjunction with Jean-Michel Stéphan: 1,200 bottles, concrete vat raised. Magnums of a jolly Syrah-Grenache are produced with fellow organic-biodynamic growers David Reynaud of Domaine Les Bruyères at Crozes-Hermitage and Stan Wallut of Domaine de Villeneuve at Châteauneuf-du-Pape; it is called Les Trois Barbus - the three bearded ones, and the **** 2016 was a good party wine of high appeal.
43 rue du Ruisseau 07130 Cornas
Tel: +33(0)475 80 08 25
http://www.domaineducoulet.site.voila.fr
Countries exported to:1) GB 2) Japan 3) USA
Percentage Exported: 80%
British Importers: Justerini & Brooks aka J&B, 61 St James`s Street, London SW1A 1LZ, +44(0)207 484 6400, www.justerinis.com Dynamic Vines London +44(0)207 064 6841 www.dynamicvines.com
USA Importers: Regal Wine Imports John O'Neill 2 Commerce Drive suite 3 Moorestown NJ 08057 +1856 985 6388 www.regalwine.com info@regalwine.com Vinenergie