DOMAINE DE LA JANASSE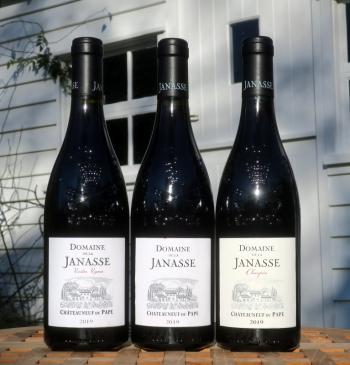 LVT 2019 r 2011 rosé 2019 wh Top class estate, deep wines, prices now rather high. The vineyards are centred on Courthézon and its sandy soils in the North-East of the appellation. The Châteauneuf reds beyond the Tradition are punchy, can be glamorous, can be powerful.
The Chaupin is perhaps more interesting than the Vieilles Vignes; 100% Grenache [1912 to 1940s] from sandy soils, 80% on Chapouin, which is north of the road from Roquemaure to Courthézon, it carries complexity and some of the Grenache floral attributes, especially when grown on sand. The 2019 was **** wine, for example, the best in recent vintages. The Châteauneuf Vieilles Vignes red is made with 10-20% Syrah, Mourvèdre and a touch of some white varieties; it is from Chapouin and Coudoulet (60%), La Crau de Courthézon and Les Saumades (40%), the Grenache 1900s-1940s. It is rugged, Southern, with that Mourvèdre imprint of firmness, and benefits from long ageing. 2013-2014-2015-2019 were ****(*), the 2016 *****.
There are two Châteauneuf whites, the regular half Grenache blanc, oldest vines 1940s, youngest vines 1997, with Clairette and Roussanne; it leans towards traditional in style, is suited to la table, the 2019 ****. The Châteauneuf Prestige white, no more than 1,200 bottles, is a classy, well textured affair, up to 70% Roussanne, malo completed, a proper large glass, table wine suited to the best the sea can offer; the 2019 was a ****(*) wine.
The Côtes du Rhône reds are full of character, from classic garrigue soils and mature vines. The regular Côtes du Rhône red was expressive, STGT wine in 2019 and 2013, for example. There is a full-blooded Villages red called Terre d'Argile as well; it is composed of 25% each Grenache, Syrah, Mourvèdre, 1940s Carignan, can be 33% Grenache, Syrah, Mourvèdre with a little 1940s Carignan, and Christophe Sabon describes it as "oour least Grenache wine" - it is a 15+ year wine rewarding patience. In 2015 the family bought a Côtes du Rhône domaine at Jonquières, the Clos Saint Antonin; this produces Côtes du Rhône and Plan de Dieu Villages reds.
Christophe, sister Isabelle, father Aimé Sabon 29 Ch du Moulin 84350 Courthézon
Tel: +33(0)490 70 86 29
Countries exported to:1) USA 2) GB 3) Germany
Percentage Exported: 55%
British Importers: The Wine Society, Stevenage, +44(0)1438 737700, www.thewinesociety.com Berry Brothers London www.bbr.com Enotria Winecellars London Chandos Road NW10 6NF +44(0)208 961 4411 Alexander Wines Deanside Rd Hillingdon Glasgow G52 4XB +44(0)141 882 0039
USA Importers: European Cellars, Eric Solomon, 2129 E 7th Street, Charlotte NC 28204 +1704 358 1565 www.europeancellars.com philippe@europeancellars.com